Sembilan Island
Sembilan consists of nine islands; Rumbia, Pulau Lalang, Pulau Saga, Pulau Buluh, Pulau Samak, Pulau Nipis, Pulau Agas, Pulau Miskin and Pulau Nyamuk. All of them are inhabited, so you will find an oasis of peace. The islands are located nearby the town of Lumut, and also nearby Pangkor Island. The boat takes you to the islands in an hour and a half. Most people visit the island during a day trip. Usually a group of friends or a family rents a boat at the small harbor and they visit the island for a nice picnic. Some leave very early in the morning to catch fish in the area and then prepare and eat the fish during lunch at one of the nice secluded beaches at one of the islands. Sembilan has no accommodation. Nearest place to stay is Pangkor Island (view all hotels and resorts at Pangkor Island

).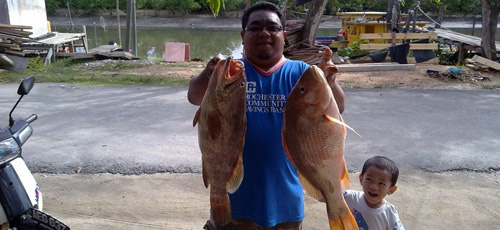 On this page:
It is all about fishing
The island group is especially well known for its great fishing possibilities, but the islands themselves are also very beautiful. If you love fishing, this is the place to go. You can charter a boat at Lumut harbor or from Pangkor Island; or try one of the tour offices in Sungei Wang shopping center in Kuala Lumpur. Many locals head out in the weekends for a fishing trip at Sembilan. There is a yearly competition for anglers; the Pulau Sembilan Fishing Safari. Recently many anglers also fish at a new spot nearby Marina Island Pangkor.
The area around the islands is not only known for fishing. You used to be able to dive in the waters around Sembilan, but unfortunately the only diving school in the area, Sembilan Divers, stopped not so long ago. The owners have returned to Germany, and even the website has been shut down. Unfortunately it is not possible (anymore) to dive around Sembilan, although maybe in the nearby future another new diving school might settle there. Of course you could always arrange your own diving trip, or try and join a local dive group.
How to get to Sembilan Island
There are daily buses that depart from Kuala Lumpur to Lumut; the jetty where you can arrange a boat to take you to Sembilan. The bus is by far the cheapest solution to get to Lumut as it only costs around RM25 (one-way, VIP 4 hour trip). Right opposite of Lumut Jetty is the bus station; so it is only a small walk to get to the Jetty. Also right in front of the jetty are car parks with 24/7 surveillance; where you can park your car for RM10 per day.
Map of Sembilan Island in Malaysia
Subscribe now to never miss a post!
Subscribe to our email updates or the RSS feed, right now!