Singapore Airlines
According to many travelers, Singapore Airlines (SIA) is the best airline in the world. SIA has won several important prizes within the airline industry and for years they have been in the top 10 of best airlines in the world. Every year, more than a hundred thousand passengers fly with SIA to Malaysia via Singapore. Sometimes they stop-over for a couple of days to discover beautiful Singapore. Singapore Airlines has a fantastic inflight service. You can eat and drink as much as you want throughout the whole flight and the main courses are of exceptional high quality. The inflight program, KrisWorld, on board of the airplane is highly entertaining. You can watch the latest movies or series during your flight. This entertainment schedule is released in advance. So, you can easily check the internet to see which movies are shown during the flight.
On this page:
Many destinations worldwide
At the moment, Singapore Airlines flies to 62 destinations in 35 countries. The airline transports many passengers between Europe and Australia with a stopover in Singapore. In 2007, the airline was the first in the world to operate with the new Airbus A-380 (revolution in aviation). To celebrate this happy event, Singapore Airlines offered tickets from several places to Singapore for only €380. Currently, Singapore Airlines flies to the following destinations with the A-380: Tokyo, Paris, Hong Kong, Melbourne, Zurich, London, Sydney and Los Angeles.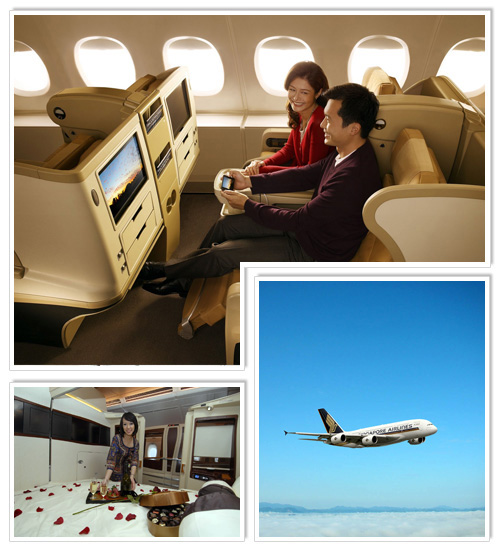 Buying SIA tickets
Singapore Airlines tickets are generally reasonably priced. They are very good value for money. Your holiday actually starts as soon as you get onto the plane. Still many travelers prefer to fly with other airlines like Cathay Pacific, Thai Airways, KLM Royal Dutch Airlines, Qatar Airways, Emirates, Etihad Airways and many others. Eventually the ticket prices between the different airlines do not differ that much and SIA is simply a very good airliner. Furthermore, the airline is mainly known because of the impeccable service on board. The famous 'Singapore Girls' serve you promptly and will go the extra mile for you during the flight.
When you purchase your own tickets online, it is advisable not only to check the standard airline ticket websites, but also the airline website of SIA itself. Singapore Airlines offers rock bottom prices at their website on a regular basis and sometimes it is cheaper than purchasing them through a travel agency or airline ticket site. It is easy to order the tickets online, especially since the purchasing procedure on the airlines website is simple. You also have the option to order the tickets telephonically. After the order, you receive a confirmation via your email together with the invoice.
Online check-in
Singapore Airlines gives you the option to check-in online and so you will not have to queue at the airport three hours in advance. You just need to drop off your luggage at the appropriate check-in counter. The same procedure applies for checking in prior to the return flight. It is very convenient to check-in beforehand. The check-in procedure for Singapore Airlines goes as follows: you can select your seat 48 hours before the regular check-in. If you are early, you might be lucky and able to change your own seat number(s). You can only do this online, because the travel agency will select your seat number in advance according to your preference.
Luggage restrictions
Singapore Airlines allows you to take 20k of luggage and they will not be difficult if you have slightly more weight with you. However, do not take more than 23k on board, because that will cause some problems and if you are unlucky you will have to pay high additional fees. If you know in advance that you will take more than 23k on board, then you can buy those extra kilos telephonically. Furthermore, you can take a maximum of 7k of hand luggage on board, excluding your book and a laptop/laptop bag.
Changi Airport
Changi Airport is one of the most beautiful and best airports in the world. It has a lovely, tranquil atmosphere and there is enough to entertain you as well. There is a complete shopping mall, various restaurants and other eateries, bars and lounge rooms. You can even watch movies at the cinema for free; a new movie starts every 2 hours. The airport also has many ATMs, banks and even a few massage parlours. There are even a couple of smokers' areas in the airport. Some areas are not spectacular, but others are very beautiful. You can, for example, visit the roof garden to have the feeling that you are 'outside', even though there are a few other gardens where you are allowed to smoke. Each terminal has its own smokers' areas. Consult the information boards to see where you can find these.
Changi Airport does not offer free WIFI. You could however make use of the WirelessSG - a free service which has coverage in the whole of Singapore. A possible disadvantage is that you have to setup an account in advance (and you receive a text on a local Singapore number to verify). Because this is so complicated, rather look for a bar of restaurant with free internet. There are various internet corners where you can use the internet free of charge. There are also a couple of public chargers where you can easily charge your mobile handset.
Member of Star Alliance
Singapore Airlines is a member of Star Alliance, an alliance working together with various big airlines. Singapore Airlines also has a frequent flyer program: Krisflyer. So, with each flight, you save miles which you can spend to upgrade your flight class or spend on free hotel bookings in Singapore.
Silk Air
Singapore Airlines subsidiary is called Silk Air which covers the regional flights. These are generally flights within Southeast Asia. Silk Air has the same charisma as Singapore Airlines and the same quality. At the same time, Singapore Airlines is the main shareholder of Virgin Atlantic and owner of low cost carrier, Tiger Airways.
Great value for money
If it is not a problem for you to pay a little more for a ticket in comparison to the various low budget airlines, then you should definitely fly to Malaysia with Singapore Airlines! You will get value for money and you will arrive more relaxed at your destination after a nice short stopover at the beautiful Changi Airport.
Subscribe now to never miss a post!
Subscribe to our email updates or join us on our Facebook page, right now!
Travel related questions can be asked in our Telegram channel or in our Travel community.