Mystical Borneo in Malaysia
The enormous island of Borneo is situated between Malaysia and the northern islands of Indonesia. Borneo (Indonesians refer to the island as Kalimantan) is the third largest island in the world. There are three national states which have territory on Borneo; Malaysia, Indonesia and the small oil state of Brunei. The fourth country that has been claiming a piece of 'north Borneo' for years is the Philippines. The total population of the massive island is over 18 million (with around 5 million Malaysians). Though Malaysia only occupies 26% of Borneo; the two Malaysian states on Borneo are the two biggest states of the country.
Borneo is most popular among adventure and active travelers, ecotravelers and scuba diving enthusiasts. As there are many small islands surrounding Borneo the island is also great for people that love sunbathing. The climate in Borneo is tropical with temperatures ranging between 28° and 32° during the day. Between the months of October and February you can experience more rains than usual because of the monsoon season in Borneo. Nonetheless; Borneo is a great destination to visit throughout the year (as the rain keeps everything nice and green!). Biggest cities in Malaysian Borneo are Kuching, Kota Kinabalu, Sandakan, Sibu, Tawau and Miri. There are daily flights from Kuala Lumpur to all of these cities within Borneo.
Travelers that visit Borneo should protect themselves against Malaria and Dengue fever. Visit a medical practitioner before you leave to Borneo; make sure you know up front what the risks are and how you can protect yourself against them. There are many vaccines available for your protection. Bring along anti mosquito repellant for daily protection (OFF is a well known brand).
On this page:
Map of Borneo
Below you can see a map of Borneo. You can simply scroll through the map with your mouse. Use the markers on the left to zoom in or out of the map.
Borneo is very rich in biodiversity
The Malaysian part of Borneo consists of two federal states, Sabah and Sarawak. The name Borneo has an exotic sound to it, and still makes people think about adventures, mysteries and of mystical times. The forests of Borneo are rich in biodiversity, both in terms of plants and animals, also due to rainfall of approximately 2,500 mm annually. One acre of Borneo's lowland rainforest may include 300 tree species, whereas England in its entirety only includes 25 different species. At least 15,000 plant species grow on Borneo excluding many unknown species. The lowlands are mainly covered by the Dipterocarp trees consisting of over a hundred varieties. These trees are popular for their hardwood. The Dipterocarp trees are the biggest trees in the world and can grow up to a hundred yards. As far as animal wildlife is concerned, the pygmy elephant, the rhinoceros, the leopard and also leopard cat and the orangutan are the main reason most wildlife loving travelers visit Borneo. Besides that you will see many beautiful hornbills, wonderful butterflies and many other animal, bird and insect species. If you're lucky there's even a chance to spot a huge spider or snake; especially alongside the river banks of Kinabatangan river or in one of the big caves like the Somantong cave in Sabah or even bigger caves like the ones in Mulu National Park and Niah National Park.
Orangutan is the pride of Borneo
Especially the orangutan attracts many tourists to Borneo; they all want to catch a glance of this majestic king of the woods. For those who aren't that lucky to spot the orangutan in the wild (as you normally need to travel into the deep jungles of the national parks of Borneo) orangutans can also be visited in one of the many reserves (orangutan sanctuaries, rehabilitation centers or shelters). The three most popular reserves are Sepilok (close to Sandakan in Sabah), Semonggoh Orangutan Sanctuary and the Matang Wildlife Centre (both near Kuching in Sarawak). When we visited the Kinabatangan River; we spotted a mother orangutan with her young high in the trees. This was a truly amazing experience as it is quite rare to spot a wild orangutan in Borneo. Unfortunately excessive logging threatens the natural habitat of the orangutan and their numbers are decreasing because of it.
National parks also popular for adventurous activities
Borneo is especially popular with the more adventurous traveler. Among the huge amount of beautiful national parks you can visit, there's also a big range of activities that can be done. One of the options is to climb the 4092 meter high Mount Kinabalu, or take a beautiful river cruise on the Kinabatangan River, which is close to Sukau. Other locations on Borneo are perfect for rafting. You don't have to be very adventurous, but it would come in handy should you want to visit the thick jungles or do many of the other fun activities on Borneo. On top of all this, Borneo and its surrounding islands are perfect for people who love scuba diving. Especially close to the eastern coastline of Sabah there are many islands, which provide excellent diving possibilities. According to many people Sipadan is one of the most beautiful diving spots in the world. Unfortunately it is also very exclusive to dive there. You have to book your trip up front to be certain there's a valid dive pass waiting for you when you arrive. Always make sure you go into business with trustworthy agents when it comes to a diving trip to Sipadan.
Tours on Borneo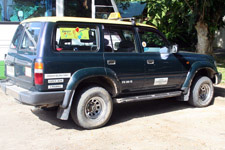 There are many small tour agencies that offer nice tours on Borneo. Usually a tour only consists of one separate attraction that will keep you busy for at least two to four days. You can choose to do a tour and then go back to the peninsula for the rest of your trip; you can also combine multiple tours on Borneo. We once did a one week trip through Sabah with a guide (who had his own Toyota Land Cruiser 4x4) which was absolutely fantastic; this was all arranged up front via a tour agent for a very affordable price. Though it is not necessary to make reservations for a tour up front, it is wise to keep in mind that some tours are limited to a certain amount of people. Other tours can only take place in the right time of the year. In some cases you will need to apply for a permit (permits are often used to minimize too much tourism in certain areas in Malaysia); which forces you to make reservations up front.
Excessive logging ruins the vast rainforests
While Borneo used to be entirely covered with tropical rainforest, huge parts have been chopped in an extreme pace since the sixties. The low-land rainforest have been hugely reduced in its volume; as a result of which only relatively small areas of lowland rainforest have remained, mainly in the national parks of Borneo. Eighty percent of the original rainforest in Borneo was sacrificed for the benefit of the wood industry. This percentage is even higher for the lowland rainforest of Borneo, the forest with the richest biodiversity. As a result of logging the main part of Borneo was transformed into palm oil plantations. When you take an airplane from Kota Kinabalu to Sandakan you can see the full impact of all devastation in the hinterland.
A sad example is the area around the Kinabatangan River. From the water you see many trees, but from above only form a small strip of rainforest between the river and the oil plantations directly behind it. All the precious wildlife animals live in that small strip (so actually spotting a wild animal is a sad thing, as they would normally be able to avoid being seen by tourists). WWF is working very hard with numerous campaigns to get the right exposure onto Borneo's dire situation.
Accommodation for every type of traveler
Borneo is a wonderful place to visit during your stay in Malaysia. Both states of Sabah and Sarawak have much to offer to tourists. In every bigger city you will find numerous luxurious hotels and resorts (and also more than enough basic guesthouses and lodges). This goes for Kuching, Kota Kinabalu, Sandakan, Tawau and Miri. There are many beautiful islands surrounding Borneo; here you can do some scuba diving or just relax a bit on perfect beaches. Also on these islands you will find more than enough suitable accommodation; though usually only small scaled resorts instead of huge hotels. In some cases it is wise to make your reservations up front, though backpackers will always be able to find a basic place to sleep.
Things to do on Sabah
Things to do on Sarawak
Subscribe now to never miss a post!
Subscribe to our email updates or join us on our Facebook page, right now!
Travel related questions can be asked in our Telegram channel or in our Travel community.