Kuala Lumpur, capital of Malaysia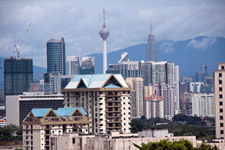 Kuala Lumpur, also known as KL is the capital of Malaysia. The words Kuala Lumpur literally mean 'Muddy Confluence'. The metropolis got this nickname because it was founded near the place where the rivers Klang and Gombak intersect (which you can still see just behind Merdeka Square). Over the years Kuala Lumpur grew into an important Asian city. Within Malaysia Kuala Lumpur is seen as the center of the country; 'it happens all' in KL. People from all areas within Malaysia come to KL to find jobs or do business. Tourist love the city as it has numerous great sights and attractions. Besides that there are simply too many choices when it comes to dining options. You can go shopping in one of the many modern shopping malls within the city center. Kuala Lumpur is the perfect destination for a short visit or stopover, but many tourists are drawn back to the great city during their travels through Malaysia.
Our pages on Kuala Lumpur
On this page:
A bit of history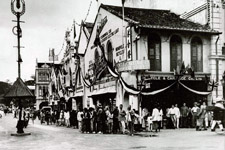 The settlement Kuala Lumpur was erected here around 1857 as a consequence of the massive mining of tin (currently the Ampang-district in KL) and because the supply of goods on the rivers was only possible up to this area. Because there happened to be an inexhaustible amount tin in this area, the population of the early KL grew rapidly. Sadly, there was a lack of proper leadership at the time, and for this reason the town soon turned into a place where chaos and disorder reigned.
'Kapitan' Yap Ah Loy was the force behind many positive changes in KL and from that moment on the city transformed into a modern city (of that time). He was a politician supported by the sultan; but his street smarts got him as far as he did (it was said the he also was a bit of a crime lord). Not long after that, the area got some international attention. Especially England was interested in the tin-production, and this soon caused a strong English influence. When the Malaysian Federation was founded in 1896, KL became the capital of the Federation. The English supremacy contributed greatly to the development of the country, but also to that of the city of Kuala Lumpur. Because of this Kuala Lumpur soon became a major city of importance in Southeast Asia.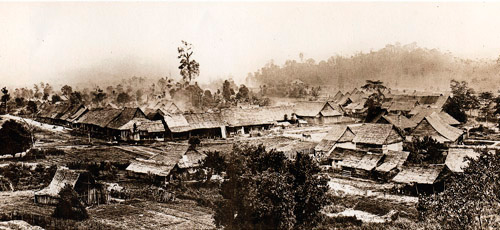 During the 2nd World War, the British were temporarily driven away by the Japanese forces. However, after the occupation, which lasted for 44 months, the English returned to KL hoping to recover their supreme position. Even though England tried to control the land up until 1957, they never fully succeeded. On August 31 Malaysia's independence was declared at Merdeka Square in Kuala Lumpur (Merdeka means independence). KL remained the capital of the country. More history of KL can be read here.
Current modern Kuala Lumpur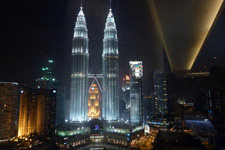 Nowadays, the city truly is a metropolis with a big central business district with many tall skyscrapers, many international renowned hotels and numerous luxurious shopping malls. It lies approximately 40 kilometers from the coast, within the federal state of Selangor (but politically not part of Selangor). Kuala Lumpur's harbor Port Klang, is the largest in whole Malaysia. It is situated at the mouth of the river Klang. The city is over 243 square kilometers in size and about 1.8 million people live in its centre. Greater Kuala Lumpur, also known as the Klang Valley, is an urban agglomeration of over 8 million.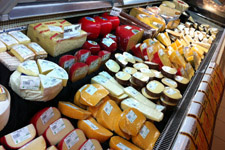 Citizens of Kuala Lumpur are earning more and more. The overall lifestyle is improving by the day as personal wealth is growing in a rapid pace. The current city's growth is enormous. There are many new projects that in time will attract more business and more people from outside KL and also from outside Malaysia. Kuala Lumpur has a big expat community; thousands of highly skilled foreigners work and live in the city. Expat numbers are growing which cannot be said of many of the neighboring countries. Expats that come to KL especially love the perfect balance between Asian and western influences. KLIA (International Airport) attracts many millions of visitors yearly; a big portion of them are tourists that either come and travel through Malaysia, or they have a short stopover in Kuala Lumpur on their way to Australia, New Zealand (or Europe and the U.S.)
Shopping heaven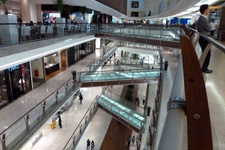 Kuala Lumpur is known as a Shopping Heaven. Especially in the central district of KL (also known as KLCC - Kuala Lumpur City Center), you can find a variety of shopping malls. The following malls are our favorites, and certainly worth a visit: Pavilion KL, Midvalley Mega Mall & The Gardens, Berjaya Times Square, Suria KLCC and 1 Utama. Most malls are located at the Bintang Walk, along Jalan Bukit Bintang. Shopping in KL seems like an activity no one will ever get fed up with. Most malls are opened daily between 10 am and 10 pm. Yes, 7 days a week to 10 o'clock in the evening; this literally means you will be able to shop until you drop into your hotel bed. The only downside is that after a few visits every mall will start to look like the one before. Many of the shops in one mall can also be found in others. Fortunately, after a while you will know exactly where to shop. There are several sales yearly; these usually take place in the months of August, May and December. Read about all the popular shopping malls in Kuala Lumpur in our Shopping in KL section.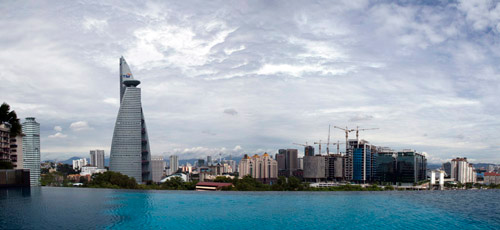 Climate in Kuala Lumpur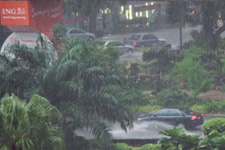 Kuala Lumpur has a year-round tropical climate which is warm and sunny, along with abundant rainfall. It can even rain daily during the northeast monsoon season from October to March. June and July are relatively dry. Temperatures tend to remain constant and hover between 31 and 33 °C. Flooding is a frequent occurrence in Kuala Lumpur whenever there is a heavy downpour, especially in the city centre and downstream areas. Dust particles from forest fires from nearby Sumatra sometimes cast a haze over the region (especially bad between June and August). It is a major source of pollution in the city together with open burning, emission from motor vehicles and construction work. This is also the reason why many people from KL travel to the nearby 'highlands' like Frasers Hill, Genting and also to clean forest like FRIM in weekends.
Transportation within Kuala Lumpur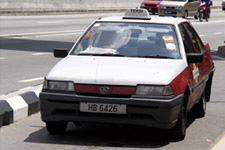 There are several ways to move around in KL. The easiest way is probably the taxi. If you're staying at a hotel it is usually a matter of heading outside the hotel and there's a taxi line waiting to take you anywhere you like. Another option is by monorail (KL Monorail operates within KLCC). KL Sentral is a hub; from there you can hop on to numerous other lines (like RapidKL or KTM Komuter). Here you can also take trains to many other destinations within or outside of Malaysia (like Singapore or Thailand). There's also much public transport by bus, though this is perhaps not the easiest way of transport as tourists usually don't know their way around Kuala Lumpur. If you do; then the bus surely is the cheapest mode of transport in KL (and Malaysia in general). Most busses depart from Puduraya bus station (here busses depart to other places in Malaysia too).More on transportation in and around Kuala Lumpur can be read here.
Popular tourist attractions in and around Kuala Lumpur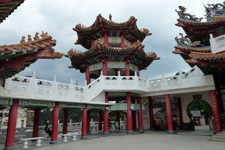 There are many popular attractions in and around Kuala Lumpur. Most attractions and venues are located within the Golden Triangle, the central district of Kuala Lumpur. KL is a diverse city: in addition to modern skyscrapers, there are also old buildings from past times. The contrast is reflected in many ways. For instance, you can shop at the enormous modern shopping malls, or you can visit the poorly constructed stalls along the roads, and the biggest and most expensive cars share the road with broken mopeds and the occasional rickshaw. Compared to Bangkok or Jakarta, Kuala Lumpur is a much cleaner city, more similar to Singapore in that way (though traffic congestion is just as bad as the former two mentioned cities).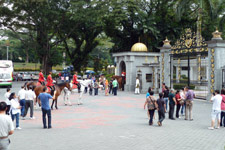 Major tourist highlights in Kuala Lumpur include the Petronas Towers (suspension bridge and observation deck), Chinatown (Petaling Street), Merdeka Square, House of Parliament, Istana Budaya, Istana Negara, KL Tower, Tugu Negara (National Monument) and numerous mosques such as the Masjid Jamek, the Masjid Negara and the Federal Territory Mosque. Other tourist attractions are Aquaria KLCC, Batu Caves, National Zoo. There's also a lot to do during the night. Trendy nightclubs, bars and lounges, such as the Beach Club, Werners, the Luna Bar, Zouk and many others are all located within the city center. Check out our 'Attractions in Kuala Lumpur' section.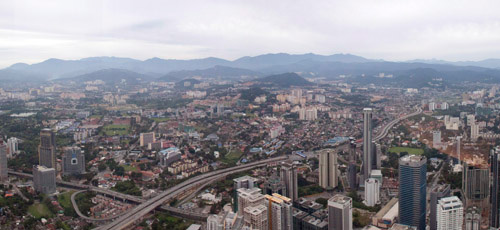 Restaurants, F&B outlets and Mamak Stalls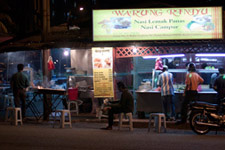 The city of Kuala Lumpur has many restaurants and F&B outlets. On every street corner you will notice people are eating and drinking while hanging out a bit with close friends or family, co-workers or business acquaintances. If you are staying within the city center you are probably best of at one of the foodcourts in the many big shopping malls. People with stronger stomachs can opt to check out Jalan Alor with especially Chinese hawkers. Same goes for the area around Jalan Petaling (Chinatown). Food in Malaysia in general is usually quite good and of fine quality compared to some neighboring countries. This doesn't mean that you should just eat everywhere you like. A good way to measure the quality is to check whether locals eat there too. Usually popular places are very crowded in Kuala Lumpur; which could also be a sign that the food is good (though this is not always a good rule of thumb).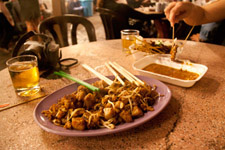 It is impossible to list all available restaurants, diners, foodcourts, hawkers, brasseries, desert places and bars in Kuala Lumpur. We do have a list with our personal favorites. There is something available for every dinner mood, from local mamak to Chinese food, from Italian to Indian food, from Japanese to even German (and of course French, Indonesian, Thai, Vietnamese, Arabic, Spanish, South-American, Korean and much more). Check out our 'Food in Kuala Lumpur' section.
Popular hotels in Kuala Lumpur
There are many luxurious hotels in Kuala Lumpur. Some have a great price when you look at what you get in return; especially 4 and luxurious 5 star hotels can be very affordable if you make your reservations up front via internet. There are also many affordable B&B's available within the city of Kuala Lumpur. Check out our page about 'Hotels in Kuala Lumpur'.
Map of Kuala Lumpur
Below you can see a map of Kuala Lumpur. You can simply scroll through the map with your mouse. Use the markers on the left to zoom in or out of the city map.
Subscribe now to never miss a post!
Subscribe to our email updates or join us on our Facebook page, right now!
Travel related questions can be asked in our Telegram channel or in our Travel community.