Langkawi Island
Geopark Langkawi is the most Northern archipelago located on the Westside of Peninsular Malaysia; located 30 km off the mainland. The archipelago consists of the main island Langkawi and almost 100 small surrounding islands; only four of them are inhabited. Langkawi lies very close to the border of Thailand, the nearest island Koh Lipe is only a 30 minute boat ride away. The island falls within the district of Kedah, and contains 479 square kilometers of tropical grounds. Langkawi has more than 62,000 inhabitants, most of which live in the capital town of Kuah, the rest of the population is spread over a number of small villages and around a large number of resorts on the island. Most inhabitants of Langkawi are of Malay origin (around 90%) followed by a small Chinese and Indian community; in contrary of neighboring island Penang, where the majority is of Chinese origin.
On this page:
Beautiful tropical island of Langkawi
After tourism the main source of income for the islands population comes from fishing, padi and rubber cultivation. The island has a duty-free status; this means that prices throughout the island should be a bit cheaper although we have never really noticed this, since this is mainly relevant to perfumes, liquor and tobacco. A good bottle of wine in Kuala Lumpur can easily cost you around RM100, while an equally good wine in Langkawi is often sold for half the price. Alcoholic beverages that are sold at the resorts and bars (around Pantai Cenang for example) are very cheap compared to prices in other parts of Malaysia. Langkawi is becoming one of the most popular tourist destinations within Malaysia; over 2.5 million tourists visit the island yearly. On June 1 2007, Langkawi Island has been given a World Geopark status by UNESCO; which will eventually attract even more tourists to this wonderful island.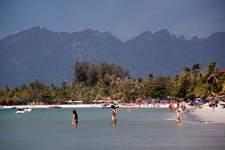 For many travelers Langkawi is the first acquaintance with the beautiful country Malaysia as it is not only one of the most beautiful islands of Malaysia; it is also very easily accessible. You have amazing beaches and the inland is very beautiful. There is more than enough to experience and to keep you entertained for at least a week. If you prefer to relax on the beach a longer stay is also very nice. Langkawi is a wonderful tropical island, but unfortunately the seas directly around the islands aren't suitable for scuba diving and snorkeling. For that you can best visit the islands to the east coast of the Malay Peninsula (Perhentian, Redang and Tioman) or some of the Thai islands a bit up north. You can visit Langkawi throughout the entire year; there is no real monsoon season. It can rain daily (sometimes quite heavily) but this is quite normal in these parts of the world. Should it rain, it usually doesn't last for more than an hour. The rainy season in Langkawi falls between the months of May and September. During these months it rains a bit more then it usually does. We were unlucky once when it rained non-stop during our complete stay at the island.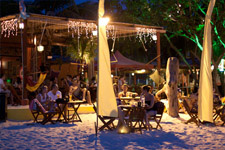 The archipelago is characterized by beautiful hills, valleys, mountains, jungles, beautiful unspoiled beaches, waterfalls, rice fields and quaint villages. Unlike Penang, Langkawi is a very tranquil island. For cozy evenings you'll generally stay at your hotel or resort and if you come for night markets, shops and other entertainment, then you can best stay in the area around Pantai Cenang. Here people sit outside at the many open air bars every night. The island has a beautiful nature and many interesting sights and attractions.
The island has its own airport and even international airlines embark here. Besides transport by air a large part of the transport goes over sea. From Langkawi boats go to the nearby island of Penang, to the mainland, and even to Thailand. The southern (south-western) part of the main island is the most densely populated area; here you'll also find the most hotels and resorts. In the north you'll find a number of luxury resorts, some so luxurious that only the rich and famous can afford staying there (in fact many renowned Hollywood stars have stayed at the resorts north of the island of Langkawi in the past).
Enormous amount of attractions at Langkawi Island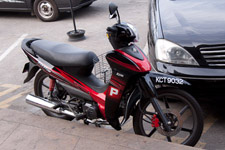 I know enough people who went to Langkawi for some days, but stayed for weeks. Should you only stay for a couple of days, use your time wisely. Just rent a small motorcycle (100/125cc modern scooter), and explore the complete island. Officially you need to be able to show your international motorcycle license, though outside of Kuah they will probably not ask you for this. Around Kuah you often cannot get a motorbike without valid proof of a motorcycle license as local police not only check tourists occasionally, but also the rental company where those tourists got their motorbike (which results in fines for both parties involved). You can also hire a rental car on the island; prices usually start from RM120 a day, but due to fierce competition it is possible to drive a car for a much cheaper price (we once paid RM80 per day). Do not linger at your resort during your complete stay, be active and you'll see for yourself why we think Langkawi is one of the best places to visit in Malaysia.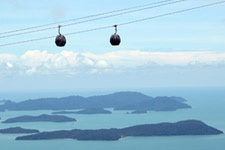 As said before, I do not know of many other islands where you can do so many things or visit so many attractions. The best attractions are Seven Wells, Langkawi Cable Car, Kilim Geoforest Park boat tour, Eagle & Lagenda Park, Tumerun Waterfall, Durian Waterfall, exploring the inlands on a motorcycle, visiting some of the nice temples, eating out at the many hawkers or food courts, Underwater World and the secluded beaches (and Black Sand Beach) at the north side of the island (area of Tanjung Rhu and Four Seasons). Most of these attractions are also fun for children; which make Langkawi also a great destination for families.
Animals rule Langkawi Island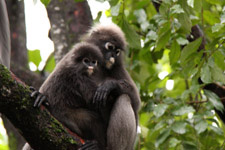 Animal and nature lovers will have a blast on the island. There are many different animal species that live on Langkawi. Don't be surprised if you spot a huge monitor lizard alongside of the road. Also don't be surprised if you encounter a road being blocked by a group of cows or monkeys. Especially in the Burau Bay area you are likely to encounter many monkey-species. Watch out for the Macaques, they tend to get aggressive around people. The Silver leaf monkeys are very sweet, but make sure you don't feed them to ensure they keep their natural instincts.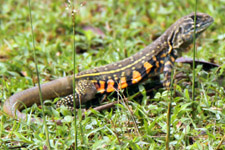 In the garden of the Mutiara Burau Bay resort you can spot the awesome looking butterfly lizards. Every morning these lizards bask in the sun for warmth, this is the best time to spot them. When you come too close, they vanish in one of the many holes in the ground. Sometimes you can see them fight; they take on a very cool looking fighting stance. They have 'wings' between the front- and hind legs, which they can spread open when angered in order to impress opponents.
Apart from the animals mentioned above you can also spot Hornbills, Eagles, Snakes and many other species. So when you are exploring the island of Langkawi, always keep an eye out for exotic animals. The north side of the island is best to search for animal species.
Enough places to withdraw money on the island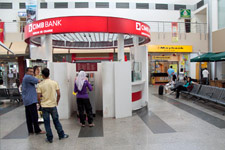 On Langkawi, there are several locations where you can withdraw money. At the airport you can find a few ATM machines. There is also an ATM in Pantai Cenang at the Underwater World Complex. You can also withdraw money at Telaga Harbor. At the Petronas gas station you can find a bank with ATM machines (near Burau Bay, which includes Mutiara Bureau Bay Resort and Berjaya Langkawi Resort). In Kuah you can use ATM's in the bank area and also at Jetty Point. You can also withdraw cash at the shopping malls Langkawi Fair and Parade Mall. There is also an ATM at the concrete factory in Kampung Ewa at the north side of the island (it is not certain if this ATM still exists).
History of Langkawi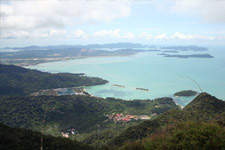 The archipelago of Langkawi has a relative young history. In contrast to the turbulent history of the adjacent island Penang; there have been hardly any significant historical facts on Langkawi. Langkawi has not been the place for a number of major developments that where responsible for the emergence of Malaysia. Langkawi was a place where pirates did hide, but unlike the island of Penang Langkawi did not turn into a place where pirates and travelers actually settled. A long time ago the area in which Langkawi is located was known as a pirate area. This history is the origin for many of the legends and myths that are circulating currently. Myths and other mysterious tales are being told until now.
"Princess Mahsuri was unjustly accused of adultery and was executed as a result. It was said that she bled white blood which proved her innocence, however just before she died, she put a curse on Langkawi that it would not prosper for 700 years."
Langkawi wasn't that popular among foreign tourists until a former inhabitant of the state of Kedah where Langkawi falls under became the fourth Prime Minister of Malaysia. Tun Dr. Mahathir bin Mohamad rolled out great plans to put Langkawi Island on the world map. His efforts soon turned into more tourist arrivals and nowadays Langkawi is one of the most visited destinations by tourists within Malaysia. National Geographic recently listed Datai Beach at Langkawi as the 9th best beach in the world.
Weather at Langkawi Island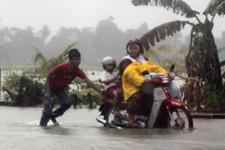 Langkawi can be visited throughout the year. There is a mild monsoon period between June and September. We have visited Langkawi many times during this rainy season; and all except for one visit was with great weather. That one visit we were unlucky; as it rained from the moment we arrived until we took off again by airplane. In those four days it had been raining hard non-stop during the days and nights. This really is an exception; all other visits during this time of the year were great with much sun and of course the occasional rain shower at the end of the day. During the rest of the year the weather at Langkawi is great.
There's also great food outside of the resort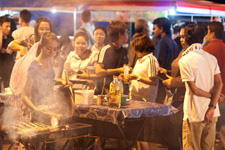 If you grow tired of the food at your resort or Hotel on Langkawi, then you can eat out to enjoy the taste of some of the great hawkers. Between the Langkawi Fair and the Jetty Point you can find a fine food court. In Kuah city centre there are also a couple of great food courts and restaurants. In the area of Pantai Cenang you can find many hawkers and small restaurants. In the area of Burau Bay you can head over to Telaga Harbour, where you can find a small strip with some 10 restaurants (mainly western dishes). Should you insist into eating in hotels or resorts, do not hesitate heading over to other hotels instead of eating daily at your own hotel. It is common that Malaysian people only go to a hotel to enjoy a good dinner (almost a local custom), the same goes for tourists.
Popular restaurants (& foodcourts) on Langkawi Island
Below a list with some of the best restaurants on Langkawi Island:
Best hotels and resorts on Langkawi Island
Below a list with some of the best hotels and resorts on Langkawi Island (view all hotels and resorts at Langkawi here in a new page):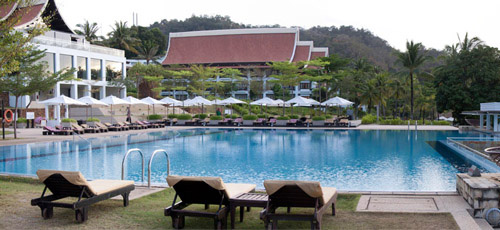 Scuba diving and snorkeling around Langkawi Island
Although Langkawi is a beautiful tropical island, scuba diving and snorkeling is not possible directly around the island. People that would like to enjoy diving or snorkeling have three options; they can book a day-trip to Pulau Payar (one hour by boat from the island of Langkawi); second option is a day-trip (or even an overnight stay) to the neighboring Thai island of Koh Lipe. Lastly you can take a flight from Langkawi to one of the islands that are renowned for diving and snorkeling possibilities like Perhentian, Redang or Tioman.
Langkawi or Penang?
Do you need help choosing between Langkawi and Penang? Both islands are worth a visit; but sometimes there's only enough time to visit one of the two islands in the Andaman Sea. Read about the differences (and similarities) on our page 'Langkawi or Penang?'.
Some tips
Split your stay at Langkawi Island in two parts; spend a couple of days around Pantai Cenang and also a couple of days at one of the more luxurious resorts in the north. This way you will be able to see all aspects of this wonderful island.
There are many tour offices on the island. Most charge pretty high prices for a day tour. At Kilim Geoforest Park for example you pay a price per boat (max 6). At the tour office you will pay RM150 per person and then close to 12 people are all cramped in one boat. If you arrange the boat yourself (easy to do at the main park entrance) you pay around RM450 for the boat; the only thing you need to do is to get at least 5 people to join you. If you do this tour; let the boat operator know that he should not feed the eagles as this will not be a good thing for these great birds.
Buy a cheap umbrella to protect you from the sun. Also don't forget to bring along enough sunscreen.
Some rental companies around Kuah do not rent out motorbikes if you do not have a valid motorcycle license. If you bring along your regular motor vehicle license (car license) you can rent a car instead. Usually around Pantai Cenang it shouldn't be a problem to rent a motorbike. If you want to drive a very nice car head over to Westin Langkawi. Here you can rent a BMW 3-series for RM800 for 3 hours, and a BMW Mini Cooper for RM500 for 1 day.
You can get a great breakfast at 'The Original Breakfast Bar' at Pantai Cenang.
One of the only places where you can snorkel at Langkawi Island is at a secluded beach nearby Tanjung Rhu. When you reach the roundabout you drive into Jalan Tanjung Rhu for a bit until you see the beach on your left hand side. From there you need to follow the beach towards the big Lafarge Cement Factory (300mtr) to get to the place where you can do a bit of snorkeling.
As luxurious resorts like The Datai are very expensive; you could also just visit the resort to just have a look around or a drink. I was in the area when I was exploring the island on a motorbike during my stay at the Westin (other side of the island). I decided to rest a bit at The Datai. I enjoyed a nice refreshing drink and got a small tour around the resort. I can definitely imagine why people are willing to spend that much money; it is a stunning resort.
Koh Lipe is a Thai island nearby Langkawi (42km). Langkawi does not offer good snorkeling and scuba diving opportunities. Between March and October scuba diving and snorkeling enthusiasts travel to the eastern part of the peninsula to island like Perhentian, Redang or Tioman. Tourists that visit Malaysia between October and March cannot visit those islands because of the monsoon season. Peak season at Koh Lipe is from October to May, so it is the perfect place to visit during the Malaysian eastern monsoon. The boats to Koh Lipe depart from Telaga Harbor. It takes around 1 hour and 15 minutes to get from Langkawi to Koh Lipe. During the monsoon season at Koh Lipe resorts close and the ferry service between Langkawi and the island will stop until the new season. A return ticket costs RM248. Tickets can be bought in advance via the official Telaga Harbor website; payment can be done via credit card but also with PayPal. Check the VISA requirements for Thailand here: Visa requirements Thailand (pdf).
Golf enthusiasts can play on the wonderful 19-hole golf course at the Datai Resort (The Datai Bay Golf Club). Other golf courses are the Gunung Raya Golf Club and the Langkawi Golf Club; both offer a driving range. All three are public courses, so tourists can play whenever they want.
"While you are on one of the various boat tours, the tour operators will toss pieces of chicken to the eagles. This is a wonderful display, but encourages the eagles to rely on tourists for food, and not to hunt on their own. As a result, it is very destructive to the eagle population. Please do not support eagle feeding. Tell the boatman to keep the chicken for himself."
Our pages on Langkawi
Map of Langkawi Island in Malaysia
Subscribe now to never miss a post!
Subscribe to our email updates or join us on our Facebook page, right now!
Travel related questions can be asked in our Telegram channel or in our Travel community.