Johor Bahru
Johor Bahru (commonly referred to as JB) is the southernmost city in Malaysia. It is one of the largest cities in the country (2nd biggest) with more than 2.7 million inhabitants (including suburbs). The current megaproject Iskandar will according to experts transform Johor Bahru into the biggest financial center of Malaysia. The city receives about 16 million tourists annually. Johor is connected by two bridges with neighboring country Singapore. Over 300.000 inhabitants of Johor Bahru work in Singapore for many years because of better economical prospects. Vice versa many inhabitants of Singapore go to Johor Bahru to shop affordable at one of the many shopping malls. For Singaporeans Johor Bahru is actually a very cheap place to do shopping. Because of this many expats from Kuala Lumpur are currently relocating to Johor. The city is an important industrial, tourism and commercial hub for southern Malaysia and one of the biggest industrial centers of the country. The population growth rate of Johor Bahru is among the highest in Southeast Asia. Furthermore; the city is part of the Sijori Growth Triangle, which has recorded one of the highest growths in Southeast Asia over the last couple of years.
On this page:
Sights and attractions in Johor Bahru
Although Johor Bahru is not our most favorite city in Malaysia, it has a number of beautiful sights. Famous landmarks and attractions in Johor Bahru are: Bangunan Sultan Ibrahim, Istana Besar, Sultan Iskandar Complex, Istana Bukit Serene, Istana Pasir Pelangi. To enjoy a fun day out you could consider shopping a one of the many shopping malls or you could visit the Johor Zoo or Danga Bay. Another nice attraction is Hutan Bandar (Jungle in the City); a nice garden with children's playground and public pool. There is also a big reflexology exercise area.
Popular attractions within the state of Johor
In the north of the province Johor there is an island group where Tioman Island is part of. Tioman and the neighboring islands are very popular among the inhabitants of Johor Bahru (and Singapore). The island Tioman is simply accessible by boat. From the city busses leave daily to the fishing village of Mersing where you can take the boat to Tioman. A couple of hours by rental car from Johor Bahru you are entering a beautiful national park in Malaysia; Endau Rompin National Park. This national park is in pristine condition; and especially popular among adventurers, hikers and nature enthusiasts.
Other popular attractions within the state of Johor are a visit to the waterfalls at Kota Tinggi; a trip to the water village at the town of Kukup and light hiking at either Gunung Pulai recreational forest or Gunung Ledang recreational forest.
Shopping malls in Johor Bahru
Popular shopping malls in Johor Bahru are City Square Mall, AEON Tebrau City, Sutera Mall, the ZON Mall, Landmark IT Mall, Plaza Larkin, Plaza Pelangi and the more recent assets KSL City, Danga City Mall and AEON Bukit Indah. All malls have many shops that you see in every mall in Malaysia. In some malls you'll find big cineplexes and in some even a bowling alley. As usual in Malaysia the malls all have a foodcourt and multiple restaurants and other F&B outlets like Starbucks and Coffee Bean. There's a daily bazaar at Jalan Segget (Jalan Segget Bazaar) where you can buy mostly clothes, bags, shoes and accessories.
How to get to Johor Bahru
By air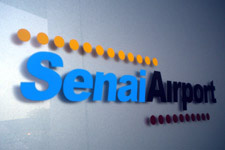 Senai International Airport is the airport of Johor Bahru. It is located northwest of the city; a 30 minute taxi ride takes you from the airport to Johor Bahru city center. Many airlines fly to Johor Bahru, of course national carrier Malaysia Airlines is one of them. Low cost carrier AirAsia has one of its main hubs at Senai. From there you can fly to numerous cities within Malaysia but also to some international destinations. In the past there wasn't a direct flight between Kuala Lumpur and Singapore by budget airliners like AirAsia or Tiger. To save on travel costs people flew from Kuala Lumpur to Johor Bahru and then took a taxi to Singapore and vice versa. Nowadays multiple low cost carriers fly between the capital of Malaysia and Singapore for very affordable prices.
By rental car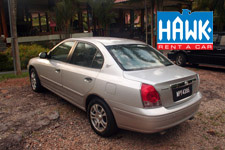 Another way to get to Johor Bahru is by rental car. It is easy to rent a car in Malaysia. Numerous car rental companies have special pick up locations throughout the country. Hawk Malaysia for example has a pick up point at KLIA airport, but also in Kuala Lumpur city center. From Kuala Lumpur it is only a 4,5 hour drive to Johor Bahru. Many travelers start their trip in Singapore; they then travel to Johor Bahru where they pick up their rental car to start their road trip through Malaysia.
By bus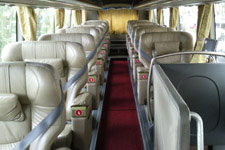 The cheapest way to reach Johor Bahru is by coach. There are numerous coach operators that have daily busses driving between Johor Bahru and many places within Peninsular Malaysia. From the main bus terminal Puduraya in Kuala Lumpur there are hourly busses heading to Johor Bahru. Tickets only cost around RM20 (one way). There are also a couple of very luxurious coach operators with very modern busses. Each passenger has his/her own flight seat, with enough leg space to lie completely flat (almost).
By train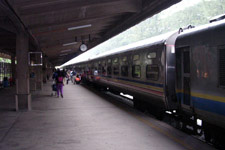 Though the train is not the cheapest nor the fastest solution to get from Kuala Lumpur Sentral train station to Johor Bahru, many tourists take the train because of the great scenic views and the atmosphere on board. Taking the train is probably the nicest way to travel to Johor Bahru though the views from the train aren't that amazing compared to a few other popular train routes. Malaysia has two major train tracks, the northern line and the eastern line. Both end up in Johor Bahru. The northern line connects Malaysia with Thailand and Singapore; the eastern line is also called the jungle line as trains go straight through the jungle to the northeastern city of Kota Bharu.
By boat from Indonesia
Boats from Indonesia (from the islands of Bintan and Batam) arrive at the Johor Bahru ZON Ferry Terminal. Tourists can take boats from numerous Indonesian places (Sumatra) to both Bintan and Batam.
Travel between Johor Bahru and Singapore
As Johor Bahru borders Singapore in the south of Peninsular Malaysia there always much traffic at the two causeways connecting Singapore to Malaysia. During weekends many Singaporeans visit Johor Bahru for shopping purposes as many products are generally more affordable in Malaysia compared to Singapore. We've heard Singaporeans and expats living in Singapore say that they also visit Johor Bahru to escape the well organized country with its many rules. During weekdays many Malaysians travel from Malaysia to Singapore for work or other businesses. Roads between Johor Bahru and Singapore are usually congested.
Bus or taxi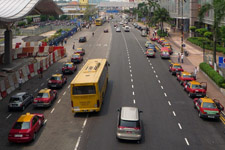 Also tourists often travel from Johor Bahru to Singapore. Though the bus is by far the cheapest solution; the downside is that you always have to get out of the bus to walk through customs with your luggage. This is not necessary when you take the taxi. There is a huge taxi station; the Johor Bahru Taxi Terminal (at Pasar Bakti Kotaraya 2). Only there can you find the specially licensed taxis that are allowed into Singapore. Buy your taxi tickets to Singapore for a fixed price at the special ticket counter. Same goes for the other way around. The Singapore Taxi Terminal at Queen Street is where you can find the licensed taxis that are allowed into Malaysia (but only to the JB Taxi Terminal). If you decide to take a taxi at a different location than mentioned earlier; then you'll have to pay more to get to JB or Singapore.
Direct service between Johor Bahru and Singapore/Changi Airport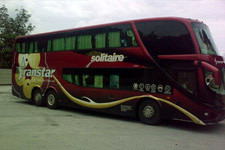 Transtar Travel operates a cross border coach service between Kotaraya 2 Bus Terminal in Johor Bahru and Changi Airport, a convenient solution for travelers that want to travel directly between Johor Bahru and Changi Airport. Another option is by using the Advance Coach daily bus service. The bus runs between Kotaraya 2 Bus Terminal and Yishun bus interchange in Singapore. The frequency is 20 to 30 minutes and fares are only a couple of ringgits.
Don't take your rented car into Singapore
We would advise you to leave your rented car in Johor Bahru before entering Singapore. Singapore has very strict rules regarding bringing in foreign cars into the country. This also applies to rentals. You could opt to rent the car in Singapore and head into Malaysia that way, but this will be much more expensive. Hawk Malaysia has an office in Johor Bahru, so you can drop your car off that that drop off location before traveling into Singapore. The office is actually located right next to the Johor Bahru Taxi Terminal, so you can walk from the office to the taxi after dropping the car off. Other car rental companies also have offices in Johor Bahru, but do check up front if they allow you to drop the car off.
Train between Johor Bahru and Singapore
As we mentioned before there are daily trains between Johor Bahru and Singapore. Though taking the train can be a fun experience, it is not that much fun to take the train from Johor Bahru to Singapore. This is mainly because of the time you lose when going through customs. Without customs the ride might take up to 30 minutes, but because everybody has to get out of the train it can take ages before you are back on the train again to continue into Singapore to the Keppel Road train station (from mid 2011 onwards trains will arrive and depart from Woodlands station as Keppel Road station has been decommissioned).
Popular restaurants in Johor Bahru
Gianni's Trattoria Restaurant & Cafe
Restaurant Ah Kow
Marina Seafood Restaurant
Popular hawker centers in Johor Bahru are: Tepian Tebrau, Selera Johor, Medan Steamboat Luton Van Dataran Bandaraya, Medan Selera Sungai Chat, Medan Selera Meldrum Walk, Pusat Penjaja Taman Sri Tebrau, Pusat Penjaja Jalan Perang Taman Pelangi and the Johor Jaya Hawker Center.
Popular hotels in Johor Bahru
Below a list with some of the better hotels in and directly around Johor Bahru (view all hotels here in a new page).
Click here to check out some available guesthouses in Johor Bahru.
Map of Johor Bahru
Below you can see a map of Johor Bahru. You can simply scroll through the map with your mouse. Use the markers on the left to zoom in or out of the city map.
Subscribe now to never miss a post!
Subscribe to our email updates or join us on our Facebook page, right now!
Travel related questions can be asked in our Telegram channel or in our Travel community.