Travel within Malaysia
There are numerous ways to travel within Malaysia. Most methods of transport are also discussed at numerous specific pages about destinations within Malaysia. Below a list of ways to travel through and explore Malaysia.
On this page:
Domestic flights in Malaysia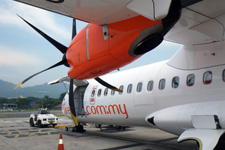 One of the most popular methods of transport in Malaysia is by taking a domestic flight. Airline tickets are usually very affordable, especially if you book them up front during special sale periods. Popular airlines that offer domestic flights within Malaysia are Malaysia Airlines, AirAsia, Firefly, MasWings (only certain routes within Borneo) and Berjaya Air (only to a few destinations). Every city as well as every bigger island in Malaysia has its own airport. Some of the tropical islands are too small to have an airport; in those cases you need to fly to a nearby city first before traveling to a smaller village where you take a boat to the particular island. An example is Perhentian Island; you first take a flight to Kota Bharu and from there a taxi to Kuala Besut before you reach the island.
Airlines in Malaysia
Malaysia has quite a few airlines that offer domestic flights. The airlines in Malaysia are all very safe; there is no reason to fear using a local airline within Malaysia. One of the reasons is probably that flying within the country has been made affordable for locals so even on less popular routes there still are enough people that use the airline that operates on that particular route. More on airlines in Malaysia.
Exploring Malaysia by train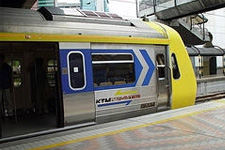 Exploring Malaysia by train is only possible at the peninsular. There are no train routes on Borneo (besides the North Borneo Railway, which is a nice tourist attraction but in most cases not an actual method of transport). Almost the complete peninsular is connected by train, except for the area between Johor Bahru and Kota Bharu via Kuantan and Kuala Terengganu; they have never built an east coast route.
The west coast of Peninsular Malaysia however is well connected by train routes. Travelers can choose for the day train or the night train. The night train has the advantage that it saves you a night in a hotel, especially interesting for the budget conscious traveler. The day train has better views, though most of the scenery consists of palm oil plantations and cultivated land (only a small part of this route will take you through parts of jungle). Popular train rides are from Johor Bahru to Kuala Lumpur, and then from Kuala Lumpur to Penang (Butterworth).
Another option is the Jungle Train, that roughly goes from Johor Bahru in the south to Kota Bharu in the north. As there is no east coast route, you will follow the route to Kuala Lumpur first, before heading into the central parts of the peninsular after Gemas. From here on the line is called the 'Jungle Train' with occasionally fantastic views of primary rainforests.
Around the city of Kuala Lumpur many places are connected by railway. It is easy to travel by train from the suburbs to Kuala Lumpur City Center; not only will you evade possible jams, it is also very cheap and once in the city itself you do not have to pay parking costs.
Taking a bus in Malaysia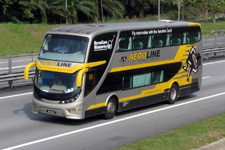 All throughout Malaysia there are bus companies that operate on certain routes. Almost every bigger city in Malaysia has its own central bus station, often even more than one. At these bus stations you can often go to the information desk and ask which company they advise you to take to a certain destination. It is also wise to do some online research up front as bus companies often vary in terms of price, quality and service. Usually the more expensive bus companies offer quite the luxurious experience. Buying the cheapest ticket might not always be the best option.
Popular routes on the Peninsular Malaysia are between Kuala Lumpur and Singapore (and Johor Bahru which is along the way), between Kuala Lumpur and Cameron Highlands, between Kuala Lumpur and Penang and between Kuala Lumpur and Kuantan.
There are also daily busses from Puduraya (central bus station in Kuala Lumpur) to nearby tourist hotspots like Malacca, Port Dickson, Genting Highlands and Frasers Hill.
You can also travel through Borneo by bus, though this might not be the best option unless you have ample time during your trip. When traveling through Borneo you have to take into account that the island is less developed and infrastructure is less reliable. Often after heavy rains roads become inaccessible for hours or even days. Between the bigger cities you should be able to find reliable services. For example between Kota Kinabalu and Sandakan on Sabah, and between Kuching and Miri on Sarawak. It is not possible to travel by bus from Sarawak to Sabah (not without taking a short flight or by going through Brunei).
Travel by taxi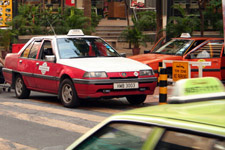 Traveling by taxi through Malaysia is probably the easiest but by far the most expensive method of transport. Of course it is no problem to use the taxi in the bigger cities or only the bigger islands (like Langkawi, Penang and Pangkor). Trips that don't take over an hour are usually still quite affordable. Longer trips will be very expensive compared to other forms of transport. For example a trip from KLIA to Genting by taxi will cost you well over RM100. Taking the taxi to get from Kuala Lumput to Malacca will cost around RM200. Be prepared to pay many hundreds of ringgits to get from Kuala Lumpur to Penang by taxi. If you don't want to make use of mass transport, then a rental car (either with or without driver) might be a cheaper solution.
Do not expect taxi drivers to use their meters on longer distances. It is not common to drive long distances by taxi on Borneo; there you have to rely on short plane trips to get from one to the next destination.
Travel by rental car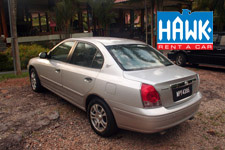 One of the nicest ways to explore Peninsular Malaysia is by rental car. There are numerous car rental companies that operate within many cities, islands and other locations (for example airports) in Malaysia. A very popular local car rental company is Hawk Malaysia. We have great experiences with Hawk. Of course you can also go with the international car rental companies, but know that these might charge higher daily rental prices. Two very popular websites to check and compare car rental prices are Rentalcars.com and Economy Car Rentals.
A great thing about renting a car in Malaysia is that you can always drop off the car at a different location. From there you can use alternate forms of transport, for example an airplane flight back to the starting point or to the next destination. Popular places to drive to with a rental car are Penang, Cameron Highlands, Kota Bharu and Malacca. Many tourists that visit the tropical island of Perhentian use a rental car to get from KL to Kota Bharu, before dropping the car off at the airport and taking a taxi to Kuala Besut for the boat to the island.
Private transport in Malaysia
Almost all car rental companies and travel companies offer private transport within Malaysia. Just contact the company beforehand and tell them about your plans. They will give you a quote for the total amount of days that you rent the car, the days that you need a driver and the extra costs involved (often consisting of food and cheap accommodation for the driver). In many cases it is also possible to hire a local guide too. Guides in Malaysia usually speak English very well, especially the older guides (as they grew up in an English speaking Malaysia).
Roads in Malaysia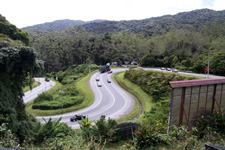 Roads in Malaysia are usually of good quality. The main roads and highways are often of very high quality, as they are maintained well by the government. People pay toll to use these roads. Traveling the main roads and highways are generally safe; there are no potholes and other dangerous defects contrary to many roads in the cities or at the countryside. Even when you're going to highlands like the Cameron Highlands, you will be driving on safe roads.
Travel by boat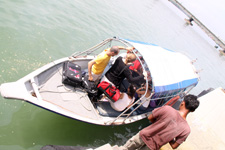 Boat travel is not popular in Malaysia. There is no connection by boat between Peninsular Malaysia and Borneo. You can always try to find a cargo ship that goes from Port Klang (KL) to Kuching or Kota Kinabalu, but this is probably only for the real adventurous travelers. People that are afraid of flying (and still managed to get all the way to Malaysia) have no other option to get from the peninsular to Borneo.
Of course there are small boats that operate between the tropical islands and the mainland; this especially goes for the islands along the east coast of the Peninsular Malaysia and along Borneo. Between the mainland and islands like Langkawi and Pangkor there are bigger boats that carry many passengers from and to the islands. Penang Island is connected to the mainland by bridge.
Explore Malaysia by bicycle
Many travelers explore Malaysia by bicycle. Note that this is probably only interesting for adventurous travelers. Besides that you also need to be in good health as riding a bike in Malaysia can be quite strenuous at times because of the mountainous landscape.
Those that have explored Malaysia by bike often have mixed feelings afterwards. This is mainly because there is a big difference between the beautiful small back roads through the authentic kampongs and the 'boring and ugly scenery' when driving on main roads and highways along miles and miles of palm oil plantations. Those that are not yet that experienced might be better off at renting a bike at one of the bigger tropical islands (with infrastructure). Islands like Langkawi, Penang and Pangkor are perfect to explore in a few days by bike. Of course riding a motorbike at these islands is just as fun and less strenuous.
Cycling in Malaysia is not really popular among the locals, and there are not many bicycle shops in the country. The best places to visit some shops are in Kuala Lumpur and Penang.
Other pages about travel in Malaysia
Subscribe now to never miss a post!
Subscribe to our email updates or join us on our Facebook page, right now!
Travel related questions can be asked in our Telegram channel or in our Travel community.