Taman Negara (National Park)
Taman Negara is the oldest primary rainforest in the world. Research has shown that this rainforest has never been influenced by ice ages and other big changes in time. With 4343 square kilometers it is the biggest National Park in Malaysia, spread out over three states at Peninsular Malaysia; Pahang, Terengganu and Kelantan. Should you stay in Peninsular Malaysia; make sure you pay a visit to this National Park; it is only a 4 hour drive to the park entrance. Taman Negara is the place for the best jungle experience in Peninsular Malaysia; perfect for those that don't have the option of visiting the jungles of Borneo. Within the park there are numerous resorts, ranging from basic guesthouses to nice resorts. There are many activities to do in the park, like hiking, night walks, rapid shooting and fishing. Because of its location you can easily combine a visit to Taman Negara with a trip to Cameron Highlands or even some of the east coast islands (like Perhentian Island).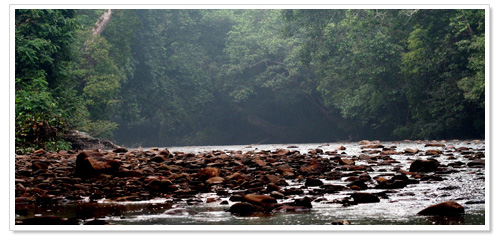 "Take nothing but memories. Leave nothing but footprints. Kill nothing but time."
On this page:
Attractions and activities at Taman Negara
Once in the park there are many fun things to do. Walking excursions are usually under accompaniment of a guide, he will take you into the jungle. There's also the famous Taman Negara Canopy Walk; this is a 510 meters long suspension bridge between high treetops (arguably the longest in the world). You can walk over it, and enjoy spectacular views at heights of over 45 meter. A night walk is a very nice to-do at Taman Negara; but make sure you wear mosquito repellant and clothes with long sleeves and long trousers. Special socks against leeches are not really necessary; you can always pull them off you bottom legs after your trip (unless you cannot handle some minor blood). Other activities and attractions within the national park are bird watching, staying overnight in one of the wildlife observation hides, adventurous cave explorations (i.e. Gua Telingga, Gua Kepayang, Gua Luas, Gua Landak and Gua Tumpat) river cruises, Lata Berkoh with its waterfalls, fishing (Taman Negara offers great fishing opportunities for anglers), enjoying the scenic views after climbing to the summit of Mount Tahan (multi-day jungle trek) and visiting the Orang Asli (Batek and Semokberi) people in their villages.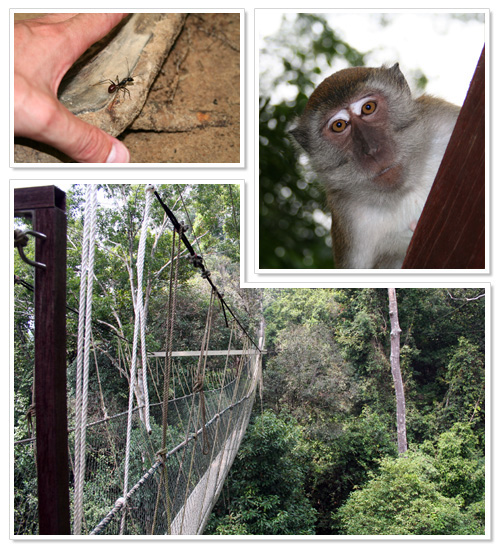 Not the best place to spot big animals
Do not head out to Taman Negara if you are expecting to spot bigger animal species. The National Park is enormous, which gives animal's ample space to roam freely without any human disturbances. This means that wild animals or birds will have enough possibilities to stay unnoticed, or even avoid human contact altogether. This is a great thing; this means animals here still have big enough living conditions, without being bothered by people (tourists). The downside is that many people that go to Taman Negara mainly spot some great looking insects, birds, plants and trees (like the tualang tree), but no bigger wild animals (only the tracks of them perhaps). It is quite common to spot deers, wild boars, tapirs, monkeys and many types of birds (over 250 species).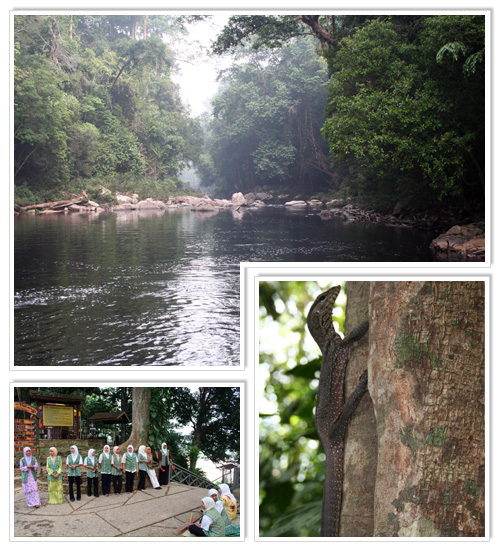 I personally think this is a good thing that the bigger animals have enough space to stay out of sight of tourists; when you go to Borneo chances are much bigger of encountering animals. Chances of spotting animals over there are often that big because of all human interference. Due to the many palm oil plantations, the natural habitat of big parts of Borneo are destroyed; many animals are cuddled together in small spaces. So although Taman Negara is perhaps not the best place to visit when you're hoping to spot animals like elephants, hornbills, tigers, leopards, sun bears, rhinos, wild cats or any other bigger species; it still is a great place for nature walks and insect or bird spotting. The fact that the National Park is situated that close to Kuala Lumpur makes it an easy to-do trip.
Restaurants
The resorts at Taman Negara all have their own restaurant. Here you can enjoy a nice (local and western) meal. You can also cross the river for RM2 and head out to Kuala Tahan riverside; where there are numerous small local restaurants. Do leave early as the restaurants close early (and also make sure you are able to get a boat ride back to the other side of the river).
Accommodation in Taman Negara
The most popular resort is Mutiara Taman Negara, most packages will include one or two nights stay. The resort itself is quite nice, there's air conditioning which keeps the bugs out; however always use mosquito repellant (which contains DEET or OFF). Mutiara Taman Negara Resort offers a nice breakfast and also a restaurant where you can enjoy pretty decent meals (don't expect fine dining). Prices are pretty high, but that's what you get if there is not much (upscale) competition. There is no WIFI internet at the resort, so your jungle experience will be without any contact with the outside world (though there is a pc with internet connection that you can use). Besides Mutiara Taman Negara there are also quite a few other basic resorts, like Woodland Resort, Rainforest Resort and Teresek View Motel. If you don't have a package deal you could consider staying there. Cheaper accommodation is also available for backpackers (prices range from RM10 to RM100 per night); Agoh Chalet, Tahan Guest House, Nusa Holiday Village, Travelers Home, Rippi hostel and many others.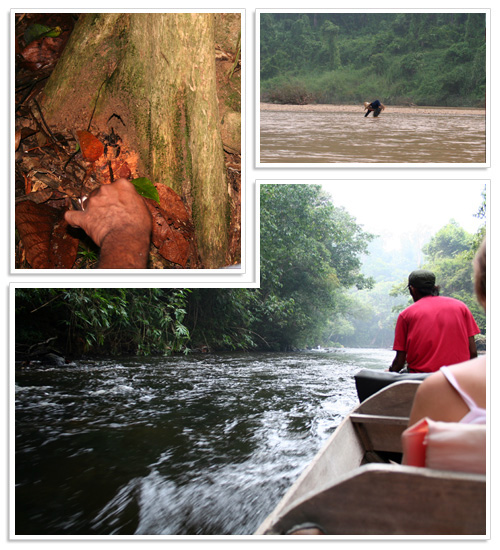 Checklist trip to Taman Negara
First aid travel kit with personal medicine
Tripod for your camera (to make pictures in low light conditions)
Mosquito repellent
Rain coat, poncho and/or umbrella
Headlamp or flashlight
Dry clothes in an aqua bag
Comfortable walking shoes
Special socks against leeches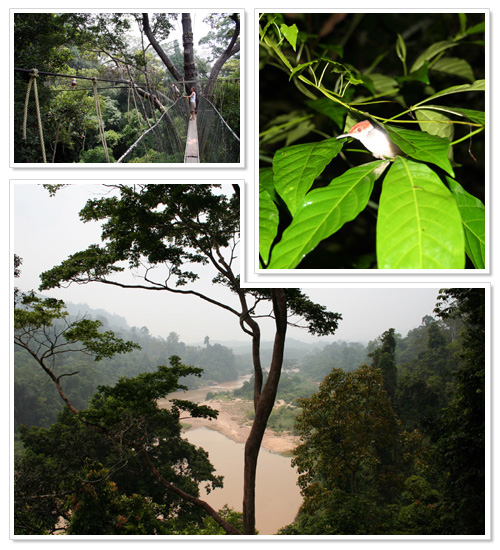 Tips Taman Negara
If you are staying at the Mutiara Taman Negara resort as part of a package tour from Kuala Lumpur, you should consider staying at the Crowne Plaza Mutiara Kuala Lumpur the night before departure. That way you do not have to get up early to travel to the hotel first as transport to Taman Negara departs from this hotel.
There are no ATMs and banks at Taman Negara (Kuala Tahan), last place to use the ATM before arriving at the national park is at Jerantut.
Before you do any trek in Taman Negara, you must pay the wildlife conservation fee (RM1) and a license for your digital camera (RM5). This is valid for 1 month. You can get the necessary permits at Wildlife Department Office at Kuala Tembeling or at Kuala Tahan (for those that arrive by bus/car at Taman Negara).
Those that like fishing can head over to the Tembeling River; there is no need a fishing license. Bring your own rods and gear.
If you stay in the same hotel in Kuala Lumpur before and after your trip to Taman Negara, then you should consider leaving some of your luggage at the hotel. Most of the hotels have a reliable and safe storage service for its guests. You can also drop your luggage at Hotel Sri Emas in Jerantut.
It is recommended to reconfirm your departure (longboat and bus ride).
There is (almost) no phone reception in Taman Negara. A few of the resorts offer internet for an hourly rate.
Beresek Hill is a nice place with great views over the national park.
Tours are more expensive at the resorts. If you book your tours at Kuala Tahan riverside it is much cheaper.
One of the more fun filled activities is rapid shooting, where you go through shallow rapids by boat. You will get very wet during this activity. If you want to make pictures, it is best to bring along a waterproof digital camera (like the Panasonic FT3).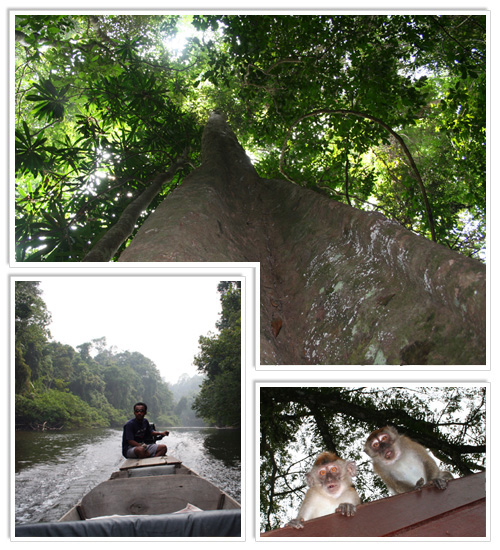 How to get to Taman Negara
Taman Negara is very easy accessible from Kuala Lumpur. You can drive up to the entrance in about 4 hours (only if you drive the whole route by car). Many tourists however use a Taman Negara package deal. This means you are picked up from the hotel in the morning, and then driven to the small town Kuala Tembeling. Here you will hop on a longboat, and with several other longboats you will start the journey by river. Before getting on the boat you first have to pay the wildlife conservation and the boat ticket fees. The boats depart at 2pm (also at 9am but you will only make it if you stay overnight at Kuala Tembeling), so be sure not to miss your scenic boat ride to the national park. After 2,5 to 3 hours you will arrive at the entrance of the Taman Negara National Park at the small town of Kuala Tahan. Departure from the park usually is around 9am. You will take the boat along the Tembeling River and after 2 hours you will arrive at Kuala Tembeling for your transport back to Kuala Lumpur.
Private transport by shuttle bus
The popular NKS Travel has its office in Hotel Mandarin Pacific in Chinatown (Petaling Street). Their shuttle bus to Kuala Tembeling departs daily in front of the hotel at 8.30 (you have to be there at 7.30 to register and pay RM75 for the bus tickets). There is a lunch break at Jerantut at around 12 noon; you will arrive in time to get the longboat to the park entrance. A return ticket costs RM70.
Another popular coach operator between KL and Taman Negara is Han Travel. They charge about RM70 for a return trip. Their shuttle bus departs daily from Kompleks Selangor (opposite Swiss Inn) in Chinatown (Petaling Street area).
Drive to Taman Negara by rental car
If you drive yourself by rental car from Kuala Lumpur you follow the main highway via Genting Highlands to Kuantan until you reach exit 819; Temerloh and Jerantut. At Temerloh toll plaza you follow the signs to Taman Negara along route 98. Most people drive directly to Kuala Tahan. There is a parking over there so you can safely park your car nearby the park entrance. Another option is to drive to Kuala Tembeling, and park your car there to take the longboat to the park entrance (the scenic way).
By public transport
By far the cheapest solution to get to Taman Negara is by public transport. There are daily busses that take you from Pekeliling bus station (few minutes' walk from Rapid KL LRT Titiwangsa station) in Kuala Lumpur to the Jerantut bus station. A one-way ticket only costs about RM15. There are a few operators that depart at different times. From Jerantut bus station a special Taman Negara shuttle bus departs to Kuala Tahan (4 times a day). An alternative route is by taking a taxi from Jerantut to Kuala Tembeling (20 minutes, +/- RM20) for the boat to Taman Negara, take into account that you need to be at Kuala Tembeling before 2pm as this is the time the longboats to Taman Negara depart.
By taxi
The most expensive way to get to Taman Negara from Kuala Lumpur is by taxi. Expect to pay at least RM400 for a one-way trip. This might be a nice solution for those traveling with a small group or family. It might not be easy to find a taxi for the return trip so make sure you arrange this at the park.
"Can I go to Taman Negara National Park without a tour package?" Yes, you can easily contact one of the companies that arrange private transport (mentioned above) to take you to the national park. Here you can have a look at the different places to stay and you can arrange day trips once there.
Jungle Train to and from Taman Negara
Another way to get to Taman Negara is by jungle train from KTM station Gemas (or even all the way from Johor Bahru, though the 'jungle' experience only starts from Gemas onwards. When visiting Taman Negara you need to get off at the Jerantut station and take a bus or taxi to Tembeling town (for the longboats). Many travelers use the jungle train to travel from Taman Negara to Kota Bharu (so after their visit to Taman Negara) as this route is even more adventurous.
From Taman Negara to Cameron Highlands or Kuala Besut
There are daily minibuses that drive between Taman Negara and a few other popular attractions in Malaysia. Tour office Cameron Secrets for example offers affordable transport from Taman Negara to Cameron Highlands (and vice versa). You will travel by modern minivan. A one way trip from Taman Negara to Cameron Highlands (operated by Cameron Secrets) for example costs RM80. You can also get transport from Taman Negara to Kuala Besut, where boats to Perhentian Island depart, for RM90 (operated by Watercolours Resort & Dive Centre).
Map of Taman Negara
Below you can see a map of Taman Negara. You can simply scroll through the map with your mouse. Use the markers on the left to zoom in or out of the map.
Subscribe now to never miss a post!
Subscribe to our email updates or join us on our Facebook page, right now!
Travel related questions can be asked in our Telegram channel or in our Travel community.