Georgetown; Capital of Penang Island
Georgetown, the capital of the island Penang, is named after the British King George III. The city is located at the northeast side of the island and has, suburbs included, about 550.000 inhabitants. After Penang was handed over by the sultan of Kedah to the English, Sir Francis Light founded the city Georgetown. He immediately started the construction of Fort Cornwallis. Over the years this first settlement evolved into a big city (in that time). In 1957 Georgetown got permission to be called a city and until 1972 it was the only city in Malaysia with this permission.
Our pages on Penang
On this page:
Modern Georgetown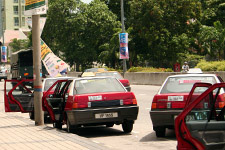 Today the city is a great example of the multicultural society in Malaysia. Many different nationalities live in Georgetown. The Chinese form the majority, something you can see clearly in daily life. When you're in a taxi with a Malaysian driver, he will probably be talking about Chinese and Indian people. Vice versa a Chinese taxi driver will be talking about the Malaysian or Indian people. In many cases these conversations will not be that positive, but hey; for them it is a great way to let off some steam during a hard days work. Most tourists that visit Georgetown will only see the colorful mingling of multiple cultures; which is normal as they are on their holiday.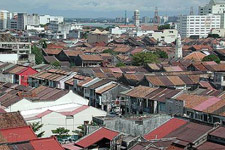 The city is characterized by the colonial architectures. The English influenced - during their colonial times - the construction of Georgetown very much. The city is not a modern metropolis like Kuala Lumpur; some quarters are fairly modern, others are old fashioned. You can compare Georgetown best to those typical and hectic Asian cities. You clearly sense that authentic Asian atmosphere. For that matter I think Georgetown resembles the Thai capital city of Bangkok over Kuala Lumpur in many ways.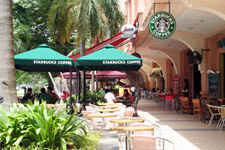 Georgetown is built in quarters. There is the Chinese quarter (Chinatown) and also a colorful quarter called Little India. There is also a business district. One of the nice activities on Penang is a day trip through Georgetown. You can do this walking or by trishaw, but you can also visit all sights by taxi. Shopping is excellent in Georgetown. In and around the city there are lots of modern shopping malls. Some well known malls are 1st Avenue mall, Straits Quay mall, Penang Times Square, Queensbay Mall, Gurney Plaza, Island Plaza, [email protected], Prangin Mall, Midlands One Stop and the Bukit Jambul Complex.
Unesco World Heritage Site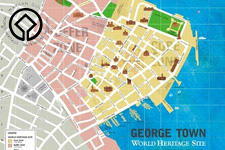 Georgetown - together with Melaka - has developed over 500 years of trading and cultural exchanges between East and West in the Straits of Malacca. The influences of Asia and Europe have endowed this city with a specific multicultural heritage that is both tangible and intangible. Featuring many residential and commercial buildings, Georgetown represents the British era from the end of the 18th century, therefore validating outstanding cultural heritage. Because of this has Georgetown been listed as a Unesco World Heritage Site on the 7th of July 2008. The historic city of Georgetown has over 12,000 old buildings comprising of shophouses, churches, mosques, government offices and monuments.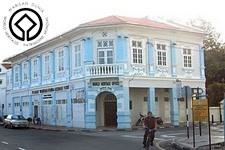 The core areas of the site encompass the historical sites of Georgetown, including the Lebuh Acheh historical enclave and sites such as the Lebuh Acheh Malay Mosque, Jalan Mesjid Kapitan Kling Mosque, the Goddess of Mercy Temple, Sri Mariamman Temple, Khoo Kongsi, St George's Church, Assumption Church, St Xavier's Institution, Convent Light Street, Little India, the museum and court building, the commercial area of Beach Street, Fort Cornwallis, Esplanade, City Hall, the clan jetties and the port areas. Listing Georgetown on the World Heritage List has boosted tourism enormously since 2008; but the city (government) has great difficulties maintaining this precious status.
Forms of transport in Georgetown
Two main forms of transport within Georgetown are busses and taxis. Though a rental car is great in Penang, Georgetown is often very jammed and traffic is sometimes crazy. Read more about the ways of getting around on Penang Island.
Attractions Penang (in and around Georgetown)
Check out the many attractions at Penang Island
Popular restaurants (& foodcourts) in Georgetown
Popular hotels in Georgetown (Penang)
Below a list with some of the better hotels in and directly around Georgetown.
Travelers on a tight budget will probably have a fantastic stay at Tune Hotel Georgetown; as this modern 3-star hotel is very affordable. Here's a list with all hotels in Penang.
Map of Georgetown Penang
Below you can see a map of Georgetown Penang. You can simply scroll through the map with your mouse. Use the markers on the left to zoom in or out of the city map.
Subscribe now to never miss a post!
Subscribe to our email updates or join us on our Facebook page, right now!
Travel related questions can be asked in our Telegram channel or in our Travel community.