Kuantan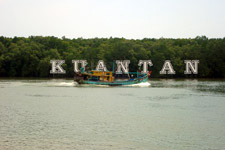 Kuantan is the capital of the state of Pahang, the largest state of the Malaysian peninsula. It is about 277 kilometres from Kuala Lumpur; or a 4 hour drive. Even Cameron Highlands (Midwest) and Taman Negara (Mideast) are part of Pahang. Well over 400.000 people live in Kuantan; which makes it the largest city in East Coast Malaysia. Overall 1,5 million people live in the state of Pahang. The city has a modern part and an historic part. Especially in the older part you find many beautiful sights. There are also some old looking shopping centres (Kompleks Teruntum and Kuantan Parade). Right now Kuantan is rapidly growing into a modern city with many ongoing developments.
On this page:
Activities in and around Kuantan
There are quite some fun attractions and sights in and around Kuantan. Within Kuantan you can visit the State Mosque, the Kuantan river esplanade and river cruise, or one of the recreational parks. Around Kuantan the following attractions are worth a visit; Panching Caves, Sungai Pandan water fall, Berkelah water fall, Sungai Lembing tin mine (museum), a trip to Pulau Ular, Cherating turtle sanctuary, a firefly tour or of course shopping at one of the malls in the city. The best beaches around Kuantan are Teluk Chempedak, Beserah, Balok, Batu Hitam and of course the popular Cherating beach. Travelers with kids might enjoy a visit to Bukit Gambang Resort City; located 35 kilometer from Kuantan. This resort city has a huge water park; especially great for children.
Shopping malls in Kuantan
One of the most popular malls in Kuantan is East Coast Mall. Here you'll find many international brands and also many popular F&B outlets; like Starbucks, Baskin Robbins, KFC, Sushi King and Laksa Shack. On the third floor you'll find a small foodcourt and a huge cinema. In the basement there's a Carrefour supermarket. Anchor tenant at East Coast Mall is Parkson. Another very popular mall is Berjaya Megamall. This mall also has many popular brands and also many restaurants and F&B outlets. The mall is surrounded by many small local restaurants; so if you fancy a local meal you can try one of the hawkers there. Currently Putra Square Shopping Mall is being built.
How to get to Kuantan
By air
The easiest and quickest way to get to Kuantan is by air as there are numerous daily flights from Kuala Lumpur. Two airlines operate on this route; Malaysia Airlines and Firefly. Firefly also flies between Kuantan and Singapore. Malaysia Airlines departs from KLIA (domestic) and Firefly departs from Subang Airport. Unfortunately, Air Aisia does not fly to Kuantan yet, but we hope they will in the future. Southwest of Kuantan lies Sultan Haji Ahmad Shah Airport. It is 15 kilometer from Kuantan city center.
By rental car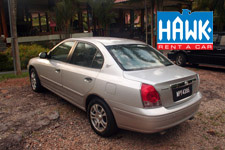 Another way to get to Kuantan is by rental car. It is easy to rent a car in Malaysia. Numerous car rental companies have special pick up locations throughout the country. Hawk Malaysia for example has a drop off point at Sultan Haji Ahmad Shah Airport, so you can easily pick up the car at an Hawk office in Kuala Lumpur (KLIA or city center) and drive with it to Kuantan. From Kuala Lumpur it is only a 4 hour drive to Kuantan; the trip will be over toll highways (total trip wil cost approximately RM30). You might want to consider a short stopover at another destination on the way to the city. Many tourists combine their trip to Kuantan with a short visit to Genting Highlands, a trip to Taman Negara or the Elephant shelter at Kuala Gandah.
By bus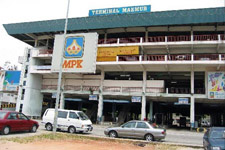 The cheapest way to reach Kuantan is by coach. There are numerous bus operators that have daily busses driving between Kuantan and many other locations within Peninsular Malaysia. From the main bus terminal Puduraya in Kuala Lumpur a couple of busses a day leave towards Kuantan. The trip from Kuala Lumpur to Kuantan by bus will take around 4 hours. Usually the costs of traveling by bus are marginal. You leave Kuantan from a central bus station Terminal Makmur (Jalan Stadium). Do not save on a trip bus (unless it is your primary goal to travel as cheap as possible); because you can travel first class for little money to Kuala Lumpur.
Popular restaurants in Kuantan
Satay Zul
Tong Juan
Hai Peng Restaurant
Restoran Timur
Sri Patani Restaurant
Restaurant Tanjung
Restoran Baru Hock Hin
Hoi Yin Restaurant
Popular hawker centers and food courts in Kuantan are: Food Court @ East Coast Mall, 888 Food Court Medan Selera and the Jalan Gambut night market.
Popular hotels in Kuantan
Most luxurious hotels are located at the north of Kuantan, along the beautiful Cherating beaches. From the hotels around Cherating it is a 20 minutes drive to Kuantan city centre by taxi. Below a list with some of the better hotels in and directly around Kuantan (view all hotels here in a new page).
Map of Kuantan
Below you can see a map of Kuantan. You can simply scroll through the map with your mouse. Use the markers on the left to zoom in or out of the city map.
Subscribe now to never miss a post!
Subscribe to our email updates or join us on our Facebook page, right now!
Travel related questions can be asked in our Telegram channel or in our Travel community.