Cameron Highlands
The Cameron Highlands is a highland situated at about 150 kilometers North of Kuala Lumpur, and about 20 km. east of the city Ipoh. Because of its high location it is cooler (about 25 C, but sometimes below 20 C) than the rest of Malaysia. The highlands are named after William Cameron, a British expedition leader. He discovered the location during an expedition in 1885. From that moment onward the Cameron Highlands got increasingly interesting for the British. Because of the perfect climate it was very suitable for cultivating tea, and the Cameron Highlands soon grew out to be the biggest tea region of Malaysia.

In past times English colonists settled at the Cameron Highlands mainly because the climate resembled the English climate better. Because of this hotels around Cameron Highlands often have colonial characteristics. They soon discovered the area was great for cultivating tea, which is why tea plantations dominate the scenery. The highlands are quite popular among tourists that want to see yet another side of Malaysia; a side where you can walk for hours in the cool climate.
"By the mid-1930s the resort was proving very popular for local leave. The Green Cow Tavern at the entrance to the Tallom Valley held the accolade of being the highest hotel in the peninsula." Out in the Midday Sun: The British in Malaya 1880-1960.
On this page:
Attractions in Cameron Highlands
The region is characterized by extensive tea plantations. People mostly come to Cameron Highlands to escape the heat and to do some beautiful walks. Besides the tea plantations there are also the following attractions: Mossy Forest, Rafflesia tour, strawberry farm, rose gardens, a Chinese temple, a cactus valley and vegetable gardens. Please avoid places where insects or animals are kept; as they are often in pretty bad shape (for example the butterflies at the Butterfly Farm are kept in poor conditions). At weekends you can visit the night market in the evenings. Here locals buy their ingredients, fresh meat, fish and also vegetables and fruit. Tourists can enjoy one of the popular local snacks.
In the surrounding area of the Cameron Highlands there are also a large number of Orang Asli villages, which you can visit. Here you can see the original inhabitants of Malaysia in their authentic community. The easiest way to visit the attractions is by organized tour. We found this really cheap compared to similar tours at other areas in Malaysia. For a half day tour we paid RM50 per person. The locations that you visit can be driven yourself if you have your own (rental) car, but they are pretty steep at certain points. Some parts of the tour you are better off in a sturdy 4x4.
Mossy Forest
One of the most popular tours is the combined tour where you visit the BOH tea plantation and the Mossy Forest (or Cloud Forest). Early in the morning, or when the temperature is rising fast you will witness the whole dense forest covered in white mist. Trees look magical as they are all covered in green moss. We spotted numerous pitcher plants; they are easy to spot along the short but stunning little trail. We also saw a few beautiful plants (including white orchids) and a couple of nice beetles, among them one huge stag beetle (or at least the guide thought it was).
Mossy Forest is a must-visit when you are at Cameron Highlands. It can easily be combined with a visit to BOH tea plantation and Mount Brinchang. Mossy Forest is located at the slopes of Mount Brinchang, a few hundred meters from the peak of the mountain. Bring along solid walking shoes and expect them to get covered in mud. Also make sure you wear your camera around your neck with a neck strap as it can be quite slippery and you wouldn't want to fall with your camera in one hand. If you're still looking for your perfect hiking camera, check out this hiking camera guide by Globo Surf. At the end of the small hike into Mossy Forest you are being treated to a fantastic view over the area, where you can make some stunning panoramic photos. Considering a trip to Mossy Forest? Make sure to wear solid sneakers or even hiking shoes and leave your flip-flops at home.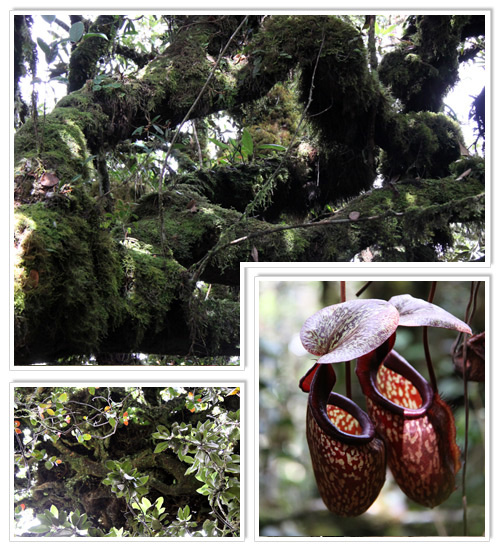 Boh Tea Plantation
Sungai Palas BOH Tea Estate is a must-visit when you are at Cameron Highlands. The scenic area comes right out of a tea commercial. The massive tea plantation stretches as far as the eyes can see. Everywhere you see tea bushes, all beautifully green. If you take a tour there are a couple of points where you can enjoy the scenic views best. If you are going to visit the area by yourself (rental car or by taxi) then just go and stand right next to a tour group to hear the whole story of BOH tea plantation.
The tea factory is open to public every day except for Mondays (and public holidays). The restaurant next to the factory is opened daily; here you can enjoy a nice cup of BOH tea together with a light snack (like cake, scones and tarts) while you are enjoying the fantastic views from the restaurant. The restaurant at BOH tea plantation is opened daily from 9am to 4.30pm. If you arrive around 9am it is still pretty quiet. Come around 11pm and there will be a long queue at the restaurant ordering counter.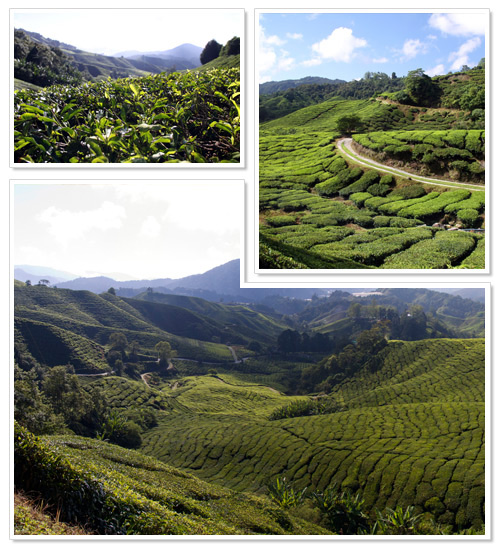 Sungai Palas BOH Tea Estate is located north of Tanah Rata (and Brinchang). If you drive north from Brinchang you need to turn left into the small secondary road right after the Equatorial Resort and the Butterfly Farm (and Butterfly Garden); right opposite the fruit and vegetable stalls. From there you follow the road up until you reach the fantastic scenic viewpoints over the tea valleys. There is also a 2nd BOH Tea Estate south of Tanah Rata (15 minute drive). Turn left at kampung Habu. Here too you will find a few great lookout points, and also a tea shop (and factory).
Other tea plantations to visit are Cameron Bharat Tea Estate (3 locations around Tanah Rata). Only the one south of Tanah Rata has a scenic viewpoint. Here you can also enjoy a nice cup of fresh tea at the Cameron Valley Tea House.
Hiking trails
There are numerous hiking trails that start from Tanah Rata village. Some require a small walk from the town to the starting point of the trail; others start right in the village itself. Not all trails are worth the while when you are only in Cameron Highlands for a few days. The two best trails are probably trail nr. 10 and trail nr. 5. Trail nr. 10 will take about 3 to 4 hours and takes you up Mount Jasar. Trail number 5 will take you to Parit waterfall, one of many beautiful waterfalls in the area (though the water is quite murky). Another beautiful waterfall is Robinson Waterfall. Just buy a Cameron Highlands map (RM3.50) at your guesthouse or hotel (or at the tourist information center in Tanah Rata village) and you know where the trail starting points are. Always leave your contact details at the desk of your hotel or guesthouse; and let people at the hotel know that you are about the leave on a hike. Wear solid hiking shoes (though most hikes can also be done on sandals or flip-flops) and don't forget to bring enough water along. As it rains a lot in Cameron Highlands it would be wise to bring along a poncho or umbrella. As it can get quite chilly at some points, don't forget to bring along a light sweater just in case.
Lookout points with scenic views
There are a few great lookout points with amazing scenic views over the area. The most popular lookout point by far is on top of Mount Brinchang. Here at the peak of the mountain you have a small Observation Tower that you can climb for an even better view. A visit to Mount Brinchang is often part of the standard half-day or full-day Cameron Highlands tour that is offered by many tour offices. On your way to Mount Brinchang you will probably visit the BOH tea plantation; here too you can enjoy amazing views over endless valleys covered with tea bushes. Most of the other tea plantations have great lookout points too.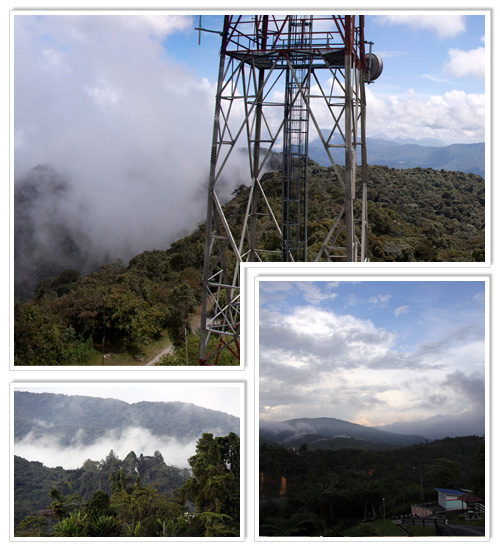 Less popular but also very nice lookout points can be found at the Weather Station (10 minute car or taxi drive from Tanah Rata town); the views from Mount Jasar are also fantastic.
Tanah Rata and Brinchang
There are two main villages within Cameron Highlands; Tanah Rata and Brinchang. Tanah Rata has the most hotels and guesthouses and is also more attractive to tourists. Brinchang also has numerous guesthouses, though Tanah Rata caters more to tourists. Tanah Rata is a small town; it is actually not much more than a street with shops, guesthouses and restaurants on both sides. The town has a small medical clinic and also a hospital so travelers do not have to drive all the way to Ipoh or even Kuala Lumpur. The medical clinic is located opposite of the main bus station and taxi counter at the end of the main street, Jalan Besar, with all the shops. Tanah Rata has a pharmacy, a supermarket, numerous travel offices, a postal office, a few banks (with ATMs), souvenir shops and also numerous restaurants. The most popular attractions of the Cameron Highlands are not within walking distance of Tanah Rata, so you need to rely on organized tours, your own (rental) car or taxi to visit them. Adventurous travelers can however do one of many walking trails that start from the village.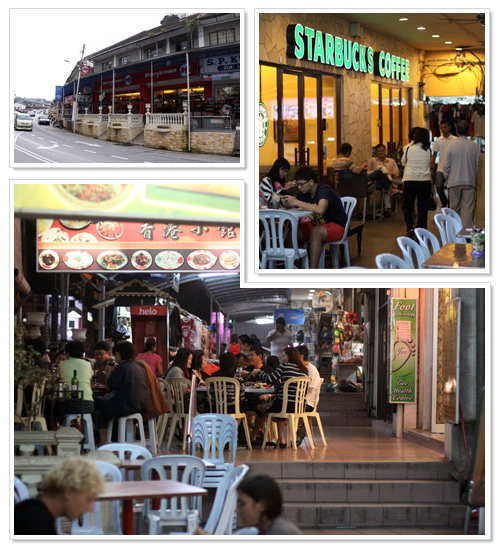 Accommodation in Cameron Highlands
There is an abundance of choices where to stay at night at Cameron Highlands. There are numerous hotels and affordable guesthouses. You can book up front, or simply walk in a hotel; know that walk-in rates usually are a bit higher compared to reservations upfront. Many guesthouses have dormitories where you only pay around RM15 per night. Among the most popular guesthouses are Gerard's Place, Father's Guesthouse and 8Mentigi Guesthouse.
You can already spend the night in a hotel in Cameron Highlands for a few euro's/dollars per room per night. Often people ask me if 1 night Cameron Highlands is sufficient. There is enough to do in the surrounding area to stay there for 2 or 3 nights. If you rent a car however, you can see quite a few nice attractions whilst spending only 1 night. In a number of cases the traveling agencies include a visit to the Cameron Highlands in a tour through Malaysia. Other traveling agencies offer Cameron Highlands as an optional part of the trip. A visit to the Cameron Highlands can be very well combined with a visit to one of the islands (on the Western side) Langkawi, Penang of Pangkor. With a rental car you can also cross the country from the Cameron Highlands; you'll arrive at Kota Bharu (for i.e. the boat to Perhentian or Redang).
Hotels Cameron Highlands
Below a list with some hotels in and directly around Cameron Highlands.
8Mentigi Guesthouse
We stayed at 8Mentigi Guesthouse during our first trip to Cameron Highlands. 8Mentigi is located in the main village of Tanah Rata; within walking distance of its center with its nice restaurants, bars and shops. 8Mentigi came highly recommended by some of our local friends. We paid RM80 per room per night; an absolute bargain. The guesthouse offers free WIFI and other facilities. Rooms were spacious and in good shape. The guesthouse is linked to the tour office Cameron Secrets; so you can easily arrange tours at the guesthouse without having to venture into the village. If you book your tours at the guesthouse, you will be picked up from the guesthouse too.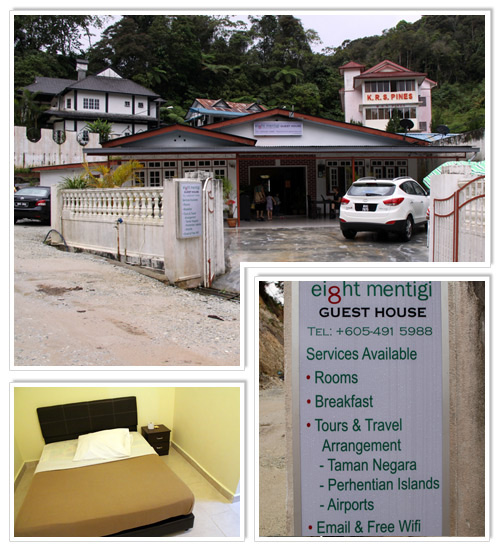 Gerard's Place
Gerard's Place is another nice budget guesthouse in Cameron Highlands. The guesthouse is very nice and cozy. It has only 8 rooms, so you have to be early with your reservations to be able to get a vacant room. The rooms are clean and spacious. There is WIFI and a shared fridge that you can use. From the guesthouse it is only a 5 minute walk to Tanah Rata town. Walking is fun in Cameron Highlands because of the cool climate up in the mountains. Gerard's Place too is linked to Cameron Secrets; the tour agency that offers tours and transport in the area.
Transport from Cameron Highlands to Perhentian or Taman Negara
There are daily minibuses that drive between Cameron Highlands and a few popular attractions in Malaysia. Tour office Cameron Secrets for example arranges affordable transport from Cameron Highlands to other popular attractions like Perhentian and Taman Negara (and vice versa). You will travel by modern (brand new) minivan. A one way trip from Cameron Highlands to Kuala Besut, the small town from where you take the Jetty to Perhentian Island, costs RM70. The trip from Cameron Highlands to Taman Negara costs RM80.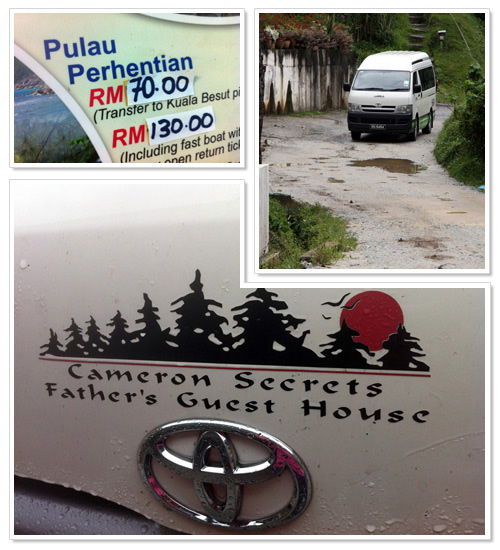 Checklist trip to Cameron Highlands
First aid travel kit with personal medicine
Tripod for your camera (to make pictures in low light conditions)
Sun screen lotion (though you are in a cooler climate because of the altitude, you can still get sun burned)
Mosquito repellent
Walking shoes or hiking shoes
Rain coat, poncho or umbrella
Bring a sweater as it can get quite chilly at nights
Tips Cameron Highlands
You can enjoy cheap Indian food at Kumar in Tanah Rata town.
You can use a taxi to explore Cameron Highlands for RM25 per hour (taxi terminal is located next to the main bus terminal).
Enjoy great scones at Old Smoke House Restaurant. For RM25 you can get the set of one tea and two scones with cream and strawberry jam. Cheaper but also very nice scones are sold at the Bala's Holiday Chalet (nearby Old Smoke House); thought the overall atmosphere at the Old Smoke House is better.
Trail number 10 is one of the best trails as it leads you to the top of Mount Jasar with great views over the area. Let the people of the guesthouse know if you are going on a trail in case of emergency. Start your walks early in the morning and don't forget to bring along enough water (and a poncho/umbrella).
No (proper) breakfast at your guesthouse? Just head over to the Starbucks and get their great Melted Chicken. Their branch at Tanah Rata opens daily at 8am.
Tours go by the 4x4 van that carries 8 people. If you want a private tour by 4x4 you pay for the whole car (so times eight). If you book a standard tour then you will pay only the amount mentioned, even if there are not enough passengers. The half day Cameron Highlands tour is very much worth your RM50 as it takes you to the highlights of the area; much more fun then driving there yourself (get a good car as some parts are very steep).
Sultan Ahmad Shah Golf Club is the only public 18-hole golf course in Cameron Highlands, located between Tanah Rata and Brinchang.
If you want to see the rafflesia you could consider the Rafflesia Tour. It is a seasonal tour and quite a drive from Tanah Rata.
Cameron Highlands is especially known for its strawberries. One of the tours is self-plucking of strawberries at a strawberry farm. There are quite a few farms where you can self-pluck them yourselve, there is actually no need for an organised tour.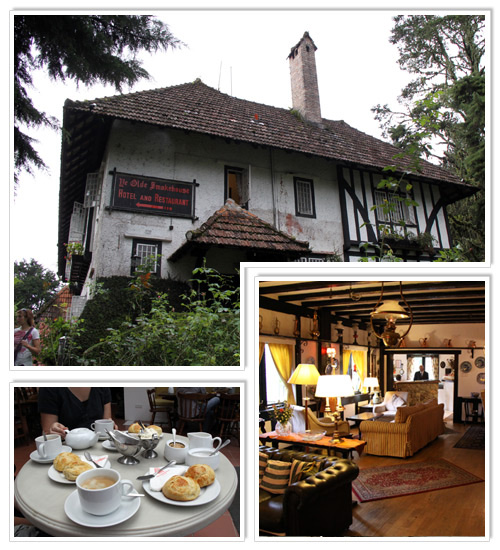 How to get to Cameron Highlands
The Cameron Highlands are easily accessible through the state of Perak (though it lies within the state of Pahang). However, you're limited to busses and (rented) cars. It is roughly a 4,5 hour drive from Kuala Lumpur, and a 3,5 hour drive from the island of Penang. The first part is over solid highways, the second part is uphill on curly (and less solid) roads; this goes for the trip from Penang and the trip from Kuala Lumpur. If you travel by car the best route to follow is by taking the Simpang Pulai exit (Exit 137) and then follow the new road to Cameron Highlands. Coming from KL it might take a bit more time to get to Cameron Highlands; the road however is less curly and generally safer contrary to the alternative route via Tapah.
From Kuala Lumpur busses ride to the Cameron Highlands. You will arrive at the Tanah Rata bus terminal. From there it is a small walk to many of the available guesthouses. There is also a taxi counter at the bus station; which makes it easy to grab a taxi to your hotel or guesthouse if needed. It is also a lot of fun to drive there yourself by rental car. I wouldn't take a taxi from KL as the price is too high. The Cameron Highlands are also very easy to reach from the island of Penang. You can rent a car in Penang and drive it to the highlands. Busses ride from Penang to the highlands as well. You can book hotels or guesthouses in Cameron Highlands beforehand, this can however also be done in the form of a package in Kuala Lumpur or on Penang. Adventurous travelers probably want to just go there without any reservations up front; this is not a problem as there is usually a bed (dormitory) or room available at one of the many guesthouses.
Map of Cameron Highlands
Below you can see a map of Cameron Highlands. You can simply scroll through the map with your mouse. Use the markers on the left to zoom in or out of the map.
Subscribe now to never miss a post!
Subscribe to our email updates or join us on our Facebook page, right now!
Travel related questions can be asked in our Telegram channel or in our Travel community.