Ketam Island
The island of Ketam is, like almost all islands in this area, well known for fishery. The catch of crabs is what the island is renowned for, the name Ketam does mean crab after all. If you love fresh seafood, then this island is the place to visit. Tourists can, next to having a delicious meal, experience the fishery from close here. Around 6,000 people live permanently on the island. Numbers used to be higher; but in recent years many people moved to the mainland (mostly youth/youngsters). There are two villages on Ketam Island; Kampung Pulau Ketam and Kampung Sungai Lima. Tourists usually visit Kampung Pulau Ketam. The village consists of two main streets with many small shops and restaurants; there is even a bank with ATM. Here you can also find the daily wet market; a great place to enjoy some of the local delicacies. There are no cars or motorcycles on the island, everybody walks or uses their bicycle.
Check out our Ketam Island picture set at Flickr.com
On this page:
Perfect day trip from Kuala Lumpur
Many citizens of Kuala Lumpur visit this island to escape the daily hectic life. It is about everyday people; the island itself has some basic lodges for people who want to stay longer. We once stayed at Pulau Ketam Inn (03-3110 5206) where they have WIFI; we paid RM60 per night. Another time we stayed at Hotel Sea Lion (012-264 8052). There we stayed in their VIP room; we paid RM98 per night. There also are cheaper rooms (basic no air-con: RM25, basic with air-con: RM45) but when we visited the island a group stayed over so they were out of cheap rooms. Normally there is no need to make reservations up front as there is almost always something available. Worst case scenario; you take the last boat back to Port Klang.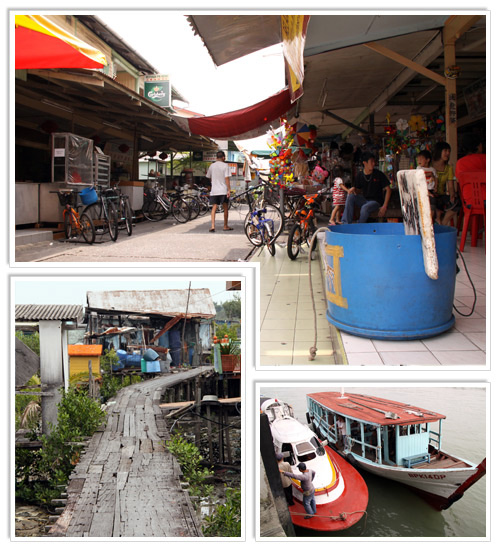 Especially great for seafood lovers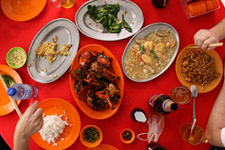 The island is characterized by the houses built on stilts; it is a so-called water village. They are built in such a way that it almost looks like the houses float. Next to this island is Pulau Tengah, not to confuse with the diver's paradise Pulau Lang Tengah on the east side of the peninsula. Next to Port Klang there is also the island Pulau Indah, an island which has been built into an industrial zone. Main reason why tourists visit Ketam is of course to enjoy a fantastic meal at one of the many great seafood restaurants. Usually you will find a big bucket full with live crabs in front of every restaurant during lunch time. If you're staying over for the night; make sure you head over to the restaurants in time as all the fresh seafood is often already finished later in the evening. The islands' specialty is crab, but when we arrived all restaurants were already out. The owners told us crabs are mostly served during the day as lunch. Next day we had a fantastic 'Chili Crab' (RM20), Sweet & Sour Crab (RM15), Butter Prawn (RM10), Bamboo Shell (RM8) accompanied by tea (RM1), coke (RM2,50) and some beer (500ml Heineken RM17). We paid RM3 for the extras like Kaya Pau and Cha Sieuw Pau.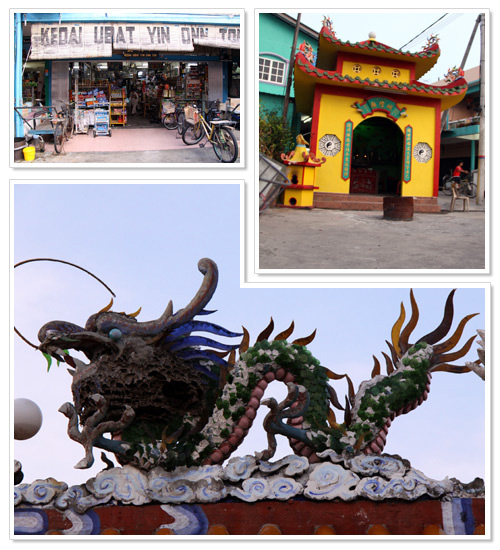 Activities on Ketam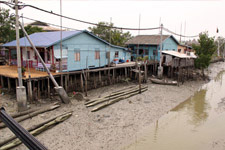 Ketam Island only consists of two small villages on stilts and not much more. The biggest part of the island is only accessible by boat because of the swampland and mangroves. Main activities are walking around in the village, or biking through the village on a rental bicycle (RM5 per day). We did the latter and had great fun. The village is not that big, but it still takes over an hour to explore the whole area. During the trip you can take stops to enjoy the scenery, views or a snack that is sold at every corner of the village. You can also visit the fish farm, but we didn't think it was that special (might be because it was raining that day). During our bicycle trip we drove past a wooden fishing boat factory; the owner builds these wooden boats (almost solely) by hand. There also are two Chinese temples; Nang Thiam Keng Temple and Hock Leng Keng Temple and many small altars scattered throughout the village. Most other activities involve eating at the many seafood restaurants (where regular dishes are also being served).
Below a few nice panoramic pictures of Ketam Island. Click on the image to see a bigger version of the image.



How to get to Ketam Island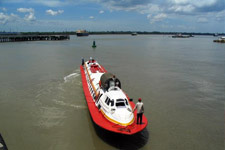 The island lies at the coast nearby Kuala Lumpur, about 20 kilometers from Port Klang, and is accessible in 35 minutes with a fast ferry. If you take the KTM Komuter train (Sentul-Port Klang line) from KL Sentral, you'll arrive at Port Klang in one hour. The train ticket costs RM4.30 for a single trip. Upon arrival at Port Klang Komuter station you will spot signs to the Jetty. After a 10 minute walk you will arrive at the Jetty Point. The ferry leaves every 45 minutes to one hour, from 7 in the morning until around 7 in the evening. A single trip costs RM7 per person and tickets are sold on the boat only. If you are driving by (rental) car, get onto the Federal Highway, and follow the signs to Port Klang (South Port). There are car parks available at Port Klang Komuter station. There is no best time to visit the island though it can get really crowded during public holidays.
Map of Ketam Island in Malaysia
Subscribe now to never miss a post!
Subscribe to our email updates or join us on our Facebook page, right now!
Travel related questions can be asked in our Telegram channel or in our Travel community.