Lake Kenyir
Lake Kenyir is the biggest lake of Malaysia and this popular attraction is located within the state of Terengganu. Among people that visit the beautiful lake are locals, anglers, golfers and companies that organize their teambuilding activities. Lake Kenyir is the biggest manufactured (man-made) lake in Southeast Asia. The freshwater lake was constructed between 1978 and 1985 to provide for a dam to generate electricity and to bring a halt to the yearly flooding. Kenyir borders the popular National Park Taman Negara; you can travel from Kenyir to Taman Negara (vice versa), but this is no easy trip as it takes several days and can only be done with an experienced guide. Kenyir area is over 200.000 hectares in size. Within the area, you can find around 340 small – mainly uninhabited – islands; many waterfalls and caves. There is also an abundance of wildlife to be found in the Kenyir area.
"In short, there are loads of things to do, see and savor at this peaceful and idyllic haven."

On this page:
Attractions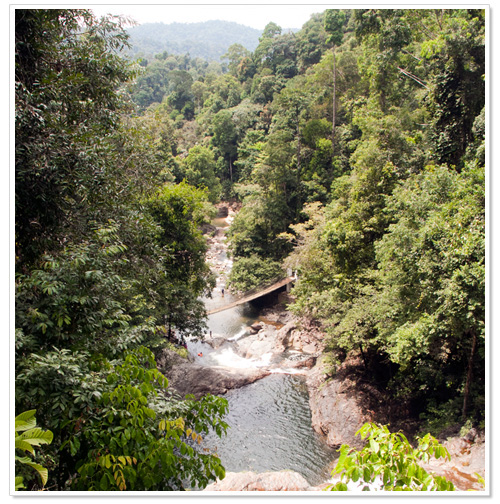 There are numerous great attractions around Lake Kenyir. Tours usually contain a visit to a few of the most popular attractions. Among the attractions are a visit to popular waterfalls like Lasir, Soak, Tembat, Petuang and Lata Terap. Lasir and Soak are most common to visit as they are nearest to the small village of Pengkalan Gawi. Both are equally stunning and both have areas where you can swim a bit. At Lasir you can walk the short trail to the top and from there you can enjoy an exquisite view over Lake Kenyir (watch out though as it can be slippery).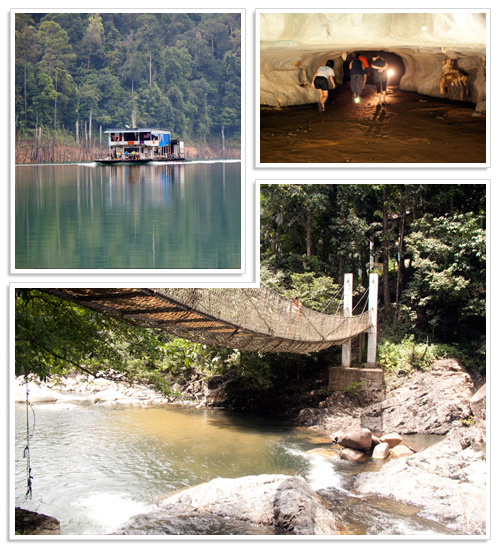 Most popular caves are Bewah and Taat. Taat is not always accessible as the entrance is located underwater during rainy season when water levels are a few meters higher than during the dry season. Bewah is always accessible. Your guide will show you some amazing and terrific Tiger spiders, with a diamond like crown on its head. One of the biggest attractions however is just going from one place to the next on your boat; the views are amazing and you can't help yourself trying to spot rare species in the trees and along the river banks. Below a small video of the beautiful Soak waterfall.
Anglers' heaven
Another very popular reason for people to visit Kenyir is angling. Yearly thousands of anglers head over to Kenyir to try to catch species like the Kelah, Kawan, Lampam Sungei, Kalui, Toman and Kelisa. Many fishing events are held; when we visited Kenyir there was an event that attracted many locals for nearby villages (first price was RM1000). A fishing trip will cost around RM50 per person. The best time to head over to Kenyir to do some fishing is during monsoon season which lasts from October to March. The best fishing spots are: Cacing, Leban, Petuang, Saok and Sg. Terenggan. The lake itself contains more than 300 fish species; which makes it the single most popular fishing destination of Malaysia (the most popular angler destination when you do not take salt-water fishing into account). If you are an angler enthusiast, do know that you need to have a permit to be allowed to fish in Kenyir. Permits are for sale at the park entrance (Wildlife Department), but when you book a fishing tour; the organizer will arrange for it.

Pleasant climate
The temperatures around Lake Kenyir are more comfortable then at Kuala Lumpur. There's usually a nice breeze and that especially makes the whole are really pleasant to stay at. The air around Kenyir is very clean compared to the air quality in the Klang area (Kuala Lumpur).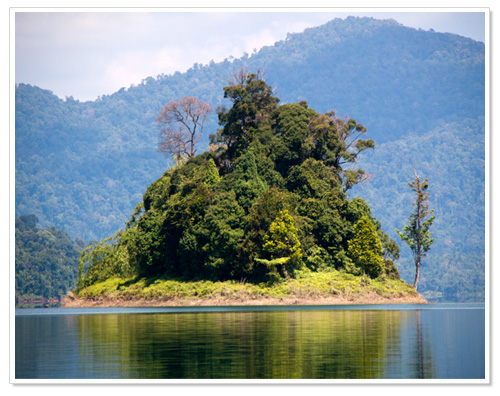 Accommodation around Lake Kenyir
There are numerous nice resorts and lodges at Kenyir; Lake Kenyir Resort is the most popular (and the biggest) with 135 chalets. Besides Lake Kenyir Resort you have the following lodges: Petang Island Resort, Kenyir Sanctuary Resort, Lake Land Resort, Uncle John Resort, Musang Kenyir Resort, Tanjong Mentong Resort, Federal Government Resort and the Kelah Rakit Resort. From the veranda of the chalet at Lake Kenyir Resort you have an amazing view over the lake. Especially during sunset and sunrise will you enjoy breathtaking views over the lake. I personally like the sunrise best; as the whole area is then covered in low hanging clouds which offers fantastic photo opportunities.

Tours and day trips
You can book numerous tours at Lake Kenyir. If you're staying at Lake Kenyir Resort, you can just arrange the tours at the travel office next to the lobby. Do know however that prices are fairly steep; especially if there are only two of you. Prices are higher per person if you're only with two persons as they will charge you for the extra persons if you don't reach the minimal threshold. Most tours need at least 3 people joining the tour, sometimes even 6 people. A tour for 3 people minimal, means that you have to pay for the third one too if there is only two of you. As we went to Kenyir during low season; we were out of luck as there was almost nobody else to join us on the tours.
Pengkalan Gawi
Nearby Lake Kenyir Resort there's the small town of Pengkalan Gawi. Here you will find a small hawker, a shop where you can buy snacks and drinks, a Tourism Malaysia office and a couple of travel agencies (small shops where boat owners sell their trips). Prices are less expensive over here compared to Lake Kenyir Resort; but the downside is that you have to walk around 15 minutes from the resort exit (as the resort doesn't supply any transport facilities to nearby villages; only to Kuala Berang and Kuala Terengganu). You have to walk the same distance again at the start and end of the trip; so think whether the more affordable price is worth the walks to the town.
Sungai Ketiar Elephant Sanctuary
Nearby Lake Kenyir you can also visit the Sungai Ketiar Elephant Sanctuary. From Pengkalan Gawi you can easily drive to the Elephant Sanctuary by following the T156 road that goes between Gua Musang and Kuala Berang (which also leads to the Cameron Highlands, thus giving tourists the change to drive from Cameron Highlands all the way to Kuala Terengganu.
Contact details Tourist Information Center
Pengkalan Gawi, Tasik Kenyir
Tel: +609-626 7788 / +609-666 8498
Checklist trip to Lake Kenyir
First aid travel kit with personal medicine
Tripod for your camera (to make pictures in low light conditions)
Sun screen lotion
Mosquito repellent
Rain coat, poncho or umbrella
Headlamp or flashlight
Fishing rod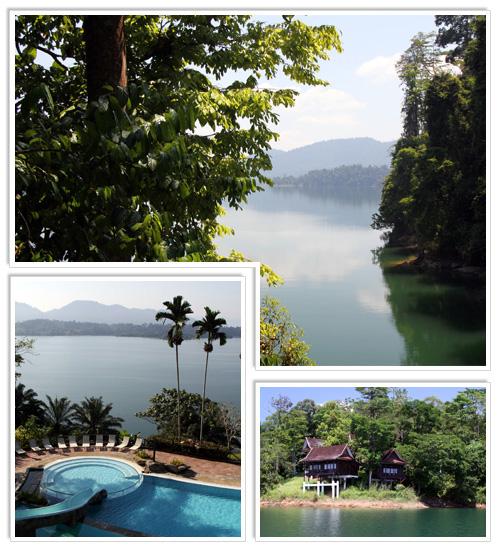 Tips Lake Kenyir
Not (yet) many tourists visit Lake Kenyir. Though this will change in the near future (it has been getting more crowded every time we visited the lake); right now this means that it is not easy to arrange an affordable tour. Tours are based on a minimal amount of participants; where you pay for a full boat. Less people mean you divide the total boat price among the people that do the tour. Make sure you get an option on every tour available at Lake Kenyir Resort (or at the small tour offices at Pengkalan Gawi). This way the guides know how many people are interested to take a tour the following day(s). In our case we asked if they could call us to let us know the status; we were lucky as others wanted the same tour.
Lake Kenyir Resort is the only luxurious resort around Lake Kenyir. Normally it is not necessary to make reservations beforehand, though sometimes the whole resort can be fully booked because of a huge team building activity (then the whole company stays at the resort).
If you want to spend a few nights on a Lake Kenyir House Boat, you need to visit Pengkalan Gawi first to make the necessary arrangements.
There are no supermarkets at Lake Kenyir, only small shops with the basics.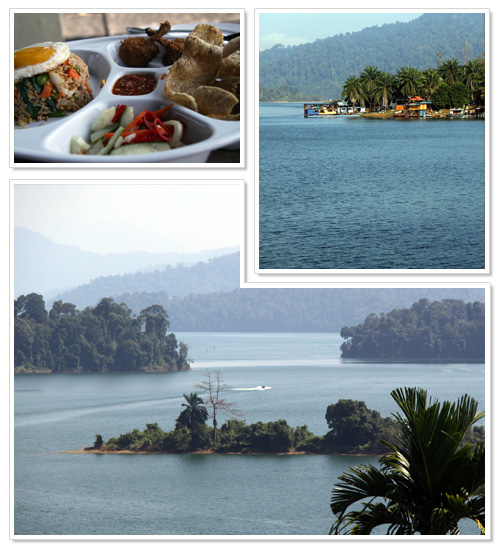 How to get to Lake Kenyir
Lake Kenyir is located approximately 65 kilometers from the city of Kuala Terengganu and from Kuala Terengganu Sultan Mahmud Airport. From the airport, it is a one-hour drive to Kenyir (taxi service number: 609-6664067). You can just use a regular taxi to get from the airport to Kenyir. If you have reservations at the popular Lake Kenyir Resort you can opt to get a resort pickup. A transfer costs RM90 (one-way), but this also depends on whether your package does or does not have a pickup included.
By air
Malaysia Airlines, AirAsia and Firefly fly daily from Kuala Lumpur to Kuala Terengganu. Usually tickets from Kuala Lumpur to Kuala Terengganu cost between RM50 and RM90 per person (one-way ticket); but during special promotions prices can be as cheap as RM0 per one-way ticket (in that case you only pay the administration fees). AirAsia often has these types of promotions; but do not rule out Malaysia Airlines; as their Get-The-Deal is also often very competitive.
By rental car
You can also travel by car (rental) from Kuala Lumpur to Kenyir; this will be a 6 to 7 hour drive (approximately 500 kilometers). If you are residing in Kuala Lumpur city center, I would suggest renting the car with Hawk Malaysia as they have an office (for pick-up) very nearby Suria KLCC (along Jalan Pinang). Hawk offers rental cars at very affordable prices (you can even rent a GPS); for RM100 a day you can already rent a standard car. So far, we have always used Hawk Malaysia for car rentals.
By bus
You can also take a bus from Kuala Lumpur. At Hentian Putra Bus Station two busses – 9.00 and 21.00 – leave for Kuala Terengganu daily (RM44.10). Twice daily a bus departs from Gawi Point at Lake Kenyir to Kuala Lumpur. The total trip takes around 12 hours. There's also a route that goes from Alor Setar – nearby the island of Langkawi – to Kuala Terengganu via Cameron Highlands and via Lake Kenyir (around RM55.30).
Map of Lake Kenyir
Below you can see a map of Lake Kenyir. You can simply scroll through the map with your mouse. Use the markers on the left to zoom in or out of the map.
Subscribe now to never miss a post!
Subscribe to our email updates or join us on our Facebook page, right now!
Travel related questions can be asked in our Telegram channel or in our Travel community.