Advertise on Wonderful Malaysia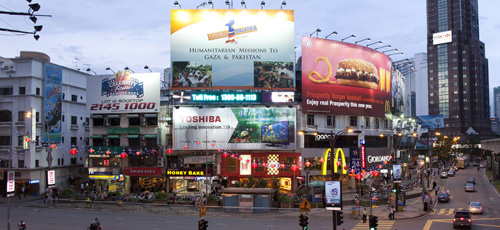 Wonderful Malaysia attracts relevant visitors for many travel related companies. Our visitors convert very well as they are usually interested into spending their holiday in Malaysia. Advertising on Wonderful Malaysia will bring your company more relevant visitors. This is the best place to promote your travel related services. Advertising on Wonderful Malaysia is easy; just contact us and let us know your ideas.
Traffic numbers of Wonderful Malaysia are rising every month. Check out our visitor statistics here.
On this page:
How can we advertise?
Just contact us and tell us the location(s) at www.wonderfulmalaysia.com you wish to place your advertisement. Your advertisement can be placed on a specific page, a random number of pages, or a selected number of pages. Ads can be placed at different locations within a specific page.
What sort of ads can I place?
The type of ads that you can place at our website include:
Social media: With more than 2100 Facebook followers and over 2600 Twitter followers, we are able to give a nice boast to your business through these social media channels.
Banners: We work with standard IAB sizes, but we can also determine the size together.
Links are integrated within the content of the page; your business is 'linked' to a specific word that is relevant to your business and that is already appearing on the page or we place a custom text link on one of our pages.
Advertorials: We can publish items within an existing page. We either use the sidebar 'Spotlight' location for that, or we integrate the advertorial at a certain location within a page. We can also write a brand new page to highlight your business. In some cases we need to 'try & review' as we can only write about things if we know what they are about. We do not endorse products and services that we have no experience with ourselves.
Newsletter: We can mention your business in our monthly newsletter. We can also send out a dedicated newsletter tailor made to promote your new travel product or service. Wonderful Malaysia currently has well over 7,000 (double opt-in) newsletter subscribers.
Press Releases: Within our news section we are able to publish Press Releases. In many cases we offer this service free of charge (as long as it is relevant).
Interested in advertising on Wonderful Malaysia? Contact us directly!
Example of ad placement

Locations may vary per page. The example gives an impression of all available standard options. We can also arrange custom ad campaigns. To ensure optimal user experience we will limit the amount of ads per page; you will never see a page like this example at Wonderful Malaysia.
Free advertising on Wonderful Malaysia
Read about our free advertising options on Wonderful Malaysia.
Contact us
Contact us for more information about advertising on Wonderful Malaysia.
Subscribe now to never miss a post!
Subscribe to our email updates or join us on our Facebook page, right now!
Travel related questions can be asked in our Telegram channel or in our Travel community.