Labuan Island
Labuan is a rather flat island of 95 square kilometers located at the northwest coast of Borneo, north of Brunei and south of Kota Kinabalu; capital of the state of Sabah. The name Labuan derives from the Malay word labuhan meaning anchorage. The island has a population of around 100,000 people, if which around 20 percent are foreigners. It comprises seven islands; Labuan, Kuraman, Daat, Rusukan Besar, Rusukan Kecil, Papan, Mayat and Burung. Though the island is mainly known as an offshore financial center, it also has quite a few nice attractions. There are hotels on the island, but not so many resorts. The island resembles Penang Island in some areas, though Penang is much more popular among tourists. Labuan still has to be 'discovered', local government is working on promoting Labuan Island as a fantastic tourist destination. There are even plans to build a long bridge to connect the island to the mainland of Sabah and to expand the current airport so it can grow into an international airport (which means more tourists arrivals).
On this page:
Offshore financial center
Labuan with its capital Labuan Town is the main island of the Malaysian Federal Territory of Labuan. Labuan is an offshore financial center (and Islamic financial hub) offering international financial and business services since 1990. In 1984, Labuan was proclaimed a federal territory. In 1990, it was declared an international offshore financial center and free trade zone (it still is a tax free island). The Labuan International Business and Financial Centre (Labuan IBFC) was created as Malaysia's only offshore financial hub on October 1990 and was operating under the name of Labuan International Offshore Financial Centre (IOFC). At the time it was established to strengthen the contribution of financial services to the Gross National Products (GNP) of Malaysia as well as to develop the island and its surrounding vicinity. Right now there are over 6,500 offshore companies and around 300 licensed financial institutions (including world leading banks).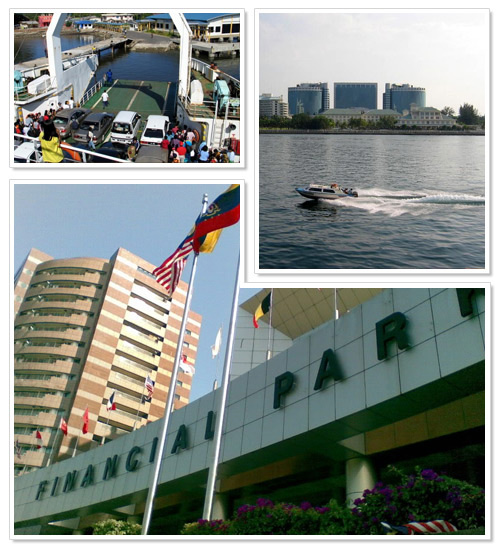 Main tourist attractions
Main tourist attractions at Labuan Island are the World War II Memorial, the Peace Park and cemeteries of the fallen soldiers. Other attractions are the Royal Navy Coaling station (the Chimney), Labuan Town, Labuan Museum, Labuan Bird Park, the Tanjung Kubong tunnel, a visit to the water village, Ba San Miao Temple, Gurdwara Sahib Temple, Jamek An-Nur Mosque, Labuan Square, Bazaar Labuan wet market and Labuan Gold Club (for golf enthusiasts).
Labuan Town can be explored on foot, but also by bus or taxi. Taxi drivers generally do not drive on the meter, which means you need to haggle on the price before entering the taxi. There are not many shopping malls in Labuan Town, only a few shopping complexes and isolated shops (only mall in Labuan can be found within the Financial Park complex). Though the island is duty-free, prices are not that cheap as it is costly to get goods to the island (though tobacco, alcohol and chocolate are much cheaper than at other places).
Popular activities on and around the island are fishing, wreck diving, snorkeling at the marine park, sun bathing at one of the beautiful beaches and exploring the island by bike or motorbike. Two dive centers are active at Labuan Island, the very popular Borneo Divers (+60 (0) 87415867) and Borneo Star Dive (+60 (0) 87427278).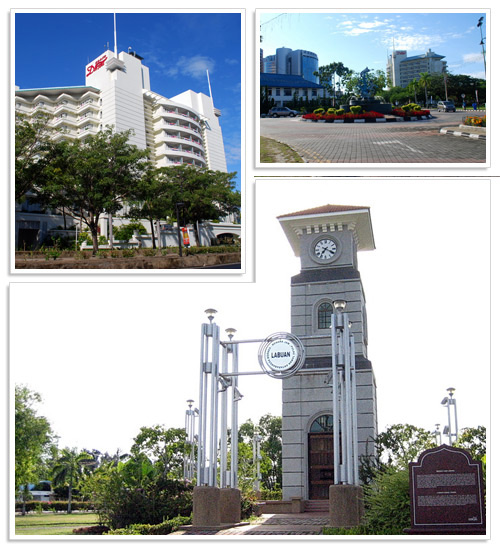 Best time to visit Labuan Island
The island can be visited throughout the year as there is no real monsoon season in these parts of Borneo. However, between the months of November and February you might experience more rainfall and rough seas as a result of the typhoon 'season' north of Borneo.
Accommodation at Labuan Island
There are not many hotels and resorts at Labuan Island; the hotels to consider when staying overnight are the Grand Dorsett Labuan Hotel ***** (the only 5 star hotel on the island), Tiara Labuan Resort ****, Waterfront Labuan Financial Hotel, Manikar Beach Resort and Hotel Mariner. There is also quite a nice selection of budget hotels and guesthouses in Labuan Town and at other places on the island (also home-stay).
How to get to Labuan Island
Labuan Island can be visited by air and by boat. There is a daily ferry service from the mainland (Kampung Menumbok) to Labuan Island. The ferry from Kota Kinabalu takes three hours to reach Labuan. There is also the possibility to travel by boat from Kota Kinabalu to Brunei via Labuan Island. Most tourists however arrive through Labuan Airport. There are daily flights from Kuala Lumpur (and also from Kota Kinabalu) to Labuan. Flights are operated by Malaysia Airlines, AirAsia and MASWings.
Contact details Labuan Tourism Information Centre
Labuan Tourism Information Centre (LTIC)
Lot 4260, Jalan Dewan,
87008 Labuan, Malaysia
+6 (087) - 423 445
+6 (087) - 423 446
Email:

[email protected]
Map of Labuan Island
Below you can see a map of Labuan Island.
Subscribe now to never miss a post!
Subscribe to our email updates or join us on our Facebook page, right now!
Travel related questions can be asked in our Telegram channel or in our Travel community.