Everything you need to know about renting a car in Malaysia
Malaysia is excellent to explore by rental car. In Peninsular Malaysia, you drive on well-maintained highways and because of this you can reach every attraction with ease. On both states of Sabah and Sarawak on Borneo you have a good road network around big cities like Kuching and Kota Kinabalu, outside these major cities roads are still fine, but perhaps not the best for a pleasant road trip. From these previously mentioned cities, you can explore the surrounding area, but it isn't common to drive between these cities.
Renting a car is easy to arrange online in advance. Rental costs are low, and petrol hardly costs anything. For example, RON95 costs RM2.05 which converted approximately €0.43 per liter (1 January 2023). Rental cars usually are fairly new, of a modern type and driving in Malaysia is generally safe. You have smaller cars for couples and large cars for families. You can even rent small buses and coaches at most car rental companies throughout Malaysia (should you travel with a large group).
It is also possible to rent a car with a driver (and guide). This is especially recommended for travelers below 21 years old as they are not allowed to rent a car yet or for travelers who prefer not to drive themselves in unknown places, but do want to explore the area on their own pace.
There are several companies where you can rent a car. Most car rental companies offer the same type of cars, for roughly the same costs. Usually, there are small differences in the costs of additional options. All rental companies offer cars with a full tank (the car must also be brought back with a full tank afterward) and unlimited mileage.
On this page:
Car rental costs in Malaysia
Prices are generally the lowest when you pre-book online at one of the popular intermediaries that list available cars through comparison websites. This particularly applies to rental rates during peak season. Often you have the best price per day when you book at least 7 consecutive days. When booking a car for two or three weeks, you can expect even bigger discounts. Generally you pay about RM150 (+/- €30) per day for the smallest/cheapest model. When booking close to the departure date prices are often higher and cheaper models are often sold out.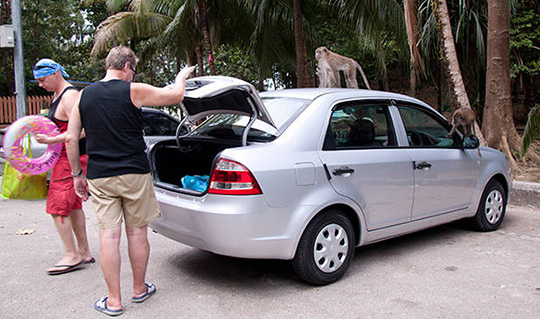 The price mentioned on the rental car websites and also on the comparison websites are usually not the final price. Often, only at the final stage of the booking procedure the mandatory VAT (for example 21% in Spain, 6% in Malaysia, payable on site) are calculated and sometimes "filing fees" or booking fee.
Note that a credit card is needed to hire a car in Malaysia. Sometimes the amount of the temporary claim (the total amount of car rental costs) exceeds your credit limit, you may want to check this before your departure and consider raising your limit temporarily. The credit card you use during the booking procedure must also be presented during pick-up. If you do not have (or want) a credit card, you can also use a prepaid credit card such as Paysafecard, Visa Electron or Skrill.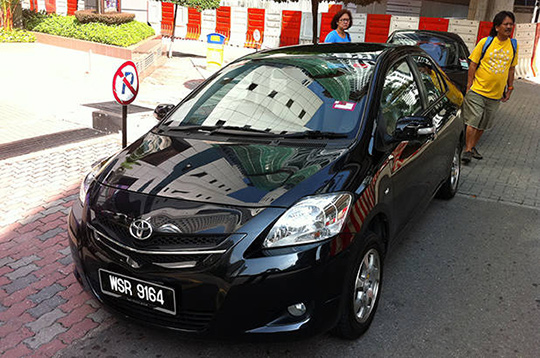 Comparing definitely pays off!
There are some great comparison websites where you can easily compare several car rental companies (often a combination of local and international rental companies). Comparison is often the best way to find the cheapest prices. Play with dates if possible, because sometimes a day earlier or later may show a considerable price difference. We would like to point out again that a period of seven rental days (or multiples thereof) are often much cheaper. Also, it matters greatly what day you pick up the car (sometimes it's cheaper from Saturday to Saturday, sometimes from Monday to Monday). It all depends on what has already been rented out. For example, if a car is brought back in the afternoon and you want to pick up a car that same day in the early morning, you are forced to rent another car that may cost more.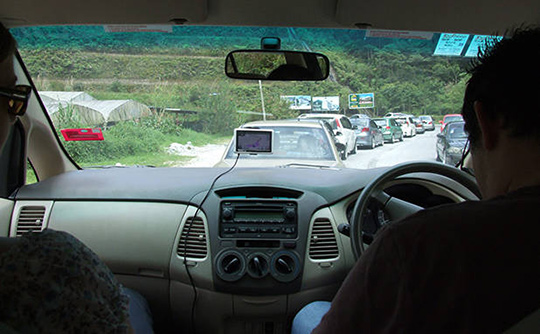 Popular intermediaries with comparison websites that are easy to navigate are Rentalcars.com, CarRentalNet, Zest Car Rental and Auto Europe. We always book our rental cars through one of these comparison websites. They have good agreements with car rental companies so they can rent out cars for very competitive prices. Sometimes Rentalcars.com has the best deal available, sometimes one of the other offer a better deal. Just make sure you check all of them and pick the one that offers the best deal in your case.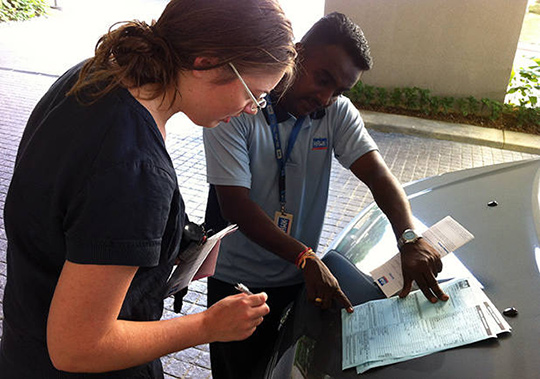 As these intermediaries simply list available cars from multiple rental companies, chances a car from a well known rental company. One time we were driving in a car from Avis, the other time with Europcar and also several times in cars from local rental companies like Hawk, Iprac and Mayflower. Usually, you will not find similar prices when checking the websites of rental car companies directly. Always check if you need to pay the whole amount up front or only do a small down payment during the booking process. Also, make sure you check if you are seeing final prices, as sometimes there are extra costs involved that only arise upon pick-up. You may want to look up the cancellation policy too while you are at it.
Often airlines or flight ticket comparison websites offer the opportunity to book a car together with your flight tickets. This is usually more expensive compared to prices of car rental comparison websites.
Well-known international and local car rental companies in Malaysia
Would you necessarily want to rent a rental car with a well-known international car rental company, then companies like Alamo, Sunny Cars, Europcar, and Avis are good options. Hawk Malaysia is a popular car rental company based in Malaysia itself, we have often made use of them in the past. Other well-known local rental companies are Iprac, Mayflower and Kasina. Local rental companies are often just a bit cheaper than international car rental companies. However, you often have to reserve and pay by credit card in advance and in many cases this sometimes is a bit of a cumbersome procedure. This is an immediate advantage of booking at comparison websites; you only pay a small amount in advance and the rest at the spot upon pick-up (either by cash or credit card).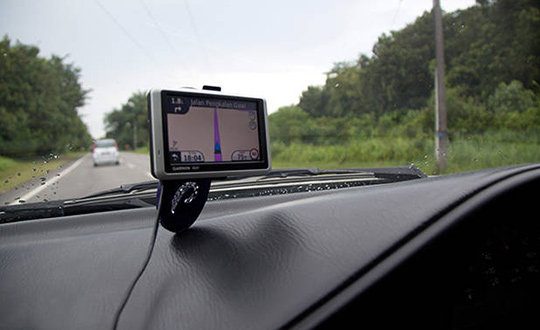 Price examples of car hire in Malaysia
Below you will see a price check on several popular car rental companies and intermediaries (last check in January 2023). We chose the cheapest car available with minimal options, and our search was based on a seven days rental period. We used 16-09-23 till 23-09-23 for our comparison. All cars have unlimited mileage. In the example, we chose Kuala Lumpur (KLIA airport) as the pick-up location and Penang (Airport) as alternative return location. Most car rental companies have several branches throughout Malaysia, so it is almost always possible to drop off a rental car at a location of your choosing. Prices, however, are often cheaper if you return the car at the same location as picked up previously.
| | | | | |
| --- | --- | --- | --- | --- |
| Rental company | | | | |
| Model | Proton Saga | Perodua Axia | Proton Persona | Proton Saga |
| Days | 7 days | 7 days | 7 days | 7 days |
| Book online/pay online possible? | Yes | Yes | Yes | Yes |
| Inclusive of taxes and extras | Yes | Yes | Yes | Yes |
| Inclusive of insurance | Yes | Yes | Yes (basic) | Yes |
| Price | €331,47 | €314,00 | €334,09 | €252,20 |
| More information | Website | Website | Website | Website |
The last few times we used Rentalcars.com and CarRentalNet to make our rental car reservations. These comparators often have very competitive prices (Rentalcars.com is a sister company of very popular hotel intermediaries Agoda.com and Booking.com). Zest Car Rental has also become very popular in a short time. They often have great deals. Especially nice is that they show a total price that includes all necessary insurances. Auto Europe is often the first choice of travelers from within Europe. Prices are usually very competitive.
Rates were also the cheapest at these comparison websites, in each case at least one of the three had the best price available. Prices of the most popular rental companies were much higher when using the same search details directly on their sites. As you can easily compare prices of various car rental companies, we would always advise using comparison websites. Make sure you compare final prices including all extras though.
Pick-up location
Often you have several pick up locations within the same city. One example is the center of the city or the suburbs, but also at the international airport and sometimes even at the central train station. Sometimes renting a car at one location is cheaper than the other, depending on where the car is located (so the car doesn't have to be taken to a different location first).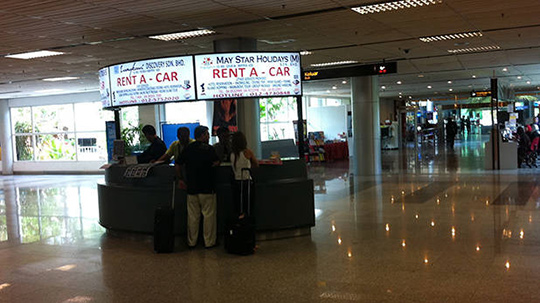 In many cases, delivery and pick up at your hotel is included in the rental price. A representative of the rental company will meet you in the hotel lobby at an agreed time to settle the payment and to hand over the keys. Especially great in big cities like Kuala Lumpur is that it is quite easy to get out of the city because of many one-way streets (actually much easier than getting into the city).
Upon pick-up or delivery, don't forget to make a few photographs of the car, especially if minor damage is visible (like small spots). Usually the car brand new in our experience. If you leave your rental car at a drop-off location without the possibility for an employee to check the car, make sure you another bunch of photographs just to be on the safe side.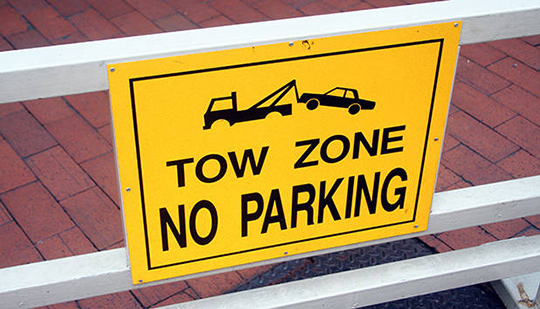 A different drop-off location
All rental companies offer the possibility to pick up a car at location A, and to drop it off at location B. This is handy, because then you are not required to do a complete round-trip if this isn't your choice of travel. To drop off a car at a different location, you will be charged a bit extra.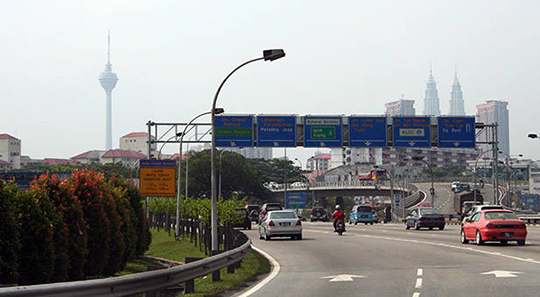 Some travelers want to drop off the car at a location without a rental office. This can be arranged as the rental company will then send someone over to collect the car at your preferred destination. However, a hefty surcharge may apply. Example: some travelers will leave the car in Kuala Besut to catch a boat to Perhentian Island while the nearest rental office is located in Kota Bharu.
It is also possible to have the rental car delivered (or picked up) at your hotel for a small additional amount. When booking at Hawk Malaysia, this costs between RM30 and RM50, depending on the distance between the hotel and their nearest branch.
Insurance and deductibles
Always make sure you know exactly how you are insured when renting a car. Find out if you are not insured twice, for example through you personal travel insurance and through the car rental insurance at the same time. The companies listed on this page all offer proper insurance, so you can rest safely when hiring a car with them. However, if you dig in the terms of the rental companies, you almost always stumble upon some pretty weird sections. Some rental companies offer an all-inclusive insurance package, which covers you for absolutely everything. The question is whether or not you are paying too much without the need for it.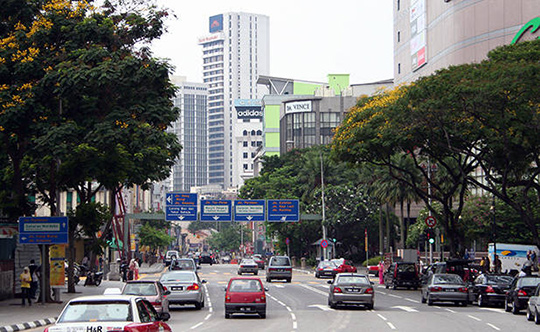 The conditions on the deductibles are the most important. The deductible is the amount you pay out of your own pocket if there is any damage, theft, or other cost involved with the rental car. Most rental companies enforce you to settle your deductible up front by paying extra for a Collision Damage Weaver or CDW, so you bear no costs as a result of damage or other problems. This is an extra amount per day which comes on top of the rent. Note that this amount is often included in the rent, but sometimes it can only be paid upon pick-up (make sure you check the tiny details at the comparison websites). This may wrongly give the impression that a certain rental company seems the cheapest, but, in fact, this isn't the case because of the extra costs. Always get a package that includes a surcharge for the CDW. A Super CDW (where you are covered for even more situations that can cause damage to the car) is usually not needed in Malaysia.
Incidentally, car theft does not occur in Malaysia. Cars are rarely stolen in the country. Also, cars will not be broken into unless you have a valuable item clearly visible in the car.
Examples of self-drive car trips through Malaysia
There are several scenic routes that you can do in Malaysia. Our first self-drive was a trip from Johor Bahru (Singapore) to Penang. After that, we did many short and longer trips throughout Malaysia. Our last one was from KL to Ipoh, Penang, Belum, from Kota Bharu to Kuantan along the East Coast and after a visit to Taman Negara we went back to KL again. There are countless other beautiful alternatives. Popular self-drive routes in Malaysia are:
From Kuala Lumpur from Ipoh, Taiping and Bukit Merah to Penang.
From Kuala Lumpur to Taman Negara, then to Cameron Highlands and then back to Kuala Lumpur (or to Penang).
From Kuala Lumpur to Cameron Highlands, then to Penang and then via Pangkor back to Kuala Lumpur.
From Kuala Lumpur to Kuantan, then to Lake Kenyir and then through Cameron Highlands back to Kuala Lumpur.
From Penang to Cameron Highlands, then to Taman Negara and then to Kuala Lumpur.
From Penang to Cameron Highlands, then to Kota Bharu and then to Kuala Besut for the boat to Perhentian. The car is often dropped off at Kota Bharu Airport, and after Perhentian people often take a flight from Kota Bharu back to Kuala Lumpur.
From Penang to Royal Belum State Park, and then to Kota Bharu, Kuala Besut for the boat to Perhentian. The car is often dropped off at Kota Bharu Airport, and after Perhentian people often take a flight from Kota Bharu back to Kuala Lumpur.
From Kota Bharu to Cameron Highlands, then to Penang (and then back to Kuala Lumpur). Hawk Malaysia has a pick-up location at Kota Bharu Airport.
From Kota Bharu to Johor Bahru (via Kuala Terengganu, Cherating, Kuantan and Tioman).
From Johor Bahru via Gunung Ledang National Park, Malacca and Port Dickson to Kuala Lumpur.
From Johor Bahru to Tioman, then to Kuantan, then to Lake Kenyir and then through Cameron Highlands to Penang (drop-off in Penang).
Kuching: only in the immediate area and most parts of Sarawak.
Kota Kinabalu: only in the immediate area and most parts of Sabah.
Langkawi. Renting a car can best be done at the island upon arrival. You can take a rental car to the island by ferry, but this is expensive and cumbersome.
So you see there are many different routes imaginable; they all go along beautiful sights so you have plenty of nice stops along the route. Depending on the highlights on your wish list, you can determine the best pick-up and drop-off location. On most delivery locations, you have an airport where you can easily get a plane back to Kuala Lumpur or continue to the next destination within Malaysia.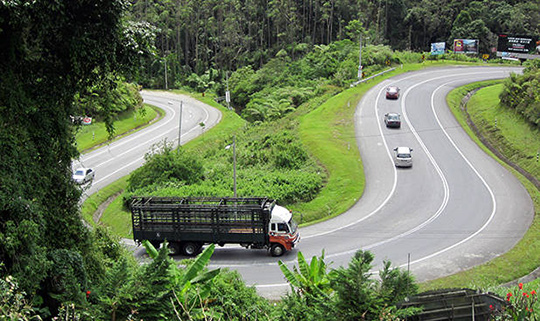 Tips
Paying in advance often means cheaper rental costs. However, your booking cannot be canceled. Often, a down payment reserves the car, but you can still change or cancel your booking before the pickup date. In addition, prepayment may carry risks with bankruptcies and such.
Check that there is no limit to the number of kilometers with the rental company. Popular rental companies usually offer unlimited free kilometers.
Damage to or theft of a car is usually NOT covered under a continuous travel insurance. Motorized vehicles are excluded and the only way to avoid costs related to these events is to get a proper car insurance (like Super CDW).
Check the rental car for damage when picking up the car. Walk a circle around the car and leave an extensive record on the existing damage to the car. Also do this when returning the car. If necessary, take photos before and after. Take your time. It is more difficult afterward to prove the damage was already there if it hasn't been recorded during the preliminary check (besides, it is often difficult to argue your care in a foreign language).
If you must return the car with a full tank, then visit a gas station near the drop-off office.
When picking up the rental car, there sometimes is still room to negotiate. You may be able to get a cheap upgrade to a bigger and better model.
If your rental car is delivered to your hotel, make sure the car is parked in the parking garage of the hotel (usually free of charge for hotel guests).
Make sure you have small cash ready in your car, so it is easy to pay at toll booths.
Be mindful of your vehicle breaking down. Some kind of insurance (or backup plan) might help you in that instance.
Try to park your rental car in covered spots, so the car doesn't get too hot inside (otherwise you will notice that the aircon isn't working anymore at some point during your trip).
Never leave your windows open when parking your rental car. You don't want to see monkeys stealing your belongings.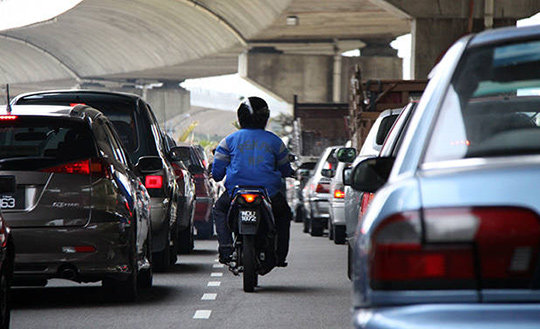 Child seat
Most rental companies have the option to book a child seat for a - sometimes significant - amount per day extra. Please note that you must book in advance because the availability of child seats is often limited (or it needs to be moved between branches first in advance).
A while back we tried to reserve a rental car with a child seat and a notice appeared that all child seats were already rented out for our preferred dates. We decided to contact the airline to examine what the rules were about bringing along our own car seat on the board of the plane to Malaysia. We discovered that we were able to check in our car seat free of charge (this isn't the case with every airline though). Because of the risk of damage during the flight, we purchased 2nd hand Römer car seat so it didn't really bother us whether the seat was handled roughly after check-in. You can often buy new child seats from affordable brands like Kids River, Nania, Basic Line or Maxi-Cosi for no more than €60 within Europe. It's a different story in Malaysia. Here, child seats are quite expensive.
You can leave the car seat in its original packaging or have it wrapped at the airport. Eventually, we left our 2nd hand child seat behind in the rental car and it is probably still being used. Obviously, you can also the child seat back home again.
How to fuel up your rental car
Every 50 to 100 kilometers, you have a gas station, often combined with a large car-park with restrooms, shops, and restaurants. Fueling is sometimes done by yourself, and sometimes it is done for you by one of the employees (they usually also clean your windows as a little extra service); tipping is not necessary. You can pay with cash, and this is done in advance by walking to the counter where you tell the cashier which pump number you will use and the amount for which you want to refuel your rental car. After the cashier enters the amount requested and paid for, you can start fuel up at the pump. Be sure to know how many liters of petrol goes in your tank to avoid having to walk back for more, or ask for a restitution if you bought too much gasoline (yes, you can get your unused liters back).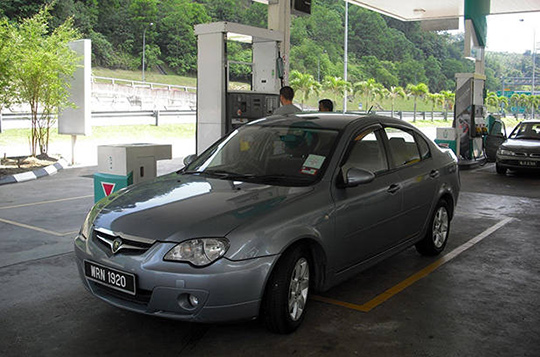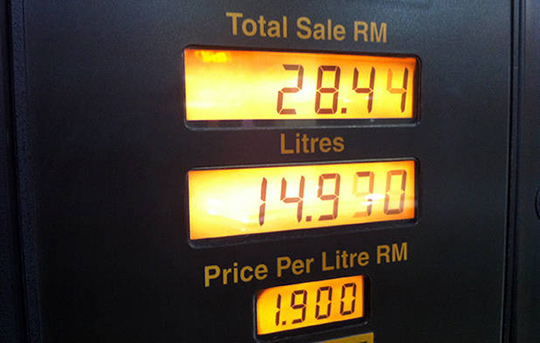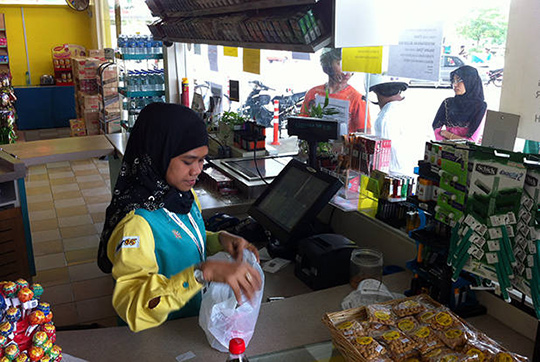 Toll
You pay toll on most roads in Malaysia. Sometimes you get a ticket upon entering the toll road, sometimes you only pay a small amount when exiting a toll road. Don't be surprised that on a typical highway around Kuala Lumpur, you have several instances where you pay a small amount of toll (E.g., RM1.20 to drive on the Sprint Highway in KL).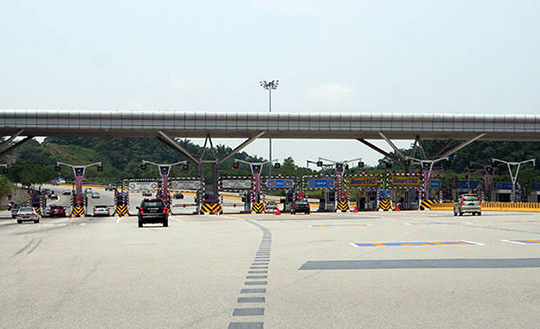 Remember that booths on the left side are often cash only (though it seems these have been wound down apparently). You can recognize these by the signs that say Tunai (cash) or Sahaja Tunai (cash only). Sometimes you see the sign TICKET instead (that's where you go to pay with a ticket which you got when entering the toll road). Other options are Touch & Go, but you need a Touch & Go card to use this way of entering and exiting toll roads. Touch & Go cards can be bought at typical 7/11 stores. You can also opt to use the TNG Wallet, so you can use your phone to pay with instead.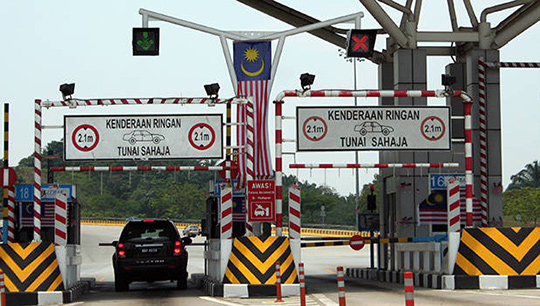 Guarded parking
Many places have specially guarded parking lots where you can leave the car overnight. This is often the case at harbours and jetties, before taking a boat to one of the islands. Examples are Lumut (to go to Pangkor); Kuala Besut (to go to Perhentian), Mersing (to go to Tioman) and Alor Setar (to go to Langkawi).
Hotels always have a parking space. In the big cities, it is usually a covered parking underneath the hotel, where guests can park for free.
Route: GPS, Roadmap or Smartphone app
Driving in Malaysia is usually done with a good road map or with a GPS system, unless you are familiar with the road system in the country. On highways, you do not need a map as destinations are usually pointed out fine on the road signs.
In bigger cities, you must know your way around quite well if you want to find your destination without a map. Our first time driving a rental car through Malaysia, it took us well over an hour to find the right road to Lumut (to get to Pangkor Island). This was however in a time when everything was still just a little less regulated because last time we went there is was an easy drive with great signage along the way.
Local rental companies rent out a GPS system for about RM25 per day extra. This must be booked in advance because they only have a few in stock. Having GPS in the car is very convenient; and works in almost all of Peninsula Malaysia. If you rent a car for more than 2 weeks, you might want to consider bringing your own GPS, and buy/install a map of Malaysia in advance as this is much cheaper.
If you are of an old school driver, you may want to use a good old-fashioned road map when driving in Malaysia. It is best to buy a road map once in Malaysia with a recent date of issue. Road situations change often, and maps you buy outside Malaysia may not contain the latest updates. Check with your rental company if they provide a free (detailed) road map.
Instead of a roadmap or GPS, you can also use the route planner of your smartphone. We often drive around with Google Maps to keep track of our exact location. Waze is a popular alternative, it is a convenient traffic app, and in addition to route information it also provides general traffic information (jams, accidents and such) together with speed trap warnings. To use all functions while on the road, a local SIM card is needed, with at least 3G or 4G support (consider Hotlink for the best coverage in Malaysia). A great feature of Google Maps and Waze is that they both keep in touch with the satellite, even if you are disconnected from the 3G connection (due to poor coverage in remote areas).
Other interesting pages about driving, traffic and transport in Malaysia
Subscribe now to never miss a post!
Subscribe to our email updates or join us on our Facebook page, right now!
Travel related questions can be asked in our Telegram channel or in our Travel community.