Genting Highlands
Genting Highlands or 'City of Entertainment' is a perfect getaway destination for many Malaysians. The highlands are very popular with people that want to escape the hot and humid weather in Kuala Lumpur. Temperatures vary often around 16/24 degrees, which is quite cold for people from KL. There are a couple of massive hotels in Genting Highlands, where you can book a room for a very affordable price. Prices are this low because the only (legal land-based) casinos are located in Genting Highlands. You can compare it with a small version of Las Vegas. Apart from the casinos, you also have a huge theme park, which makes it a perfect destination for families with kids. The highlands are at about 1760 meters above sea level, from the top there is a gorgeous view of the valley in which Kuala Lumpur is situated.
On this page:
Amusement park and other attractions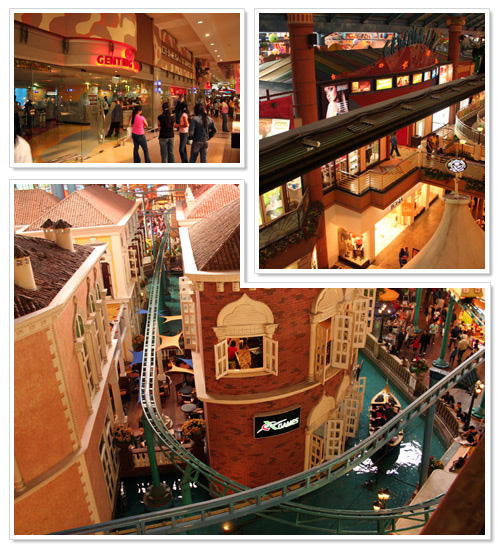 Genting Highlands actually is more of a place of refuge for the local population. Entertainment and fun are the main reasons why people visit the place, but many people also come here to temporarily escape the heat of the capital Kuala Lumpur. The area is filled with hotels; they all offer some kind of entertainment, that being in the form of an amusement-park, or in the form of a casino.
There are three amusement parks in Genting Highlands; an outdoor amusement park, an indoor amusement park (together they form the biggest theme park in Malaysia) and a water park. Besides the main amusement parks there are also fun attractions like entertainment centers (video arcades), snooker, bowling, archery, a climbing wall and even a skydiving wind tunnel.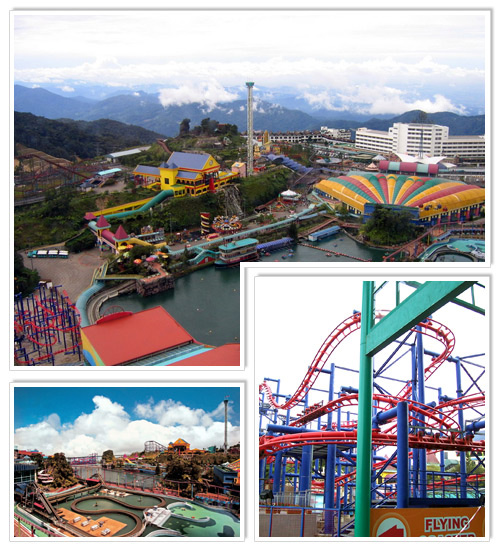 Las Vegas of Malaysia
The Highlands are especially famous because of the gambling public. When you visit the casinos yourself you will notice many Chinese gamblers with very serious faces. We did not see anyone smile unless immediately after they had won something. Later we found out we arrived at the wrong time, as usually at the end of the day the serious gamblers can get a bit grumpy if they were not able to make any winnings. This is definitely the Asian version of Las Vegas. We found the casinos furthest from First World Hotel the best to visit (for example below Maxims Hotel), the overall atmosphere was just much better.
If you don't like a gamble, the region isn't really worth a visit unless you bring along your children to visit the amusement park and other attractions. There are a few casinos spread throughout the huge Casino de Genting complex. Some casinos have a more exclusive atmosphere; others are more catering towards the mainstream gamblers. There are over 3000 machines and 426 tables that are open to public 24 hours a day. If you want to gamble you have to get a WorldCard first. When you use a machine you use this card to put your winnings on. To get this card you have to bring along your passport.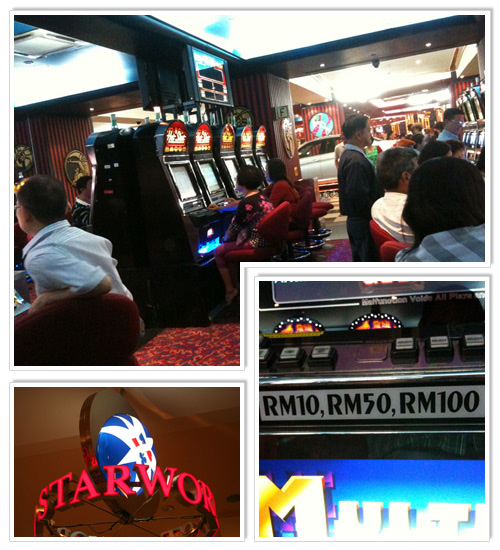 Shows and special performances
Genting Highlands is also the place where all the big international stars regularly perform. For instance the Black Eyed Peas, Gwen Stefanie and many others have performed here in Malaysia. Next to the diverse pop concerts it is also a good place to see beautiful shows at the Arena of Stars (similar to the famous Las Vegas Shows). We once went to the show called Dreamz and were really impressed by the great quality of the performance. We paid RM300 for two first row tickets (if you book/reserve in advance prices are usually cheaper). At the Genting Highlands website you can find an agenda with all the events which will take place.
Shopping at First World Plaza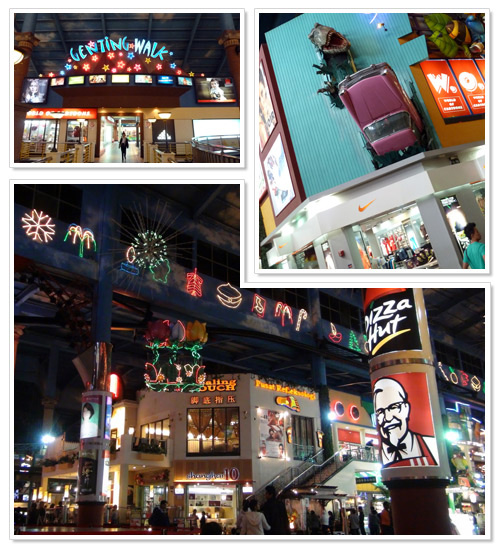 At the first floor of the huge complex you will find many shops selling all kinds of products. There are numerous trendy shops with clothing, jewelry, shoes and accessories; there is even a F.O.S (Factory Outlet Store). There also are a few restaurants, and of course the fast food places like Burger King, McDonald's, Pizza Hut and KFC. Among the coffee bars are Starbucks and Coffee Bean & Tea Leaf. Besides shopping you can find numerous other fun attractions within First World Plaza, including Genting Bowl, an archery, Ripley's Believe It or Not!, Ohmega Forces (virtual shooting simulator), a Cineplex, Starworld casino and even a SnowWorld.
Accommodation at Genting Highlands
There are numerous hotels at Genting Highlands, ranging from basic hotels to luxurious 5 stars hotels. Below a list with the most popular hotels in Genting Highlands.
First World Hotel
First World Hotel is one of the biggest hotels in the world when it comes to the available hotel rooms. First World Hotel has a whopping 6118 rooms. The main reception area resembles a small airport departure hall. People are checked in their rooms very efficient. First you get in the small line for a ticket. The tickets states which line you need to keep an eye on to check in. Hotel prices are very affordable at Genting Highlands. This means it is not that expensive to upgrade your room. We upgraded ours to a suite; the World Club Room for only a few ringgits extra. Because of this we were allowed to use the Club Rooms express (premium) check-in lane; which meant that we were in our hotel room in less than 10 minutes while regular guests had to wait for ages (as we decided to visit Genting on probably the busiest day of the year; at Eid ul-Fitr – the end of Ramadan).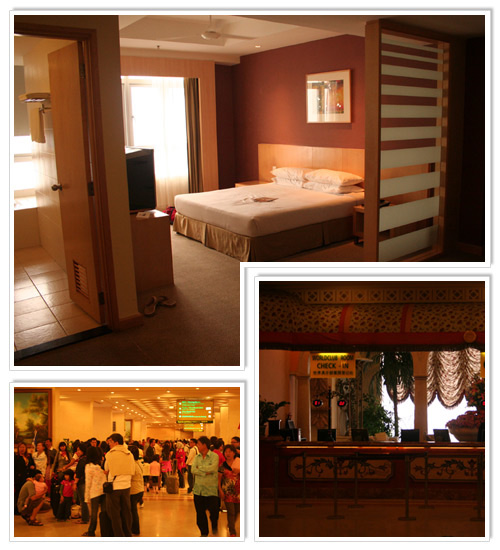 Other highlands in Malaysia
Genting Highlands is perhaps not the best place for people that come to find some quiet time. Main attractions are all focused towards amusement (entertainment, amusement parks and gaming) and not so much on nature and jungle. For the 'real' Highlands it is better to travel a bit further to the north, to Cameron Highlands or Fraser Hill. Fraser Hill is also located nearby Kuala Lumpur; this attraction takes about 1,5 hours to reach from the city center. Cameron Highlands is located 4 hours by car from Kuala Lumpur. It is the most popular highland of Malaysia. If you want to enjoy nice tea plantations (fabulous scenery), nice hikes and spectacular scenic views; this is the place to go.
How to get to the Genting Highlands
The highlands are located north of Kuala Lumpur along the route to the city of Kuantan, at a little under an hour drive by rental car. Every day busses depart for the Highlands, but you can also rent a car or take a taxi. Taxis are the most expensive way to get to Genting Highlands; expect to pay around RM100 one way (less if you can convince your driver to use the meter). Busses are the cheapest way to get to Genting. A 'Go Genting Express' bus ticket from Kuala Lumpur (city center) costs around RM10 one way. You can grab the bus at Puduraya (central bus station of Kuala Lumpur at counter location KT-27, Level 1), KL Sentral, 1 Utama, Pasarakyat and Terminal Putra LRT station. When you arrive at the foot of Genting, you can take a cable car up (Genting Skyway Cable Car). If you are driving yourself you can drive up to the main building and park your car just below First World Hotel.
From KLIA and LCCT to Genting Highlands
There used to be a direct bus connecting both KLIA and LCCT airports with Genting Highlands. This service is not being offered anymore to passengers that arrive in KL by air. Now you first need to travel to KL Sentral to get a bus to Genting. This can be done by taxi, SkyBus (RM9) or KLIA Express train (RM55). Of course you can grab a taxi from KLIA or LCCT, but be prepared to pay well over RM150 for this trip (that takes almost 2 hours).
Map of Genting Highlands
Below you can see a map of the Genting Highlands. You can simply scroll through the map with your mouse. Use the markers on the left to zoom in or out of the map.
Subscribe now to never miss a post!
Subscribe to our email updates or join us on our Facebook page, right now!
Travel related questions can be asked in our Telegram channel or in our Travel community.