Kinabatangan River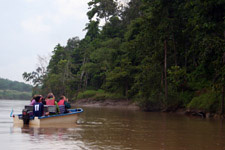 Kinabatangan River is the second longest river in Malaysia, with a length of 560 kilometers it runs across the state of Sabah on the island of Borneo. It is part of the Sukau-Kinabatangan Wildlife Sanctuary. The beautiful river offers great opportunities to see amazing wildlife. Water takes in a central position, people travel by boat in search of wildlife. During a visit you may encounter an enormous variety of animals. There are numerous small villages along the river; often forming the starting point for tourists that visit the area. Bilit is such a village; from here boats to lodges in the area leave. There are several lodges that accommodate tourists; most of them in and nearby the small town of Sukau (the tourist 'center' within the Kinabatangan area). Kinabatangan River is one of the most popular destinations within Sabah; here you can spot rare animals like orangutans, proboscis monkeys, crocodiles, elephants, snakes, insects and many bird species, such as varieties of the king fisher and the hornbill.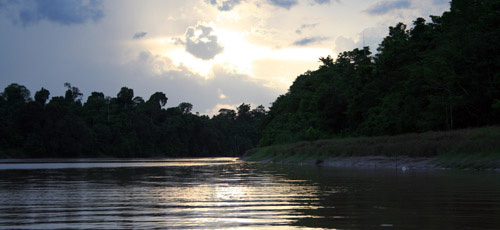 On this page:
Map of Kinabatangan River
Below you can see a map of Kinabatangan River. Click here to see a full screen version of the map of Kinabatangan River.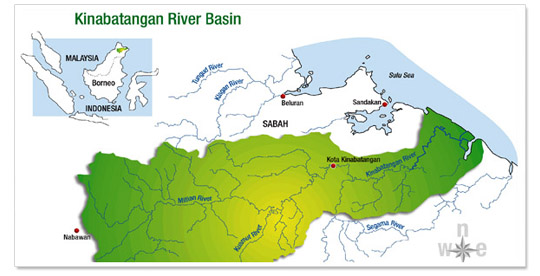 How to get to Kinabatangan River from Kuala Lumpur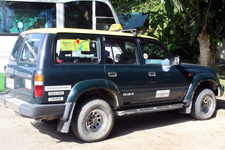 There are daily direct flights from Kuala Lumpur to the city of Sandakan in the eastern part of Sabah. From Sandakan Airport you can arrange transport to the Kinabatangan River. The drive takes around four hours, depending on the weather. During rainfall travel almost comes to a complete standstill as many cars are not able to move through the thick mud. Be sure to drive with a four wheel drive car. We saw many cars and trucks being stuck with no way to go during heavy rains. Luckily our driver had a huge Toyota Landcruiser so we were able to move regardless of the rains. As the trip to the river will take a while, it is advisable to take the earliest flight possible, or to arrive the night before so you can depart early in the morning from your hotel in Sandakan.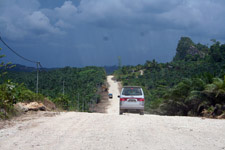 It is easy to arrange a trip to the Kinabatangan River up front. There are numerous travel organizations that offer trips to Sabah, specifically to the Kinabatangan area. We booked our trip up front at a local agent in Kota Kinabalu. We paid RM750 per person for a 3D/2N trip; including pickup from Sandakan airport immediately after arrival. Our guide also took us to the orangutan rehabilitation center at Sepilok on the way to the river; and he took us to the Gomantong Caves on the way back. As he was a professional guide; he stayed with us at the jungle camp and also joined us on our river cruises. As we did this trip in 2006; I imagine prices have changed quite a bit since then. Still you should be able to find trips similar to ours for roughly the same prices. If you don't want to make any reservations up front; you get a guide plus transport from the airport as there are many tour offices that offer tours to the Kinabatangan area. You can also just get transport only from the airport and have them bring you to the town of Sukau. There you can arrange your own trips and accommodation. Adventurous travelers can also chose to take the daily ferry from Sandakan harbor to Sukau.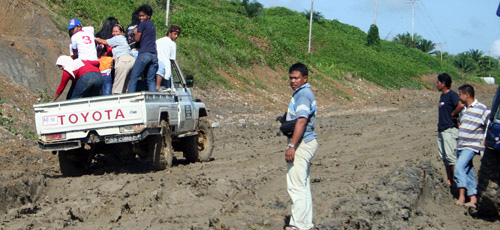 Best time to visit Kinabatangan River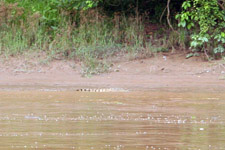 The Kinabatangan River can be visited all year round. A visit during the rainy season (between November to March) has its advantages and disadvantages. Main advantage is that you can venture deeper into the river channels; where you will have a bigger chance of spotting wildlife (especially around the oxbow lakes hidden in the Kinabatangan area). Disadvantages obviously are the heavy rains that make the area pretty much inaccessible (especially during the peak of the monsoon season during December and January when the river and the channels are often flooded). Bird enthusiasts should visit the area from April to October as this is the main flowering and fruiting season.
Impressive experience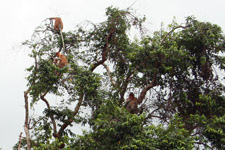 When you visit Kinabatangan River you will be exploring the area by doing jungle walks and river cruises. If you buy a package these river cruises will be included; our 3D/2N package for example had 6 cruises in total. If you want to spot wildlife then it is best to wake up early for a morning river cruise or morning walk (with early we mean really early where you are in your boat from the moment the sun rises). During the middle of the day animals tend to sleep and chances are slim you will spot wildlife from the river. The end of the day (before sunset between 4pm to 7pm) chances of spotting wildlife are a bit bigger again, especially proboscis monkeys as they are in search of a place to sleep alongside the river during that time of the day. During a night cruise you might spot crocodile eyes at the surface. The river houses many crocodiles. Although their eyes seem small, these crocodiles are on average well over 2 meters.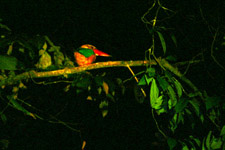 At night many nocturnal creatures venture out in the open spaces; clearly visible from the boat if you are in luck. The boatmen use big lanterns to spot animals, which is not that difficult for them as the light from the lantern reflects from the eyes of most animals. The next day we spotted a pygmy elephant family consisting of more than 70 animals, strolling along the river edge. We also saw a mother pygmy elephant and its young crossing the river and were face to face with an orangutan with its cub; an impressive experience. We also spotted different types of wild cats, multiple families of proboscis (Orang Belanda) monkeys, some snakes, and many different species of birds and some pretty nice insects.
Perfect location for wildlife spotting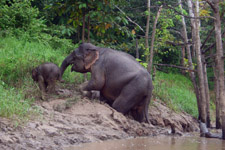 When we look back at it, the visit to Kinabatangan River was our favorite destination in Malaysia so far. We spotted so many types of animals and especially the night cruises were very fun to experience. It was definitely even more amazing than we had expected. It is however shocking to see the devastation because of deforestation in the area. The once massive jungles that surround the mighty Kinabatangan River had to make place to accommodate huge fields of palm trees. Animals like the orangutan, pygmy elephant, proboscis monkey and numerous other insects, birds and animals face local (and therefore sometimes even worldwide) extinction because of this. The fact that it is not that difficult to spot rare animals during your river cruise is because of the small strip of land where they can still live like they normally would do. This makes our wonderful visit a bit ambivalent; seeing these animals in their natural habitat is really amazing, but the reasons why you see them relative easily made us quite sad.
Kinabatangan Jungle Camp (KJC)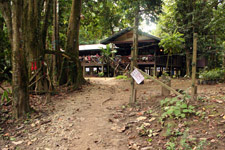 During our own trip we stayed at the Kinabatangan Jungle Camp (KJC); a 25 minute boat ride down river from the town of Bilit. The camp had an electric fence to keep the bigger animals (like elephants) out. One day electricity was out just when a group (luckily only 3 youngsters) decided to 'trespass' and venture into the camp to check for food. With joined effort we were able to lead these great animals away from the camp just before electricity was back on again. We had a nice and cozy room, but unfortunately forgot to bring our own mosquito netting which would probably have helped against the many mosquitoes flying around in our room. The room had electricity; great for charging camera batteries. There also was a small shower; however there was no warm water when we stayed there in 2006. Later we heard they 'upgraded' the rooms that now contain mosquito netting and warm water in the shower. The main reception also functions as restaurant; here we had very nice local meals and also our daily breakfast.
Short reviews of some Kinabatangan River trips
"There are a number of lodges to choose from along the Kinabantangan River in Sabah, Borneo near Sukau, and we had the good fortune of landing at the Myne Resort. The lodge is located at the end of an 8 km dirt road, which meanders through a palm plantation and a small village or two. The lodge itself is on the River bank, and is an excellent embarkation point for discovering the wildlife in this fascinating reserve area. The lodge itself offers cabin accommodation, equipped with aircon, hot showers, and comfortable beds. A sojourn at the lodge typically will include 3 meals per day, all of which were very good. The food served was by and large Chinese style, with a good selection of tastes and ingredients (meat, fish, veggies...). The employees and management of the place are extremely friendly, always smiling, and very eager to please."
"The best trip with the best guide ever! We saw a lot of animals and also some snakes. We went on a freelance guided tour with a professional guide. Hadi was his name and he was a lovely man who was born in the area. He told us everything about the animals and the culture of the local inhabitants of the Kinabatangan area. Why did we choose a freelance guide? It is a bit more expensive than the big guided tours but I think you get so much more out of it."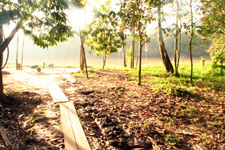 "This is the most fortunate trip i have been in Borneo in terms of spotting wildlife and meeting nice people. If you are going to Kinabatangan, I highly recommend you to enjoy it the Borneon way and opt for home stay. The lodges charge high prices and most of the money leaves the village. The contact to my guide and his home stay is Osman (+60198415259)."
"Please go here!!! I'll start off b saying that. One of the best experiences of my life! We have been traveling now for a year and this is one of my favorites. We saw a rhino and a whole herd of elephants by the river. WOW! They also do a night trek with plenty of owls, birds and insects."
Checklist trip to Kinabatangan River
Umbrella or raincoat/poncho
Flashlight or headlight
Mosquito repellant (like OFF)
Camera with super zoom (minimal 18-200mm or better)
Spare camera batteries
Sunscreen
Binoculars
Kinabatangan River Trip Tips
Be as quiet as possible during a river cruise as to not scare away the animals. Also make sure you do not fall out of the boat; IN BOAT = SAFE, OUT BOAT = DANGER!
Bring along two plastic bags to put over your shoes (especially handy when visiting Gomantong Cave because of the acid bird droppings). Strap it tight with some rubber bands.
Don't put your camera back in your camera bag. Let it get adjusted to the moist climate. This way you will be able to shoot pictures or videos instantly after spotting wildlife instead of having to wait until the fogged lens is clear again.
As night cruises are often optional and not part of standard itinerary, check with your guide and make your reservations up front.
Bring along a small notebook to write down the names of the species you encounter during the day. That way you are able to remember the names (specific names) afterwards when people ask you what you have spotted in the Kinabatangan area.
Do not feed animals and do not litter. Don't forget to practice responsible tourism when you're visiting Kinabatangan River.
Things to do on Sabah
Things to do on Sarawak
Subscribe now to never miss a post!
Subscribe to our email updates or join us on our Facebook page, right now!
Travel related questions can be asked in our Telegram channel or in our Travel community.