Sembilan Island
Sembilan consists of nine islands; Rumbia, Lalang, Saga, Buluh, Samak, Nipis, Agas, Miskin and Nyamuk. All of them are uninhabited, so you will find an oasis of peace. The islands are located nearby the town of Lumut, and also nearby Pangkor Island; a popular travel destination within Malaysia. The boat takes you to the islands in about an hour. Most people visit the island as a day trip. Usually a group of friends or a family rent a boat at the small harbor and they visit the island for a nice picnic. For this, Lalang Island has the best beaches. Some leave very early in the morning to catch fish in the area and then prepare and eat the fish during lunch at one of the nice secluded beaches. Sembilan has no accommodation. Nearest place to stay is Pangkor Island (view all hotels and resorts at Pangkor Island).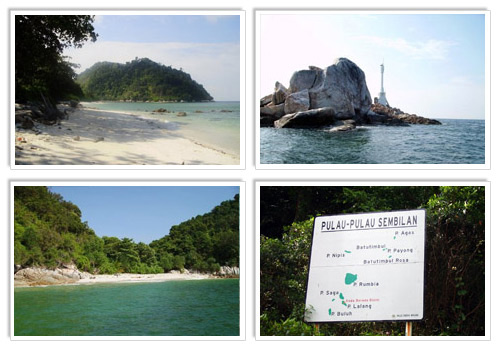 On this page:
It is all about fishing
The island group is especially well known for its great fishing possibilities, but the islands themselves are also very beautiful. If you love fishing, this is the place to go. You can charter a boat at Lumut harbor or from Pangkor Island; or try one of the tour offices in Sungei Wang shopping center in Kuala Lumpur. Many locals head out in the weekends for a fishing trip at Sembilan. There is a yearly competition for anglers; the Pulau Sembilan Fishing Safari. Recently many anglers also fish at a new spot nearby Marina Island, as this is nearer to Lumut.
Diving at Sembilan
The area around the islands is not only known for fishing. It is possible to dive around Sembilan. Quiver Dive Team has an office in Lumut (their HQ is in Perhentian). Especially great about diving at Sembilan is that you dive here all year long; no monsoon will affect diving conditions; contrary to the beautiful islands at the east coast of Peninsula Malaysia. Visibility usually ranges between 5m and 15m, depending on the weather that day. During bad weather visibility may drop rapidly, and the area will also have medium to strong currents. Amateur and novice divers may be best off by choosing a clear sunny day when diving around Sembilan.
How to get to Sembilan Island
There are daily buses that depart from Kuala Lumpur to Lumut; the jetty where you can arrange a boat to take you to Sembilan. The bus is by far the cheapest solution to get to Lumut as it only costs around RM25 (one-way, VIP 4 hour trip). Right opposite of Lumut Jetty is the bus station; so it is only a small walk to get to the Jetty. Also right in front of the jetty are car parks with 24/7 surveillance; where you can park your car for RM10 per day. Quiver Dive Team has their Lumut office at Marina Island; from here their jetty departs to Sembilan.
Map of Sembilan Island in Malaysia
Subscribe now to never miss a post!
Subscribe to our email updates or join us on our Facebook page, right now!
Travel related questions can be asked in our Telegram channel or in our Travel community.