Port Dickson
The coastal town of Port Dickson (PD) is a popular holiday destination where many local Malaysians go to for a short weekend break. During colonial times the English colonials discovered this location as a splendid getaway from the hot and humid Kuala Lumpur. Sir Dickson was in command at the time, which explains the current name of the town. Nowadays the town is especially known for its great beaches along the Malacca Straits. There are numerous hotels and guesthouses for tourists. It can get quite busy during school and public holidays and other festivals. We once visited the town during Ramadan and all the hotels and resorts were packed. Make sure you make your reservations beforehand to get the best price. It is usually more crowded in weekends compared to weekdays.
On this page:
Main attractions
The beaches around Port Dickson attract many local tourists. The most popular beach/bay is Blue Lagoon. Opposite of this beach you can see the 16th century Cape Rachardo lighthouse. Every Saturday night you can visit the PD night market.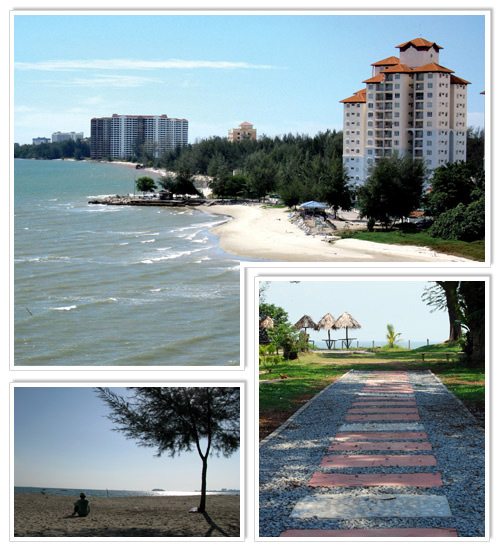 Accommodation at Port Dickson
Below a list with the most popular hotels in Port Dickson.
How to get to Port Dickson
Port Dickson is only an hour drive from Kuala Lumpur. You follow the directions towards Johor Bahru and Malacca along the North-South Expressway until you reach the exit to Port Dickson. From there it is another 20 minutes to get to the hotels and guesthouses. There are also busses that connect Port Dickson to KLIA (and LCCT), Malacca and Kuala Lumpur (Puduraya bus station). From Port Dickson a daily ferry departs to the city of Dumai in Sumatra, Indonesia.
Map of Port Dickson
Below you can see a map of Port Dickson. You can simply scroll through the map with your mouse. Use the markers on the left to zoom in or out of the map.
Subscribe now to never miss a post!
Subscribe to our email updates or join us on our Facebook page, right now!
Travel related questions can be asked in our Telegram channel or in our Travel community.