Sepilok Orangutan Rehabilitation Centre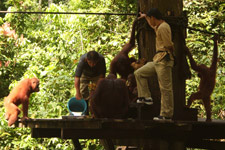 Close to the city of Sandakan, nearby the small town of Sepilok, you will find Sandakan's biggest (and Sabah's 2nd biggest) tourist attraction; Sepilok Orangutan Rehabilitation Centre (SORC). The rehabilitation center was founded 1964 with the aim of returning orphaned, injured or displaced orangutans into the wild. The ground where the rehabilitation centre is located is part of the 4,300-hectare Kabili-Sepilok Forest Reserve. The Sepilok Orangutan Rehabilitation Centre falls under the administration of the Wildlife Department of Sabah. Have you always dreamt about a close encounter with an orangutan? At this centre you're able to see the orangutans in their rehabilitation programs. At Sepilok the orangutans are divided in groups. The most independent ones are released in the wild after a certain period of time; you can watch them during feeding-time. Today up to 75 orangutans are roaming freely in the reserve.
"Once found throughout Southeast Asia, this species of ape now survives only in small populations across the islands of Borneo and Sumatra. The orangutan is the largest tree dwelling mammal. Just ten years ago the estimated population was around 27,000, today it could be as low as 15,000. Indonesia and Malaysia were once covered in forest, but 40 years ago the wood became a valuable commodity as timber and the land perfect for farming and overzealous agriculture fast cleared the orangutans' natural habitat."
On this page:
Very important work
Although I found my first encounter with a wild orangutan much more impressive (spotted alongside the Kinabatangan River), it is also important to visit Sepilok. After a visit in the rehabilitation sanctuary, you will truly realize how important the work is that the people over there are doing. Although it is easy to spend more days there, we found one visit sufficient. Feeding time, twice daily at 10.00am and 3.00pm, is when all fun starts. Then some hungry orangutans find their way to the feeding grounds where they will be treated on bananas and other food. Sometimes many orangutans will come to get some food, other times none at all. If you arrive very early, it is usually not that crowded yet. We thought it was ok, but it was already quite crowded with tourists the day we dropped by (during feeding time). At the park entrance you can watch an introduction movie about the history of Sepilok, it is gives a good impression on the great work all those involved – usually voluntary workers – do on a daily bases. One particular NGO is doing a great job at Sepilok; Sepilok Orangutan Appeal UK.
"Founded in 2000, The Sepilok Orangutan Appeal UK has grown rapidly from just a commitment to help, to a position where we are delighted to have been awarded official UK charity status."
Visiting the rehabilitation center as part of a tour
At the airport, you will find numerous small travel offices where you can book a trip to Sepilok, but also to many other attractions in the near vicinity of Sandakan; Labuk Bay Proboscis Monkey Sanctuary, Gomantong Caves, Kinabatangan River (cruises), Langkayan, Turtle Island and many more trips. Usually visitors combine a visit to the orangutan rehabilitation centre with a trip to the Kinabatangan River; where you can spot the mighty orangutan in the wild (if you are lucky that is). There are some resorts and hotels nearby Sepilok, but you can also easily stay within Sandakan as there is plenty of accommodation available and it is only a short drive to the rehabilitation centre. A popular place to stay amongst budget travelers is the Sepilok Jungle Resort; at only a 5 minute stroll from the rehabilitation centre. Another option is the Sepilok Nature Resort (mid-range). A more luxurious option would be to stay at Paganakan Dii Tropical Retreat.
Entrance fee Sepilok Orangutan Rehabilitation Centre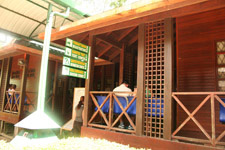 At Sepilok Orangutan Rehabilitation Centre, you will have to pay an entrance fee of RM30 for foreign adults (Malaysians pay only RM5). If you want to visit the Sabah Rhinoceros enclosure, you will have to pay another RM10 (RM4 for locals). Children pay RM15. If you bring along any cameras, video cameras, phone cameras or any other recording equipment for personal use, you have to pay RM10 at the entrance. Also remember to read the 'rules' and apply sunscreen or mosquito repellent before entering the centre.
Daily opening hours
Main gate: from 8.00am till 5.00pm
Reception & ticketing counter: 9.00am till 11.00am and 2.00pm till 3.30pm
Exhibition hall (opened daily except for Fridays) from 9.00am till 4.30pm
Main rehabilitation centre: daily from 9.00am till 12.00pm and 2.00pm till 4.00pm
Fridays the rehabilitation centre is opened from 9.00am till 11.00am, 2.00pm till 4.00pm
Address
Sepilok Orangutan Rehabilitation Centre
Sabah Wildlife Department
Batu 14, Jalan Labuk Sandakan Sabah
WDT200, 9009 Sandakan Sabah
Tel: +60 (0) 89531180
Location
Below you can see the location of Sepilok Orangutan Rehabilitation Centre on the map.
How to get to Sepilok Orangutan Rehabilitation Centre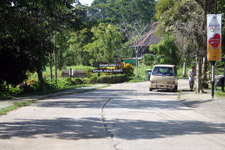 Sepilok Orangutan Rehabilitation Centre lies at a distance of 25km from the city of Sandakan in northeast Sabah. If you are traveling from Kuala Lumpur then all you need to do is take one of many daily flights to Sandakan as multiple domestic airlines fly directly from the capital of Malaysia to Sandakan. From Sandakan, it will only take around 25 to 30 minutes to drive to Sepilok. If you arrive on Sandakan airport, enough taxi's can immediately take you to the rehabilitation centre. The rehabilitation centre can also be reached by public bus number 14 in Sandakan city center. This bus leaves hourly between 9am to 14pm at the bus terminal in front of the Nak Hotel.
Things to do on Sabah
Things to do on Sarawak
Subscribe now to never miss a post!
Subscribe to our email updates or join us on our Facebook page, right now!
Travel related questions can be asked in our Telegram channel or in our Travel community.