Kota Bharu
The conservative city of Kota Bharu is the capital of the state of Kelantan. Kelantan is part of a federation where an Islamic majority party is in power for many years. These Islamic influences are still clearly visible in the daily street life. The city is situated in the north of the Peninsular Malaysia, close to the southern Thai border. The cities at the east side of the peninsula show a different aspect of Malaysia. In this area the Muslim culture influences daily life in every level. Tourists usually travel via this city to get to the tropical island of Perhentian. Those who stay over in Kota Bharu usually visit the traditional markets, museums and mosques.
On this page:
Attractions in and around Kota Bharu
Compared to Kuala Lumpur and Georgetown, cities at the east side generally appear to be more laid back and relaxed. When you want to experience Islamic Malaysia, Kota Bharu is a great place to start. You hardly see any western influences (like modern shops or shopping malls). Kota Bharu is very rich with culture; with beautiful and vibrant markets and mosques. Also interesting are the various museums, the old royal palace and former royal buildings in the center of town. You can also visit a buddhist temple where you can look at a huge sleeping buddha; the Wat Pothvihan. Outside of Kota Bharu you can participate in the following activities: River cruise along Sungai Galas, explore the Gua Ikan caves, a visit to the Stong Waterfall, white water rafting at Kuala Betis, diving at the Japanese Invasion Wreck and beaches like PCB Beach, Irama Beach, Pantai Perkasa, Pantai Sungai Dua and Pantai Kandis.
Religious city
Because the people of Kota Bharu live by Islamic laws, there is zero to none nightly entertainment. During Ramadan F&B outlets are usually closed during the day, food is sold in public only in the early morning and after sundown. Alcohol is not sold in public in Kota Bharu (and in the whole state of Kelantan for that matter), but there are some exceptions like the international renowned hotels (like the luxurious Renaissance Hotel) and some Chinese restaurants where beer is served to non-Muslims. Alcohol is sold on islands like Perhentian and Redang at Kota Bharu's coast.
Shopping malls in Kota Bharu
The people of Kota Bharu usually do their daily shopping at Pasar Siti Khadijah (Kota Bharu Central Market), where most of the sellers are women. Besides your daily groceries you can also find numerous other products (clothing etc). The huge Tesco hypermarket is also very popular among locals. Next to Central Market you can find Kota Bharu Trade Centre (KBTC); the largest mall in Kota Bharu that opened its doors in August 2009 with Parkson as anchor tenant. Other popular shopping centers are KB Mall, Pelangi Mall, Kota Seri Mutiara, Pantai Timur, The Store and the new Nirwana Maju.
How to get to Kota Bharu
By air
The most popular way to get to Kota Bharu is by air as there are numerous daily flights from Kuala Lumpur. Three airlines operate on this route; Malaysia Airlines, AirAsia and Firefly. Malaysia Airlines departs from KLIA (domestic), AirAsia departs from LCCT (Low Cost Carrier Terminal) and Firefly departs from Subang Airport. Some of the airlines also fly from other cities within Malaysia to Kota Bharu, check out their websites to find out from what cities they operate besides Kuala Lumpur. Kota Bharu Airport (or Sultan Ismail Petra Airport) is a decent but small airport.
By rental car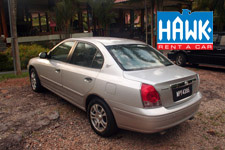 Another way to get to Kota Bharu is by rental car. It is easy to rent a car in Malaysia. Numerous car rental companies have special pick up locations throughout the country. Hawk Malaysia for example has a drop off point at Kota Bharu airport, so you can easily pick up the car at an Hawk office in Kuala Lumpur (KLIA or city center) and drive with it to Kota Bharu. From Kuala Lumpur it is a 8,5 hour drive to Kota Bharu, so you might want to consider a short stopover at another destination on the way to Kota Bharu. Many tourists combine their trip to Kota Bharu with either a visit to Cameron Highlands or a trip to Taman Negara.
By bus
The cheapest way to reach Kota Bharu is by coach. There are quite some bus operators that have daily busses driving between Kota Bharu and many other locations within Peninsular Malaysia. From the main bus terminal Puduraya in Kuala Lumpur a couple of busses a day leave towards Kota Bharu. The trip from Kuala Lumpur to Kota Bharu by bus will take around 9 hours. As there are two bus stations in Kota Bharu, Central Bus Station and Langgar Bus Station, make sure you find out up front from which station your bus is departing (or arriving). Tickets from Kuala Lumpur to Kota Bharu only cost around RM40 (one way).
By train
You can travel by train between Johor Bahru in the south of Peninsular Malaysia and Kota Bharu in the north. There is a daily train that travels straight through the jungles in the center of Peninsular Malaysia. This train is also called the 'jungle' train, though only a small part of the total route actually crosses the jungle. Nonetheless; taking this train is a very adventurous way to travel to Kota Bharu. If you want to take the train from Kota Bharu; you need to embark at Wakaf Bharu station (at 5km distance of Kota Bharu city). The final stop of the jungle train will be at Gemas station; where you can either get a taxi to take you to KL (or perhaps Malacca); or you can wait for the next train to either Singapore or Kuala Lumpur.
From Kota Bharu to Kuala Besut
If you are flying to Kota Bharu to get to Kuala Besut for a boat to the nearby island of Perhentian, make sure you get an early flight as the last boat from Kuala Besut usually leaves around 4pm. A taxi trip from Kota Bharu airport to Kuala Besut will roughly take an hour and this will cost you RM70 (or less). You can buy a taxi ticket at the special taxi counter (fixed prices). Taxis are sometimes quite old and often do not have a working aircon.
Popular restaurants in Kota Bharu
White House
Restoran Golden City
Four Seasons Restaurant
Usually the 4 and 5 star hotels in Kota Bharu have great restaurants. Popular hawker centers in Kota Bharu are: Medan Selera Kebun Sultan Hawker Center, Taman Indra Hawker Center and the Chinese Night Market.
Popular hotels in Kota Bharu
Below a list with some of the better hotels in and directly around Kota Bharu (view all hotels here in a new page).
Budget travelers will be glad to hear that there is enough budget accommodation available in and around Kota Bharu. Just recent Tune Group opened a branch of their popular 'No Frills' hotel formula in Kota Bharu. Check out the new Tune Hotel Kota Bharu.
Map of Kota Bharu
Below you can see a map of Kota Bharu. You can simply scroll through the map with your mouse. Use the markers on the left to zoom in or out of the city map.
Subscribe now to never miss a post!
Subscribe to our email updates or join us on our Facebook page, right now!
Travel related questions can be asked in our Telegram channel or in our Travel community.