Mount Kinabalu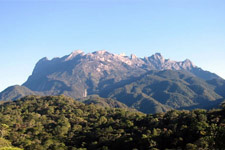 Mount Kinabalu is the highest mountain (Gunung in Bahasa Melayu) in Malaysia and lies within Kinabalu National Park (NP). It is part of the Crocker Range (of mountains). Its summit reaches 4,095.2 meters. From the summit you will have the best view of the rising sun, and when you walk down, you can see several small villages. With good weather you will even be able to see Sabah's biggest city, Kota Kinabalu, at great distance. Visiting the mountain is not easy without any pre planning; you will have to register in advance, best way to do this is with the help of an agent or travel organization. Local government only accepts around 150 people on the mountain at all days, this means only 75 people can go up daily; as the other 75 are doing their descent at the same time. The permits often run out during peak season, so remember to make the necessary arrangements beforehand.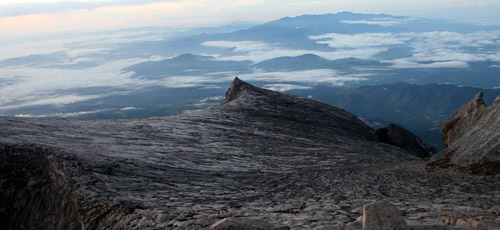 Climbing Mount Kinabalu is usually a 'once in a lifetime' experience for most people, so it is vital that proper preparations are made beforehand. With superior information and sufficient time to prepare, you stand an extremely good chance of reaching the summit. You have looked into all the necessary climbing preparations earlier, but what about your health and fitness? Are you fit enough to climb the highest mountain in South East Asia?
[Sabah Park Authorities]
On this page:
Permit and mountain guide
It is important to make reservations beforehand and as early as possible. The Mount Kinabalu Summit Trail is a very popular activity; and daily permits run out months before already. It is not an easy climb, but you will always have the beautiful memories of this amazing adventure. Mount Kinabalu is a relatively easy mountain to climb compared to many other mountains world wide; it is known to be one of the most accessible mountains in the world. To reach the summit you do not have to be in extremely good shape. People with physical limitations however, should not climb the mountain without consulting a physician first. If you are not an experienced climber; then you could consider a different route (Timpohon Trail) that is less strenuous. Yearly, over 20,000 people climb the mountain. The best time of the year to climb the mountain is between April and August. If you have opportunity to time your trip; do it so that you climb the mountain during full moon as then it is lighter at night when you do the final ascent. Everyone who wants to go mountaineering at Mt. Kinabalu is advised (obligated!) to use a mountain guide. Especially at the summit the guide can be very helpful (the last part is quite hard). The guide will be waiting for you at the Park HQ. If you arrange your trip via an agent or travel organization; the mountain guide will automatically be part of the package.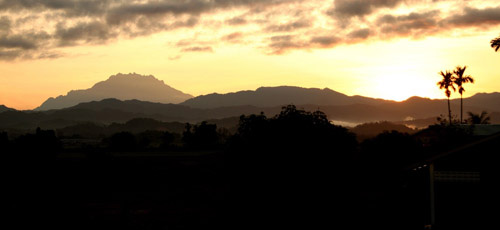 Start your climb as early as possible
A typical climb starts very early in the morning. It is wise to start as early as possible. The longer your body can adjust to the height at base camp Laban Rata, the better chances you have of reaching the summit for one of the most spectacular sunrises in your life. Many people that start too late, have to give up eventually due to altitude sickness. Of our group almost 30 people didn't make it to the summit for various reasons. We got up at 5.00 to have a quick breakfast and were ready to leave at 5.30 in the morning for the 1,5 hour drive from Kota Kinabalu to the park entrance. We started our climb at Timpohon Gateat 8.30am on a Thursday morning, we arrived at Laban Rata Rest House around 12.30 (3278 meters). We had a drink and a meal and went to bed immediately after that. The atmosphere at the base camp was almost surreal. Every now and then new people arrived. Some were absolutely exhausted; others just started to play some soccer. Some were dead tired gazing into the clouds (it was very cloudy at Laban Rata that day and it even rained a bit at the end of the day); others were playing cards. Food is quite expensive at Laban Rata, it would be wise to bring your own snacks.
Private room for better sleep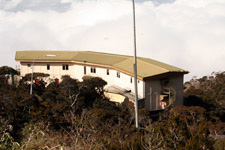 We booked a private room, which was great for a good sleep. As there not many private rooms at Laban Rata Rest House, be sure to make your reservations as far ahead of the actual summit trail as possible (as in months ahead). We were woken up at 0.30 the following night. We were lucky as we had clear weather that night. We were warned before we went to bed that the final stage of the climb might be cancelled due to the bad weather (this is always a risk during your summit trail), but luckily the weather changed after nightfall. We left at 1.00 am for the last part of our climb. This was the best part; pitch dark, slippery...amazing views. It was quite cold during these last hours; though the temperature didn't go below freezing point. We managed to get two jackets at Laban Rata (yes; we were dumb enough only to wear a long sleeved shirt), and those were real lifesavers. The last part is almost like walking on the moon, the only animals we encountered were numerous small mountain rats. We arrived at the summit at 5.30; just in time to see the sun rise over Southern Asia. This was one of the best sunrises ever experienced; really a memory of a lifetime.
The descent is the hardest part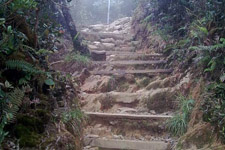 Then started the most difficult part of the climb as the way down was perhaps even more strenuous then going up the mountain. The constant hammering on the knees really hurt, but in the end we made it back in one piece; partly thanks to our guide. To us it was a really amazing adventure. We were in ok physical shape, but did go through some rough moments. Some tell us after climbing Mount Kinabalu that they found it to be 'a piece of cake'; others agreed with us that it was really an achievement to reach the summit after all the hardships. I know that some of the toughest guys actually didn't make it to the top. It will not amaze readers that these were the same guys that played some friendly soccer after arriving at Laban Rata (instead of relaxing and acclimatizing at such heights).
Mount Kinabalu International Climbathon
Deemed as 'the World's Toughest Mountain Race', the Mount Kinabalu International Climbathon is the ultimate challenge to take for those game enough to test their endurance by running up and down Mount Kinabalu for a total distance of 21 kilometers. The participation for the first ever climbathon in 1987 was restricted to Malaysians only, but nowadays Mount Kinabalu International Climbathon is especially popular among many European mountain runners. In 2010 the Climbathon will be held for the 24th time. The event usually takes place in October of each year.
Mount Kinabalu Via Ferrata
An alternative way to climb Mount Kinabalu is by doing it 'Via Ferrata' style. This is a more exciting way to climb (or actually descent) the mountain. Mt. Kinabalu actually has the world's highest Via Ferrata. Mountain Torq is the company that offers Via Ferrata packages. They have their own rest house at Laban Rata called 'Pendant Hut' where 30 people can stay overnight. The equipment rental is included in the package and they will provide harness, rope, helmet, carabiners and lanyards. You only bring your own shoes and gloves.
A via ferrata (Italian for 'iron road'. Plural vie ferrate. In German, klettersteig) is a mountain route which is equipped with fixed cables, stemples, ladders, and bridges. The use of these allows otherwise isolated routes to be joined to create longer routes which are accessible to people with a wide range of climbing abilities. Walkers and climbers can follow via ferratas without needing to use their own ropes and belays, and without the risks associated with unprotected scrambling and climbing. – Wikipedia
Visiting Mount Kinabalu without climbing the mountain
Many tourists visit the area without ascending Mount Kinabalu; at the lower regions of the mountain, hiking is a very nice alternative. Nearby are the Poring Hot Springs, where you can ultimately relax in the hot sulfur springs. Furthermore you can enjoy the several hot water sources. Viator.com is an online travel organization where you can arrange a visit to Kinabalu National Park and the poring hot springs (including a canopy walk). You can easily arrange this trip beforehand via Internet. The trip lasts around 10 hours and you will be picked up and dropped off from your Kota Kinabalu hotel.
How to get to Mount Kinabalu from Kota Kinabalu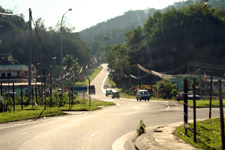 Kota Kinabalu is the nearest big city and you need to travel to this city first in order to get to the Kinabalu National Park entrance. There are numerous daily flights to Kota Kinabalu; even a couple of international flights. If you travel by an organized tour your driver will pick you up from the hotel early in the morning. From Kota Kinabalu you can easily travel to Mount Kinabalu yourself by either a taxi or a bus. From the Kota Kinabalu North Bus Terminal there are busses that pass the park entrance. Make sure you ask up front if the bus goes into the direction of the park (the following destinations are on the route to Kundasang where you can find the Kinabalu Park Office; Ranau, Sandakan or Tawau). The drive to the park entrance usually takes over an hour, busses often take a bit more time to reach the park entrance.
Checklist Mount Kinabalu summit trail
A small and light backpack
Umbrella or raincoat/poncho
Headlight (or flashlight though headlight is better as you keep your hands free).
T-shirt + sweater + windbreaker
Photo camera of video camera
Water bottles (though you can drink from fresh water streams too).
Lunch
Energy bars
Walking stick
Earplugs (so you can sleep when people around you are still awake at Laban Rata).
Sunglasses and sunscreen (for the way down).
Lip balm
Warm hat, scarf and gloves
Personal first aid kit with Paracetamol/Brufen
Good hiking boots or sandals (no need for the most expensive 5kg weighing professional hiking boots though).
Small towel
2 extra t-shirts
Mount Kinabalu summit trail tips
Make your reservations up front as there is a daily limit of how many people are allowed on the mountain each day. The earlier you make reservations the better; there are stories of people arriving at the main office to be told all permits were given out already for that day.
Watch out with taking your expensive camera all the way to the top of the mountain. Though it is not that cold up at the summit, the pressure and, sometimes harsh, weather are not the best circumstances for electrical devices you carry with you during the summit trail.
Bring along warm clothing for the last part of the summit trail as it can be around 2 degrees at the top. Especially when it is still dark it can be really cold (with harsh winds). Warm clothing can also be rented at Laban Rata Rest House.
Try to leave from the main entrance as early as possible, preferably before or around 8am in the morning. Consider to stay the night before at a convenient location nearby the base of the mountain to avoid a drive of 2 hours from Kota Kinabalu city. When you start early, you will arrive at Laban Rata Rest House early which means your body gets more time to adjust to the altitude. Some people that arrived late during the day at Laban Rate had altitude sickness when they tried to do their final descent to Low's Peak summit. They couldn't continue and did not make it to the top. The more hours' rest your body has at Laban Rata the bigger the chance you can reach the summit of Mount Kinabalu.
Refrain from smoking and alcohol consumption the night before the climb (and the day of the climb).
People with knee problems should bring along a knee guard (brace) to use on the way down. There will be quite some pressure on your knees during the descent. Most of the injuries which occur on Mount Kinabalu happen on the way down.
Though prices of packages vary the Mount Kinabalu Summit Trail is not cheap (anymore). Though the activity costs quite the amount of ringgits; the experience will last a lifetime! Mountain guides are not optional; they will save your life should you run into troubles!
If you forget or are unable to bring along warm clothing you can rent some items at Laban Rata Rest House for a cheap price (they have jackets, gloves and warm hats).
Try and walk/climb as slowly as possible. This way you will save energy and minimize chances of injuries. You will also be able to enjoy the amazing scenery a bit better; your guide will be able to point out the beautiful pitcher plants for example.
Backpackers can always take a risk by just showing up in the morning on the day of their intended climb. Though chances are very big that there are no permits left that day; there often are cancellations which free up some of the permits. If you are lucky you can climb the mountain, otherwise you can enjoy the wonderful Kinabalu National Park (which is Malaysia's first UNESCO World Heritage Site).
You have to begin your climbing before afternoon or you won't be allowed to climb on that day.
If you bring your camera or video camera along; don't forget to give it to your mountain guide every once a while so he can shoot some pictures or videos of you and your group.
Map of Mount Kinabalu
Below you can see a map of Mount Kinabalu.
Things to do on Sabah
Things to do on Sarawak
Subscribe now to never miss a post!
Subscribe to our email updates or join us on our Facebook page, right now!
Travel related questions can be asked in our Telegram channel or in our Travel community.