Kuching
Kuching is the capital of the East Malaysian state of Sarawak. Being the most populous city in the state of Sarawak (over 600.000 inhabitants), Kuching emerged as one of the most vibrant cities in the region and it is the largest city on the island of Borneo and the fourth largest city in Malaysia. Many travel brochures refer to Kuching as 'Cat City'. There's a small chance that Kuching actually does derive from the Malay word for cat (kuching) as this word was not used on Borneo to refer to cats at all (pusak). The cat museum and other associations with cats have been largely a recent phenomenon, part of a modern effort of tourism. Current findings tell a different story; the name derives from a small river named sungei kuching. Kuching is a gateway to numerous great attractions in Sarawak.
On this page:
Cleanest city in Malaysia
The main religions of the citizens are Christianity, Buddhism, Taoism and Islam. Malays practice Islam and all Malays are Muslim by definition but the local Malays have greater respect for other religions as religion is not an issue among Kuchingnites. Kuching is said to be the most multi-racial city in Malaysia. The largest group is actually the Chinese, who form about 45% of the population. The city is considered one of the cleanest cities in Malaysia and was once voted as one of the world's healthiest cities to live in.
Attractions in and around Kuching
The Visitors Information Centre on Padang Merdeka is run by Sarawak Tourism Board and stocks leaflets, brochures and other promotional materials. Helpful staff can assist with general travel enquiries. The centre also houses the National Park and Wildlife booking office which issues visitor permits and books accommodation for Bako, Gunung Gading, Kubah and Matang Wildlife Centre. Address: Lot 31, Jln Masjid, 93400 Kuching - Monday – Friday: 0800 hrs – 1800 hrs - Sunday/Public Holidays: 0900 hrs – 1500 hrs. You can also make these arrangements before going to Kuching; or at your hotel or resort. It is recommended to visit Kuching during hot season which is from March to October every year. Monsoon season normally occurs between November and February. However, the monsoon does not hinder the tourist activities too much.
Kuching is the starting point for numerous trips to wildlife parks in the area. Great national parks and other attractions nearby Kuching are: Bako National Park, Kuching Wetlands National Park, Bario & Kelabit Highlands, Semenggoh Wildlife Center, Gunung Gading National Park and Kubah National Park.
Popular attractions within Kuching are: Tua Pek Kong Temple, Sultan Iskandar Planetarium, Kuching Civic Centre, Kuching City Mosque, Masjid Jamek, Medan Raya Complex, Kuching Waterfront, Main Bazaar, Taman Budaya, Sunday Market (Pasar Minggu), The Astana Friendship Garden, Matang Family Park, Sinar Serapi Eco Theme Park and Sarawak State Library (Pustaka Negeri). Things to do in and nearby Kuching: Kayaking, Borneo headhunter tattoos, bumbu cooking class, scuba diving at Talang-Talang island, Irrawaddy dolphin watching at Santubong river mouth, traditional dance lesson, music lesson, craft lesson, batik-making lesson, bidayuh spa and massage, Sarawak layer cake making and tringgus tribal experience.
A nice activity in Kuching is the Sarawak River cruise. There are two cruises a day; the morning cruise (9am) and sunset cruise (5pm). Both cruises last approximately 2 hours and you will have great views of the city of Kuching. Fares are RM40 for an adult; children pay RM20. They are special rates for groups and private charters. The boats leave at Kuching's Promenade.
Shopping malls in Kuching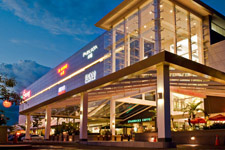 Up to 2007 Kuching wasn't known for its shopping possibilities. Then a couple of huge shopping malls opened their doors for the locals. The three biggest and most recent opened shopping malls in Kuching are The Spring Mall, Hills Shopping Mall and Boulevard Shopping Mall. All of these three malls have hundreds of shops; among them many international brands. There are food courts, cinemas and other attractions within the malls. Other popular shopping malls in Kuching are: Green Heights Mall, OneTJ (IT Mall), E-mart, Sarawak Plaza, Tun Jugah, Riverside Majestic, Crown Square and Hock Lee Shopping Podium.
How to get to Kuching
By air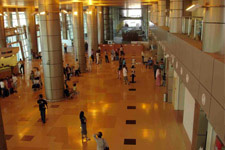 The only way to get to Kuching from Peninsular Malaysia is by air and there are numerous daily flights from Kuala Lumpur and Johor Bahru. Three airlines operate on this route; Malaysia Airlines, AirAsia and Firefly. Malaysia Airlines departs from KLIA (domestic), AirAsia departs from LCCT (Low Cost Carrier Terminal) and Firefly departs from Subang Airport. Kuching International Airport is the main airport in southern Sarawak. There are hourly connections to Kuala Lumpur as well as frequent flights to Singapore, Johor Bahru, Labuan, Kota Kinabalu and other cities in Sarawak like Sibu, Bintulu and Miri.
Travel around Kuching
Boat to Sibu
Boats to towns such as Sibu and Bintulu leave from Pending (nearby Sim Kheng Hong Port or Tanah Puteh Port). Express Bahagia Express and Express Sejahtera Express offer a daily service by boat to Sibu. This trip will take about 5.5 hours and a standard ticket costs RM35. For a bit of extra space you can also buy a VIP (1st class) ticket. Make sure you arrange a taxi up front from your hotel to Pending. You can also get to places like Sibu, Bintulu and Miri by air or bus.
To Bako NP
Transport bus No.1 departs from the Petra Jaya Bus Terminal (opposite of the open air market) in the city centre. You pay a couple of ringgits for a one way ticket; the journey will take 45 minutes. There are also public mini busses; they are more expensive though a little bit faster and more regular. The busses bring you to Bako Bazzar where you pay the park entrance fee and you then transfer to a boat to reach the national park. The boat to Baku NP itself costs about RM50 one way and can carry up to 6 people. Easiest but most expensive way is to just take a taxi from your hotel in Kuching; which will cost about RM45.
To Semenggoh orangutan rehabilitation center
Sarawak Transport Company bus No.6 departs from the bus terminal. One way tickets will only cost a couple of ringgits. Also there are plenty of mini buses and mini bus taxies at the open air market that can drive you there. Again the easiest but most expensive way to get to Semenggoh is to just take a taxi from your hotel; which will cost about RM30 and will take about 30 minutes.
Popular restaurants in Kuching
Life Cafe
Junk
Hubbaba's Arabic Kitchen
James Brooke Bistro
Toh Yuen
My Restaurant
Raintree Restaurant
Bing
Popular hawker centers in Kuching are: Top Spot Food Court (by far the most popular at the moment), Song Kheng Hai Food Court, Food Avenue Food Court, Spring Mall Food Bazaar, Boulevard Mall Food Court, Sin Wan & Expert Food Court, Kuching Waterfront food stalls and Hui Sing Garden.
Popular hotels in Kuching
Below a list with some of the better hotels in and directly around Kuching (view all hotels here in a new page).
Budget travelers will be glad to hear that there is enough budget accommodation available in and around Kuching.
Map of Kuching
Below you can see a map of Kuching. You can simply scroll through the map with your mouse. Use the markers on the left to zoom in or out of the city map.
Subscribe now to never miss a post!
Subscribe to our email updates or join us on our Facebook page, right now!
Travel related questions can be asked in our Telegram channel or in our Travel community.