Travel to Malaysia
Popular Airlines that fly to Malaysia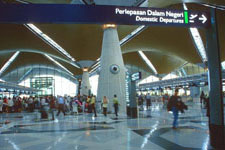 There are multiple airlines that fly directly (non-stop) to Malaysia. Generally; a non-stop flight to Malaysia is more expensive than a flight with a stopover. For example; when flying with Cathay Pacific you will have a stopover at the city of Hong Kong. When flying with Emirates, you will have a stop at Dubai. You could choose to stay in these cities for a couple of days, both cities are great to explore in 2 or 3 days. However, some travelers do not like these big metropolis, if you are one of them; try to get a direct flight to Kuala Lumpur International Airport.
On this page:
Top 5 airlines that fly to Malaysia
Malaysia Airlines or Singapore Airlines
The best airlines to use when flying to Malaysia are Malaysia Airlines (MAS) and Singapore Airlines (SIA). Both airlines are almost yearly renowned for being in the list of top airlines in the world. Since Singapore borders to Malaysia, it is advisable to stay there for a couple of nights. Stopover packages are quite affordable, and the city itself is simply awesome. From Singapore there are many ways to travel into Malaysia. Since Singapore Airlines is probably the best airline in the world, you will have a great time flying with them.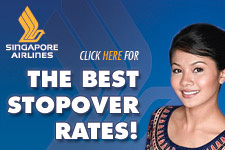 For a direct flight to Malaysia you should fly with Malaysia Airlines. Although tickets can be a bit expensive compared to other quality airlines, flying with MAS is a great experience (same goes for Singapore Airlines, but there is the problem of the stopover when flying via Singapore). The reason why we usually choose Malaysia Airlines or Singapore Airlines is because of the excellent onboard service. The service at both airlines is outstanding; you feel your holiday starts when you board the plane. With some airlines, your holiday starts after the long flight, and sometimes you need days to recover after the flight.
Another great aspect of flying with MAS or SIA is the atmosphere onboard. Not only is the service usually splendid, the atmosphere really gets you in the mood for a perfect holiday. Add the huge space between the seats - you can almost flip back completely without being a burden to your fellow-passengers - and you will probably have an excellent flight.
Other great airlines
Cathay Pacific is also a very good and affordable airliner. Hong Kong is a great city to explore, so make use of the stopover and extend it with a couple of days if possible. Cathay Pacific usually is pretty affordable, though flight time takes far more hours because of the location of Hong Kong compared to Kuala Lumpur. Add around 5/6 hours to a direct flight when flying with Cathay Pacific.
Emirates is also a great airliner, but not everybody likes the long stopover at Dubai. However, prices are usually very affordable; you could save hundreds of dollars when flying with Emirates instead of MAS or SIA. So if you're looking for the cheapest luxurious flight to Malaysia (and all neighboring countries for that matter) with an airline of great quality, be sure to check out prices of Emirates. Qatar Airways has been voted best airline of 2011. Flying with Qatar to Malaysia means a stopover at Doha, which is also nice to explore before heading to Malaysia. Etihad Airways, yet another great Arabian airline has a stopover in Abu Dhabi before flying to Kuala Lumpur. Etihad too has won many prices. According to many travelers worldwide; Emirates, Qatar Airways and Etihad Airways are the top3 airlines in the world.
Of course there are many other airlines that fly (directly) to Malaysia, but not all of them are as great as the airlines mentioned earlier. Again, prices differ often, so be sure to check out the many ticket websites to find the best deal.
List of airlines that fly to Malaysia (alphabetical)
Air China
Air-India
American Airlines
Austrian Airlines
British Airways
Cathay Pacific (great choice)
China Airlines
Continental Airlines
Emirates (great choice)
Etihad Airways (great choice)
Eva Airways
Japan Airlines
Korean Air
Lufthansa
Malaysia Airlines (great choice)
Qantas Airways
Qatar Airways (great choice)
Scandinavian Airlines
Singapore Airlines (great choice)
Thai Airways International
United Airlines
Subscribe now to never miss a post!
Subscribe to our email updates or join us on our Facebook page, right now!
Travel related questions can be asked in our Telegram channel or in our Travel community.