Hygiene and healthcare in Malaysia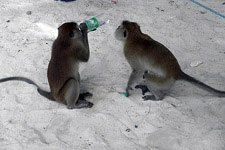 Malaysia has excellent hygiene, compared to several surrounding countries. Tap water is quite drinkable, although bottled water is safer and has a better taste. For Asian standards, the country has good medical supplies. Should you encounter problems, good medical care is always near. Furthermore, eating 'alongside the streets' is fine. Almost everyone in Malaysia eats out in the evening, and usually just at the hawkers or food courts at the streets. However, it does pay off to pay attention to where it is busy and where it is not. It is often a good sign if a lot of locals choose a certain hawker, you can then safely assume the food is alright (in most cases that is). But still, the western gut is not always prepared for foreign food (spicy and rich of spices), so it won't hurt taking it easy the first few days, giving your body time to adjust to your new eating habits.
On this page:
Hygienic standards in Malaysia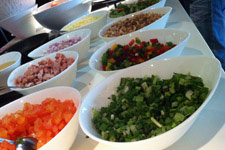 If you travel to Malaysia make sure you get the right vaccines up front. Important ones are: Hepatitis A, Typhoid, Yellow fever, Hepatitis B (especially when you are an adventurous person) and Tetanus-diphtheria. Also bringing along O.R.S. and Imodium may be a smart thing to do, just in case you do encounter any problems. However, often the food quality is not what makes you sick, but the adjustments to the tropical (warm and humid) climate in Malaysia. Toilets in shopping malls are always cleaned well, but only use them if you really have no other choice. Consider buying an antibacterial hand lotion. In most luxurious malls toilets are cleaned 24/7; here you don't have to worry about hygienic standards (take The Gardens Mall for example where toilets are spotless). In most hotels you also do not have to worry about the hygiene, especially in your own hotel room. We've never had any problems with this at all during our visits to Malaysia.
Clean for Asian standards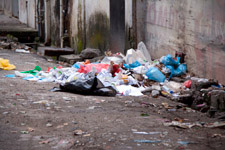 There is quite a contrast between the civilized western part of the country and the more authentic eastern side (of the peninsula). On the western side - which is generally more popular among tourists - it is cleaner, on the eastern side everything is a bit more messy and therefore often looks a little less clean. In general, Malaysia is a clean country, and especially in the larger cities, people usually do their best to keep everything tidy. It is not as spotless as neighboring country Singapore (which for the matter of fact in recent years is becoming less clean too), but it is certainly not a filthy country. If you venture out from the regular tourist areas in Kuala Lumpur, don't be shocked by the piles of rubbish you often see along the streets.
Bukit Bintang Central Gotong-Royong
Malaysia always puts in best efforts to please visiting tourists. This also goes for the clean image the country wants to have, in order to attract more tourists. For instance, in the city centre of Kuala Lumpur (in the Bukit Bintang area) you have the so called Bukit Bintang Central Gotong-Royong. This is a joint initiative of several malls, hawker centers and hotels in the most central area of Kuala Lumpur. During the Gotong-Royong (which probably means 'Great Cleaning') employees of the malls Sungei Wang, Plaza Low Yat and BB Plaza, together with employees of the hotels Capitol, Swiss Garden, Federal and Nova and with employees of several food courts nearby, go out on the streets with brooms to clean everything. If you venture a bit out of the tourist spots; then you will be surprised (or shocked) to see the filth and dirt on the streets in Kuala Lumpur.
This activity will enhance the image of Bukit Bintang, which is a famous tourist belt in Kuala Lumpur. It will not only boost a clean working and living environment but also spur interaction among the community as well as develop responsibility and team work.
Not everything is clean in Malaysia. It still is a hot and humid country; which always leads to more problems when it comes to hygiene. Not far from Jalan Bukit Bintang (with within the Bukit Bintang area) you can see rats as big as small dogs running around on the streets in broad daylight. People throw their garbage on the streets; which attracts cockroaches and rats. This too is part of Malaysia (though most tourists will not venture into these streets).
Hospitals and dental clinics in Malaysia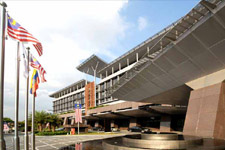 There are many good hospitals in Malaysia; especially in de Kuala Lumpur area. There are also many 24hr medical clinics where you can drop by to have a medical check if you think there is something wrong during your travels. Usually you will get a good advice at those clinics and if they deem it necessary, they will send you to the hospital. The clinics can be found throughout Malaysia. In Kuala Lumpur you have them in nearly every big shopping mall and also at numerous locations around Bukit Bintang (and KLCC). The nearest to the malls around Bukit Bintang can be found opposite the street that leads into 'Little Arabia'; along Jalan Sultan Ismail (about 100 meters from Lot10).
There are also numerous specialty hospitals. We have visited the Tun Hussein Onn Eye hospital once; and everything was perfect. Should you encounter any dental problems during your trip in Malaysia; do not hesitate to visit one on the many dental clinics. Often you will find these clinics in shopping malls in Malaysia. Check with the hotel reception where the nearest clinic can be found.
Some private hospitals in Kuala Lumpur
Prince Court Medical Centre
Institut Jantung Negara
Sunmed Specialist Centre
Gleneagles Intan Medical Centre
Damai Service Hospital
Sentosa Medical Centre
Tung Shin Hospital
Pantai Medical Centre
More pages with information about Malaysia
Subscribe now to never miss a post!
Subscribe to our email updates or join us on our Facebook page, right now!
Travel related questions can be asked in our Telegram channel or in our Travel community.