Food and famous dishes in Malaysia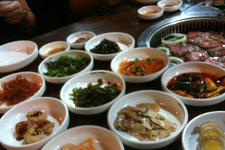 Eating out is very common in Malaysia. The biggest part of the population seldom cooks at home. The main reason is that eating out is generally cheaper than buying ingredients at the supermarket and cooking your own dishes. Another reason is that eating outside is part of the Malaysian (and other Asian) culture, there is no better place to get in touch with friends and relatives than during a delicious meal. Most dishes in Malaysia are either based on rice or mee. Malay dishes often contains beef, chicken, mutton or fish; but never pork as Malay food needs to be halal. Chinese dishes often contains pork. Indian dishes are often vegetarian; and they never contain beef (though Indians do eat chicken, mutton and fish). Most dishes will be served with some vegetables; either mixed through the dish or served as a side dish.
If shopping is the national pastime in Malaysia, then food is the national obsession. It is not uncommon to be greeted by the phrase 'Sudah Makan?' which translates to 'Have you already eaten?'. Eating is more than an exercise in nourishment; it is an all round social experience as you chat over a spicy, local rice dish or gossip over a warm drink.
On this page:
Great food at hawker centers and food courts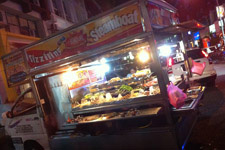 Every night many designated streets in Malaysia transform into buzzing food courts, with many different hawkers. Nowadays a food court is often referred to as a floor in a shopping mall, where all shoppers go to when it is dinner time. In small towns you will usually find these food courts outside. Eating at these food courts is very easy, even for tourists, you simply walk to a hawker and you order your meal. In many cases you point out to the hawker at which table you are sitting. When he's done preparing your meal, he will bring it to your table. It is common to pay directly when you receive your dinner.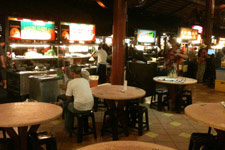 Every hawker has his own specialty. In Malaysia you see hawkers of many different populations right next to each other. This means you can buy Malay food, Chinese food, Indian food and sometimes even western dishes all in the same food court. Since a typical dish usually doesn't cost more than a couple of ringgits, you can easily experiment many different dishes, combine popular dishes or order a complete rice table from 5 different hawkers. Every now and then someone walks to you asking whether you would like to order some drinks. This is another hawker, one that only specializes in drinks, ice cream and local deserts. The quality of the food is very high in Malaysia, mainly because food is prepared fresh before your eyes.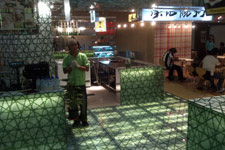 Every food court in the major cities are full with people that eat-out. The food court at Suria KLCC is always crowded, same goes for all food courts within the Bukit Bintang area. Especially Foodrepublic (basement of Pavilion KL) and Hutong (basement Lot10) are both very popular foodcourts in Kuala Lumpur. Just watch local Malay people, and check out what they are ordering. Good chance you will be eating your best local dish ever, just by observing what others eat. Besides the food courts many shopping malls also have multiple western places to eat a (light) meal. Apart from the restaurants there are also a lot of popular food-chains in Malaysia, like McDonalds, KFC, Burger King and many local food chains. Besides the food-chains the coffee shops (Kopitiams) like Dome, Delifrance, Starbucks or the Coffee Bean are also perfect places for a light meal (not the best places for a complete meal though).
Social get-togethers at the Mamak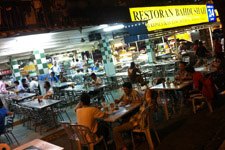 Mamak refers to Tamil Muslims, who generally own and operate these Mamak stalls. Although traditionally operated from roadside stalls, modern mamak stall operators have expanded their businesses into restaurant or cafe-type establishments. Mamak stalls tend to be popular among Malaysian youth as spots to chill; mainly due to the cheap food and beverages being served 24/7. People of all races, religions and ages frequent Mamak stalls to get-together while enjoying a cup of hot teh tarik. Newer mamak stalls have more of a cafe aspect, being well lit and furnished with stainless steel tables. Some are outfitted with large flat screen televisions, or even projectors, so that patrons can catch the latest programs or live (soccer) matches as they dine. Famous Mamak dishes are: Nasi Kandar, Mamak rojak and Roti canai. Famous Chinese dishes are: Wantan Mee, Pao, Hokkien Mee and Prawn Mee.
Typical Malaysian dishes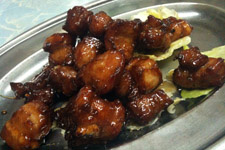 Typical Malay dishes are often not that spicy, compared to other countries in Southeast Asia. When hawkers prepare their dishes for tourists, they often take the level of spiciness into consideration. If you are looking for real spicy dishes, tell the hawker up front you want your dish spicy. Same goes for non-Malay dishes (like Indian or Chinese food); let them know up front you want it spiced up a bit. But beware; some dishes can be extremely spicy, so make sure you have enough water within reach. Also a tip for tourists that head over to Malaysia: Try and adjust in a mildly manner to the food, otherwise you risk getting sick on the first day of your trip. Some famous Malaysian dishes are: Ikan Bakar, Nasi Lemak, Nasi Goreng, Wan Tan Mee, Marmite Chicken, Sateh, Carrotcake, Dimsum and Beef Rendang.
Malaysia has great restaurants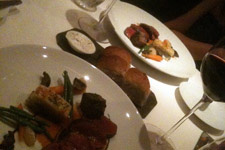 Beside hawkers and food courts you also have many restaurants in Malaysia. Of course you have Malay restaurants, Chinese restaurants and Indian Restaurants. You also have many other restaurants, European restaurants with French, Spanish, Italian or Greek dishes, Arabic restaurants with their typical dishes, and last but not least an enormous amount of Japanese restaurants. If you find it difficult to pick a good restaurant, check out the internet up front. Many restaurants in Malaysia have been reviewed by Malaysian people and by tourists. Perhaps a nice tip is to check out the restaurant from the inside before ordering anything. If a restaurant is completely deserted around dinner time, you can best conclude that it is perhaps not the most popular restaurant in town. Another nice tip is to check out the restaurants of the 5-star hotels in the city you are residing in. Generally, these hotels offer great exclusive dishes, local and foreign for very affordable prices (compared to what you would pay for a similar dinner experience in your own country). We once went to one of the most exclusive restaurants in Kuala Lumpur called Lafite (this 5-star restaurant can be found within Shangri-La Hotel Kuala Lumpur); we enjoyed a fantastic dinner. Check out more on restaurants in Kuala Lumpur.
In Malaysia people love sweet stuff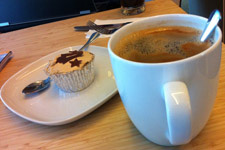 There are just as many dessert shops, cake shops, bakeries, candy shops as there are local restaurants and mamaks in Malaysia. Especially in the bigger cities there are too many to count. Malaysians love their sweet stuff; ranging from cupcakes to muffins, from custard puffs to cheesecake. You can usually find many dessert places within the popular shopping malls and out on the streets in Malaysia; ranging from Japanese desserts to Hong Kong desserts, from waffle shops to pancake houses.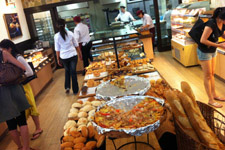 There also are many bakeries in Malaysia; especially in Kuala Lumpur (and of course other bigger cities). Besides bread you can also buy many versions of sweet bread snacks. Often the locals meet up with their friends or family for a Sunday morning early lunch (or breakfast) at those bakeries; as most have a small dining area. Popular bakeries in the city center are The Breadshop, Lavender and of course The Loaf. Outside Kuala Lumpur city center two bakeries are definitely worth a visit: Levain Boulangerie & Patisserie (IMBI area) and The Bread Shop (Bukit Damansara). At both places you can also enjoy a very nice lunch as they also prepare great sandwiches.
Popular coffee places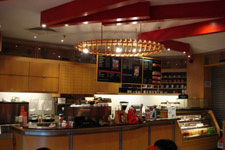 Those who can afford it will spend their money on a cup of coffee from one of the popular coffee chains that are operating in Malaysia. Of course the most popular is Starbucks Coffee, followed by The Coffee Bean. Both offer many types of hot or cold coffee and tea, but also hot or cold chocolate and numerous varieties of ice blended shakes. Besides the drinks you can also order numerous snacks. The Coffee Bean also has a complete lunch menu, offering sandwiches, pastas and soups. Starbucks only sells snacks (cakes, cookies, brownies and muffins) apart from the occasional sandwich. Other popular coffee places in Malaysia are San Francisco Coffee, The Dome and the more local oriented Old Town White Coffee. Often the cafés & coffee shops in Malaysia offer free WIFI (internet) and complimentary magazines to read. Every Starbucks and every Coffee Bean in Malaysia offers WIFI. Often the coffee shops offer a special member's card where you can save for a free drink after you bought at their stores a couple of times. Always ask if they can help you with your own member card.
Long lines at fast food restaurants
Malaysians love fast food. There are numerous well known fast food chains in Malaysia; Burger King, McDonalds, Wendy's, KFC, Pizza Hut and A&W. There are even Japanese fast food chains in the form of sushi restaurants; most popular are Sushi King and Sakae Sushi. Sometimes fast food restaurants like McDonalds or Burger King have a special deal; don't be surprised to see long lines forming in front of the restaurant as people don't mind queuing for over an hour to buy that set menu for RM2 instead of RM10. Also during Ramadan you will notice it is always way more crowded at fast food restaurants. We noticed people sitting on their tables with their complete order getting cold as it was yet time to eat.
Some examples of good food courts and hawker centers in Malaysia
Kuala Lumpur
Signatures Suria KLCC
BB Plaza Basement
Hutong Lot10
Berjaya Times Square
Food Republic Pavilion
Jusco Sunway Pyramid
Food Junction Mid Valley mall
Mines Spices of Malaysia
SS2 Selera Malam Hawker
Ming Tien Food Court
Kampung Baru hawkers
Asia Café Subang Jaya
Penang
Batu Ferringhi - Long Beach
Batu Ferringhi - Mutiara Arcade
Batu Ferringhi - Blue Bayou
Georgetown - Gurney Hawker Centre
Georgetown - Komtar Food Court
Tanjung Bungah - Hawker Centre
Teluk Bahang - Market
Queensbay mall Food Court
Langkawi
Mutiara Burau Bay hawkers
Restaurants at Telaga Harbour
Seli Rasa Hawker Oriental Village
Hawker adjacent to Lagenda Park
Kuah - Water Garden
Langkawi Fair Hawker
Kuah - Lencongan Hawker
Pantai Cenang - Many restaurants
More pages with information about Malaysia
Subscribe now to never miss a post!
Subscribe to our email updates or join us on our Facebook page, right now!
Travel related questions can be asked in our Telegram channel or in our Travel community.