Pangkor Island
The name of the island comes from the Thai 'Pang Ko', which means Beautiful Island. It actually concerns a group of islands with Pangkor as its main island, and next to that a trio of smaller islands: Pangkor Laut, Pulau Mentagor en Pulau Giam. Pangkor Laut is the best known of these, because of the idyllic resort you can find on this small island (with similar name; Pangkor Laut Resort). Pangkor is a mountainous island; the highest point is at 1216 meters (Pangkor Hill). Since the main island consists of just mountains, the roads are lying in a circle around the island. The island has a number of international hotels/resorts; it can get quite busy during school and public holidays. There is no real best time to visit Pangkor; as the island is pretty much shielded by Sumatra, weather is pretty much the same throughout the year (though it still is a tropical island).
Together with Langkawi and Penang this is the best choice if you want to visit a wonderful island on the western side of the peninsula. Approximately 30,000 people live on the island, most of them in Pangkor Town and the villages surrounding it. Fishery is (next to tourism) an important source of income for most of the islands' inhabitants. Pangkor Island lies within the state of Perak, about 85 kilometers from Ipoh (the 2nd biggest city of Malaysia), and about a 3-hour drive from Kuala Lumpur.
On this page:
History of Pangkor Island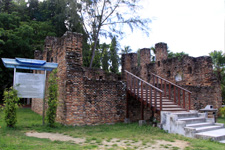 In past times; this area used to be the center for piracy. The pirates had their home ports in the Pulau Gedung Hills, Gua Lanun (Pirates' Cave) and Batu Perompak (Pirates' Rock) on the island of Pangkor. Many ships/boats were taken over and robbed of their goods and products. The Dutch were active here in the times of the Dutch East India Company (VOC). People were especially keeping themselves busy with the tin industry, until the British took over. In 1670 the Dutch built a fort (also for protection against the locals and the higher powers of that time) at Tiger Rock. During the British rule the name has temporarily been Monkey Island. Later the island was named Pulau Aman (Peaceful Island) before it regained the name Pangkor.
Getting around on Pangkor Island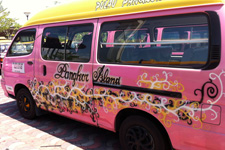 The best way to explore Pangkor Island is by motorbike as rental is only around RM25-40 per day. Another option is by renting a car, though there are only a few places where this is possible. Sometimes you will get cheaper prices if you rent a motorbike or car from one of the employees at your resort; but do check up front how things like insurance and such are arranged. Better don't take any unnecessary chances and just go for the trustworthy rental companies. You could of course also consider renting a bicycle, but do know that some parts of the island have some steep climbs which can be quite strenuous in this tropical climate. Last option is to get around by taxi; but this does limit the possibilities of exploring the island a bit. On the other hand taxi drivers are quite knowledgeable so they might be able to take you to places unknown by tourists. There are no metered taxis on Pangkor Island. Trips are based on fixed prices. For example; a trip from Pangkor Town Jetty to Nipah Bay costs RM15.
The best places to rent a scooter is at Pangkor Town Jetty or at Nipah Bay. During weekends (or public holidays) it can be quite crowded on the island, and most of the motorbikes will be rented out. We have good experiences with Budget Resort and Flora Resort (both in Nipah Town). We paid RM32 per day, but normal price is RM40 per day (we rented one for multiple days during our stay). Always be careful when riding a scooter. Always wear a helmet. Make sure you bring your (international) driving license with you, otherwise you will not be able to rent the scooter. Never go too fast. Roads on Pangkor can be quite treacherous and sometimes slippery (especially after rain).
Attractions and activities on Pangkor Island
Below a list with attractions on the island:
Water sports and other activities are plenty around Pangkor Island. Especially around Bogak beach and Nipah beach there are numerous operators that offer banana-boat rides and Jet Ski rental. Around Giam Island you can do some decent snorkeling; though you can't compare it with snorkeling on islands like Redang and Perhentian.
Pangkor Town is a nice place to visit as there are many great local restaurants where you can enjoy typical dishes originating from the island itself.
Fu Lin Kung Temple is a Taoist temple that has been build at the foot of Pangkor Hill nearby the town of Sungai Pinang Besar. Another Chinese temple that you can visit is the Lin Ye Kong Temple; nearby Teluk Nipah (at the end of Coral Bay).
Kali Amman Temple is the only Indian temple on the island; especially interesting to visit during the two big festivals of Deepavali and Thaipusam.
You can arrange a nice offshore fishing trip through your hotel or resort; though this can be quite pricy. You can also arrange a boat with local fishermen for a day.
Pulau Jarak is quite a boat ride away from Pangkor, but it is worth the trip. Here you can find great marine life. The small island itself is perfect for a secluded day trip.
You can do some light jungle treks around the island. The best one, the Pangkor Hill Trek, starts at Bogak beach and takes you all the way to the eastern side of the island (to Sungai Pinang Kecil). Most jungle hikes only take an hour or two. Always notify your resort or guesthouse owner that you are off to do a jungle hike.
Another fun thing to do is to rent a boat for the day to go around the island. A speed boat is an option; but a normal boat is way more fun as you have more time to enjoy the scenery. A more strenuous option would be to rent a canoe for the day.
Southwest of the island, nearby the small town of Teluk Gedung, you can visit the Dutch Fort (also known as Dindings Fort or Kota Belanda). The Dutch built this small fortress to get more grip on the tin mining industry in the 17th century. The fortress was used to keep foreign ships at bay, in order to control and monopolize the worldwide tin trade. The Dutch Fort currently is an historical monument.
Batu Bersurat (Tiger Rock or Historic Rock) is a huge boulder with historical inscriptions on it. The inscriptions refer to a child and a tiger and is dated '1743 I.F.CRALO' together with the initials of the 'VOC' which refers to the Dutch East India Company.
"The story behind Batu Bersurat (Tiger Rock) is about the child of a Dutch dignitary, who played by the rock, disappeared with no trace and it was presumed that a tiger had taken the child. However the villagers said that it wasn't the tiger that had taken the boy, but more probably angry Malays, who wanted to rid Pangkor of the Dutch. The Dutch could have also chiseled this incident on the stone depicting the Malays as a tiger." Sabrizain.org
Beaches on Pangkor Island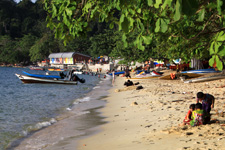 There are numerous beaches on Pangkor Island; an easy way to explore them is by motorbike (or taxi/rental car). Only a few of these beaches are popular among locals and tourists; especially during the weekends. The rest are secluded and unspoilt; during the week there is a big chance you will be the only one visiting the beach. Pantai Pasir Bogak probably is the most popular beach on the island. Another great beach is Nipah beach at Teluk Nipah; where you can find clear waters. You can even snorkel in the area, as it is located directly opposite Pulau Giam which is the only island that is surrounded by corals (though snorkeling over here should not be compared with snorkeling at islands like Perhentian, Redang or Tioman). Snorkeling at Giam is inexpensive. Snorkeling gear including a return boat trip costs only RM15 per person. Other great beaches are Ketapang beach and Segadas beach (the secret beach). Though Segadas beach is not that easy to reach (you need to walk from the small town Teluk Gedung via a short jungle trip to the secluded beach, which takes around 20/25 minutes); it probably is the most beautiful beach on the island.
Pangkor has some great resorts
There are numerous great resorts on the island. One of the most popular is the Pangkor Island Beach Resort. This resort is especially great for families with children; as they have an extensive children's program. All the guests get a daily newspaper where the activities for the day are described. You can chose to join early in the morning to look for birds, or come to the Hornbill feeding platform where Hornbills are fed twice daily.
Nearby the coastal town of Lumut you can stay at the amazing Swiss-Garden Resort Damai Laut. When we first visited the resort we didn't know what to expect. We read stories up front that the resort is often very quiet and that it is especially renowned for its spa facilities and of course the fantastic golf course (18-hole, Par 72 championship golf course including a driving range). Golf sport enthusiasts will have the time of their lives; as the golf course is rated among the best throughout Malaysia (and Southeast Asia). From the resort you have great views on the island of Pangkor that lies opposite the resort.
A resort of a whole different class is the famous Pangkor Laut Resort. This is by far the most luxurious resort on the island (actually on a secluded island nearby Pangkor). The resort is often mentioned in luxury & lifestyle magazines; it is rated as one of the best resorts in Malaysia. It is also one of the best places to visit during your honeymoon. Below a nice video of Pangkor Laut and the resort.
Pangkor also has great guesthouses
During one of our stays at Pangkor Island we spend a few nights at Nipah Guesthouse, winner of the Tripadvisor Travelers Choice 2012 award. This sure was a nice guesthouse and the owners are amazing people. In the same area, around Nipah Bay, there are many other guesthouses. Most of the guesthouses rent out motorbikes and most offer lunches for non-guests.
List of hotels and resorts
Below a list with some of the resorts on Pangkor Island (view all hotels and resorts at Pangkor here in a new page).
How to get to Pangkor Island
The island has its own airport but the only airliner that flies between Kuala Lumpur and Pangkor Airport is Berjaya Air (they suspended their service a while ago, but it got reinstated again). There are daily buses that depart from Kuala Lumpur (and also from other places, like Penang or Ipoh). The bus is by far the cheapest solution to get to Pangkor as it only costs around RM25 (one-way, VIP 4 hour trip). Buses depart all throughout the day, from Bandar Tasik Selatan, TBS bus station. We once used Plusliner which was a good experience. Right opposite of Lumut Jetty is the bus station; so it is only a small walk to get to the Jetty. Also right in front of the jetty are car parks with 24/7 surveillance; where you can park your car for RM10 per day. As driving to Pangkor is very popular and cars cannot be brought onto the island; there's no other choice but leaving your car secured at the car park. We once rented a car in Kuala Lumpur (with Hawk Malaysia) and drove to Pangkor ourselves as it is only a 3,5 hour drive.
It is possible to get a taxi from KLIA, LCCT or Kuala Lumpur City Center to Lumut, but this will be quite an expensive taxi ride. The driver probably doesn't want to use the meter, and also wants an extra fee for the way back (as chances are slim he's able to pick guests up in Lumut). Expect prices above RM400 for a one-way trip.
The island itself is accessible by ferry from the small town of Lumut, a boat ride of approximately 40 minutes. A return tickets costs RM10 and leaves every 30 minutes. There are three different boat operators at Lumut Jetty. They all bring you to Pangkor Town (2nd stop). Mesra Ferry is the best of those three, as you get to sit on the outdoor upper deck and watch the scenery. If you have reservations at Pangkor Island Beach Resort; you will use a different ferry. The same goes for Pangkor Laut reservations; they too have their own ferry service to the resort.
3 ways to get to Pangkor from Kuala Lumpur by car
Drive towards Ipoh and take the Gopeng exit. From there follow signs to Batu Bajah (Kellies Castle) and after that the signs to Lumut. This is the most used route that is used to get to Pangkor. It also takes the longest time from KL.
Another way to get to Pangkor is by taking the exit at Bidor. From here you follow the signs to Teluk Intan and after that the signs to Lumut. This too is a route that is often used to get to Pangkor as this is probably the quickest route.
There also is a more scenic route; which also takes the most time to get to Lumut. When you are on the Federal Highway towards Ipoh, take the exit at Tapah. From here you can follow the signs to Kampar where you can also visit the Gua Tempurung Caves. From there follow signs to Ipoh and then take the ext at Malim Nawar; this is where you will go through an area that was known for its tin mines. After that follow the road to Kampung Gajah, from there to Bota Kiri. At Bota Kiri you will see the signs that lead you to Lumut.
Map of Pangkor Island in Malaysia
Subscribe now to never miss a post!
Subscribe to our email updates or join us on our Facebook page, right now!
Travel related questions can be asked in our Telegram channel or in our Travel community.