Fireflies Kuala Selangor
Kuala Selangor is a small coastal village northwest of Kuala Lumpur. The village is renowned for the great attraction alongside the Selangor River that runs through the village. On this river you can spot the famous fireflies (Kelip-Kelip in Bahasa Melayu) during evenings/nights. The fireflies all are found on the mangrove tree species called berembang. It is said that this is one of the biggest firefly colonies in the world. If you want to check out the fireflies yourself, you should head out to Kampung Kuantan (9km from Kuala Selangor) in the beginning of the evening. There you can arrange an eco-friendly rowing boat; a local boatman (guide) will escort you. There are opening hours to take into account; you can visit the attraction between 8.00pm and 10.30pm daily (except for rainy days).
Check out our Fireflies Kuala Selangor picture set at Flickr.com
On this page:
Great attraction nearby Kuala Lumpur
There are a couple of nice restaurants where they mainly serve fresh seafood. Restoran Kuala Selangor is where we enjoyed a very nice local meal at Pasir Penambang (1A, Jalan Bagan Sungei Yu). You can stay overnight in the village of Kuala Selangor or at the chalets at Kuala Selangor Firefly Park, but since it is just a 40 minute drive over the KL - Kuala Selangor Expressway (Latar) to get there from Kuala Lumpur; you could always take a taxi back to the big city. Besides the taxi you can easily drive there yourself by rental car or you could consider taking the bus from Puduraya bus station (nearby Chinatown in Kuala Lumpur). Visiting the fireflies actually is one of the most popular attractions directly outside of the city of Kuala Lumpur.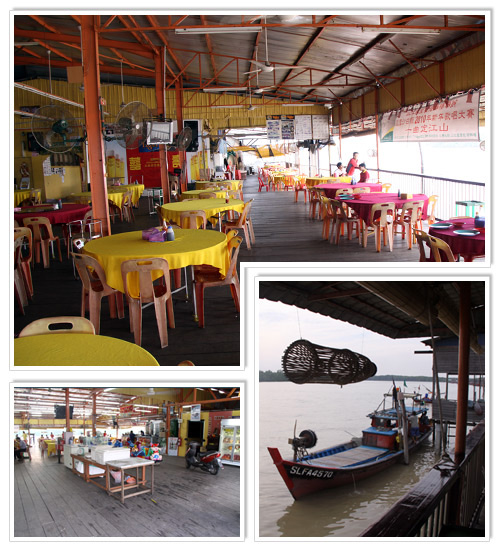 About the fireflies
Fireflies are also known 'Lightning Bugs' and they shine brightly at the night to attract a suitable partner. Apparently, they are able to shine during the day too but humans then cannot see it. They are only seen at night in and along the 'Berembang' trees along the Selangor River. We could not spot any in the palm trees or any other trees for that matter. Often their flashing becomes sychronised, the overall effect is just like the twinkling lights of a Christmas tree. A trip along the river banks at the Selangor River at night is truly magnificient, and definitely a great attraction that should not be missed.
Daily firefly tour
The Fireflies Park Resort operates the privately run fireflies tour in Bukit Belimbing. Every night people can do this fun tour; tickets costs RM15 per person for a 30/45 minute ride. The tours usually start around 7pm (in any case at least until full sundown). The last tour is usually around 10pm, but the day we went there the last boat went out at 8.30pm already. In order not to disturb the fireflies you are not allowed to take any pictures; the few nightly pictures on this website were not made by us. They do however give a nice impression on the tour. We did make a small movie (no lights whatsoever) but this was very dark too; too dark to shoot some nice footage. The only thing we can advise is to check out the fireflies yourself as it is only a 40 minute drive from Kuala Lumpur city center.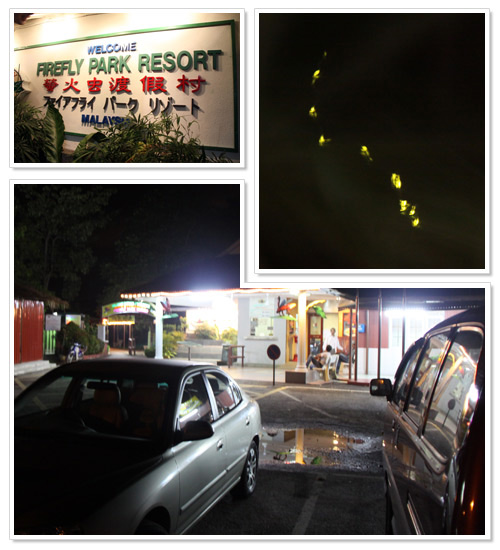 The tour itself was amazing and almost magical. We really enjoyed our time on the small river. At first, it seemed like there were not that much fireflies, but a little bit further, down the river we were really amazed by the sheer numbers of fireflies in almost every berembang tree. We even pulled close to a tree to just sit there for a while to enjoy the wonderful atmosphere. We visited the park during a moonlit night; but we still could see the fireflies very good. However, I can imagine that the light is perhaps even better visible during a darker night.
The electric boats here are completely silent and run on battery that therefore causes no pollution to the environment of the Fireflies Sanctuary. The boats are equipped with hard canopy and everyone on board gets a life jacket.
Remember not to make any unnecessary noises, do not use your camera (especially no flash) and do not wear too much mosquito repellant.
How to get to the fireflies in Kuala Selangor
There are multiple ways to get to the Kuala Selangor Firefly Park. One option is to take the bus from Puduraya bus station to Kuala Selangor for a couple of ringgits. From there you need to take another bus that passes the entrance to the firefly park (5 minute walk from the main road where you get off the bus). As you will do the tour after dinner, it is not easy to take the bus back to KL so you should then stay over for the night at one of the basic accommodations available in Kuala Selangor. You can also use a taxi to get to Kuala Selangor; but beware that it will not be that easy to get a taxi back to KL (for a normal price) unless you make a deal up front with your driver. A normal one-way price would be around RM50. If you want the driver to wait for you, it will be much higher than that.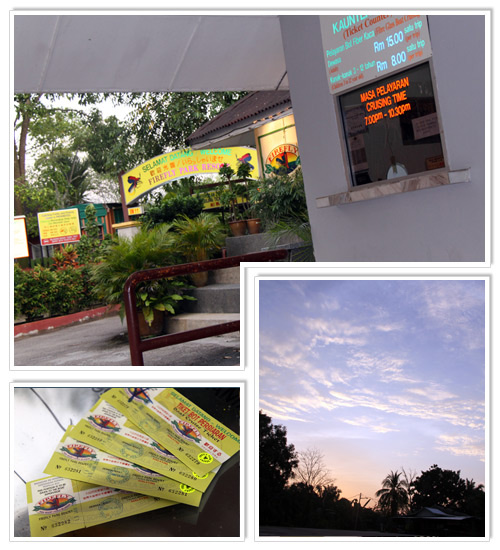 Another option is by rental car. At our first visit we rented a car at Hawk Malaysia at their KLCC office along Jalan Penang (very nearby KLCC Park). We paid around RM150 for one day (pickup 2pm and return 2pm the next day). The 2nd time we went to the Firefly Park we rented a car with Rentalcars.com, for about RM120 per day. The way to Kuala Selangor from KLCC is not that difficult. Fastest option is by using the KL - Kuala Selangor Expressway (Latar) that takes you directly to Kuala Selangor in about 40 minutes. Alternativey you could take the old route; in that case you stick to Jalan Kuching, and then follow Kepong (on route 54). After a while, you will see signs to Kuala Selangor. From Kuala Selangor you should cross a big bridge and then follow the road to Pasir Penambang. At some point (after around 1 or 2 km), you will see the sign to go right to visit the Firefly Park. Follow the signs from then on. You will find the park at Jalan Haji Omar at approximately 9 kilometers from Kuala Selangor town. The drive back late at night is not that great if you are not used to driving at night in Malaysia; the roads are poorly lit and there can be quite some traffic. Once you reach Kuala Selangor again you can take the highway back to KL.
Address Firefly Park Kuala Selangor
Firefly Park Resort (Kuala Selangor) Sdn Bhd
Jalan Haji Omar, Kampung Bukit Belimbing,
45000 Kuala Selangor,
Selangor Darul Ehsan, Malaysia.
Tel: 603-3260 1208 / Fax: 603-3260 1234
Restaurant Mobile: 6019- 669 1398
GPS: 3.38119,101.281557
Map of Firefly Park Kuala Selangor
Below you can see a map of the Firefly Park Kuala Selangor. You can simply scroll through the map with your mouse. Use the markers on the left to zoom in or out of the map.
Subscribe now to never miss a post!
Subscribe to our email updates or join us on our Facebook page, right now!
Travel related questions can be asked in our Telegram channel or in our Travel community.