Flora and fauna in Malaysia
The tropical circumstances and the extensive rainforests have led to a huge diversity of plant and animal species. Surveys identified that there are 8,000 species of flowering plants which inclusive of 2,000 tree species, 800 types of orchid and 200 types of palm besides being home to more than 200 species of mammals, 600 different bird varieties, 140 species of snakes, 80 types of lizard, 300 species of fresh water fishes and thousands of insects making their home in the rainforest. A well-known plant only found in Southeast Asia is the Rafflesia. To be specific; it occurs only in the rainforests of Sumatra and Borneo. This is the plant with the largest flower in the world, and can reach a weight of 10 kg. This plant is the symbol of the province Sabah on the island Borneo, although it has a strong odor of decaying flesh.
On this page:
Many rare animal species in Malaysia
Malaysia inhabits over a thousand species of birds, mammals, snakes and insects. It is possible to spot rare animal species during traveling through Malaysia. For instance, elephants, orangutans, tigers, panthers, monkeys, rhino's, Malaysian sun bears, crocodiles, and tapirs occur in Malaysia. However, as a tourist you should better not expect really seeing rare species in the wild. For that, you really would have to go deep into the inlands. By the way, it is actually not that bad if you do not 'spot' a rare animal species during a jungle tour. It is often a good sign when you do not just bump into them, for this means they still have enough free space, untouched and uninfluenced by human beings.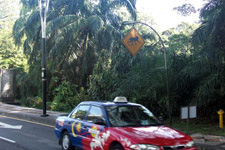 In the inhabited areas, you often encounter several animal species too. Do not be surprised if you see monkeys walking around along the streets of Kuala Lumpur's suburbs. The same goes for the streets on the islands Penang and Langkawi. Here it is mainly the monkey species 'Macaque' which are often not too friendly to humans. However, if you leave them alone, nothing should happen. Especially on the island Langkawi you often come across the most beautiful animals. Rent a moped for a day and explore the north side of the island, this part already inhabits several animal species like monitor lizards, hornbills, silver leaf monkeys and multiple squirrel species.
The wildlife heaven of Borneo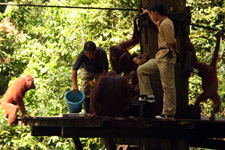 Borneo is well known for its extensive jungles, this is by far the best place to go if you want to see nice plants and animals. Especially in the area around Sukau, you can take beautiful river tours. You can spot animals from the water (from a small boat) on the riverbank. If you are lucky, you will meet elephants, crocodiles and maybe even orangutangs. However, if you are not that fortunate, you can still pay a visit to the special Orangutan Wildlife Centre in Sepilok (close to the city Sandakan).
The last few years the World Wide Fund for Nature holds a campaign here to protect the orangutang in its habitat. Due to woodcutting, this animal is threatened with extinction. Now this subject is often seen on the television. Only when you have been there for yourself, you can fully understand how sad it would be if this great ape would disappear for good.
More pages with information about Malaysia
Subscribe now to never miss a post!
Subscribe to our email updates or join us on our Facebook page, right now!
Travel related questions can be asked in our Telegram channel or in our Travel community.