Royal Belum State Park
The Royal Belum State Park is a huge park in the northern parts of Peninsular Malaysia. It is part of the even bigger Belum-Temengor Forest Complex (BTFC) that is shared with Thailand. Together with Taman Negara National Park it is one of the oldest rainforest in world, dating back over 130 million years. Belum is a state park and not an official National Park. This means that local government is allowed to use the area for production forest and it is open for future development. There are efforts to get the government to gazette Belum as a national park, though up till now only a part of the huge forest is conserved and protected as state park. Belum has the potential to become one of Malaysia's premier eco-tourism destinations, if managed well.
"14 of the World's Most threatened mammals; among them the Malaysian Tiger, the white-handed Gibbon, Asiatic Elephant, Malaysian Sunbear, Sumatran Rhinoceros and Malayan Tapir still roam freely in this natural habitat."
On this page:
Perfect place to spot wildlife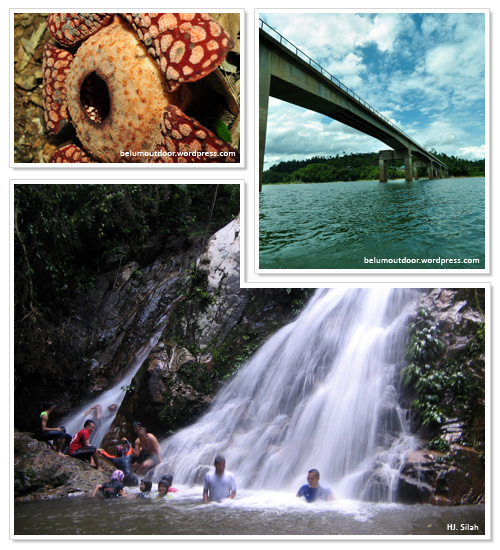 Within the state park you can do wonderful nature tours (mainly boat cruises) to spot wildlife like elephants, deer, wild boars, birds, insects and many tropical trees and plants. There are also quite a few endangered animal species that live within the state park; Malaysian tigers, Sumatran rhinoceros, Malaysian sunbear, tapirs and the white-handed gibbon. Chances on an encounter with these great animals are however very slim. It is said to be the only place in Malaysia where you are able to spot all species of the hornbills. Besides, this is also one of the places to visit if you want 'experience' the rafflesia as there are three species of this enormous flower.
Lake Temenggor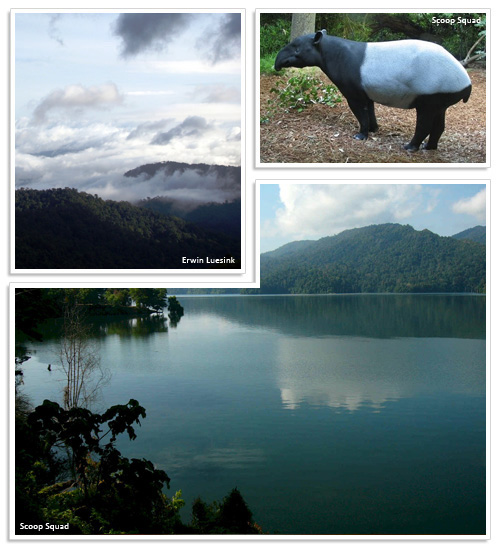 Within the Royal Belum State Park lies Lake Temenggor, the second largest lake in Peninsular Malaysia after Lake Kenyir. Lake Temenggor is, just like Lake Kenyir, a manmade lake used for water catchment. The lake has a variety of freshwater fish species including the Kelah, Toman, Sebarau, Tenggalan and Baung, which makes it the perfect destination for anglers. As it used to be a forest area, the place is full with small islands (actually peaks of mountains and hills) that can be visited. The main resorts are also located on these islands.
Attractions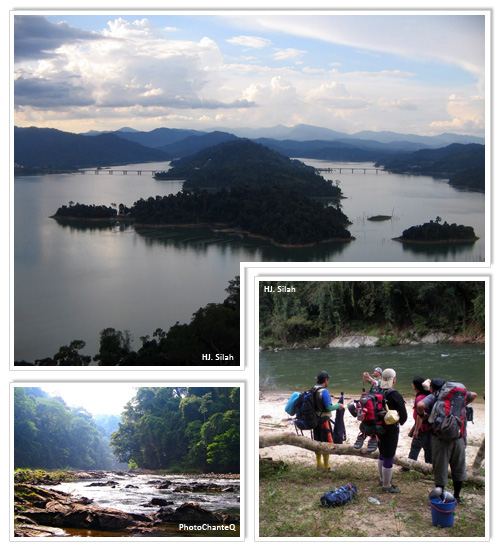 There's much to see and do around Belum State Park. As many of the attractions are located along Lake Temenggor, you will often make use of a boat to venture out to these places. Among the attractions and activities are; numerous jungle trails and river cruises ,the Pulau Tujuh waterfalls (or any of the other beautiful waterfalls in the area), the Pulau Talikail Lookout Tower (amazing views), Temenggor Dam, the White Rocks (Batu Puteh), the search for the rafflesia, a visit to Kampung Chuweh (authentic Orang Asli village), trek to the salt licks (Sira Gajah) with the chance to spot wildlife.
Accommodation
There are quite a few decent resorts nearby Royal Belum State Park, the resorts are usually located at the shores of Lake Temenggoh. As most resorts are at a distance apart it is not easy to stay at one resort and eat at another resort, you are basicly limited to what the resort has to offer. Rule of thumb is that local meals are of much better quality than western styled meals. Most popular resorts around Royal Belum State Park are; Belum Rainforest Resort (offers free WIFI in public areas), Belum Eco Resort and Belum Adventure Camp, a popular outdoor activity camp. The great thing about the resorts at Belum is that you can easily book a package deal that includes a 3D/2N or 4D/3N stay, breakfast and also all daily activities and tours. This means no difficulties finding a suitable tour up front (which is somewhat of a problem at Lake Kenyir, as there you can only participate in tours if there are enough people that are interested in that tour).
Checklist trip to Royal Belum State Park
First aid travel kit with personal medicine
Tripod for your camera (to make pictures in low light conditions)
Mosquito repellent
Rain coat, poncho and/or umbrella
Headlamp or flashlight
Dry clothes in an aqua bag
Comfortable walking shoes
Fishing rod (for those that plan to fish)
How to get to Royal Belum State Park
Belum is located northeast of Ipoh, Malaysia's third biggest city. There are many ways to get to Belum. You can travel by (rental) car, by bus and by train. Gateway to Royal Belum State Park is the small village of Pulau Bindang. Here you have a jetty point where you can take the boat to your resort.
Travel to Belum by rental car
Probably the best way to travel to Belum is by rental car as this means you are flexible during the trip but also at the state park itself. For example Hawk Malaysia has a drop-off point at Penang and also at Kota Bharu. This means you can easily combine a trip to Belum with either Penang or Kota Bharu as your final destination. Kota Bharu lies nearby Kuala Besut which is the starting point for a visit to Perhentian Island. From Kuala Lumpur it is roughly a 5 to 6 hour drive to get to Belum. From KL you will drive on the North-South Expressway to Ipoh. Once you've passed Ipoh you exit at Kuala Kangsar (exit 143). From there you follow the signs to Kuala Kangsar, Sauk, Lenggong and Gerik. Once you've passed Gerik you will be driving on the East-West Expressway that goes all the way to the east coast of Peninsular Malaysia (to Kota Bharu). Gerik is also the last place to fill up your fuel tank as there are no petrol stations along the East-West Expressway. Soon you will see the signs leading to Royal Belum State Park. The boats to the resorts depart from Pulau Banding Jetty, here you can also park your car.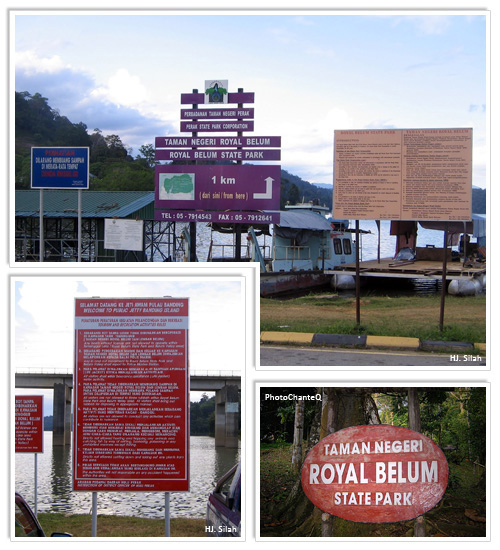 Another option is to fly to Kota Bharu first, and pick up a rental car at the airport (Hawk Malaysia has an office at Kota Bharu airport); from there you can drive to Belum in about three hours time. Afterwards you can either drop the car off in Penang, or drive to Kuala Lumpur via Cameron Highlands.
Travel to Belum by train
Taking the train to Belum is the most adventurous way to get to the state park. Trains however only go until Ipoh train station, so from there you need to get to the bus station to get the bus that leads to Pulau Banding. Another way is to take the train to Kuala Kangsar (few stops after Ipoh train station) and take a bus from there. Do know that busses don't depart that frequent, so leave early from KL.
Travel to Belum by bus
There are a few daily busses that depart from Hentian Duta bus station in Kuala Lumpur. They go all the way to Gerik bus station, a 40km taxi drive away from Pulau Banding; gateway to Belum State Park. Note: bus operators sometimes change these routes, so there is no guarantee that the bus will take you all the way to Belum; you might need to rely on taxi at certain parts.
Map of Royal Belum State Park
Below you can see a map of Royal Belum State Park. You can simply scroll through the map with your mouse. Use the markers on the left to zoom in or out of the map.
Subscribe now to never miss a post!
Subscribe to our email updates or join us on our Facebook page, right now!
Travel related questions can be asked in our Telegram channel or in our Travel community.