KLIA (Kuala Lumpur International Airport)
KLIA (Kuala Lumpur International Airport) is the international airport of Malaysia. KLIA is just a one hour drive away from the center of Kuala Lumpur. KLIA is situated south of the capital; besides going by car (taxi) you can also go there by bus or express train (more on how to travel between KLIA and KL). KLIA is a very modern airport that has received numerous awards in recent years. Immediately after arrival the airport is exuding a pleasant and relaxing atmosphere. KLIA is not a busy airport, this is mainly because many travelers are traveling via the neighboring countries; especially Changi airport in Singapore is very popular among travelers.
On this page:
Award winning airport
KLIA is winning awards regularly and is widely regarded as one of the top 5 airports in the world. The airport was opened in 1998 and since then the number of passengers has been increasing annually. It is also the first airport in the world with a Green Globe 21 certificate. The motto of KLIA is: 'Airport in the forest, forest in the airport'. This is referring to the extended (palm tree) forest around the airport, and to the part of the intact rainforest in the middle of the Satellite building. Here you can also find a small canopy, so you're getting already a taste at the airport of what you can find in Malaysia. The huge difference in temperature immediately upon arrival is also clearly noticeable when you enter the jungle area.
Main Terminal Building and Satellite Building
KLIA is consisting out of two parts: the Main Terminal Building and the Satellite Building. An aero train is running every 3 to 5 minutes in between to bring you in a few minutes from one building to the other. Check-In desks can be found in the Main Terminal. International flights are always arriving on and departing from the Satellite Building. In both buildings you can find various shops and restaurants, although the shops in the satellite building are far more contemporary.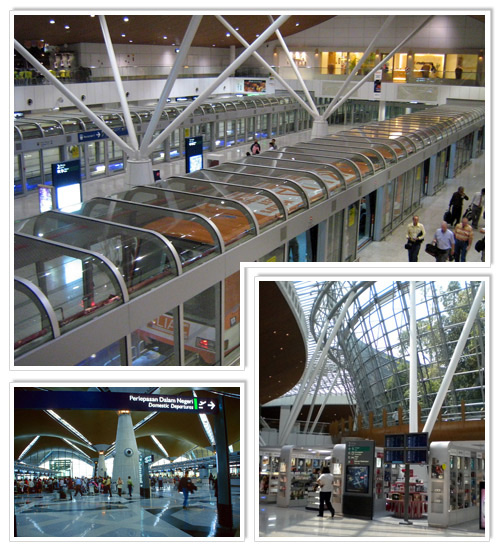 Wifi internet access
On the entire airport you will find Wifi internet access available for free. In the Main Terminal Wifi is unfortunately not always working, in the other buildings it is. There are several restaurants and coffee shops where you can also use the internet for free. Besides Wifi on your own laptop, you will also find a number of internet terminals in the satellite building that can be used for free.
Luggage storage facilities
At KLIA you can also temporarily store your briefcase or travel bag. The costs depend on the size of your suitcase and start at RM18 per day. This service is available 24 hours a day and extremely handy for travelers with a stopover in Malaysia. They can easily visit the city of Kuala Lumpur for several hours, while their luggage is safely stored. There is also a post office at KLIA (3th floor Main Terminal) where you can post a card or letter (or parcel). When you are staying a longer time at the airport then you can use the facilities in the premium lounge (satellite building).
Low cost carrier terminal
Opposite KLIA lies the LCCT (Low Cost Carrier Terminal); budget airlines like AirAsia, Cebu and Tiger depart from here. Currently there is a new budget terminal, KLIA2, being built on another location as replacement for LCCT. This work is expected to be completed at the 2nd quarter of 2014.
Accommodation around KLIA
Travelers who are dealing with a long stopover might consider spending one night around the airport. There is the Airport Transit Hotel where you can stay for RM140 for 6 hours. If you want to stay longer, then you will pay after the first 6 hours an additional RM20 for every hour more. If you want an overnight stay at the airport, then it is worth considering Tune Hotel at LCCT. Tune Hotel is a very decent, modern but very affordable hotel situated next to LCCT (15 minutes driving by taxi from KLIA, at walking distance from LCCT). If you pre book you will be able to find a room for less than RM50 per night stay. A luxury alternative is the beautiful 5-star Sama-sama Hotel KLIA (previously known as Pan Pacific KLIA Hotel).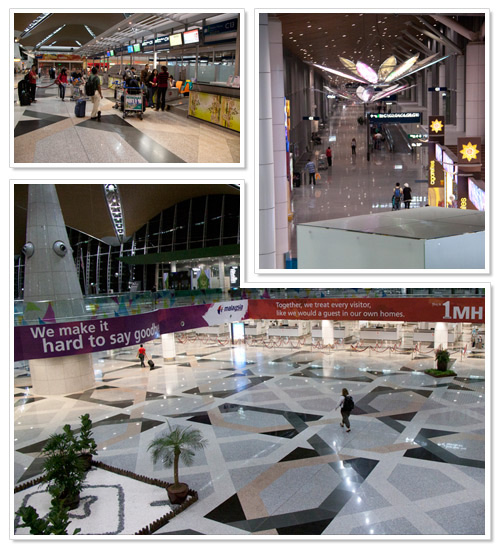 From KLIA to Kuala Lumpur City Center
You can easily travel from KLIA to the city center. This is possible by KLIA Express via KL Sentral, by bus or taxi (via the taxi counter at fixed prices). Read more about transportation between KLIA and Kuala Lumpur.
From KLIA to LCCT (and vice versa)
The quickest way to travel between LCCT and KLIA is by taxi. You can just buy a taxi ticket at the taxi counter (one at domestic arrival, and one at int. arrival) for around RM20. If you have enough time before your connecting flight then you could opt for the cheaper airport liner service; this bus takes 30 minutes and costs RM3.50. AirAsia check in counters close 45 minutes before departure time. Make sure you always arrive well in time at LCCT. If you have connecting flights always keep a two hour margin between the two flights just to be on the safe side.
Map of KLIA
Below you can see a map of KLIA. You can simply scroll through the map with your mouse. Use the markers on the left to zoom in or out of the city map.
Subscribe now to never miss a post!
Subscribe to our email updates or join us on our Facebook page, right now!
Travel related questions can be asked in our Telegram channel or in our Travel community.