Kuala Terengganu
Kuala Terengganu is situated on the Terengganu-river and it is the capital of the state of Terengganu at the eastside of the Peninsular Malaysia. The city has over 250,000 residents and they are mainly Muslims. During our first visit to this city, the monsoon just showed his worst side. Because of that the city didn't look that nice. Monsoon dominates the weather yearly between October and March. Overall, the east coast of Malaysia is surely worth a visit and you don't want to miss this city. Places of interest include Chinatown, Pasar Payang (Central Market), the Sultan's Palace, the State Museum, Pulau Duyong, Sekayu Park, the village of Rhusila, Suterasemai Silk Centre and the latest attraction is Masjid Kristal in Pulau Wan Man. The Monsoon Cup takes place every year in the beginning of December in Kuala Terengganu. Also dubbed the formula 1 of sailing; this prestigious sailing cup has been held in Pulau Duyong (nearby Kuala Terengganu) for every year since 2005.
On this page:
What to do in and around Kuala Terengganu
We wouldn't recommend you to stay longer than three days, because there is not enough to do in the city itself. In the surroundings of the city, on the contrary, there is more than enough to do. You could visit one of the many beautiful tropical islands nearby Kuala Terengganu, like Redang, Lang Tengah, Tenggol and Kapas. Or you could head over to Lake Kenyir; the biggest man-made lake in Southeast Asia. You can travel from and to Kuala Terengganu in different ways. Most inhabitants earn a living by fishing. Moreover, the state of Terengganu earns extreme amounts of money by oil extraction. Along the coast you find some oil refineries, and there are numerous expats living in the region because of business related to oil.
Shopping malls in Kuala Terengganu
Kuala Terengganu has no actual shopping malls. If you want to do some light shopping you should visit the central market or the handicraft centre. Of course there are supermarkets and many small shops in the city; but forget about doing some actual shopping.
How to get to Kuala Terengganu
By air
Sultan Mahmud Airport is about 25 kilometers outside the city of Kuala Terengganu. Malaysia Airlines and AirAsia fly there every day. Firefly operates the only international route to Singapore every Tuesday, Thursday and Saturday. Three times a day Firefly flies from Subang Airport to Kuala Terengganu. The airport is not that big and there are not that much shops besides a few small shops selling snacks and light meals. There is an ATM and the airlines have their own offices within the airport. It is not the best place to wait for two hours if your flight gets delayed.
By rental car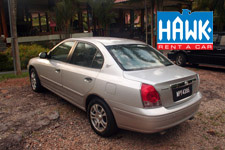 Another way to get to Kuala Terengganu is by rental car. It is easy to rent a car in Malaysia. Numerous car rental companies have special pick up locations throughout the country. Hawk Malaysia doesn't have a drop off point at Kuala Terengganu, but you could drop the car off at Kota Bharu airport. From Kuala Lumpur it is a 6,5/7 hour drive to Kuala Terengganu, so you might want to consider a short stopover at another destination on the way to the city. Many tourists combine their trip to Kuala Terengganu with either a visit to Taman Negara, Kuantan or Lake Kenyir.
By bus
The cheapest way to reach Kuala Terengganu is by coach. There are quite some bus operators that have daily busses (air-conditioned) driving between Kuala Terengganu and many other locations within Peninsular Malaysia. From the main bus terminal Puduraya in Kuala Lumpur a couple of busses a day leave towards Kuala Terengganu. The trip from Kuala Lumpur to Kuala Terengganu by bus will take around 7 hours. There are also night busses between Kuala Lumpur and Kuala Terengganu. Tickets from Kuala Lumpur to Kuala Terengganu only cost around RM40 (one way). Kuala Terengganu Tanjung Bus Terminal is located at the northern tip of the city along Jalan Sultan Zainal Abidin at the coastal area of the city.
From Kuala Terengganu to Merang
If you are flying to Kuala Terengganu to get to Merang for a boat to the nearby islands of Redang, Lang Tengah or Tenggol, make sure you get an early flight as the last boat from Merang usually leaves around 4.30pm. A taxi trip from Kuala Terengganu airport to Merang will roughly take 35 minutes and this will cost you around RM40/RM50 (or less if you're lucky). If you're thinking about visiting Kapas Island; then you should head over to Marang. You can buy a taxi ticket at the special taxi counter (fixed prices). It is also possible to take a taxi from Kuala Terengganu airport directly to Kuala Besut for a boat to Perhentian Island; at the taxi counter a ticket costs RM90.
Popular restaurants in Kuala Terengganu
Madam Bee's Kitchen
Ping Anchorage Travellers Cafe
Restoran Golden Dragon
Lounge Kuala Kopi
Popular hawker centers in Kuala Terengganu are: Kuala Terengganu Hawker Center, Chinatown Hawker Centre, Batu Buruk Beach Food Court, Mayang Village Food Court, T'kafe Food Court and Tok Jembal Food Court.
Popular hotels in Kuala Terengganu
Below a list with some of the better hotels in and directly around Kuala Terengganu (view all hotels here in a new page).
Budget travelers will be glad to hear that there is enough budget accommodation available in and around the city. Click here to check out some available guesthouses in Kuala Terengganu.
Map of Kuala Terengganu
Below you can see a map of Kuala Terengganu. You can simply scroll through the map with your mouse. Use the markers on the left to zoom in or out of the city map.
Subscribe now to never miss a post!
Subscribe to our email updates or join us on our Facebook page, right now!
Travel related questions can be asked in our Telegram channel or in our Travel community.