Sabah
Sabah is the second biggest and most northern located state of Malaysia. This part of Borneo neighbors the Philippines on the north, and the Indonesian island Sulawesi (Celebes) on the east, both separated by sea. Sabah counts approximately 4 million inhabitants. The Philippines have been claiming a big area on Sabah for years. Some people refer to Sabah as 'the land beneath the winds' because of its location just south of the typhoon-prone region around the Philippines. During the Second World War Sabah suffered from the Japanese occupation, as they left serious skin marks during their stay.
On this page:
Amazing adventures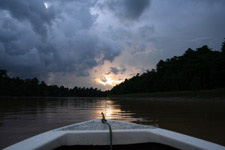 Sabah is especially popular with the more adventurous tourist. There are many amazing things you can experience during your stay. Sabah has the best dive spots (for example Sipadan and Mabul), there are several rivers to raft on (Padas or Kiulu), and various jungle treks can be made, for the beginner and the advanced trekker. It is also possible to climb Mount Kinabalu, at a height of 4,095 meters the highest mountain in Malaysia. Standing on the summit of this mountain is quite the accomplishment. We did the trail in 2006 and we both remember the climb very vividly; standing on top was an amazing experience. Other great things to do on Sabah are exploring the countryside with a 4x4, or doing a river cruise on the Kinabatangan River. Don't forget to visit beautiful national parks. Wildlife regions like Danum Valley, Maliau Basin, Tabin and Kinabalu National Park (Heritage Site) are absolutely worth a visit.
Places to start your adventure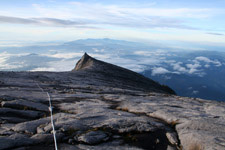 Kota Kinabalu is the biggest city on Sabah. It is a nice city that is rapidly becoming more and more modern. Other bigger cities on Sabah are Tawau, Sandakan and Sukau. All of these cities function as a base location for numerous nice trips. Kota Kinabalu is the perfect place to stay at if you would want to snorkel at one of the many small islands, or if you are planning to visit the great Mount Kinabalu. Tawau is the starting point for a nice trek to Danum Valley; Sandakan is the base location for numerous nice trips; including Sepilok and trips to the famous turtle island or Lankayan Island nearby. Sukau is a popular starting place for travelers that are planning to visit the Kinabatangan River; do to some nice river cruises.
Map of Sabah
Below you can see a map of Sabah. You can simply scroll through the map with your mouse. Use the markers on the left to zoom in or out of the map.
How to get to Sabah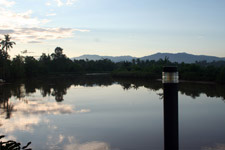 AirAsia usually offers tickets to Sabah (Kota Kinabalu, Tawau and Sandakan) for very nice prices, which makes it very affordable to combine your trip through the Peninsular Malaysia with a visit to Sabah on Borneo (same goes for Sarawak of course). For example; if you make your reservations in time (as in at least 6 months prior before departure) you can find a one way ticket from Kuala Lumpur to Kota Kinabalu for RM79 per person. Kota Kinabalu functions as AirAsia's hub on Sabah; so you can fly from both Tawau and Sandakan to Kota Kinabalu (and back). Other airlines in Malaysia that often have great discounts on tickets to Sabah are Malaysia Airlines and Firefly.
Things to do on Sabah
Things to do on Sarawak
Subscribe now to never miss a post!
Subscribe to our email updates or join us on our Facebook page, right now!
Travel related questions can be asked in our Telegram channel or in our Travel community.