Kota Kinabalu
The capital of Sabah is Kota Kinabalu (also referred to as 'KK' and formerly known as Jesselton). It is one of the bigger cities of Malaysia, with a population of almost 600.000. The city offers magnificent views on Crocker Range, where the highest mountain is Mount Kinabalu. Kota Kinabalu has quickly become a modern city. Now you can find modern shopping malls with many western shops inside. The two most popular ones are Centre Point Sabah and 1Borneo - where you can shop until you drop. The city also offers some great Hawker centers, where you can get delicious meals. Make sure you have a good meal along the splendid hawkers at Tanjung Aru; right next to the beach. Near to Kota Kinabalu you will find some very luxurious resorts; among others the very exclusive Tanjung Aru resort and Rasa Ria resort; both part of the well-known Shangri-La group (Rasa Ria has a small nature reserve with young orangutans).
On this page:
Attractions in and around Kota Kinabalu
From the viewpoint 'Signal Hill Observatory' you have the best overlook on the city of Kota Kinabalu and its surroundings. You could also visit Tun Mustapha Tower. This very tall and cylindrical shaped building is unlikely to miss. It is mainly a government building, but on the 18th floor, there is a revolving restaurant where you can have a drink or a meal and enjoy the great views over the city and the sea below. If you wish to snorkel while you are in Kota Kinabalu, your best option is to go to Tunku Abdul Rahman Marine Park. This marine park consists of five small islands off the coast of the city. This park is perfect for a daytrip, though can you also stay here overnight.
There is also a small wildlife park located near the small town of Lok Kawi; a short distance south of Kota Kinabalu. It features orangutans, proboscis monkeys, gibbons, a rhinoceros, some tigers, local deer, various birds in a large aviary, elephants, and other animals. Lok Kawi offers a an alternative to visiting the national parks around Sabah for those on a tight schedule, as well as giving you the chance to see the animals much more up close than you would in the jungle (though nothing beats an encounter with the often rare animals in the wild). Do know that this is not an actual wildlife park, but more a tourist attraction; a fun attraction nonetheless.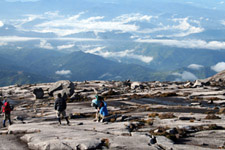 Another popular attraction in the vicinity of Kota Kinabalu is a visit to Kinabalu National Park. Here you can climb the 4095 meter Mount Kinabalu; one of the tallest mountains in Southeast Asia. Around the mountain there are numerous interesting sights. Nearby you can visit the Poring Hot Springs. Kinabalu National Park lies at 70 kilometers distance from the city of Kota Kinabalu. A trip by car will take you approximately 1,5 to 2 hours.
Shopping malls in Kota Kinabalu
As Kota Kinabalu is the sixth biggest city in Malaysia you will find numerous big shopping malls within the city to keep all citizens happy. Latest malls are Suria Shopping Mall and MegaLONG, both officially opened to public in 2010. The biggest and most popular shopping mall in Kota Kinabalu is 1Borneo Hypermall. Within this huge complex you have a massive foodcourt, many shops and restaurants, supermarkets and department stores, a cinema, a bowling alley, an arcade hall, Seaworld, an indoor Chinatown and even 4 hotels; Novotel, Mercure Hotel, Tune Hotels and the Courtyard Hotel. Other malls in Kota Kinabalu are Kompleks Karamunsing, Centre Point, Wisma Merdeka, Warisan Square, Plaza Wawasan, Kompleks Asia City, City Mall and KK Plaza.
Every Sunday morning, between 8am and 1pm you can visit the Kota Kinabalu's Sunday Market (Tamu) on Jalan Gaya in the city center.
How to get to Kota Kinabalu
By air
Malaysia Airlines and AirAsia operate daily flights between Kota Kinabalu and Kuala Lumpur. The flight will take approximately 2,5 hours. There are also several daily flights from Johor Bahru to Kota Kinabalu. Many tourists use this route to travel to or from Singapore as fares are usually better affordable. From Kota Kinabalu International Airport several daily flights leave to numerous destinations within Sabah and Sarawak. Some international airlines fly directly to Kota Kinabalu International Airport, though it is more common to fly to KLIA first and then board a plane from Kuala Lumpur to Kota Kinabalu.
By boat
No boats operate between Peninsular Malaysia and Borneo (directly) so there's no easy way to reach Kota Kinabalu by boat. There are daily boats arriving from Labuan. There are also boats that go from Brunei to Labuan, so this makes travel between Brunei and Kota Kinabalu possible.
Travel in and around Kota Kinabalu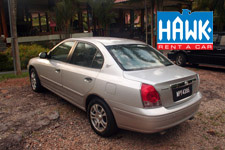 Kota Kinabalu is a pretty well organized city compared to many other cities within Malaysia when it comes to transport. You can easily take a taxi, but do know that taxi drivers in Kota Kinabalu often don't use the meter so don't forget to haggle. There are busses driving though the whole city. As the city itself is not that big most of the interesting sights are in walking distance. If you want to explore the countryside around Kota Kinabalu you can rent a car. The popular Hawk Malaysia has two offices in Kota Kinabalu; one at the airport and one in the city center. There is also the option of renting a driver with 4x4 if you don't like to drive yourself. Another great way to discover Kota Kinabalu and its surroundings is by motorbike. You can rent one for around RM45 per day. GG Rent a Motorbike is a well known company to rent a motorbike. Tell them you found them via Wonderful Malaysia and you might get a nice discount :).
Popular restaurants in Kota Kinabalu
Popular hawker centers in and around Kota Kinabalu are: Seri Selera Kampung Air, Jesselton Point Hawker Centre, Kota Kinabalu Night Market and the Kota Kinabalu Open Air Hawker Street.
Popular hotels in Kota Kinabalu
Below a list with some great hotels in and directly around Kota Kinabalu (view all hotels here in a new page).
Budget travelers will be glad to hear that there is enough budget accommodation available in and around Kota Kinabalu. Tune Group has one of their popular 'No Frills' hotels in Kota Kinabalu. Check out the new Tune Hotel Kota Kinabalu.
Map of Kota Kinabalu
Below you can see a map of Kota Kinabalu. You can simply scroll through the map with your mouse. Use the markers on the left to zoom in or out of the city map.
Subscribe now to never miss a post!
Subscribe to our email updates or join us on our Facebook page, right now!
Travel related questions can be asked in our Telegram channel or in our Travel community.