MASWings
MASwings is a full-owned subsidiary of Malaysia Airlines catering all flights within Borneo. MASwings was officially launched on 1 October 2007. It caters to the air travel needs of Sarawak and Sabah's traveling population and of course to tourists by providing affordable fares, convenient schedules and connections within the two states in Borneo. MASwings operates with 14 planes (of which 10 ATR 72 twin-engine turboprop short-haul planes) to 22 destinations within Borneo. MASwings also brings tourists to some of the more remote areas in Sabah and Sarawak. An example is their 45 minute flight from Miri to Mulu National Park; which is the most convenient way to get to this fantastic national park.
On this page:
MASwings Promotions
MASwings offers special promotions on regular bases. If you book in advance there often are discounts up to 50%. Check out the MASwings website every now and then; sometimes the airliner offers great discounts on the passes. Each year there are a few big festivals in Borneo. During these times many people use MASwings' service. MASwings works with fixed prices, but if a flight is full then you simply have to book another flight.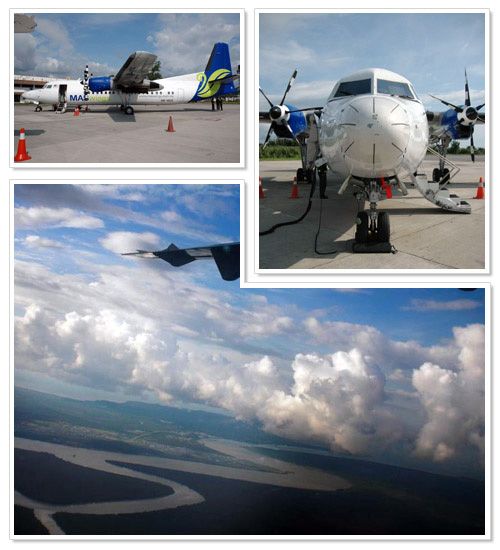 Previous airlines operating in Borneo
At the beginning of 2006 Malaysia Airlines (MAS) decided to stop offering flights within Borneo. MAS was at the time busy turning the company around, to be profitable again. For this reason MAS decided to cut off zero profit flights, almost every flight within Borneo was suddenly cancelled; to great anger and disappointment of many tourists that use the airline to travel through Borneo. No flights within Borneo would be a disaster for tourism in the states of Sabah and Sarawak; but luckily AirAsia came to the rescue with FAX (Fly Asian Express); a tiny airline with only a couple of airplanes. Within weeks they had their first flights between Kota Kinabalu and Sandakan. Within a month all flights were back on schedule.
AirAsia made the routes successful again, and at the same time Malaysia Airlines was doing fine again; and offered to take back the routes from AirAsia in October 2007. From then onwards Malaysia Airlines flies again within Borneo; with their airline MASwings.
Subscribe now to never miss a post!
Subscribe to our email updates or join us on our Facebook page, right now!
Travel related questions can be asked in our Telegram channel or in our Travel community.