Danum Valley
From Lahad Datu (that can be reached by plane from Kota Kinabalu), you can visit two main national parks; Danum Valley and the Tabin Wildlife Reserve. Danum Valley is a 438 square kilometers unspoiled primary rainforest (lowland dipterocarp). If you want to explore the real jungle, this is the place to go. Danum Valley has one of the most complex ecosystems in the world. The chance of spotting wildlife is somewhat smaller than at the Kinabatangan River, because of the free space the animals have over there. The park contains many waterfalls, and together with a guide you will walk along beautiful paths to catch a glimpse of the wonderful animal species. The park is particularly popular among bird watching enthusiasts. Some of the animal species that can be found within Danum Valley are the orangutan, gibbons, tarsiers, deers, wild cats, sun bears, sumatran rhinos (both very rare) and the rare Borneo pygmy elephant. It is possible to spend the night in the Borneo Rainforest Lodge. To visit this park you will need the right permits, but you can get these in Lahad Datu at the Inoprise office (or up front via an agent or travel office). When you visit the Danum Valley, you will surely have a unique and amazing jungle experience.
On this page:
Map of Danum Valley Wildlife Park
Below you can see a map of Danum Valley.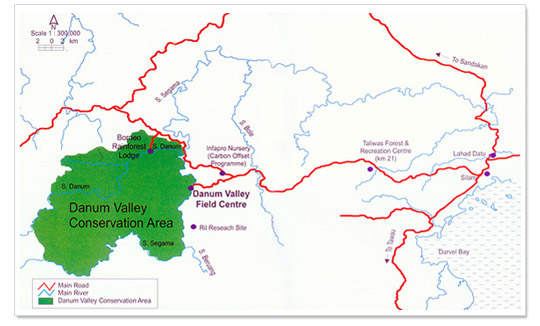 How to get to Danum Valley
The best way to get from Kuala Lumpur to Danum Valley is by taking the plane directly to Tawau in Sabah (Borneo). You can use AirAsia or Malaysia Airlines for this trip. From Tawau you can take a public bus or taxi (or hired 4x4 car with driver and guide) for the 125 kilometer drive northwards to the city of Lahad Datu. The entrance of Danum Valley lies about 75km from Lahad Datu. You can also opt to stay the night at the exclusive Promenade Hotel Tawau ****. From Tawau or Lahad Datu you will need to head to the direction of Gunung Silam; where you will see the signs to the entry point of Danum Valley.
Things to do on Sabah
Things to do on Sarawak
Subscribe now to never miss a post!
Subscribe to our email updates or join us on our Facebook page, right now!
Travel related questions can be asked in our Telegram channel or in our Travel community.