Sungai Ketiar Elephant Sanctuary
Sungai Ketiar is the second Elephant Sanctuary in Malaysia besides the popular Kuala Gandah Elephant Sanctuary. The Sungai Ketiar project was started back in 2007 and in the beginning not many tourists visited the sanctuary compared to Kuala Gandah. Rangers there however are doing a proper job, and nowadays it is becoming more and more popular. Due to its location it will probably never become as popular as Kuala Gandah (as this sanctuary is easier to reach from Kuala Lumpur). Sungai Ketiar is located nearby Lake Kenyir, a beautiful lake area in the state of Terengganu. If you are visiting Lake Kenyir, then a visit to Sungai Ketiar is definitely worth the trip. Most visitors stay at the northeastern part of the lake, the sanctuary is located to the west/northwest. If you're staying at Lake Kenyir Resort, then it is roughly an hour drive to Sungai Ketiar.
On this page:
Capturing and relocating wild elephants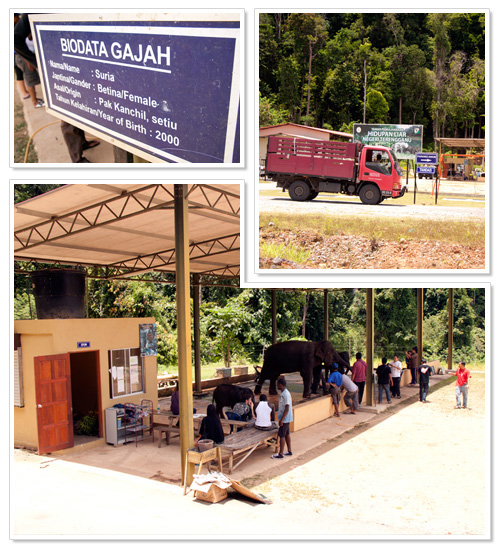 The park is actually quite small. Directly after arriving you will see three elephants that are the permanent residents at the sanctuary. When we visited the sanctuary we also spotted a juvenile sun bear; though we were sad to see it locked up like that but at the sanctuary not all animals can easily be released back into the wild. At first we were not really enthusiastic to visit the sanctuary; as we heard stories up front about caged and chained animals living in tight quarters. Fortunately those stories were untrue for most parts. When the elephants are not working or playing, they are indeed chained which is bit of a sad sight. Then tourists flock around the animals, feeding them carrots and sugarcane sticks. If you arrive around 4pm then you may sometimes get a chance to ride at the back of one of the elephants. Early in the morning is the best time to visit if you want to help out with some chores for a few hours. The two eldest elephants, Suria and Chahil are specially trained to help and relocate captured wild elephants in the area. The people that work at Sungai Ketiar are doing a wonderful job. Whenever they hear of poachers in the area; they track them down and bring them to the authorities. Local residents can call them whenever an elephant is sighted within a habited area; so that they can relocate the elephant.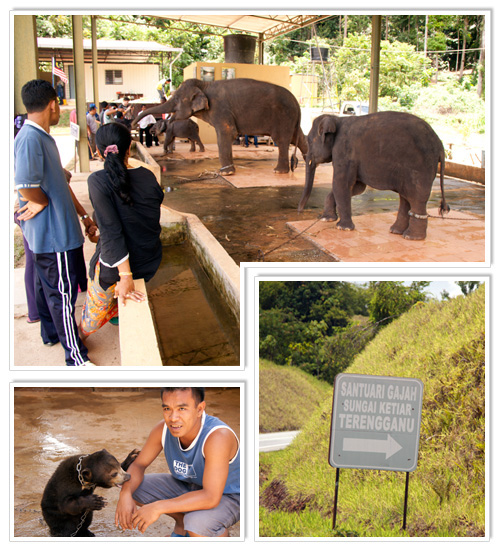 Other elephant sanctuaries in Malaysia
There is another elephant sanctuary in Malaysia. This is the very popular Kuala Gandah Elephant Sanctuary.
How to get to Sungai Ketiar
People traveling from Penang or Cameron Highlands by rental car will see the signs to Sungai Ketiar along the road between Gua Musang and Kuala Berang (and Kuala Terengganu). It is located roughly 75km from Gua Musang and roughly 50km from Kuala Terengganu. If you're staying around Lake Kenyir it is possible to arrange transport to the sanctuary. The sanctuary is opened daily from 9am to 6pm. There is no entrance fee, though the people over there can sure use your donations. The sanctuary has no official website, but they do have a Facebook page.
Map of Sungai Ketiar
Below you can see a map of the Sungai Ketiar. You can simply scroll through the map with your mouse. Use the markers on the left to zoom in or out of the map. Though the map doesn't yet show it; there is actually a decent (fairly new) road leading to the sanctuary (Road T156).
Subscribe now to never miss a post!
Subscribe to our email updates or join us on our Facebook page, right now!
Travel related questions can be asked in our Telegram channel or in our Travel community.