Rasa Sayang (Shangri-La's Rasa Sayang Resort & Spa in full), is one of the most luxurious resorts in Malaysia, perhaps the most luxurious on the Penang Island, and by far the highest rated resort in the coastal village of Batu Ferringhi. This former fishermen's town is the most popular beach resort on the island. The village is in fact one long street with many shops and eateries. Between the main street and the beach area you have a long row of resorts side by side, including some luxurious resorts. If you drive from Georgetown to Batu Ferringhi, the beautiful Rasa Sayang is the first resort to the right at entering the village.
Rasa Sayang lies at a perfect location with a beautiful private beach, just outside the hustle and bustle of the popular tourist village, yet only a few minutes' walking distance from the first rows of shops. The popular night market is located less than 2 minutes from the resorts' main entrance. Rasa Sayang is situated right next to Golden Sands Resort, another Shangri-La resort in Penang and Rasa Sayang's sister resort. We stayed there once during one of our first holidays in Malaysia. Guests may use the facilities of both resorts. Also, you can easily walk through Golden Sands to the night market, where you have the choice of the attractive route through stunning gardens and along the beach, or the quick route via the large parking lot that runs along the front of both resorts.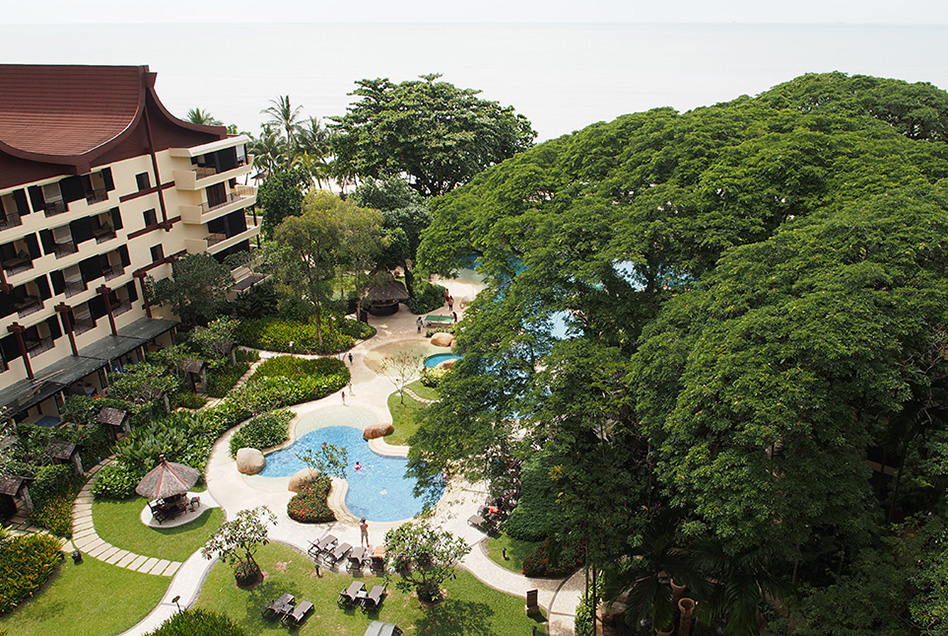 Rasa Sayang is a truly wonderful place. It is the ultimate tropical resort. It is a top-notch luxury resort and you therefore pay quite a hefty price per night to stay in one of the magnificent rooms. It is also the perfect resort for a pleasant tropical get-away. Ultimate relaxation guaranteed.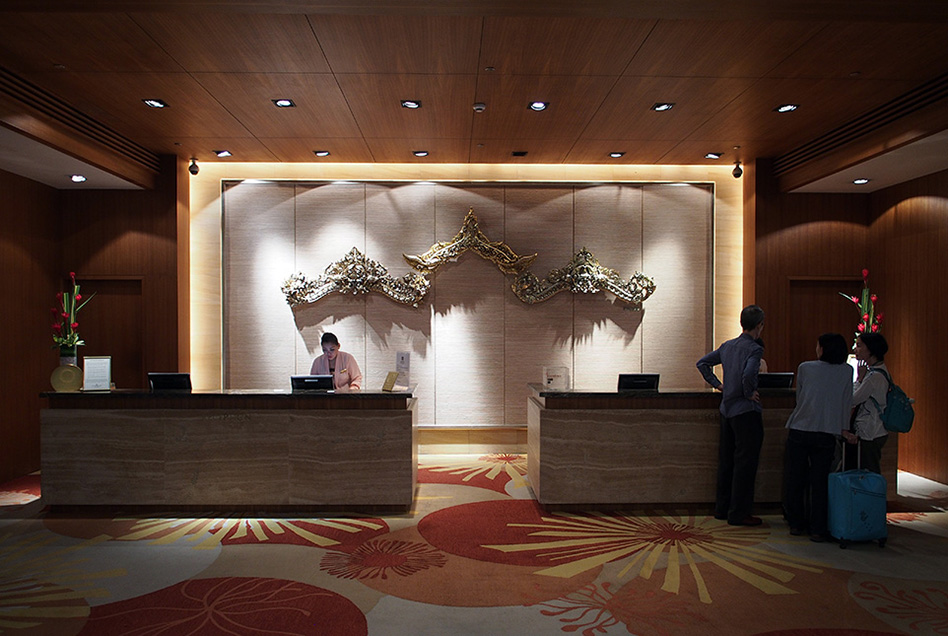 Rooms
The resort consists of two sections, the Garden Wing and the Rasa Wing. The Rasa Wing contains the most luxurious rooms and is the most exclusive part of the resort. The Garden Wing has several types of rooms including fairly affordable standard rooms overlooking the lovely garden, rooms with fantastic sea views, large family rooms and different types of luxury suites, of which the tranquil suite and terrace suite are the most luxurious the resort has to offer (besides the presidential suites). We had a deluxe room with garden view and sea view at the same time, and although this is a standard room, we thought it was a really beautiful room.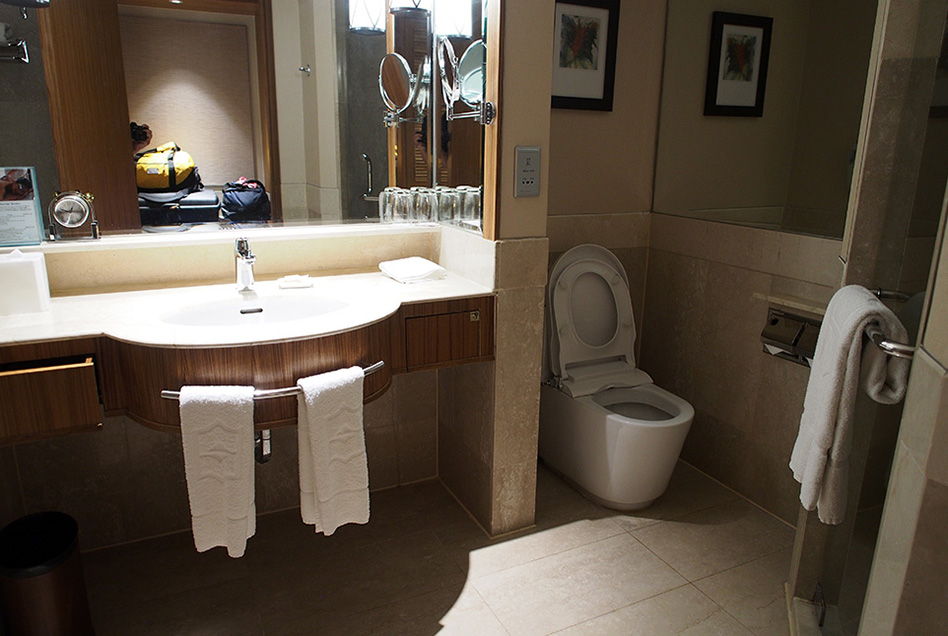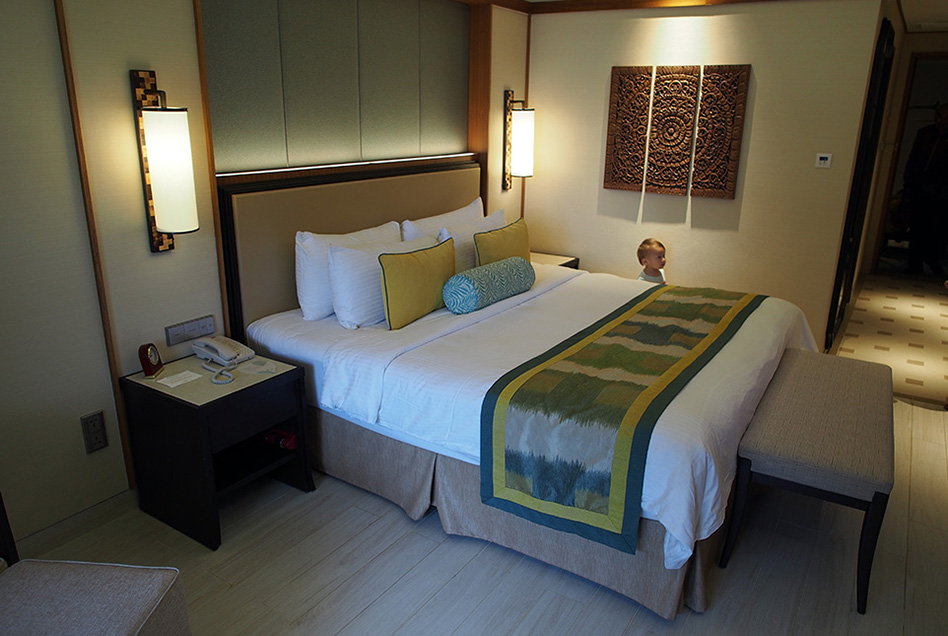 The Rasa Wing is very stylish and exclusive. Rooms are wonderful (but will put a dent in your travel budget) and a stay in a room in this wing come with several extras in the form of a tea hour, cocktail hour, snacks and other delicious treats. In the Rasa Wing Lounge, you'll have breakfast in beautiful breakfast room, a personal concierge is always at your service and there's even a complimentary shoe shine service. The Rasa Wing has its own swimming pool where only adults are allowed. It is a bit hidden for added exclusivity. Children under 16 can have fun at the Garden Wing pool, which is equally stunning. In this respect, the Garden Wing is more of a family resort, and the Rasa Wing more a resort for couples as it is more romantic/exclusive overall.
All rooms at the resort have access to free fast Wi-Fi. Each room has silent air conditioning, a safe, mini bar, large LCD TV, a balcony and a stylish bathroom with a wonderful shower. Our room was spacious and beautifully decorated. The bed slept great and from our balcony we could enjoy a fantastic sunset each evening of our stay.
Breakfast
We stayed in the Garden Wing, meaning you will have breakfast at the Spice Market Café (Rasa Wing's signature buffet restaurant). If you're staying in the Rasa Wing, you have your breakfast at Feringgi Grill. The breakfast itself is perhaps the best breakfast we ever had in Malaysia. I wonder if breakfast at Feringgi Grill could even be better. They literally had anything I wanted, ranging from various types of yoghurt, to the huge variety of breads and spreads. The coffee was very delicious, and the typical Malaysian desserts were so tasty that we saw people taking some of it back to their rooms. Spice Market Café consists of several cooking islands with at each island multiple grouped dishes. There are several chefs in the kitchen to prepare everything fresh and to make sure nothing runs out for all the hotel guests.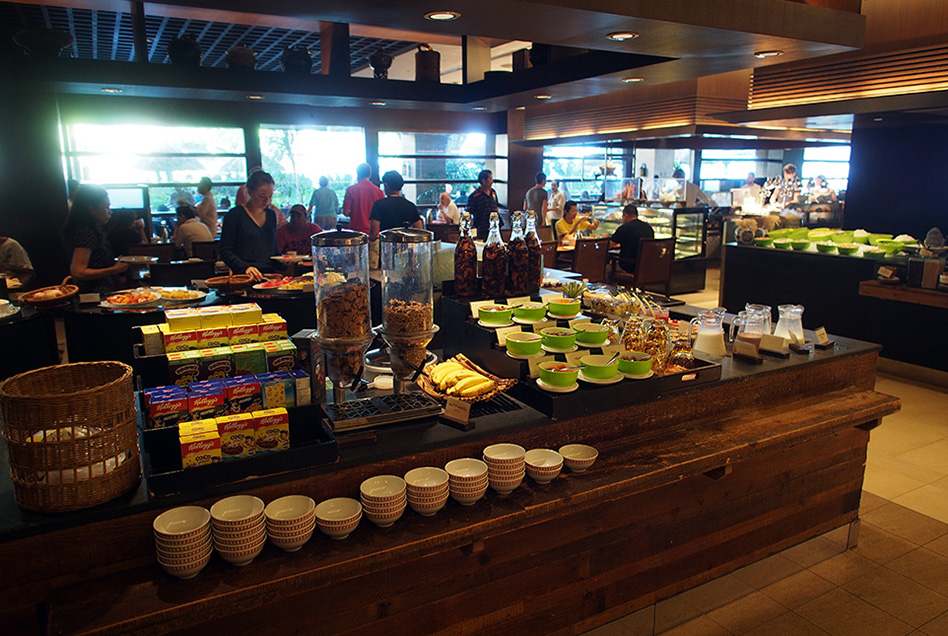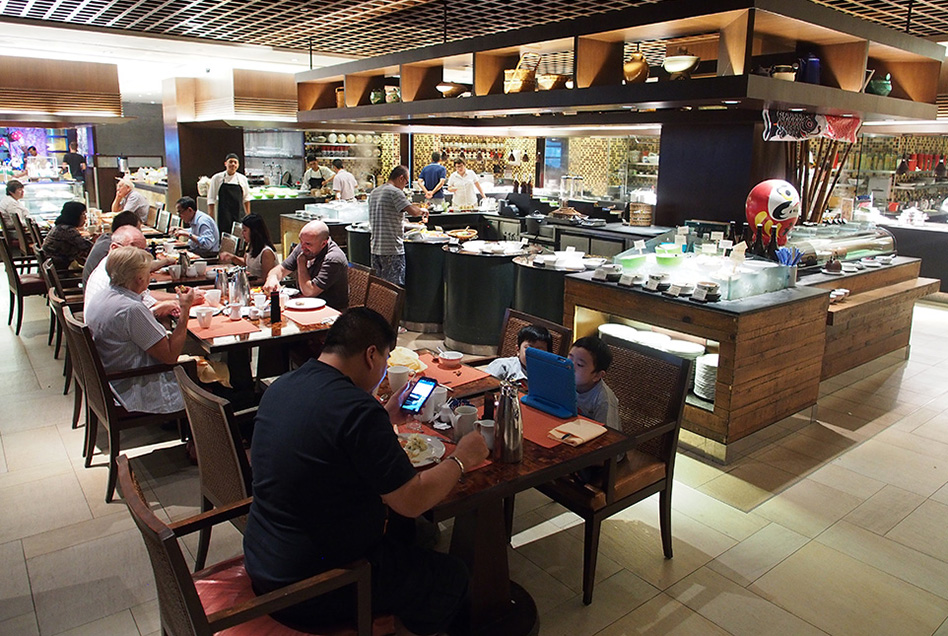 Breakfast is served quite early, with most guests arriving around 8.30/9.00, the busiest time of the day in Spice Market Café. You can also sit outside at the terrace overlooking the pool, where it is considerably less crowded. The food was of high quality and there was a nice atmosphere. Again, this is the best breakfast ever.
Restaurant(s)
You have several restaurants throughout the resort. The most luxurious restaurant (semi-fine dining) is Feringgi Grill serving international cuisine with delicious à la carte dishes. Hotel guests should reserve a table up front, to be sure to get the best table available.
Spice Market Café is a very good buffet restaurant, where you can simultaneously try various cuisines (local and international). During the day there is also the opportunity to enjoy a variety of delicious à la carte lunch dishes. Each morning, Garden Wing guests have their breakfast here.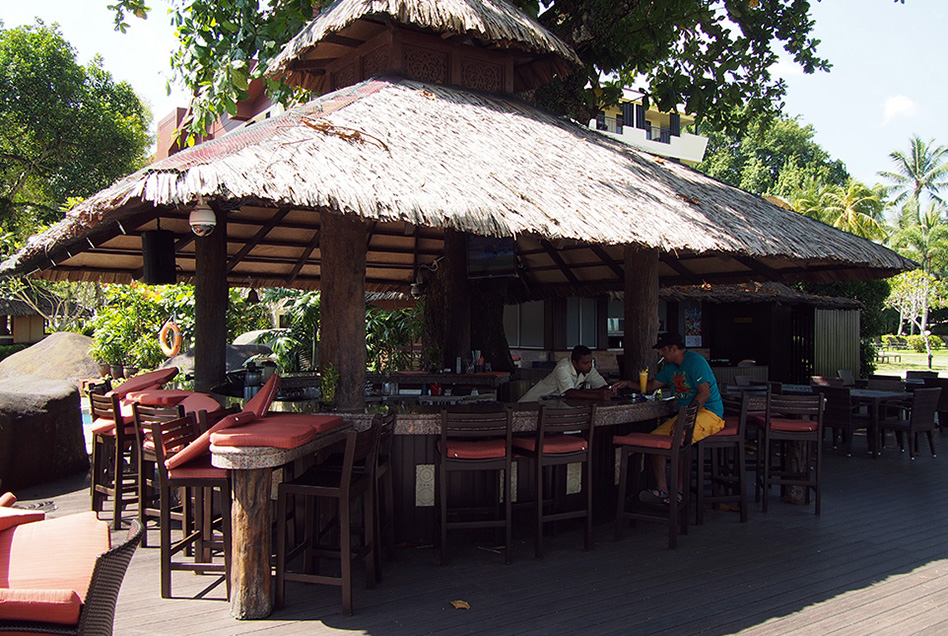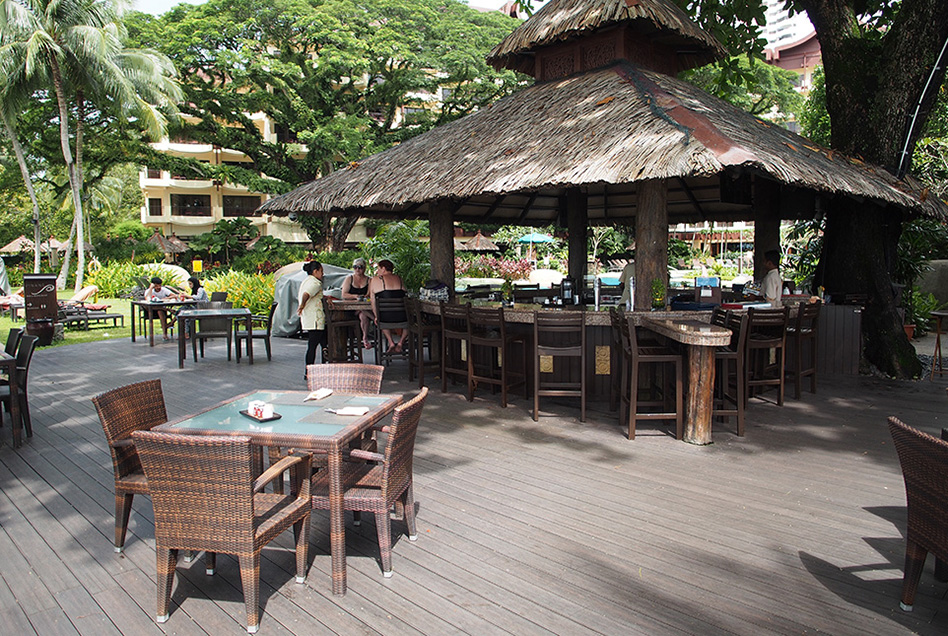 At the beach you have the popular Pinang Bar & Restaurant, a beach restaurant with various à la carte dishes. Penang Bar is the beach bar of Rasa Sayang, it is located right next to the Garden Wing pool. Occasionally, Pinang Bar hosts a themed buffet dinner. If the weather is sunny and bright, this is the place where you can enjoy a magnificent sunset. Furthermore, you have a great view over the Garden Wing pool. You can order drinks at the bar and enjoy them at the sun loungers by the pool.
Exceptionally nice for families with children and also for young couples is the Fun, Interactive and Play (FIP) restaurant. There are special places to take hilarious pictures, they have several fun and unique dishes, and they have got darts and a pool table, together with a relaxed atmosphere. They have great coffee and yummy cocktails. It is a great place to spend a few hours in the afternoon (for example during a typical daily afternoon rain shower) or in the evening.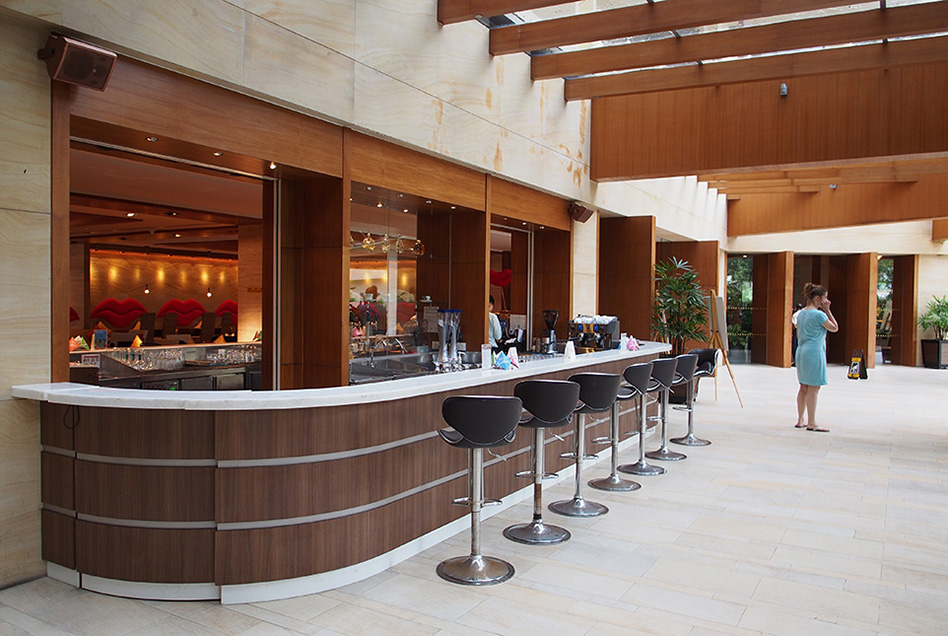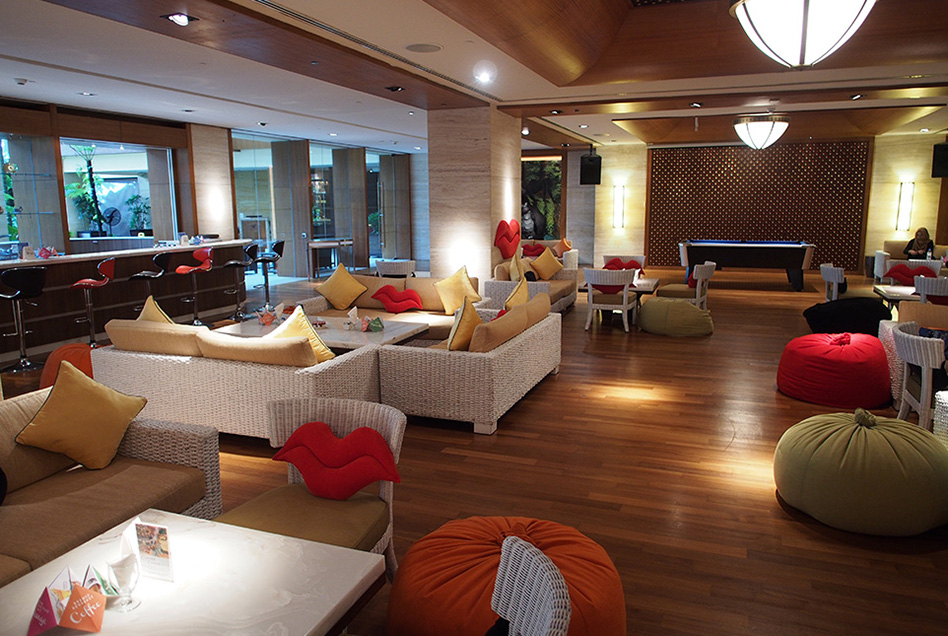 Two swimming pools
The resort has two pools and a pool for small children. Children under 16 are not allowed in the exclusive Rasa Wing pool, in order to ensure resort guests maximum peace and quietness. Instead, they can visit the beautiful and large swimming pool at the Garden Wing. This pool consists of several interconnected pools with also a children's pool right next to it. There is nothing more fun than to spend the day along side either of the two pools. You can order drinks and snacks at Penang Bar and have it delivered at one of the many sun beds by the pool.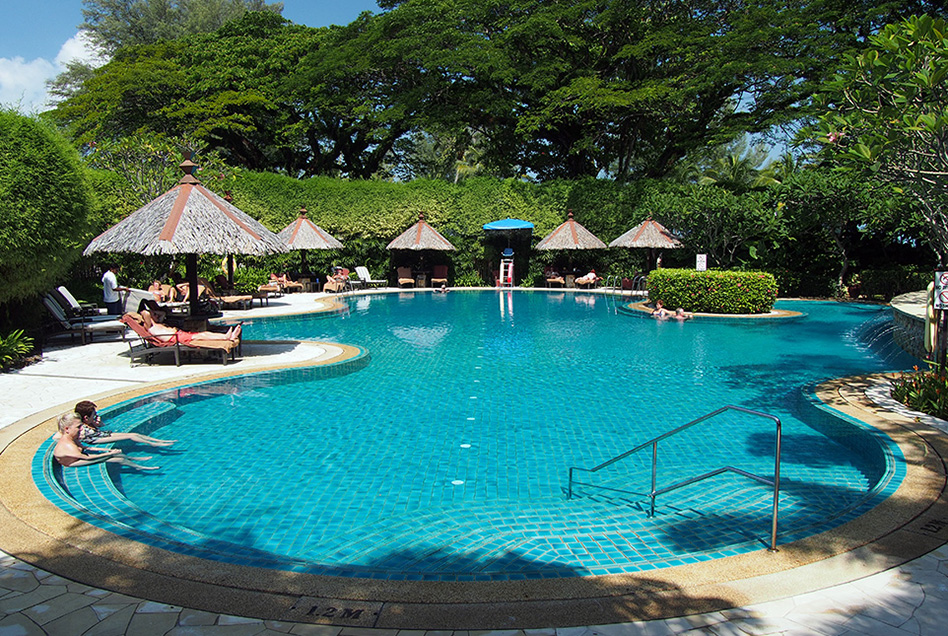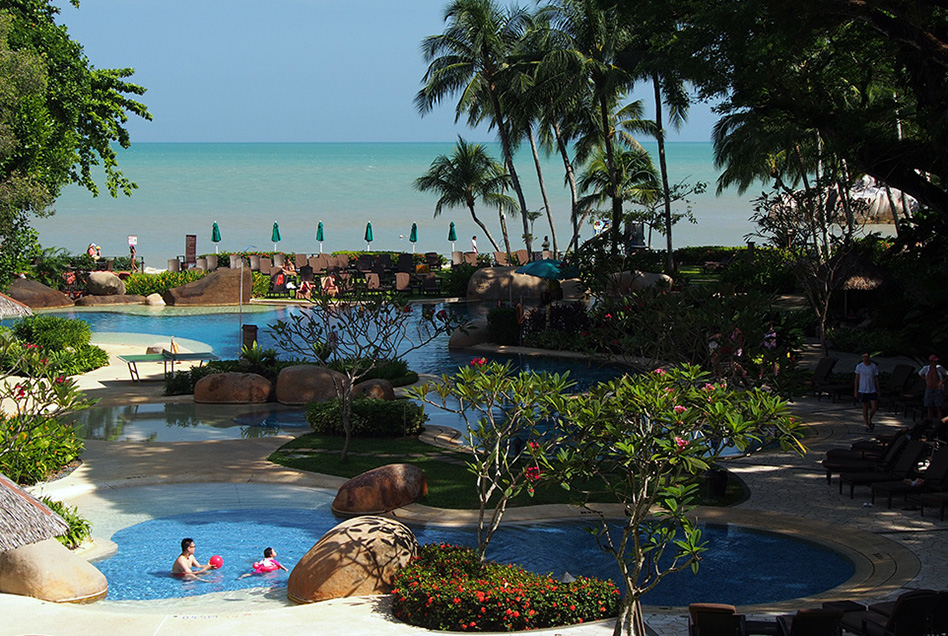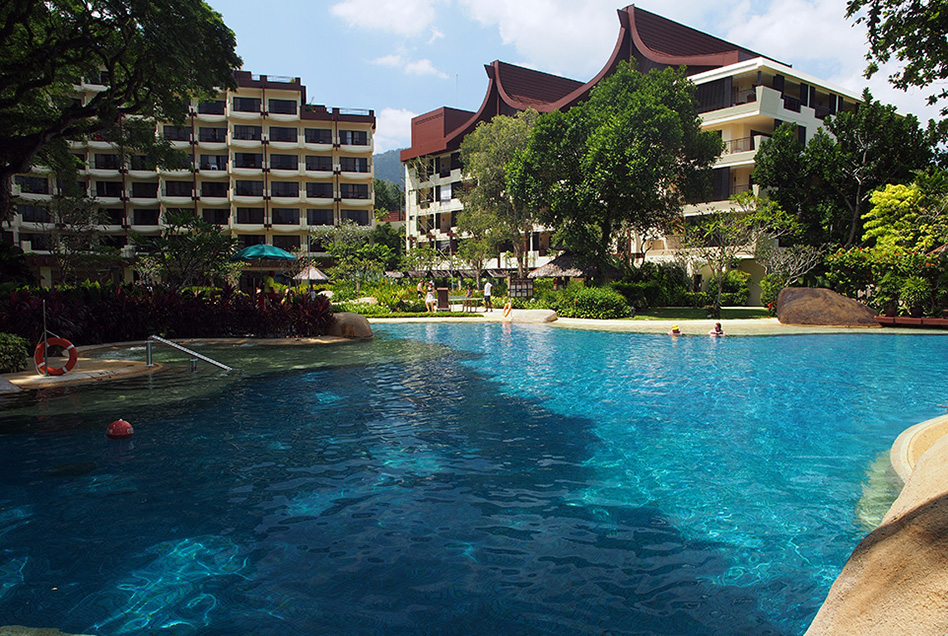 CHI, The Spa
CHI, The Spa is Rasa Sayangs' highly rated spa where you can enjoy a variety of treatments. The spa is located at the Rasa Wing, and treatments are by appointment only. There are a total of 11 specially equipped villas where treatment takes place. Daily opening hours are between 10.00 and 22.00. A traditional one-hour Balinese massage costs RM250, their signature Chi Balance massage costs RM280 per hour. You can make an appointment at their website, where you also find a list with all treatments available (including prices and special offers). Every now and then there are special promotions, with substantial discounts on the treatments. During our stay there was a small booth of CHI, The Spa at the entrance of Spice Market Café where you could get 20% discount on all treatments at the Spa. My wife and I both agreed that CHI, The Spa is by far one of the best spas in Malaysia that we have ever visited.
Par 3 pitch and putt
This resort has a beautiful 9 hole par 3 pitches and putt golf course. The beauty is that you only need a wedge and a putter to go through all the holes. You can borrow a wedge, putter and balls at the clubhouse. You need to bring your own shoes and the right outfit (shorts are allowed, shirts must have a collar). In reality, it is often fairly quiet and staff isn't too fussy about the dress code (don't bother bringing your golf shoes, sneakers will do fine too). It is a very small, compact course; the perfect place to practise your short work. Resort guests pay RM25 per round (non-guests RM35).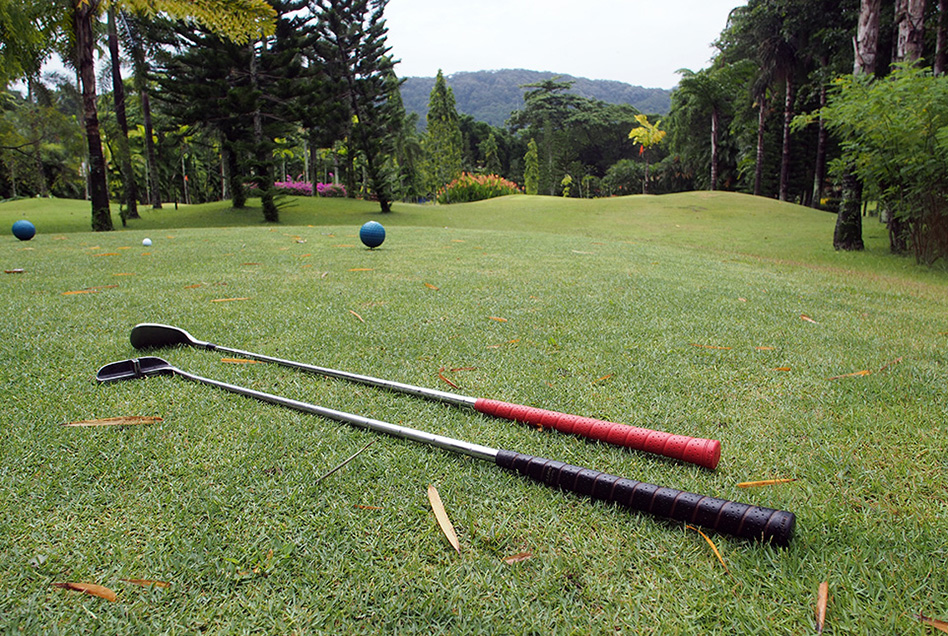 Other activities at the resort
Among the other activities is a gym (located along the corridor between both wings), Kid's Club, Adventure Zone (indoor playground next to the Golden Sands Resort), a tennis court, table tennis, Mr. Foos for relaxing foot massage and a designated area on the beach to play beach volleyball. Also, there is a Tai Chi Master where you can enjoy a relaxing Thai Chi lesson each morning at 8.00 (we can tell from experience it is a truly wonderful way to start your morning).
You also have a day program with various fun activities. These vary daily, so it's best to preview the daily program on the website so you know exactly what time each activity starts.
Furthermore, you can enjoy a Gamelan performance every Friday between 18.00 and 19.00 in the main Garden Wing lobby. Especially great about this is that the performance is done by various staff members (they each learned to play a gamelan instrument).
Attractions in the area
The night market of Batu Ferringhi is one of the most popular attractions in Penang, it takes place daily between 19.00 and 24.00 and it is just a few minutes' walk from the resort. Not all tourists will find the offerings equally interesting, but it's nice to walk through. Along the route you also have several restaurants and food courts, and also a Starbucks (which is worthy to mention as there aren't that many well known international brands in Batu Ferringhi). You have a few ATM's within walking distance of the resort, including one in the building across from the resort (CIMB bank), and one at the Petronas petrol station near and opposite (Maybank).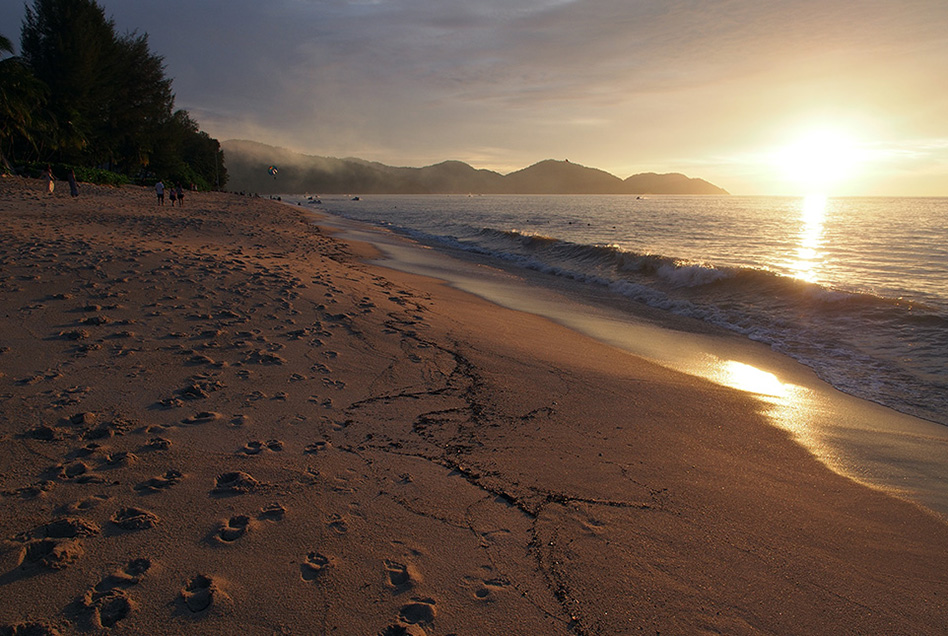 Among the other worthwhile attractions in the area is the Tropical Spice Garden, an interesting herb garden where you enjoy a pleasant walk along almost all herbs and spices known to mankind (5 minutes by taxi). At the coastal town of Teluk Bahang there are various attractions such as the butterfly garden (currently being renovated/rebuilt), an activity park called ESCAPE as well as the stunning Penang National Park, the smallest national park in Malaysia. At about a 20 minute drive is Georgetown, the capital of Penang Island. Here you have a variety of attractions. The resort offers a free shuttle service to the city.
How to get there?
If you drive a (rental) car, follow the signs from Georgetown to Batu Ferringhi. First you drive through the tiny coastal village of Tanjung Bungah. After driving through this village you drive for about 10 minutes on a winding road until you reach the village of Batu Ferringhi. Shangri-La's Rasa Sayang Resort is the first resort on the right. Right in front of the resort, you have a huge parking facility.
If you come by plane or some other form of transportation in Penang, simply take a taxi to the resort.
Our final verdict
Shangri-La's Rasa Sayang Resort for many years now has been considered one of the best resorts in Malaysia. It is rated as the best resort in Penang and by far the most luxurious place to stay in Batu Ferringhi. We totally agree with this; our stay at the resort was fantastic. We always assumed that, after our stay in Golden Sands Resort, Rasa Sayang might not be that suitable for travelers with children, but this was definitely not the case. Especially the Garden Wing is fantastic for families that want a relaxing stay in luxurious surroundings. I really enjoyed the Pitch & Putt golf course, it was super fun to do and not too hot and humid if you rise early for a game in the morning. CHI, The Spa was of very high standard, we are quite used to spa treatments, but this was without a doubt on of our best spa experiences. Furthermore, the breakfast was truly delicious and the food choices in the restaurants were of high quality.
The best thing about the resort is the wonderful tropical holiday atmosphere. The garden is so beautifully designed, that lingering at the resort during the day was by far the best way to spend our days. Everything is taken care of to perfection. The atmosphere in the lobby on arrival is immediately super, and on departure you will feel sorry that you couldn't stay for a few days longer. Staff was great and efficient, but most importantly extremely kind. We had to make the most of our stay with heavy rains for most of our days there, but it hardly damped our mood as the resort was so great. It was by far one of the nicest, unbelievably beautiful and most luxurious places we stayed so far in Malaysia. An absolute must if it suits your travel budget. We can wholeheartedly recommend the Rasa Sayang to everyone, and will definitely stay there again.
Subscribe now to never miss a post!
Subscribe to our email updates or join us on our Facebook page, right now!
Travel related questions can be asked in our Telegram channel or in our Travel community.