KL Sentral
KL Sentral is Kuala Lumpur's central station and in addition the biggest railway station in Malaysia. There are daily trains leaving from this station to all corners of the country as well as to Singapore in the south and Thailand in the north. At the same time, KL Sentral is the central hub for all KTM Komuter, Rapid KL LRT and Monorail lines in Kuala Lumpur. In the central station, you will find various little shops, eateries (i.e. Starbucks, Subway, McDonald's, Burger King and The Coffee Bean), banks with ATMs and a few small travel agencies. Each train company (there are several in Malaysia) has its own information desk and ticket office. More than 50 million people in total visit KL Sentral annually.
On this page:
Main train hub
When you take a train or metro at KL Sentral with a destination in and around Kuala Lumpur, you should take a look at the big digital information sign that displays all the routes. Each route (RapidKL, KTM Komuter and Monorail) has its own counter where you buy your train tickets. A Monorail ticket starts at RM1.20 for one stop and the longer the distance the cheaper the price of the ticket will be. You use the ticket to go past the gates to get to the monorail platform. You use the ticket again when you arrive at the station where you get off the train. Tourists that rely on the trains during their stay in Kuala Lumpur could consider buying the Touch 'n Go as then you don't need to buy tickets every time you use public transport. You can buy the Touch 'n Go smart card at many outlets in KL and you can top it up with an amount of your own choosing. You can use the card at almost all forms of public transport; except for the taxi.
Travel from KL Sentral to KLIA or LCCT
There are many buses traveling from KL Sentral to, for example KLIA (International airport) and LCCT (low cost carrier terminal) on a daily basis. So, a special SkyBus could take you from KL Sentral to LCCT for RM9. At KL Sentral you will also find a taxi counter where you can take a taxi for a fixed price. There is a choice between the budget taxi and the premier taxi. The premier taxi often is a more modern car, it has more room to sit and more trunk room for your luggage. A ride from KL Sentral to Kuala Lumpur city center will cost you about RM12 for a budget taxi and RM24 for the premier taxi. The KLIA Express and the KLIA Transit trains leave from KL Sentral as well. KLIA Express takes you from the capital to the KLIA airport (Kuala Lumpur International Airport) in approximately 30 minutes for RM55 one way per person. The KLIA Express goes every 15 minutes and the first train leaves early in the morning.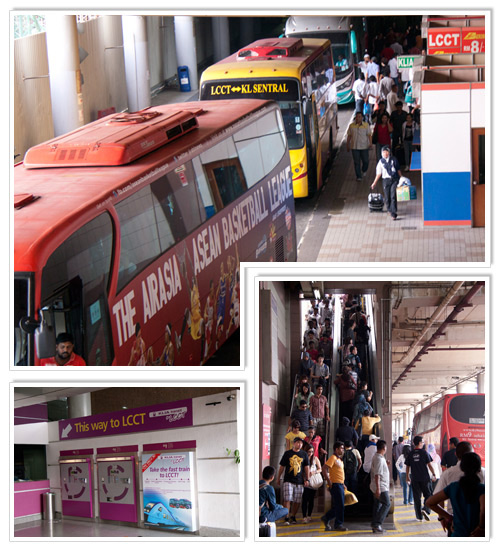 Kuala Lumpur City Air Terminal
Right opposite of the KLIA Express counter you can find the Kuala Lumpur City Air Terminal (KL CAT) check-in counters where the following airlines offer early check-in; Malaysia Airlines, Cathay Pacific Airways, Royal Brunei Airlines and Emirates. Right next to the counters you will find the Malaysia Airlines Service Desk; here you can drop by if you have questions related to your flight tickets.
New mall next to KL Sentral
KL Sentral is easy to reach by Monorail from Kuala Lumpur's city centre. The terminal is nearby KL Sentral (central train station). Unfortunately, this station is quite a walking distance from KL Sentral itself. Currently, they are busy building a new shopping mall between the monorail stop and KL Sentral. When the mall is completed, the Monorail stop will run all the way to KL Sentral. At the moment, you have to walk around the construction yard before arriving at the central station. When all construction work is completed in 2016, KL Sentral will be one of the biggest urban centers in Kuala Lumpur.
International trains
There are international trains to Singapore and Bangkok from KL Sentral on a daily basis. The train is usually not the fastest mode of transport in Malaysia, because there are a lot of stops on these routes. There are also night trains leaving from the central station. This is very practical, because you leave late at night and you arrive at your destination early in the morning. Traveling by train through Malaysia is usually very cheap. A standard 2nd class ticket to, for example Singapore, costs only a few ringgits (RM40). A luxury 1st class private compartment with shower, toilet and air-conditioning costs only RM180 one way. You can purchase tickets for the international and other long distance trains at the 2nd level of KL Sentral. You take the escalator to the top of the central part and you will find a few special counters (Ekspress Antarabangsa/KTM InterCity ticket counter) on your right side. On presentation of your passport you can purchase international train tickets; you can pay by either cash or credit card.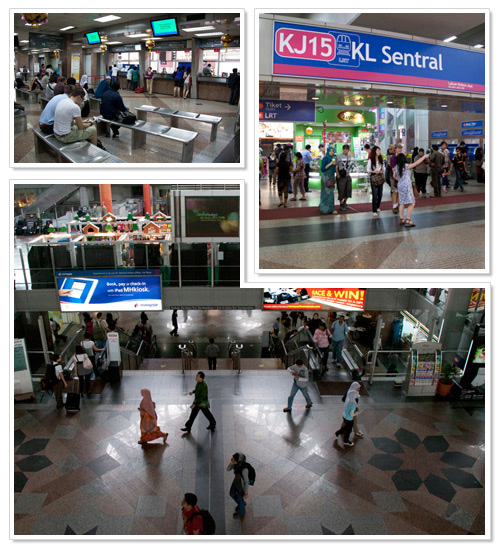 Accommodation around KL Sentral
There are two luxury hotels, Hilton and Meridien, within the KL Sentral complex. Both hotels have a few very good restaurants. Travelers with a stopover could consider a KLIA Express trip to KL Sentral to stay in one of the hotels.
Map of KL Sentral
Below you can see a map of KL Sentral. You can simply scroll through the map with your mouse. Use the markers on the left to zoom in or out of the city map.
Subscribe now to never miss a post!
Subscribe to our email updates or join us on our Facebook page, right now!
Travel related questions can be asked in our Telegram channel or in our Travel community.