From the show that created a sensation in the entertainment scene in Kuala Lumpur and Singapore, the "Kings and Queen of Comedy Asia" (K&Q) is back on 18 & 19 November 2011, bringing the best Asian comedy talents from around the world.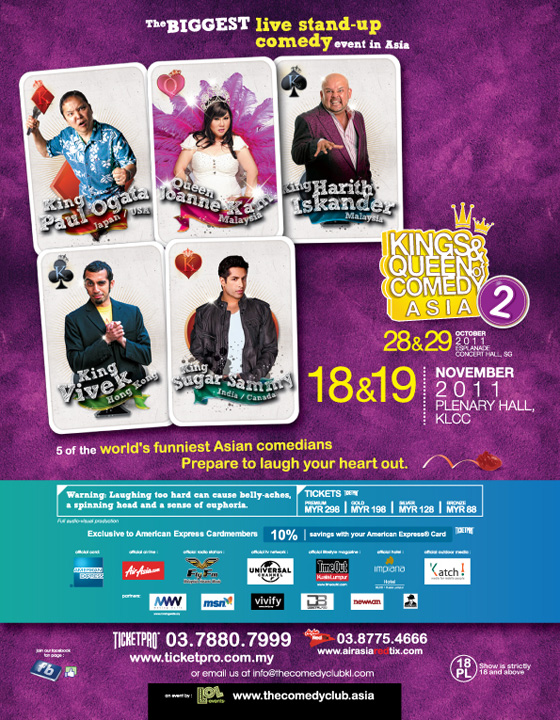 The inaugural show in October last year was the first of its kind and a runaway success with sold out shows in the Plenary Hall, KLCC and Singapore Conference Hall. The show was a full production with launch and closing gambit, multimedia integration, high-definition live feed, lights and sound extravaganza. The event was a major success with highly positive feedback from both the public and media. The comedians thoroughly entertained the crowd and surprisingly, people had different takes on who they found funniest on the night – with all 5 comedians receiving almost equal kudos for tickling their fancies.
This year, there are 5 major comics – led by comedy superstar Sugar Sammy from Canada, the funniest Japanese-American you will ever known, Paul Ogata and Chinese-English speaking funny man VivekMahbubani from Hong Kong. Harith Iskander, Malaysia's proudest comedy export who aims to go global in 2012 will be representing the country. The show will be hosted by none other than the divalicious Joanne Kam.
Show Info
Venue: Plenary Hall, KLCC
Date: 18th and 19th of November
Show time: 8.30 pm – 11.00 pm
Tickets: RM 88, RM 128, RM 198, RM 298
More information at knqofcomedy.com
Subscribe now to never miss a post!
Subscribe to our email updates or join us on our Facebook page, right now!
Travel related questions can be asked in our Telegram channel or in our Travel community.