Firefly
Firefly (or FlyFirefly) is a low cost carrier that is wholly-owned by Malaysia Airlines (MAS). MAS launched Firefly in 2007 in an answer to the huge rise in popularity of AirAsia; another low budget airline in Malaysia. Firefly has 13 planes (Boeing 737-400, 737-800 and ATR 72-500)and flies passengers to 19 destinations within and outside Malaysia. From their two hubs, one located in Subang (nearby Kuala Lumpur) and one in Penang, they have daily flights to numerous popular cities in Malaysia, to Koh Samui and Phuket in Thailand, to Singapore (Changi Airport) and to 6 airports in Indonesia.
"The name Firefly was chosen to depict the airline's characteristics, which are agility, brilliance, charming, and fun." from Fireflyz.com.my
On this page:
Popular routes
One of the popular routes by Firefly is the direct flight between Penang and the two cities at eastern side of the peninsula; Kota Bharu and Kuala Terengganu. Both these cities are the gateway to some of the most popular tropical islands of Malaysia (i.e. Perhentian and Redang). Travelers that visit the beautiful island of Penang can now fly directly to the east coast of Peninsular Malaysia; contrary to AirAsia that first flies to Kuala Lumpur LCCT (Low Cost Carrier Terminal) before flying onwards to Kota Bharu or Kuala Terengganu. Firefly once cancelled this popular route once (between 2009 and 2011), and other popular routes have also been cancelled in the past; so always make sure to check whether Firefly still offers certain routes when you make your reservations (and do not be surprised when a route is cancelled for the time being).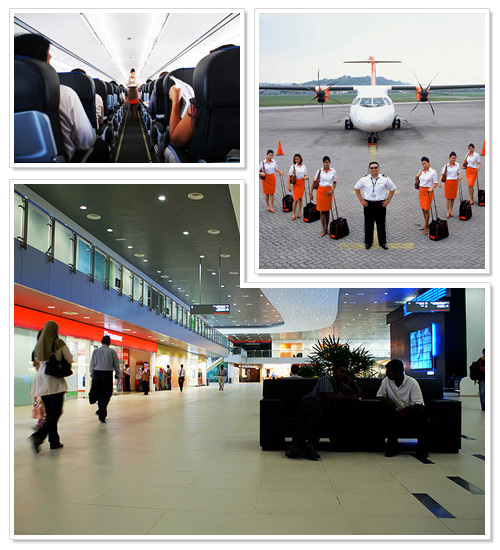 Checked-baggage policy
Besides that fact that Firefly operates from an airport that is conveniently located nearby Kuala Lumpur; it also have a great checked-baggage policy contrary to AirAsia where you have to pay at least RM25 extra per bag when you are traveling with checked-baggage. With Firefly you bring along 20kg of checked-baggage without any costs. This however only goes for flights with the ATR planes; if you fly with the Boeing 737's; you also have to pay extra for checked-baggage during the booking process. Also you are allowed to take an extra 7kg on board as hand luggage (though they occasionally do check and if you carry over 7kg you risk a fine of RM50).
Some relevant points when flying with Firefly
Try to make your reservations way in advance. The sooner you make your flight reservation at Firefly; the cheaper the price. Sometimes you can even fly for free; you only pay standard administration costs and airline taxes, usually around RM25 per ticket.
When flying the ATR you can bring 20kg of checked baggage on board the plane (excluding hand luggage). When you are flying wit the 737's then you pay up front for checked baggage.
Passengers can bring along 7kg of hand luggage on board of the airplane. Hand luggage cannot exceed the following dimensions: 56cm x 36cm x 23cm. Surcharge for overweight hand luggage is RM50.
After you made a reservation, simply print the e-tickets. Upon check-in you show the unique flight number to get your flight pass.
Always make sure the details you fill in while making a reservation match your passport details.
Always check up front whether there are special holidays, events or celebrations on the day you want to use Firefly. On most holidays many local travelers use Firefly to fly back to their relatives. Same goes for all other important events. Examples are Hari Raya, Merdeka and around Christmas.
If you have a connecting flight with Firefly or do you have a connecting flight after a flight with Firefly; make sure you leave enough time between the two flights to be on the safe side. Sometimes flights are delayed which could imply that you miss your connecting flight.
How to make reservations
To reserve a ticket at Firefly you go to their website. You can immediately start filling in your flight details to search for available flights. Select the departure and arrival city, and whether you need a one-way ticket or a return ticket. After filling in these details you can hit the search button. On the next page Firefly shows all available flights to the city you chose earlier. After finding the flight, check the 'Confirm & accept general conditions' box. After that you press 'Continue'. In the following two screens you are asked for all necessary personal details. After all needed information is filled in; you will be redirected to the secured payment page. Here you can pay with your credit card. After confirmation you will be congratulated with your online Firefly reservation. After some minutes you will receive a confirmation e-mail with your check-in code. It is enough to bring along this code, but it is better to print the complete confirmation page to be on the safe side.
Firefly has many Airport Ticket Offices in Malaysia. You can find one at almost every airport in the country, but also in the bigger cities. In Kuala Lumpur for example you can find a reservation office at KL Sentral (the main train station of Kuala Lumpur) and in Putrajaya. Prepare to queue up when you visit this office; as it might be crowded with people that do not own a credit card (so for them visiting the office is the only option to get cheap flights).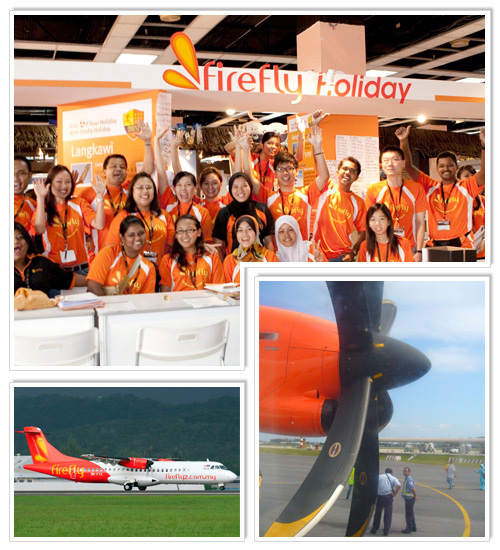 Main hub Subang Airport
Subang Airport (also known as Sultan Abdul Aziz Shah Airport) is one of the main hubs of Firefly. The great thing about this airport is that it is located nearby Kuala Lumpur city center. It is is only a 20 minute drive by taxi from most of the hotels within the KLCC area (Golden Triangle of KL). This is a huge time saver compared to flights that depart from either KLIA (Kuala Lumpur International Airport) or LCCT where one has to travel for at least an hour to get to the airport. Firefly does have some flights that depart from KLIA Main Terminal Building, so do check up front where you flight departs from.
Map of Subang Airport
Below you can see a map of Subang Airport. You can simply scroll through the map with your mouse. Use the markers on the left to zoom in or out of the city map.
Subscribe now to never miss a post!
Subscribe to our email updates or join us on our Facebook page, right now!
Travel related questions can be asked in our Telegram channel or in our Travel community.