Sungei Wang
Sungei Wang is probably one of the most popular malls among locals in Kuala Lumpur. Every weekend the mall is packed with visitors. As Sungei Wang is not your typical mall with high ceilings and big stores; some might get a bit claustrophobic because of the many cramped alleys with shops. Sungei Wang has everything imaginable. It is well known for its range of specialty shops. If you are looking for specific products chances are that you will find it here. Sungei Wang's main entrance is located opposite Parkroyal Hotel; along Jalan Sultan Ismail. The mall is directly connected to neighboring mall BB Plaza. Another entrance is located along Jalan Bulan 1; this is the way to walk from Sungei Wang to neighboring IT/Gadget mall Plaza Low Yat. There is also a very small entrance opposite Plaza IMBI, this entrance leads directly into the Giant Supermarket. Sungei Wang's anchor tenant is Parkson. Both Sungei Wang and BB Plaza cater to a middle class market; some consider it to be a bargain-hunters paradise.
Our pages on Kuala Lumpur
On this page:
Different floors, different shops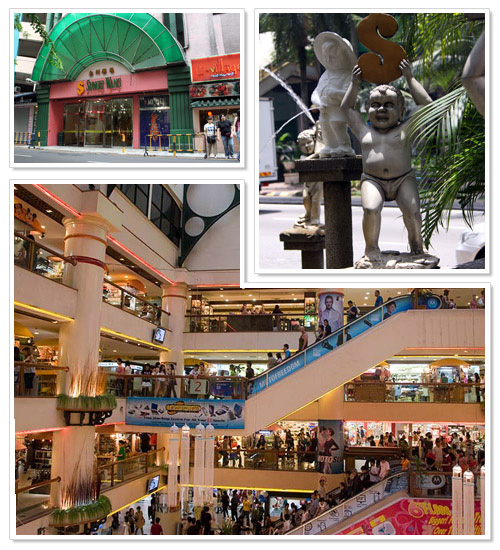 In the basement of Sungei Wang you will find a huge F.O.S (Factory Outlet Store) that sells branded clothing. Here you will also find the signs that lead you towards the supermarket. There are ATMs at this level. The ground floor, 1st and 2nd floor consists of many small shops with mainly local brands. Well over half the shops here sell clothing or shoes. Families with young children will like the special F.O.S Kids & Teens store at the 2nd level. The 3rd floor has some interesting shops. Here you will find many travel offices; where you can buy your tours (domestic or international) for decent prices. This is also the place to arrange trips to places like Taman Negara or Cameron Highlands (among others). Here you also have the Bukit Bintang main postal office. Here you can send out packages to your own address; should you have bought too many things during your stay in Malaysia. There are many specialty stores at this level; and also a couple of nice restaurants. The food court is located on the 4th floor.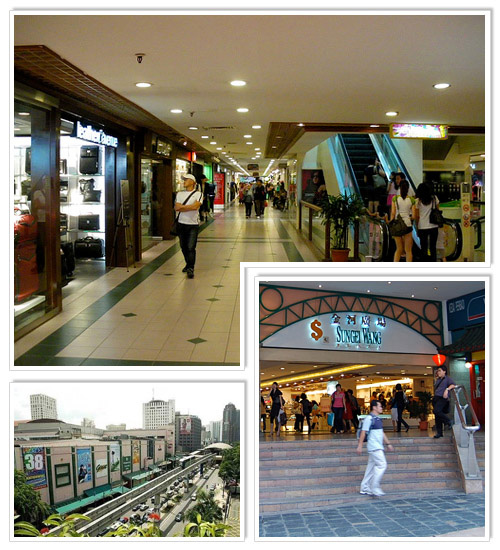 Sungei Wang is connected to BB Plaza. Both malls are actually entwined, so visitors will probably know when the exit Sungei Wang and when they enter BB Plaza. From Jalan Bukit Bintang you can enter BB Plaza via the main entrance (next to the Starbucks) and from there you can walk all the way to Sungei Wang.
How to get to Sungei Wang
If you are staying in the city center you can easily walk to Sungei Wang as it is located ideally in the heart of Kuala Lumpur. It is located opposite Lot10 and directly connected to BB Plaza. The rear neighbors to Plaza IMBI and Plaza Low Yat. LRT (Light Rail Transit) station Bukit Bintang is directly connected to Sungei Wang; from the LRT you enter Sungei Wang at the 1st floor. If you are staying outside the city center we would suggest taking the monorail. Other public transport is not that reliable in Kuala Lumpur. Another option is to get there by taxi; make sure the driver uses the meter and don't try and find a taxi around closing time or during heavy rains (as everybody needs a taxi at the same time). Opening hours: Sungei Wang is opened daily between 10am and 10pm.
Map Sungei Wang in Kuala Lumpur, Malaysia
Subscribe now to never miss a post!
Subscribe to our email updates or join us on our Facebook page, right now!
Travel related questions can be asked in our Telegram channel or in our Travel community.