For a truly memorable adventure vacation in Borneo, you must make sure that you attempt to conquer Mount Kinabalu, which is relatively a safe mountain to climb. While climbing the mountain doesn't require any specialized mountaineering skills, and there is a mountain guide to accompany you (a prerequisite), it is useful to be reminded when one is traveling on unfamiliar grounds, and it pays to stay focused on the climb.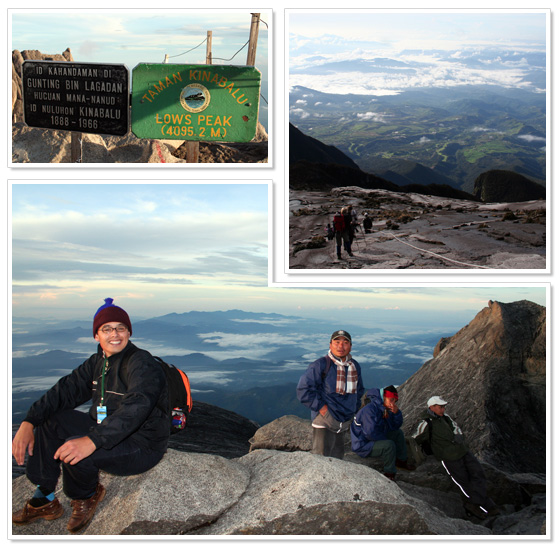 Some useful tips for a successful climb and a satisfied adventure vacation include:
Wear and bring adequate clothing
Always climb in a group and stay close to the group
Focus on what you do, (i.e., don't get distracted)
Always use the well-trodden path
Never get reckless or try to be a show-off
If possible, climb during dry season
If unavoidable, be extra careful with your steps during the wet spell
Stay where you are if you are lost
Leave a trail in case you have to walk away from the path where you got lost
Bring along a whistle just to be extra safe
Always stay close to your mountain guide
Wrap up your dry clothings with plastic bags in your napsack
Bring lots of chocolates and candies
No red meat or heavy meal before climbing
Noodles and eggs are recommended before the more challenging second ascent from Laban Rata
Never sit or lay down on high altitute (just stand still)
Never forget to bring along a torchlight and sufficient water (but not too much/heavy)
Cover your nose (and mouth) with a scarf in windy condition on high ground
Make extra sure your feet and hands are warm and dry during the final ascent
When descending, try to walk sideway if you are feeling the pinch
Special Note: It is recommended that all climbers should have themselves medically checked before attempting any mountain climb. If you have a history of suffering from the following ailments, it is highly recommended that you should refrain from climbing: Hypertension, Diabetes, Palpitation, Arthritis, Heart Disease, severe Anemia, Peptic Ulcers, Epileptic Fits, Obesity (overweight), Chronic Asthma, Muscular Cramps, Hepatitis (Jaundice); or any other disease which may hamper the climber.
Subscribe now to never miss a post!
Subscribe to our email updates or join us on our Facebook page, right now!
Travel related questions can be asked in our Telegram channel or in our Travel community.