Stopover in Kuala Lumpur
Many travelers flying from Europe to Australia or New Zealand have a compulsory stopover in one of the Southeast Asian countries. This also includes a possible stopover in Malaysia. The past couple of years Singapore was, for many tourists, the place to be for a stopover. However, travel and tourism agencies realized that Malaysia was also very suitable for this type of traveler. In the past years, a lot of effort was put into PR regarding a layover in Malaysia. Tourism Malaysia has partnered with Tourism Australia to promote Kuala Lumpur as a stopover destination for European travelers who fly to Australia or New Zealand. Malaysia Airlines often offers specials for flights leaving from European airports with destination Australia or New Zealand. At the same time, cheap overnight accommodation in Kuala Lumpur is offered as part of a stopover package.
On this page:
Stopover in Kuala Lumpur for less than 1 day
Even if you only have a couple of hours to spend in Malaysia, you can manage to see a few nice and beautiful things. The capital, Kuala Lumpur is definitely worth a visit if you have more than 6 hours available (excluding check out and check in). This means you can leave your luggage at KLIA (airport) at the special luggage storage counters and take the KLIA Express or a taxi to the center of Kuala Lumpur (more on traveling between KLIA and Kuala Lumpur). You can do some shopping and visit a few of the city's highlights. The popular Hop-on, Hop-off bus takes you for about 2 hours to experience the city's best sights. Another option is to book your KL City Tour at the airport and you will be taken around Kuala Lumpur's main attractions on a tour bus for half a day. There are quite a few tour operators in Malaysia that offer nice KL City Tours. If you want to make arrangements beforehand, you might want to check out the tours that Viator.com offers.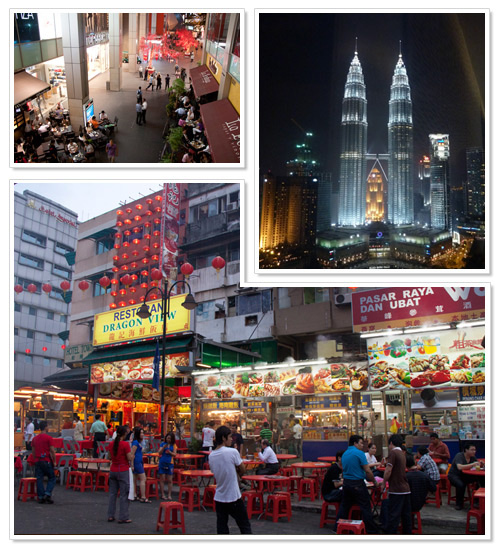 Suggestions
As there are too many nice things to see and do around Kuala Lumpur, you probably have to choose between the ones you like best. During a stopover you usually have limited time, so it is best to spend it wisely. Some travelers like to shop and dine during their stopover, others like to see as much cultural highlights as possible. Others want to just sit and relax and have themselves driven around the city by private transport or taxi, others want to visit the 'Golden Triangle' area only to explore the city center of KL on foot. Below some suggestions on attractions and activities you might want to visit during your stopover in Kuala Lumpur.
Kuala Lumpur is known for its great shopping opportunities. Best shopping malls can be found within the KLCC area; easy to get to from KLIA (international airport). Popular malls are Pavilion KL, Fahrenheit88, Suria KLCC, Lot10, Plaza Low Yat, Starhill Gallery and Berjaya Times Square. A very popular shopping outside the city center is Midvalley The Gardens.
Chinatown is always crowded with tourists. There are a few temples in the area, and it is always busy with people selling stuff and buying stuff. This is also a great place to try out some authentic Chinese dishes.
Nearby Chinatown is Little India. Here you can walk past the many Indian shops.
Also nearby Chinatown is the Central Market.
Outside of the city center (nearby the 'old' Royal Palace) you can visit the huge Thean Hou Buddhist Temple.
The Royal Palace (Istana Negara) is located just outside of KL city center.
Merdeka Square is a beautiful place nearby Chinatown. Here you can also find the Sultan Abdul Samad building, another highlight of KL.
The Lake Gardens (nearby KL Sentral) is also quite popular among locals and tourists, though during the day it can be very hot over there. Here you can also find the botanic gardens, KL Bird Park and the butterfly garden.
A short walk from Lake Gardens is the National Monument.
A 10 minute LRT (Light Rail Transit) ride from KL Sentral you can find the popular Batu Caves.
No stopover in Kuala Lumpur is complete without visiting the Petronas Twin Towers. There are daily passes (RM10) that allow you to visit the skybridge. You can also buy the special RM40 passes that bring you all the way to the top of the buildings.
Just as popular is the Menara KL Tower. You can visit the top of this communication tower and enjoy the fantastic views on the Petronas Towers.
Right opposite Lot10 shopping mall is the starting point of the Kuala Lumpur Hop-on, Hop-off bus. This bus brings you to all the attractions mentioned above. You can get off whenever you feel like it, walk around for a while and then board the next bus again.
Remember to head back to KLIA in time for your connecting flight. Keep in mind that it takes at least an hour traveling time from Kuala Lumpur city center to the airport. Know that every airline expects you to check-in a few hours before your flight departure. Read more about the ways to travel between Kuala Lumpur and KLIA (Kuala Lumpur International Airport).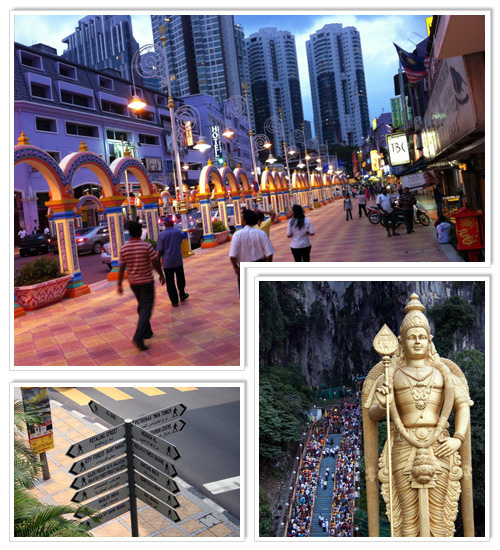 Stopover in Kuala Lumpur for a few days
If you are staying a few days in Kuala Lumpur, then you can plan your own short visit to this beautiful city. You can leave Kuala Lumpur behind for a few days to discover the area around this metropolis. You can see most of Kuala Lumpur in three to four days and the highlights can be seen in one full day. It is best to rent a car to visit the main attractions within a few hours drive of Kuala Lumpur. If you decide to stay for at least a week, then you can even go to one of the marvelous tropical islands along the west- or east-coast. With AirAsia you are able to fly for very affordable prices to the islands Langkawi or Penang where you can stay in a lovely hotel along the beach. Both islands offer sufficient entertainment. Langkawi is known for its nature and Penang for its culture (additionally you can also find excellent dishes on both islands). If you would like to dive or snorkel, better take a flight to Kota Bharu or Kuala Terengganu to visit one of the tropical islands like Perhentian, Lang Tengah, Tenggol or Redang.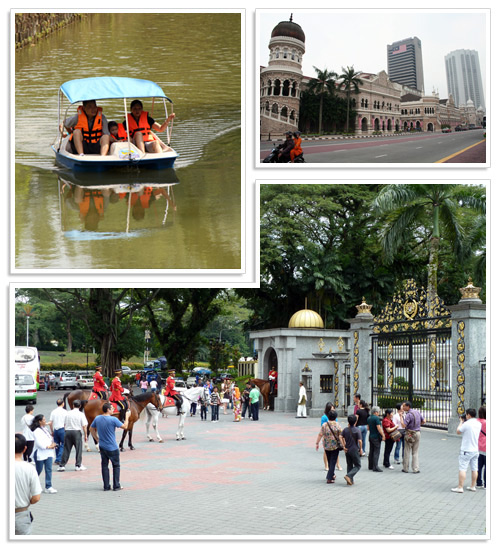 Hotels to consider in Kuala Lumpur
More about hotels in Kuala Lumpur.
Kuala Lumpur as the perfect starting point
Flying to Kuala Lumpur is often not only reasonably priced, but flying from Kuala Lumpur to various neighboring countries is usually very cheap. AirAsia gives you the opportunity to fly at very low rates to the countries surrounding Malaysia. A stopover destination is redefined in that way, because Kuala Lumpur becomes a starting point or base for a beautiful trip within Southeast Asia (or the whole of Asia). AirAsia flies daily to various cities at the following destinations: Indonesia, Singapore, The Philippines, Thailand, Cambodia, Vietnam, Laos, China, Myanmar, Macao, Hong Kong, Bangladesh, Sri Lanka, India, The Maldives, Brunei, South-Korea, Japan and even some destinations in Australia and New-Zealand. Make sure you always check air fares of the other airlines that operate withing Malaysia, often Malaysia Airlines and Firefly also have great discounts.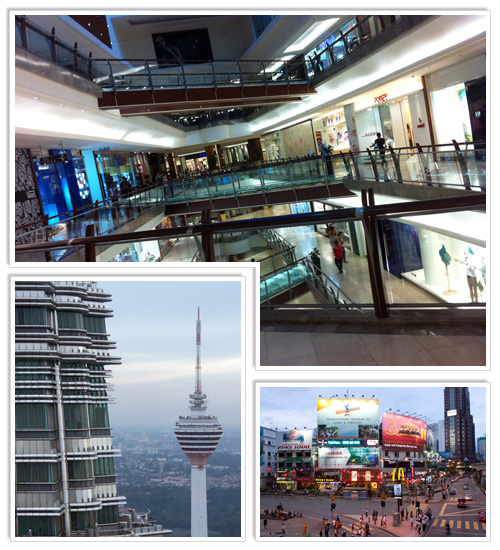 Stopover report from Ingrid (Dutch)
I organized a budget taxi at KLIA, which are the cheapest, and I immediately went to the Batu Caves. I actually had them label my luggage in The Netherlands directly to New Zealand, my final destination, so I didn't not have to carry around my heavy luggage. From the Batu Caves I took a taxi to the Petronas Towers and then I went shopping in the huge Suria KLCC shopping mall which is located below the towers. Then I bought a day ticket for the Hop-on, Hop-off bus and visited the Menara KL Tower including the small zoo. The latter was not all that spectacular, but it was part of the entrance ticket, so I decided to check it out anyway. It was lots of fun. During the bus ride, I saw the Royal Palace, Chinatown and I had a quick bite in Little India. It was fantastic to have a taste of all these cultural differences in such a short space of time. Especially Little India was amazingly colourful and spiritual. I started to notice that my Western mentality was starting to fade away because of all these great impressions ;-). This stopover really felt like the beginning of my holiday!
The bus tour continued from Little India and afterwards I took the KLIA Express at KL Sentral to return to the airport. This is a fast way to travel, because from the city center you are back at KLIA in less than 28min. There, I had a quick shopping spree, had another bite to eat and enjoyed a foot reflexology massage. Ready and refreshed I boarded my next flight to Auckland. I really enjoyed my stopover in KL and I used my time efficiently thanks to all the wonderful and useful tips at wonderfulmalaysia.com! Many other travelers, who were also on their way to Auckland, spent the night stay at the airport transit hotel and afterwards they regretted that they did not see anything in KL. By the way, from the evening train back to KLIA I could see the Petronas Towers briefly; it was a great sight ;-).
Map of Kuala Lumpur
Below you can see a map of Kuala Lumpur. You can simply scroll through the map with your mouse. Use the markers on the left to zoom in or out of the city map.
Subscribe now to never miss a post!
Subscribe to our email updates or join us on our Facebook page, right now!
Travel related questions can be asked in our Telegram channel or in our Travel community.