Situated right smack in the city is the Lake Gardens but despite being in a central location, many have not ventured into this lovely park. Many working in the area are not even aware of its existence, which is such a shame!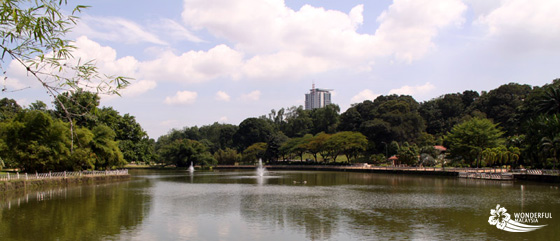 The Lake Gardens covers 91.6 hectares spanning parks and gardens. Established in 1888, the place was built around an artificial lake and many joggers and families flock there for a stroll, jog or just a fresh breath of air. There is a jogging track for the runners who can also work out at the many exercise stations along the jogging route. Families with kids in tow might favor the playground more where the kids can squeal in excitement as parents give them a gentle shove on the swing or bounce them up and down the see-saws – definitely quality family time indeed.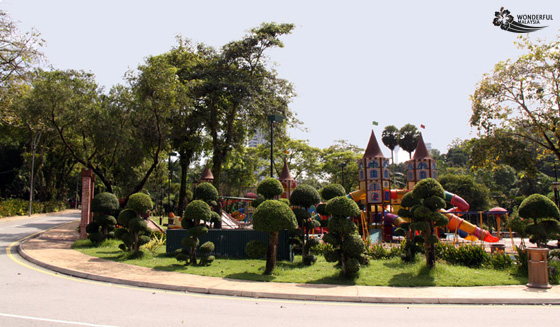 If a playground sounds boring for you, get in touch with your environmentalist in you by getting to know the 3,000 over birds within a walk-in aviary in the KL Bird Park within Lake Gardens. There are even daily stage feedings and bird shows at around noon each day, so time your visit around then for some bird-fun. The admission fee to the aviary is RM45 for an adult and RM35 for children.
After a long stroll admiring the colorful feathery friends, you'd be thirsty and hungry for some refreshments. Stop at the Hornbill Café which is just next to the bird park's main entrance. While a spotting of a hornbill is not guaranteed, the café does serve sandwiches, soups and pasta as well as a kids' menu for the little ones who really love tea time snacks.
If you are game for more of God's flying creations, there is the KL Butterfly Park within the Lake Gardens too which is home to 6,000 butterflies of 120 species. The park has a landscape of 15,000 plants to create a natural rain forest environment for the butterflies. If you are coming in a large party, maybe the butterfly park would be easier n your pocket as the entrance fees costs lesser than the bird park at RM18 for adults and RM8 for children. The park opens from 9 a.m. to 6 p.m. daily.
If you've had enough of birds and butterflies fluttering around you, the beautiful orchid and hibiscus gardens would be the perfect stops for a breezy stroll. Don't worry as there are no charges for these! If you have more time on hand, you can also explore the deer park located on the undulating slopes and valley of Kuala Lumpur lake gardens. There is also the National Monument that you can visit close to the Lake Gardens which was built in the commemoration of those who died fighting for the nation's freedom.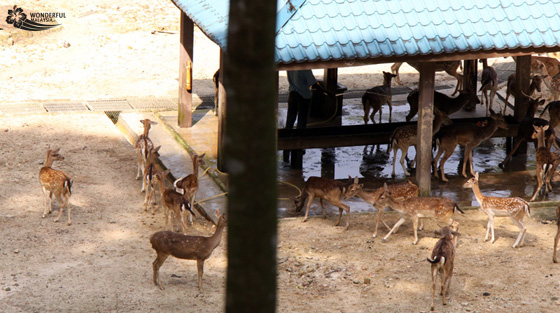 Life isn't just all about waking up and braving the traffic to work, and braving the same traffic on the way home. On weekends, it is likely the same routine but probably battling others to get to the mall this time. Take some time out to appreciate the simpler, more beautiful things around us, which is why spending time with family or just alone at the Lake Gardens will relax your weary mind.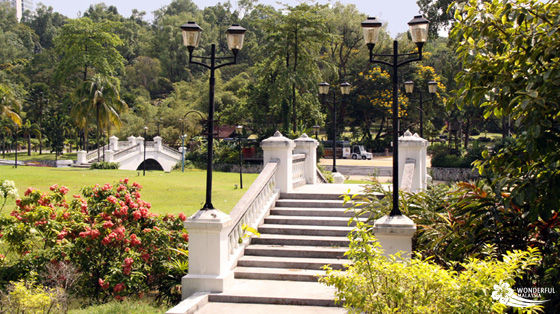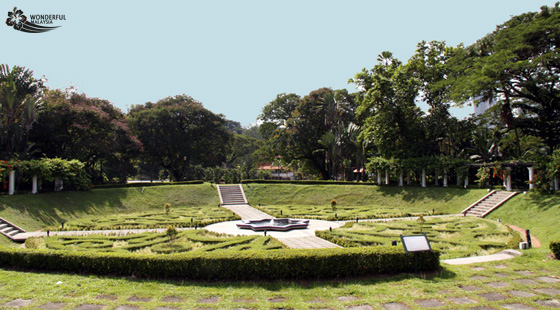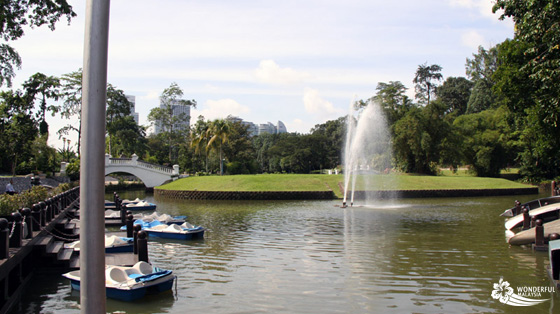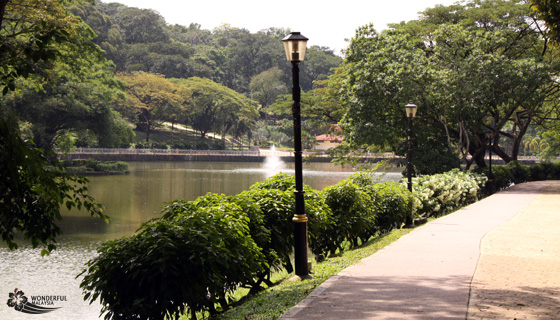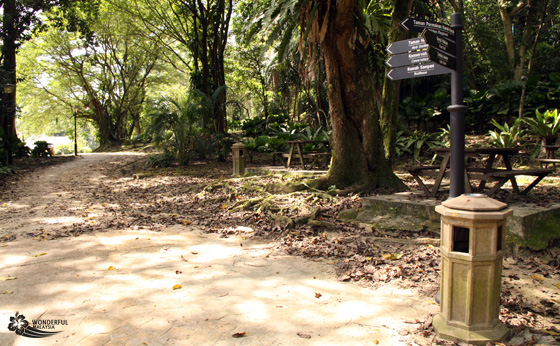 A nice attraction at Lake Gardens is a fun boat ride around the lake. Besides rowing a small boat you can also rent a water bicycle. Next to the mini-jetty is a small shop that sells snacks and drinks.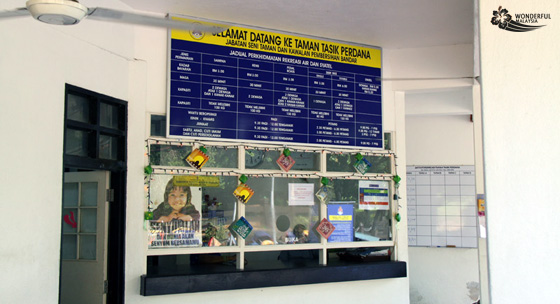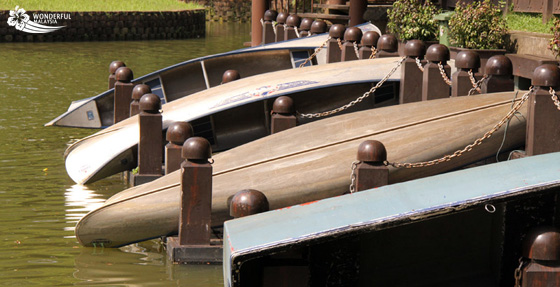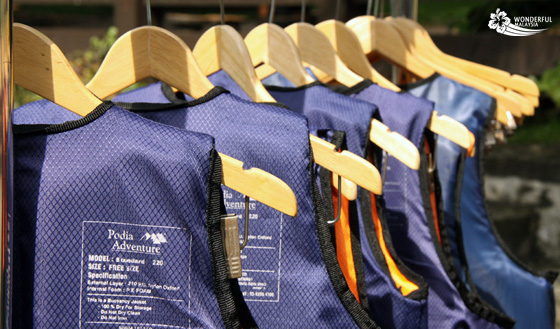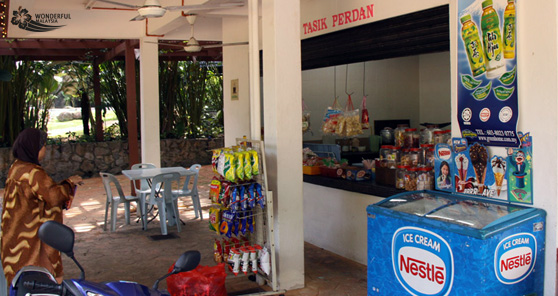 Nearby attractions
Popular attractions nearby Lake Gardens are the National Monument which lies just northwest of the park, and the National Museum and National Mosque to the east of the park.
Opening hours
The outdoor park is opened daily, and officially you are only allowed in between sunrise and sundown. Most of the attractions (Bird Park, National Planetarium and Hibiscus Park) within the park are open between 9am and 6pm.
Entrance fees
Entrance to the park is free of charge. There are fees for visiting the attractions within the park (Bird Park, Hibiscus Park, National Planetarium) and when you want to use the rowing boats or water bicycles.
Contact details & address Lake Gardens
Jalan Parlimen
50480 Kuala Lumpur
Malaysia
Tel: + 603 2693 4132
How to get to Lake Gardens
Take a KTM Komuter train to the Old Kuala Lumpur station. From there cross the street and walk past the National Mosque. You can also walk from KL Sentral, but this is a tricky path along the highway; the distance however is shorter. Alternatively, buses B115, B112, and B101 all stop within a 5-minute walk of Perdama Lake Gardens. Every taxi driver knows how to find the park. To get a taxi back to KL you are best off by walking to the Bird Park, as there are always taxis waiting for customers there.
Video Lake Gardens
Map of Lake Gardens
Suggestions?
Got any good tips to share with us? Do you know of any great things to do in Kuala Lumpur, or tips on the best places to eat? Let us know by leaving a reply below!
Subscribe now to never miss a post!
Subscribe to our email updates or join us on our Facebook page, right now!
Travel related questions can be asked in our Telegram channel or in our Travel community.