For a day of thrills and fun in the city, head on to Sunway Lagoon theme park. The theme park was established in 1992 and has been recognized by the International Association of Amusement Parks and Attractions (IAAPA) as Asia's Best Attraction for four consecutive years since 2007 to 2010. It is also home to the region's hottest events and concerts such as the MTV World Stage and Arthur's Day Celebration. Right next to the theme park you will find one of Kuala Lumpur's most popular shopping malls: Sunway Pyramid Shopping Mall (easily recognizable by the huge lion's head in front of the complex). Just a 15-minutes drive from Kuala Lumpur, Sunway Lagoon is sure to have something to offer for everyone.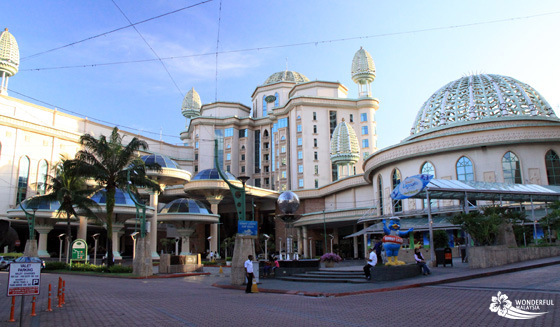 There are five main parks with more than 80 rides and attractions to explore and enjoy at Sunway Lagoon: the amusement park, the Waters of Africa water park, the Wildlife Park, the Scream Park and the Extreme Park (check out a nice video here).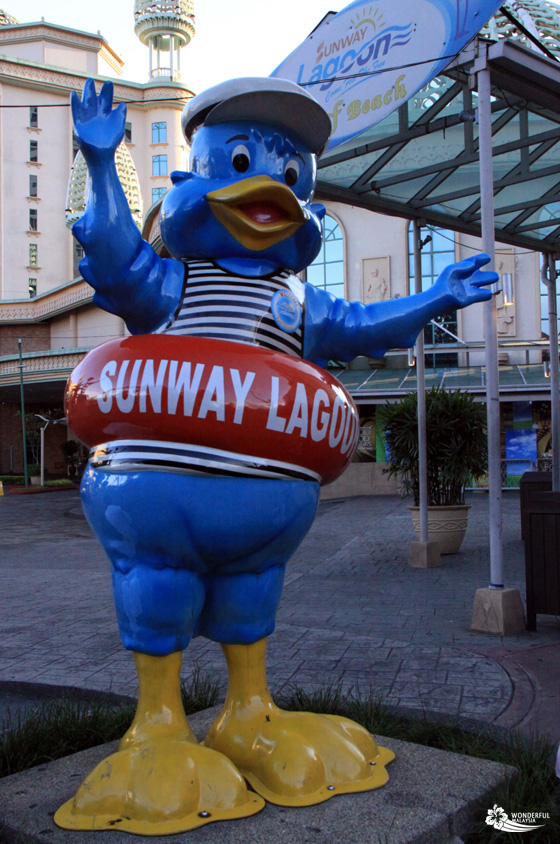 Amusement park
The amusement park is divided into two mini theme parks of joy rides and thrills to satisfy even the most adventurous of hearts. Splash down the river on the Niagara Falls Flume Ride and brave the raging waters of the Grand Canyon River Rapids among Apache Indians at the Wild Wild West. Sail away on the Pirates Revenge, Malaysia's first 360-degree rotating pirate ship that swivels 24m above the ground at the World of Adventure or take a breather on the world's longest pedestrian suspension bridge, spanning 428m and revel in the majestic view of the entire park.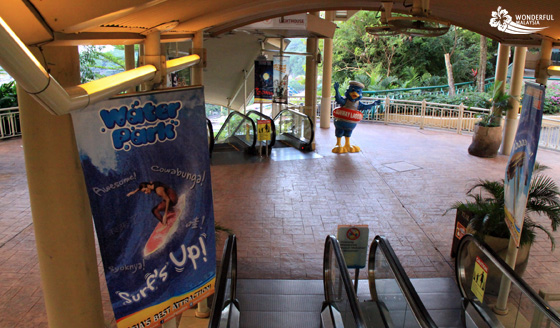 Waters of Africa
Waters of Africa is the perfect place to go to cool down in the sun. The Sunway Surf Beach features a sandy beach and a rolling surf pool which produces 8 feet tall surf waves for your surfing pleasure. Have a splashing great time diving down the giant water slide, the African Pythons and the six-lane Congo Challenge. Children can splash about at the interactive water playground, the Little Zimbabwe.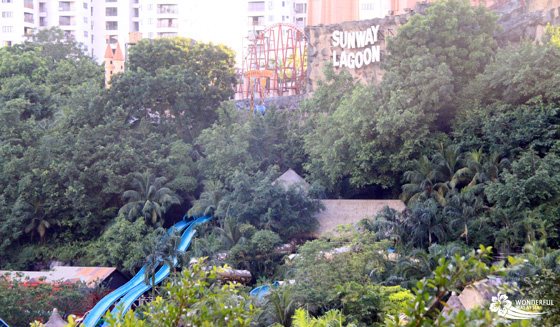 Wildlife Park
Marvel in the beauty of more than 150 species of amazing and exotic animals from across the globe and learn more about them at the Wildlife Park, Malaysia's first-ever fully interactive and educational animal-themed attraction. The Wildlife Park also features various educational programs and live animal shows for children and adults alike to enjoy.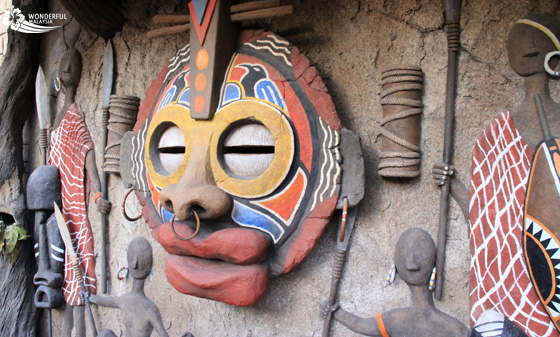 Scream Park
Be sure to check out the Scream Park, a walk-through park of horror, for a hair-raising experience. Try to survive the fright fest which begins at the PONTIANAK Theatre of Fear and tour the archives of the Night at the Museum: ALIVE & SCARY!. Bump into local terrors at the Rumah Hantu in 3DX and be relieved that the end is coming after the Tunnel of Penanggal in 3D.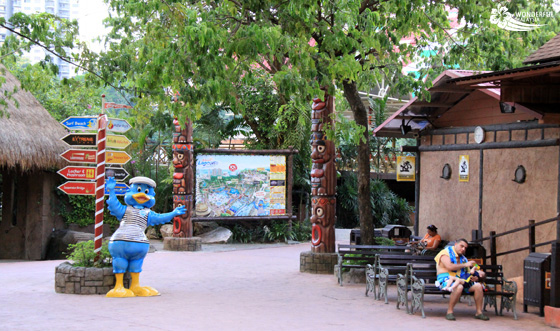 Extreme Park
Adrenaline junkies can satisfy their thirst for adrenaline rush at the Extreme Park which offers a large variety of challenges to take on. The park has an archery shooting range, a go-kart circuit and even an All Terrain Vehicle (ATC) route. Be extreme and have a try of Asia's Highest Slingshot Ride, the G-Force X; Malaysia's longest flying fox which spans for 206m; and Malaysia's first bungee jump.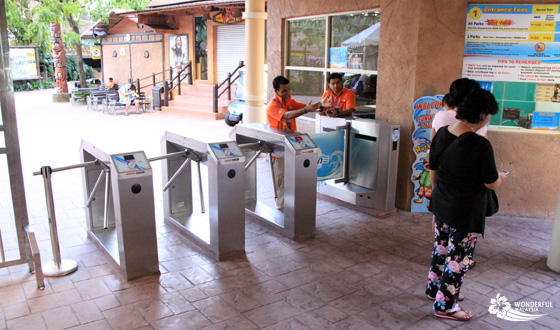 Opening hours
Sunway Lagoon is open to public on weekdays from 11am to 6am and from 10am to 6pm on weekends. It is closed on Tuesdays except during school and public holidays.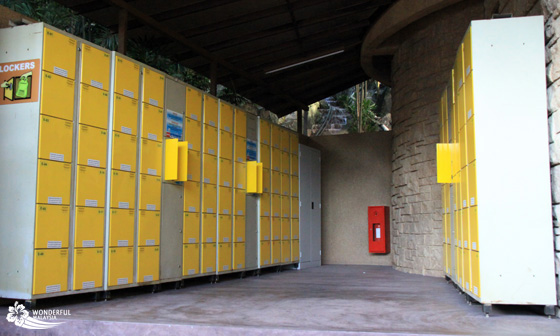 Entrance fees
There are two entrance packages available: the All Parks Best Value at RM100 for adults and RM80 for children and senior citizens and the 3 Parks package for entrance to the water park, the amusement park and the wildlife park at RM80 for adults and RM65 for children and senior citizens. Additionally, Malaysian identity card holders can enjoy a 25% discount off published rates.
There is a separate charge for the rides:
Bungy Jump: RM130 (RM75 for MyKad Holders)
G-Force X: RM60 (RM30 for MyKad Holders)
Bungy Jump & G-Force X Combo: RM150 (RM95 for MyKad Holders)
Go-Kart: Single Seater, RM20 per ride, double Seater RM25 per ride
Paintball War Game: Min 4 pax per team from RM46 per person, 100 pellets (Advance booking required – Includes Co2 Canister, Protection Mask & Vest, Barrel Plug & Paintball Marker)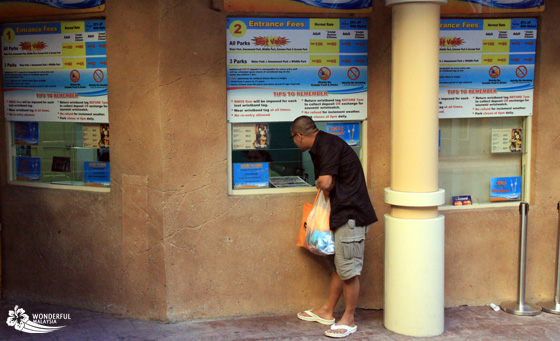 Contact details & address Sunway Lagoon
Sunway Lagoon
3, Jalan PJS 11/11, Bandar Sunway,
46150 Petaling Jaya,
Selangor, Malaysia.
Tel: + 603 5639 0000
Fax: + 603 5637 0050
Email: [email protected]
Website: http://www.sunwaylagoon.com
How to get to Sunway Lagoon
Sunway Lagoon is located in Bandar Sunway in Petaling Jaya. It is accessible via a network of expressways (Federal Highway, Damansara-Puchong Expressway, New Pantai Express Way and KESAS Highway) and is a 15-minute drive from Kuala Lumpur. You can also get to the amusement park by public transport. Take the LRT train to Subang Jaya KTM Station or Kelana Jaya Putra Station and take a bus to Sunway Lagoon from there.
Hotels & resorts at Sunway Lagoon
There are quite a few nice hotels and resorts to chose from that are in close vicinity of the theme park. The most luxurious resort at Sunway is The Villas @ Sunway. Another 5-star place to stay is the great Sunway Resort Hotel & Spa. You can enjoy a more affordable stay at the 4-star Sunway Pyramid Hotel. Budget travelers will find a whole range of basic hotels and guesthouses in the Bandar Sunway area.
Video Sunway Lagoon
Map of Sunway Lagoon theme park
Suggestions?
Got any good tips to share with us? Do you know of any great things to do in Kuala Lumpur, or tips on the best places to eat? Let us know by leaving a reply below!
Subscribe now to never miss a post!
Subscribe to our email updates or join us on our Facebook page, right now!
Travel related questions can be asked in our Telegram channel or in our Travel community.