Subang Airport (Sultan Abdul Aziz Shah Airport)
Subang Airport (also known as Sultan Abdul Aziz Shah Airport or SkyPark Subang) is an airport located in Subang Jaya, the biggest city in Malaysia. Due to its close proximity to Kuala Lumpur, the airport is often used by locals and tourists as an alternative to the international airport KLIA. Instead of spending almost an hour to get from Kuala Lumpur city center (KLCC) to KLIA, travelers only spend around 25 minutes to get to Subang Airport. Flying from Subang means you use one of the passenger airlines that operate from this airport. Subang Airport used to be Kuala Lumpur's main airport, before KLIA was opened.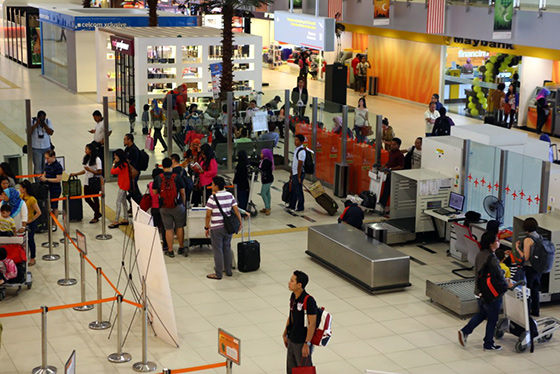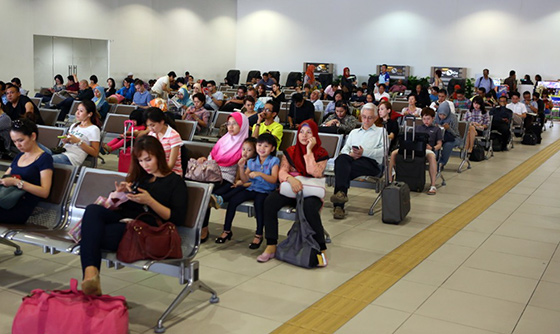 On this page:
Terminal 3
Terminal 3 is the only terminal that is used for passenger flights. The terminal was completely renovated in 2007-2009 and as a result Subang Airport currently is a very modern looking airport. It is estimated that Subang Airport handles about 1,5 million passengers per year. Terminal 3 is also referred to as SkyPark Terminal @ SAASA; more than only a arrival and departure hall. It contains numerous shops, restaurants, spas (even a Kenko Fish Spa), luggage storage facilities (Focus Action, ground floor, unit 1), ATMs, banks and also WIFI.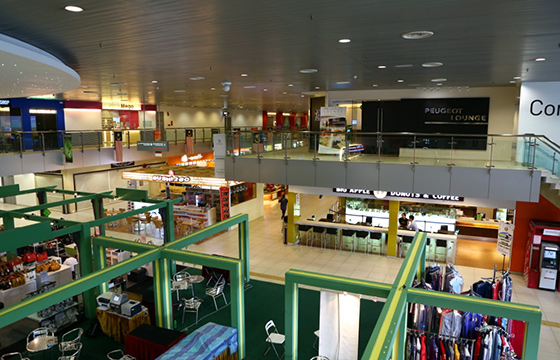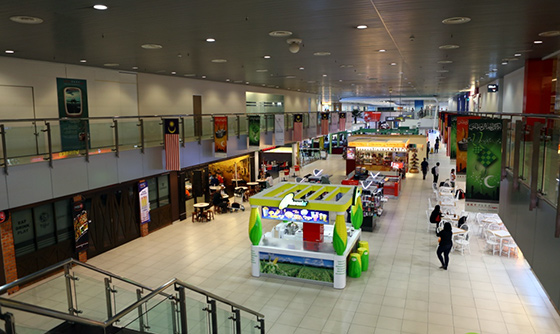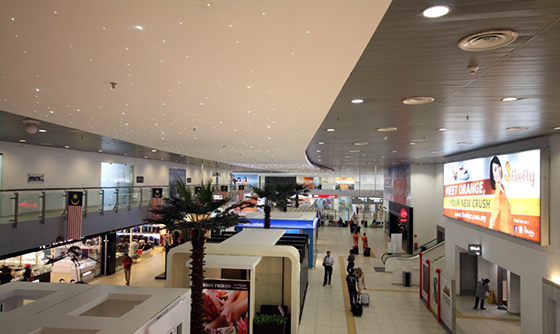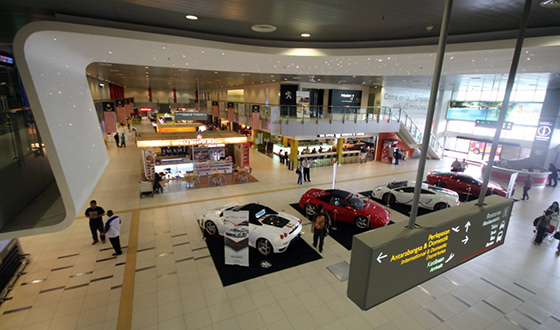 Firefly
One of the airlines that has its hub at Subang Airport is Firefly. This airline is wholly-owned by Malaysia Airlines. It flies daily to numerous destinations within Malaysia and also to a few international destinations (including the very popular KL – Singapore route). Firefly also has flights that depart from KLIA, so make sure you check your flight details up front so you know where to be expected for check-in. Read more about Firefly.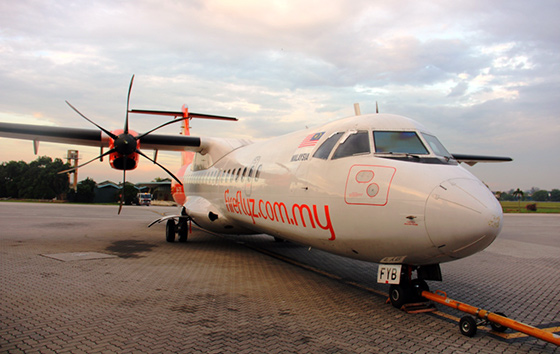 Berjaya Air
Another airline that operates from Subang Airport is the private airline Berjaya Air. This airline is part of the Berjaya Group that also owns multiple luxurious hotels in the region. If you fly with Berjaya Air it usually means you have made reservations at one of the resorts at destinations like Redang Island, Tioman Island and Koh Samui. They also operate the very busy KL – Singapore route.
Malindo Air
Malindo Air is also an airline that operates from Subang Airport. The airlines was launched not so long ago, but has become very popular in a short time. Currently Malindo Air has the following flights from Subang Airport: Alor Setar, Johor Bahru, Kota Bharu, Kuala Terengganu, Langkawi and Penang.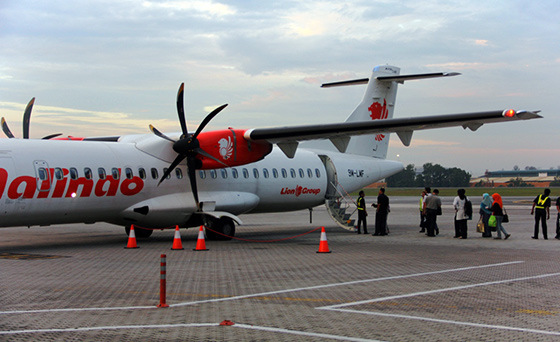 Private aviation companies
There are a few private aviation companies that operate in Malaysia. Vistajet is one of the world's fastest growing private aviation companies; it has a small Bombardier fleet at Subang SkyPark. Only the rich and famous are able to travel in style as it is very expensive to fly with Vistajet, though it is becoming increasingly popular among business travelers. On the plus side; there is no more waiting in lines and there is a special Vistajet lounge where passengers can have themselves pampered in luxury. Hiring a private jet eliminates the need for huge investments to buy a private aircraft and paying the fees for keeping the plane in a hangar. Besides that it saves on fuel costs and pilot costs to fly the plane. VistaJet aims to grab the Asian market from its base at Subang SkyPark. Rates for Vistajet flights vary from $5,000 to $7,400 (RM17,616 to RM26,072) per hour depending on aircraft type; these hourly rates exclude overnight services, ground handling, landing permits, and navigation.
Other private airline companies that fly from Subang SkyPark are ExecuJet and Hawker Pacific.
Accommodation nearby Subang Airport
There are quite a few very nice hotels nearby Subang Airport, though it is not necessary to stay nearby the airport as it is only a 25 minute drive by taxi from Kuala Lumpur city center. However, some travelers grab their chance to explore this modern urban area nearby KL, as there are many huge shopping malls, food courts and other nice attractions within Subang Jaya. Below a list with some of the hotels in Subang Jaya:
How to get to Subang Airport
Getting to Subang Airport is easy. Just take a taxi, on you'll be there within 30 minutes. Another option is the public bus, though public busses are only an option if you know your way around the Kuala Lumpur bus network. There is a direct RapidKL bus route between KL Sentral and Subang Airport. If you travel to Subang by LRT train (Rapid KL or KTM Komuter) then you can take a bus from either Kelana Jaya station or Subang Jaya KTM station. If you are staying in Kuala Lumpur city center, then every taxi is able and willing to take you to Subang Airport. Prices will not be more than RM20 to get there; if the driver doesn't want to use his meter then you pay around RM25. There are plans to connect Subang Airport directly to the RapidKL and KTM Komuter lines, so people can travel directly to the airport by LRT.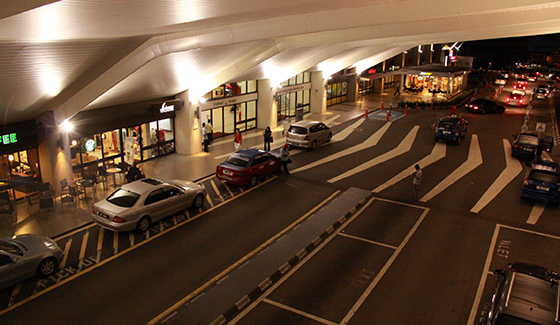 There are also shuttle busses that depart from a few places within the PJ/Kuala Lumpur area. Stops are at Pekeliling Bus Terminal, Plaza Damas, The Curve (Mutiara Damansara) and at LRT station Kelana Jaya. Prices start from RM3 and you can buy a ticket on the bus.
You can also find a Hawk Malaysia pickup location at Subang SkyPark. If you made car rental reservations you can pick up or drop off your rental car at the airport (Ms. Huda, Tel: 0162076530).
Travel from Subang Airport to KLIA or LCCT
The easiest way to travel between Subang Airport and Kuala Lumpur International Airport (or LCCT) is by taxi. At both airports you can find official taxi counters, where you can buy fixed price tickets. The trip between both airports will take about 50 minutes.
Cheapest solution would be to first take a RapidKL bus from Subang Airport to KL Sentral. From there you take the RM9.90 bus to LCCT and then a RM1 bus to KLIA. You can also take the KLIA Express from KL Sentral for RM55 (instead of the RM9.90 bus) and then you arrive directly at KLIA.
Read more about the ways to travel between Kuala Lumpur and KLIA.
Contact details Subang Airport
M17, SkyPark Subang Terminal
Sultan Abdul Aziz Shah Airport,
47200 Subang,
Selangor Darul Ehsan.
Tel.: 603 7842 2773
Email:

[email protected]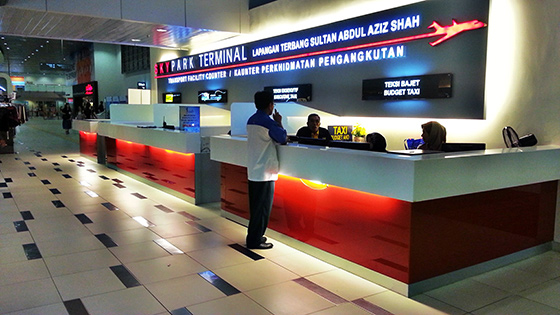 Map of Subang Airport
Below you can see a map of Subang Airport. You can simply scroll through the map with your mouse. Use the markers on the left to zoom in or out of the city map.
Subscribe now to never miss a post!
Subscribe to our email updates or join us on our Facebook page, right now!
Travel related questions can be asked in our Telegram channel or in our Travel community.