Thaipusam festival in Malaysia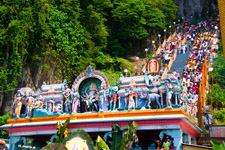 Over a million Hindus gather every year at various temples nationwide to celebrate Thaipusam. The exact date of this important Hindu event is based on the full moon day in the month of Thai (January/February) in the Hindu calendar. Thaipusam is a celebration dedicated to the Hindu deity Lord Murugan (youngest son of Shiva and his wife Parvati). The celebrations take place on a grand scale at the Batu Caves (Sri Subramaniar Swamy Temple) just outside of Kuala Lumpur. Besides the Batu Caves; Hindus also gather at the Balathan­dayuthapani Temple or Waterfall Hill Temple in Penang, the Sri Subramaniya Swamy Temple in Sungai Petani (Kedah), and the Sri Subramaniar Swamy Temple in Ipoh (Perak).
Check out our Thaipusam festival picture set at Flickr.com
"I am pleased with your courage and determination," he said. "Your devotion to your guru is admirable. I now bestow on you the honor of being my guardian" Lord Murugan then proclaimed that henceforth, those who carried kavadis to see him, would receive his blessings.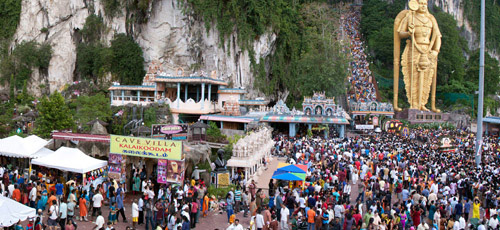 On this page:
Thaipusam is a public holiday in Malaysia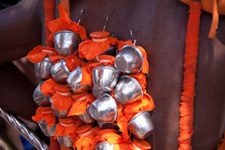 Thaipusam is the biggest festival for Hindus after Deepavali and usually falls in January or February. It is observed as a day of thanksgiving and paying penance for Lord Murugan. In many states in Malaysia Thaipusam is a public holiday. Devotees prepare themselves for the occasion by cleansing their bodies through fasting and abstinence, and usually observe a vegetarian diet for a certain period of time. Many devotees began paying penance a few days before the actual festival, with the carrying of the kavadi (a decorated structure bearing the image of several deities including Lord Murugan) on their shoulders and pal kodum (milk pots) carried above their heads.
Over 10.000 tourists visit the Batu Caves during Thaipusam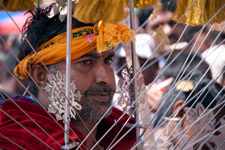 Celebrations at Batu Caves are an amazing experience for tourists; yearly over 10.000 tourists visit the celebrations at the caves. The night before Thaipusam Hindus gather at the Sri Mahamariaman Temple along Jalan Tun HS Lee (Chinatown/Petaling Street area). From there they will leave around midnight on a 15 kilometer (approximately 8 hour) walk towards the Batu Caves where they will arrive the next morning. The long trip culminates in the flight of 272 steps to the cave entrance. It is said that well over a million people visit the Batu Caves during Thaipusam, so be prepared for a very crowded, hectic and sometimes even claustrophobic experience. At some points it can be so crowded that people are pushing the masses to get forward. It is best to stay away from these crowds. The best place to get some great shots of the crowds is by walking towards the elevated highway (which is packed with parked cars anyways).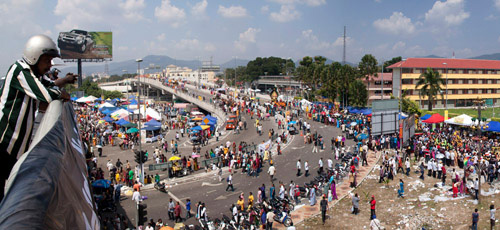 Many devotees are in trance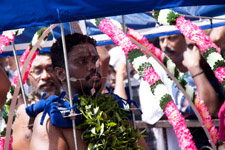 When you arrive at the Batu Caves on the day of Thaipusam don't be surprised (or rather shocked) to see many people in trance. Some are being carried by their siblings, wives, husbands or other relatives. Many men (and also the occasional woman) have themselves shaved at one of the many barbers. Because of this you see many devotees walking around with a bald head. One of the aspects that make Thaipusam so interesting is the way that devotees pay penance to Lord Murugan. Some pierce their skin, tongue or cheeks with Vel skewers. We even saw a man hanging on multiple hooks while being pushed forward. Some had many small hooks in their backs with small decorations. A few times we noticed that some where blessed by others; which led to great excitement with the devotee expressed by dancing uncontrollably and waving arms wildly.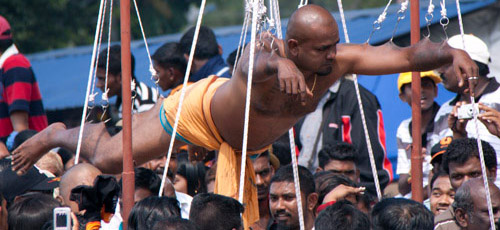 Everybody goes up the stairs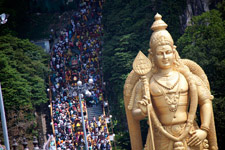 Devotees, tourists and locals all are allowed to go up the stairs to the actual caves. There the Hindus will pray and also say thanks at numerous altars. The area around the Batu Caves is filled with small stalls where food, snacks, drinks and also many religious items are sold. There is also a small children's amusement park. Walking through the small stalls can be a bit crowded; same goes for the stairs up to the caves. Foreigners can get real close to the action as there is a special 'press' area where actual press (and tourists) is allowed to take close-up photographs and videos of the devotees that are waiting to start their climb up the stairs that lead into the Batu Caves. We were also allowed up the special 'press platform' that towered over all the people right where the stairs towards the temple start.
Location of Thaipusam celebrations
Below you can see a map with the location of the Batu Caves in northern Kuala Lumpur. You can simply scroll through the map with your mouse. Use the markers on the left to zoom in or out of the city map.
How to get to the Batu Caves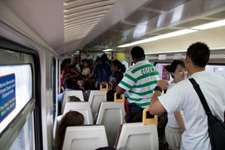 If you plan to go to Batu Caves during Thaipusam you are advised to use public transportation to avoid the anticipated massive traffic congestion. All roads leading to Batu Caves are usually blocked by bystanders and devotees. Cars just park in the middle of the roads; so going there by car, taxi or bus is not the best way to get to the Batu Caves. The easiest way is by the direct KTM Komuter route that goes from KL Sentral to Batu Caves station in less than 20 minutes. A ticket at KL Sentral will only cost you a couple of ringgits. During Thaipusam extra trains will go between KL Sentral and Batu Caves. After your visit to the Batu Caves it will be very crowded at the train station; especially if you leave somewhere in the afternoon. Many tourists, locals and devotees return home after a very intense night and day.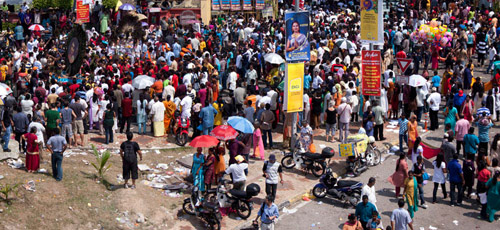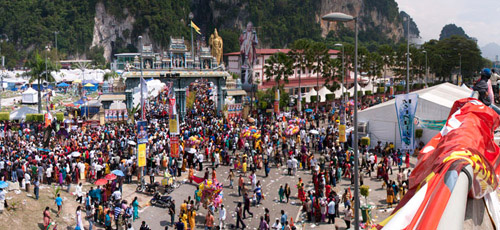 More pages with information about Malaysia
Subscribe now to never miss a post!
Subscribe to our email updates or join us on our Facebook page, right now!
Travel related questions can be asked in our Telegram channel or in our Travel community.