The world's most extreme sporting event – the KL Tower BASE Jump 2012 – is back in Malaysia this September 27th – 30th, at Menara Kuala Lumpur! For those of you who are still unfamiliar with this event, it is the only official BASE Jump event in the world. BASE jumping is the sport of using a parachute to jump from fixed objects. B(uilding) A(ntenna) S(pan) E(arth) is an acronym that stands for the four categories of objects from which one can jump. The first BASE Jump in Malaysia was on the 3rd October 1999 at Menara Kuala Lumpur.
More than 100 international BASE jumpers will be showcasing thrilling acts for the visitors of Menara Kuala Lumpur. Professionals from 20 countries gathered for the opportunity to hurl themselves into the sky before parachuting down to earth during the event. Come and watch these daredevils take the dive from the top of KL Tower. Let's just hope they don't forget the chute. This event has become a 'must attend' sports meet for the top names in the world of B.A.S.E (Building, Antenna, Span and Earth) Jumping and Skydiving.
Once again, Menara Kuala Lumpur is offering exclusive tickets to the Open Deck in conjunction with the jump. I love everything about this sport as it is fun experience not to be missed to watch the jumpers prepare themselves for their jump off the top of one of the tallest towers in the world. Visit the Menara KL Tower website for more information.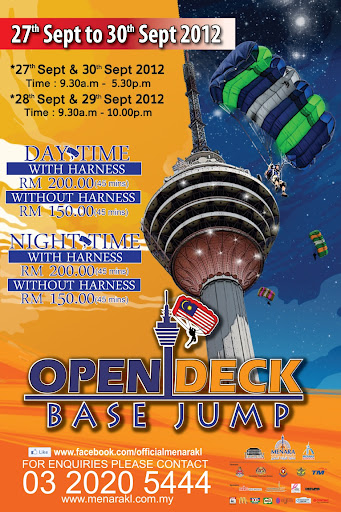 Contact details
Menara Kuala Lumpur
No. 2 Jalan Punchak Off Jalan P.Ramlee
50250 Kuala Lumpur
Malaysia
Tel: +603 2020 5444
Fax: +603 2098 7001
Email: [email protected]
Website: http://www.menarakl.com.my
How to get to Menara KL
Getting to Menara KL is easy, as the building is located right in the middle of Kuala Lumpur City Center. From many hotels in this area it is only a short walk to get to the base of Bukit Nanas, on which Menara KL is built. Menara KL is located near two LRT stations; Dang Wangi LRT Station and Bukit Nanas Monorail Station. The pathway up to Bukit Nanas is located along Jalan Sultan Ismail. To get to the Tower entrance, you will have to do a short but steep climb so you are probably better off by taking a taxi from your hotel to the attraction. On the way back you can buy a fixed price taxi ticket from the taxi counter.
Map of Menara KL
Suggestions?
Got any good tips to share with us? Do you know of any great things to do in Kuala Lumpur, or tips on the best places to eat? Let us know by leaving a reply below!
Subscribe now to never miss a post!
Subscribe to our email updates or join us on our Facebook page, right now!
Travel related questions can be asked in our Telegram channel or in our Travel community.